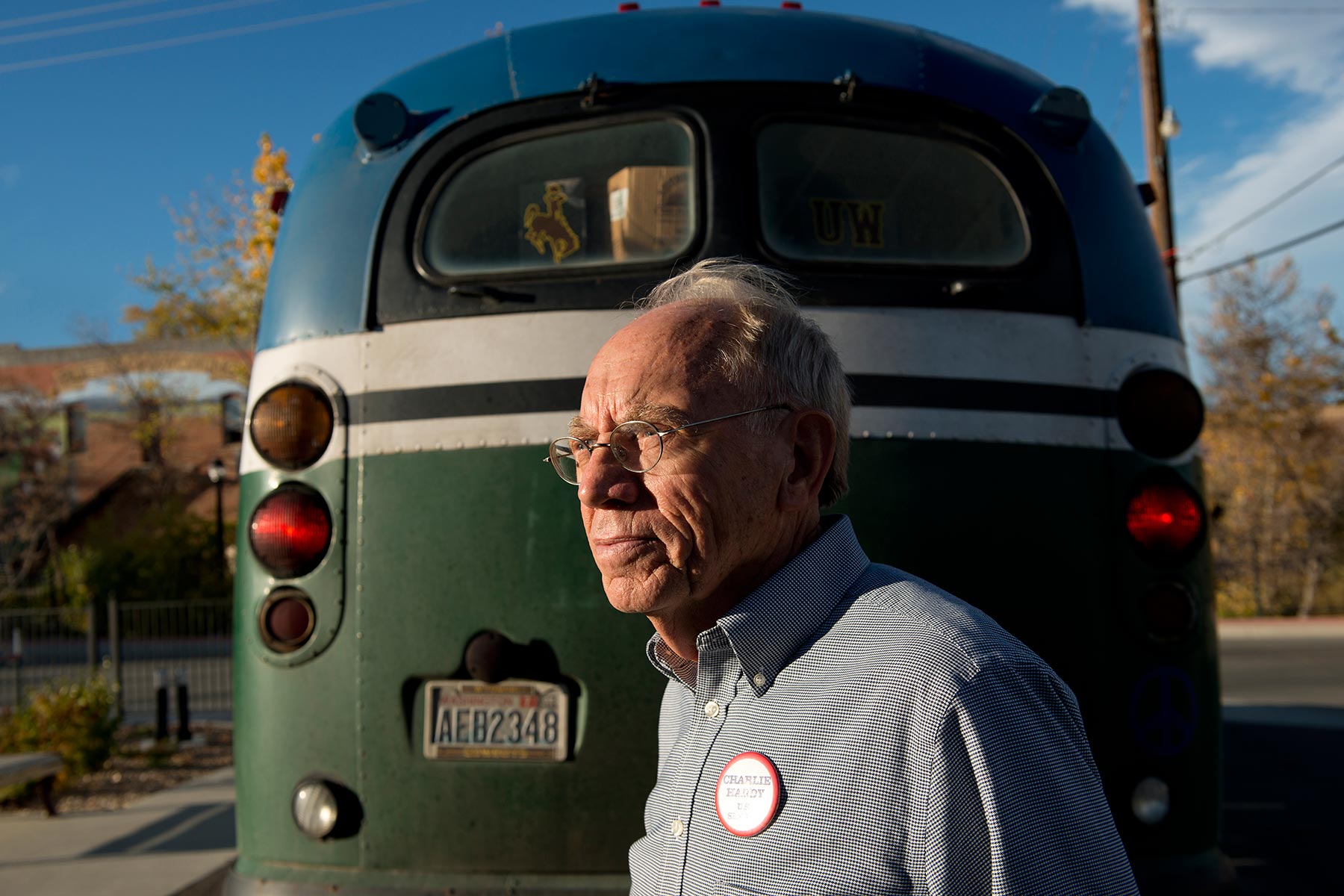 Running with Charlie Hardy
In Wyoming, a former priest takes on a heavily funded GOP incumbent to try to limit money in politics
In
Wyoming,
a
former
priest
takes
on
a
heavily
funded
GOP
incumbent
to
try
to
limit
money
in
politics
BAR NUNN, Wyo. — As his volunteers began to stir, descending from bunk beds and grabbing towels and soap, Charlie Hardy double-knotted the laces of his black sneakers. He turned his deeply lined face toward the sun hanging low next to Casper Mountain and surveyed the dozen or so antelope grazing in the campground around him. "Isn't this just wonderful?" he said, and took off alongside Interstate 25, jogging 3 miles, as he has every morning for the past three decades.
Hardy, 75, isn't Wyoming's average candidate for the U.S. Senate. A former Roman Catholic priest who once ministered in one of the poorest neighborhoods of Caracas, Venezuela, and lived in a cardboard and tin shack, he is a Cheyenne native running a grass-roots campaign without corporate or PAC donations. His opponent is Republican incumbent Mike Enzi, one of the Senate's most successful fundraisers.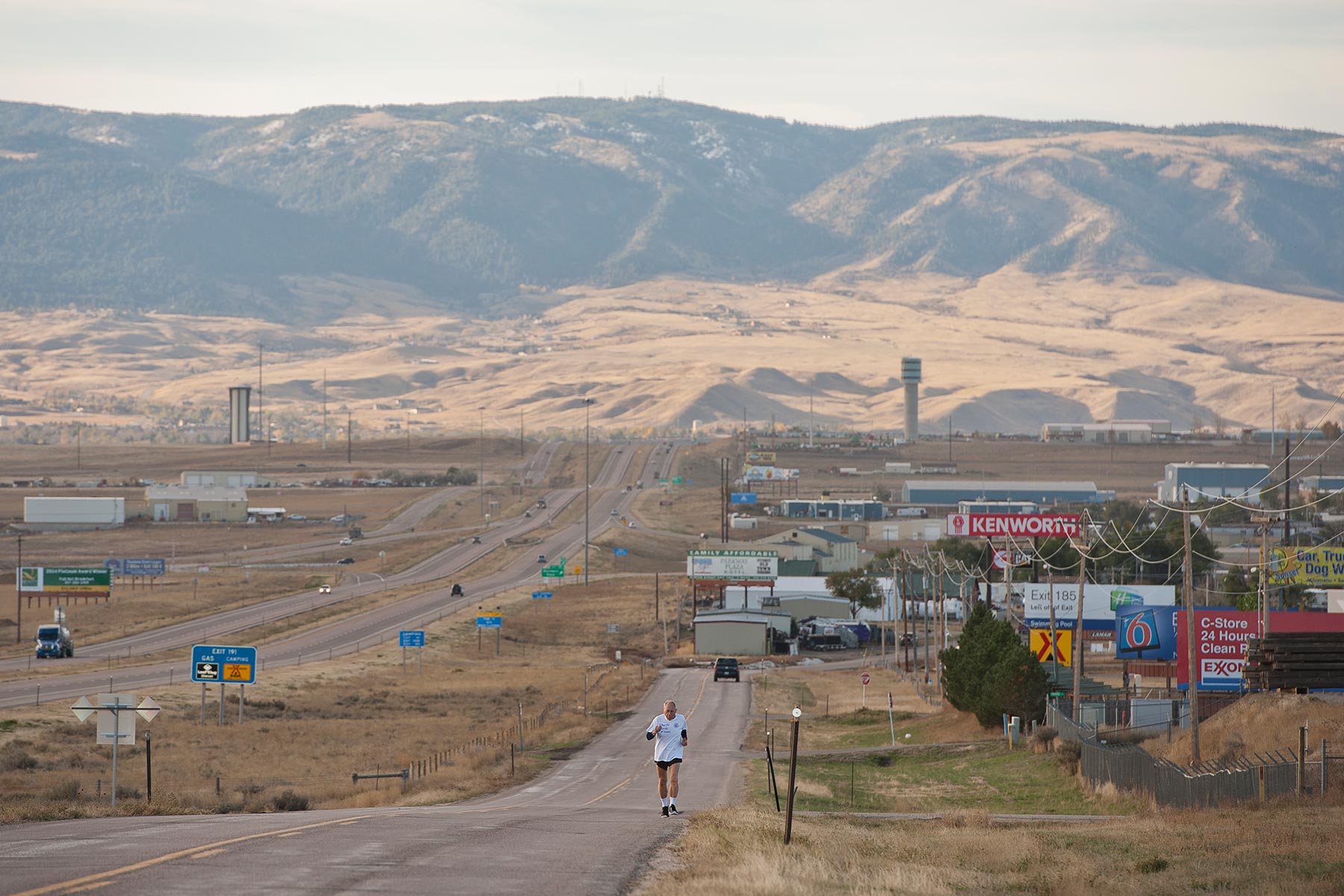 Hardy left the priesthood in 1994 to marry Susana Gonzalez, the mother of his stepson, Carlos, in Venezuela. Though the couple divorced six years later, Hardy said they remain friends.
"I think I am alive today because I started running 30 years ago," he said with a smile, veering slightly toward the campground's P.O. boxes to check the headlines of The Casper Star-Tribune for news of the last debate. "It's a time for reflection about what happened the day before and the day ahead. I carry with me all the time a little tape recorder, and when I have an idea, I blurt it into the tape recorder. A lot of my ideas come while I am running."
He said the idea to run for political office came to him after a 10-day retreat in which he took a vow of silence, sharing his reflections only with a priest friend for an hour per day.
"At the end of it, I thought, 'My health is still good,' and so I asked myself, 'How could I make the best contribution to humanity? And what responsibility did I feel?'" Hardy said.
After that, he said, he and 100 volunteers went door to door gathering some of the 3,746 signatures he needed to get on the ballot as an independent for the state's sole House seat.
"We in Wyoming are the most politically powerful people in the United States," said Hardy. "We have two senators and a representative, and we are a small number of people, so we can get in and meet with them."
Hardy fell a few hundred signatures short of getting on the ballot in 2012. But the idea stuck, and he won the Senate primary on Aug. 19 this year to become the state's Democratic candidate. It was never going to be easy, he said. Wyoming is overwhelmingly Republican, and Enzi was re-elected in 2008 with a robust 75.8 percent of the vote.
"The last Democratic candidate to challenge Enzi, Chris Rothfuss, told me, 'Charlie, three minutes after the polls closed, they called it for Enzi. So if you can last longer than three minutes, that's something,'" Hardy said.
Hardy's watch beeped, and he circled back to the bus, carefully placing his running shoes under a J.C. Penney garment bag hung on the edge of the bunk beds. Inside was a blue blazer, pressed and ready to be paired with his uniform of Wrangler jeans and checked shirt for a candidate meet-and-greet that night 144 miles away in Sheridan.
"Wouldn't it just be incredible if we win?" he said as he gathered a white towel and bottle of Pert shampoo and headed toward the campground bathroom to shower. Afterward, he took his place at the picnic table next to the bus, where his five campaign volunteers — including his stepson, Carlos, 21 — were typing and tweeting away on laptops hooked up to the bus' massive engine via an orange extension cord.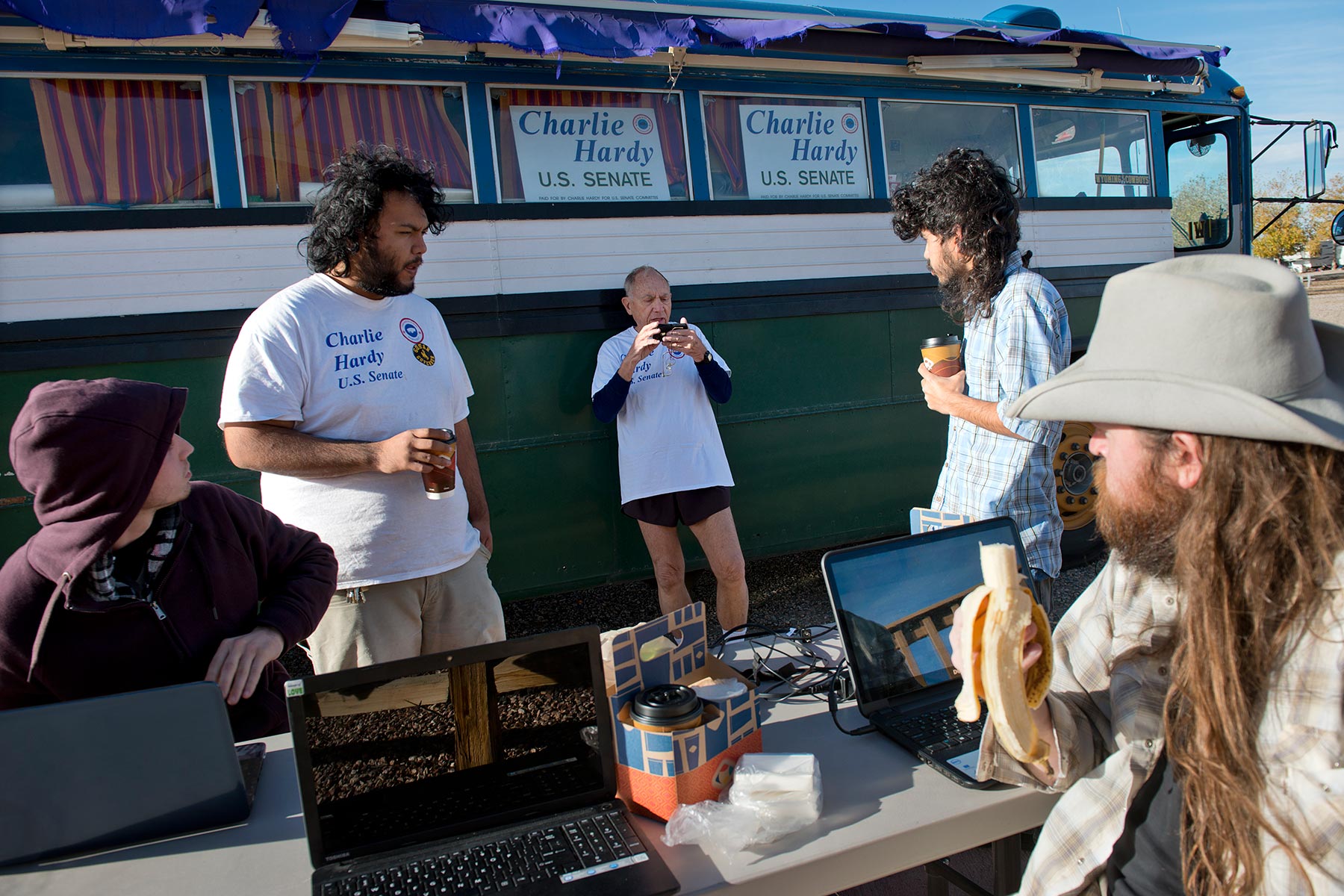 "I think the fundraiser went well last night," campaign manager Bruce Wilkinson told the small team. "So we are going to do some canvassing at Casper College today, and then we have some folks to meet and a newspaper interview in downtown Buffalo, and then we have the 7 p.m. Chamber of Commerce event in Sheridan. So in total, 288 miles today."
And with that, they were off on another day of Hardy's campaign. The blue and green 1970 Crown school bus with "Run with Charlie" campaign posters stuck to its sides belched as it merged onto the interstate. Wilkinson, 34, sat in the front seat, typing furiously into the omnipresent iPhone usually stuck in the front pocket of his tweed jacket. A Kentucky native with long blond hair and a thick beard, he left his job as a grass-roots organizer with the Alliance for Global Justice to run Hardy's campaign out of the school bus, which he bought in Olympia, Washington, for $3,000.
"I come from a horse-racing family, and you know, that is one of the only kinds of gambling where you can beat the odds with skill. So running this campaign is a lot like that," Wilkinson said as his housemate and friend Nick Brashear navigated the wide-open highway between Casper and Buffalo. Wyoming's sparse countryside spilled out around them, vast landscapes interrupted only by the occasional grazing cow or antelope or horse.
"We are running a sort of asymmetrical campaign, a guerrilla campaign against a much bigger opponent," Wilkinson added.
And the campaign is looking very asymmetrical. The latest New York Times/CBS News poll, conducted Oct. 1, showed Hardy at 17 percent to Enzi's 75 percent. According to reporting of Federal Election Commission filings by the Center for Responsive Politics, a campaign finance watchdog, Enzi raised more than $3 million from Jan. 1, 2013, through July 30, 2014, and spent $2.6 million in the same period. The Enzi campaign has raised $13.16 for each of Wyoming's 264,069 registered voters — among the most in the nation.
Hardy, on the other hand, has received $53,057 and spent $51,010 from May 2, 2013, through June 30, 2014. He said he also spent about $50,000 of his own money. Wilkinson said the campaign budget averages $130 per day: $50 for gas and $80 for food. Most nights, the team sleeps in the bus at a campground, but sometimes one of Hardy's supporters offers a spare bedroom.
"We only stayed in a hotel once, the first night," Wilkinson said. "And Charlie insisted on giving us the beds and sleeping on the floor. There is no question that Charlie is a humble guy. He will do anything for anyone. He's never lived high on the hog — he lived in a cardboard shack for eight years — but he has a lot of pride."
Aside from Hardy, two other candidates are in the race against Enzi, who has served as senator for the past 18 years. Curt Gottshall, an independent, and Joseph Porambo, a libertarian, have also eschewed corporate and PAC donations and have made campaign finance reform a central issue in their campaigns.
According to FEC filings, Gottshall has raised $6,415 and spent $6,315 from Sept. 4, 2013 through July 30, 2014. He said he has spent about $43,000 of his own money on the race. Porambo said he is running entirely on the salary he makes as a cook in an assisted-living facility.
"We have politicians who are taking PAC money, and that money is power. People who give vast amounts of money to any political candidate want something in return," Porambo told Al Jazeera America after an Oct. 13 debate at Wyoming's PBS station. "They are giving a million dollars because when I get to Washington, they want me to do something for them."
According to the Center for Responsive Politics, Enzi's biggest donors are DaVita HealthCare Partners, Gilead Sciences, Murray Energy, Peabody Energy and the Making Business Excel PAC, which is affiliated with him, according to ProPublica.
According to FEC filings, the treasurer of the Making Business Excel PAC is Enzi's former daughter-in-law, Danielle Enzi. The firm that has received the most money from the PAC is a fundraising company run by Danielle Enzi. Enzi Strategies has received $45,411 from the PAC this year, according to the Center for Responsive Politics. Such a practice is not illegal under U.S. law.
"There is nothing illegal about [Danielle fundraising for me]. She is one of the best fundraisers in America. And she was a fundraiser before she married my son, and she is a fundraiser after my son and she got divorced," Mike Enzi said as he left the Oct. 13 debate.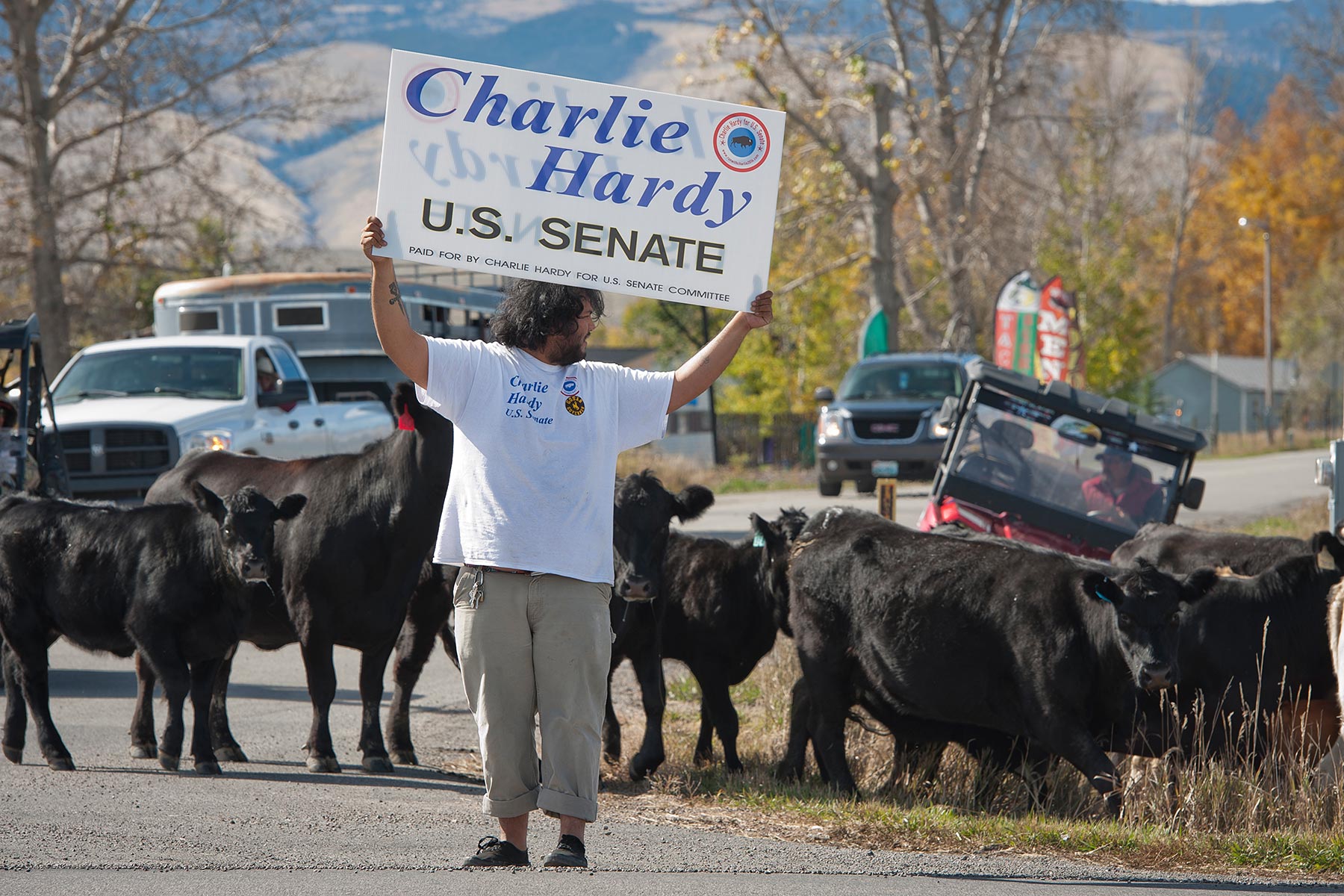 Danielle Enzi did not respond to Al Jazeera America's request for comment.
Mike Enzi has denied that his son, Brad Enzi, benefited from his position as a U.S. senator when the company he worked for received almost $10 million from the Department of Energy to develop the Two Elk Energy Park in the northeastern part of the state. Mike Enzi said he voted against the carbon-capture project, which never got off the ground.
Mike Enzi declined to be interviewed for this article, but his campaign manager, Kristin Walker, wrote in an email, "Sen. Enzi voted against the stimulus bill which included funding Two Elk later qualified for. He thought the stimulus bill would do little to improve our economy but a lot in terms of driving up our debt. And he was right. Any suggestions that his family benefited inappropriately from stimulus funding have long been dismissed."
But both Hardy and Gottshall have criticized the project on the campaign trail.
"Sen. Enzi said he votes against these things, but he has so much influence in the Senate. He's pulling in 85 percent of the vote. He can easily tell his friends to vote for it, pull himself out, vote against it and have plausible deniability," Gottshall said.
"The only way to correct the system is to create nepotism laws, and say, 'Look, if the situation comes up that federal funds are hitting family members, one of you has to quit.' Period. That's it," he added.
Enzi said in his closing statement during the debate that being the incumbent means taking the majority of the hits.
"I now know what it is like to get a lot of criticism without rebuttal," Enzi said. "When you are the sole source of the shotgun, it's a little bit difficult. Yes, you can criticize some of my votes. I have had over 5,000 votes, and I would say that even my wife wouldn't agree with all 5,000 of those votes. But I can explain every one of those votes."
After the debate, Hardy and his campaign headed back to Casper to fundraise at a low-slung house with a peace pole in its front yard. Inside, a crowd of mostly middle-aged women had gathered to hear him speak. They arranged themselves around a kitchen table filled with homemade baked goods. A few younger voters pressing for the legalization of medical marijuana milled about on the deck outside.
Enzi's campaign, according to Walker, is focused on curbing government spending, promoting the coal industry, protecting Second Amendment rights and repealing the Affordable Care Act. Hardy's platform, on the other hand, is left of center. He supports abortion rights, equal pay for women, raising the minimum wage and legalizing same-sex marriage in the state.
Wyoming has the second-largest gender wage gap in the nation, according to the American Association of University Women. Women in Wyoming working full time earn an average of 69 cents for every dollar earned by men.
"I grew up with four sisters," Hardy told the small crowd, smiling behind his wire-rimmed glasses. "So if I didn't support women's rights, I was certainly going to hear about it."
After his talk, a cereal bowl was passed around, and several people dropped checks inside. A crisp $100 bill sat on the top as the hostess wrapped the leftover cookies for Hardy's volunteers.
"Let's suspend our disbelief for a minute here," Wilkinson told the remaining attendees. "We have all seen the polls. But we are going to see a lot of special things here in the next couple of weeks."
Jane Ifland, a Casper resident, said she wasn't concerned about the polls.
"Frankly, whether Charlie wins or not, it seems really important for me to state as clearly as I possibly can that Mike Enzi doesn't represent me, it's not what I want from my government and that I do want a kind of heart-centered policymaking that Charlie proposes," she said.
Night fell, and Hardy and his volunteers piled into the bus, stopping briefly to shine a stage light with his campaign slogan stenciled on it onto Casper's mostly deserted downtown. Back at the campground, Wilkinson unfurled two mattress pads and laid them gently on the floor of the bus.
Hardy undressed and pulled his sleeping bag all the way over his head, a practice he said is leftover from when he had to protect himself from rats in the Venezuelan barrio he once called home. His stepson kissed him on the forehead as he folded his glasses.
"The only thing I know about Nov. 5 is that my life will be totally changed, no matter what the results are," Hardy said. "I may sleep all day long on Nov. 5. I may be a senator-elect. I don't know. But it will be a totally different day than what this past year has been."
Editor's note: This is part of an ongoing Al Jazeera America series profiling people running for office in the U.S. who are unlikely to win but who believe so strongly in their causes that they still try. Read about Bruce Skarin's efforts in Massachusetts, Joe Pakootas' campaign in Washington, Zephyr Teachout in New York and Raul Garcia in California.
Kaelyn Forde previously reported on Charlie Hardy in Caracas for Al Jazeera English in 2013. Hardy also served in the reporter's wedding ceremony.