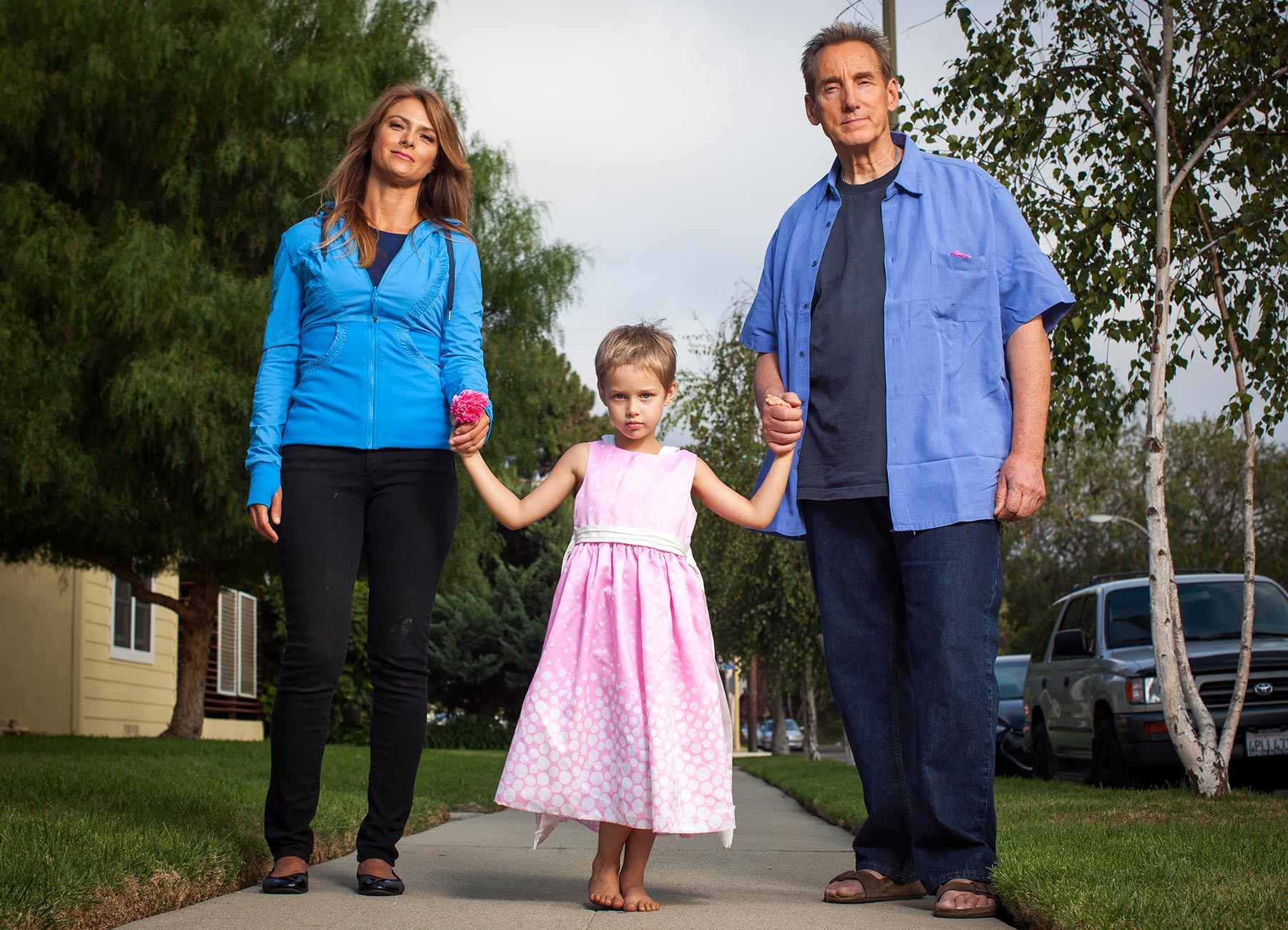 Online
offspring
Co-parenting
the
next
generation
Photos by Robert Gallagher for Al Jazeera America
Produced by Mark Rykoff
Edited by Jayati Vora, Mark Rykoff
Rachel Hope with her co-parent Paul Wenner and their five-year-old daughter, Grace, outside Rachel's home in West Los Angeles, California, in August.
Published on Sunday, October 5, 2014
At the age of 36, Florian Joos felt ready to become a father. The problem, however, was that he hadn't met the right woman. One day, he found himself typing "single parents arranged" into Google, which gave him a practical answer to his dilemma: Modamily. It's a place for people like him — adults who long to have children and need the help of a co-parent, without the messiness of romance.
"I want children, and my biological clock is ticking," says Joos, a social worker in Stuttgart, Germany. The concept behind the website struck a chord with him. "If you have a child together and you're involved romantically, it can go wrong, so that's a big, big issue. Co-parenting is a way to say the child is the center and you do the best for the child."
Joos created a profile on the site, which uses a template similar to those on dating websites such as OkCupid and Match.com. It required him to answer a set of compatibility questions and add a photograph of himself. For a basic monthly fee of $29.95, he was on his way to finding the future mother of his child.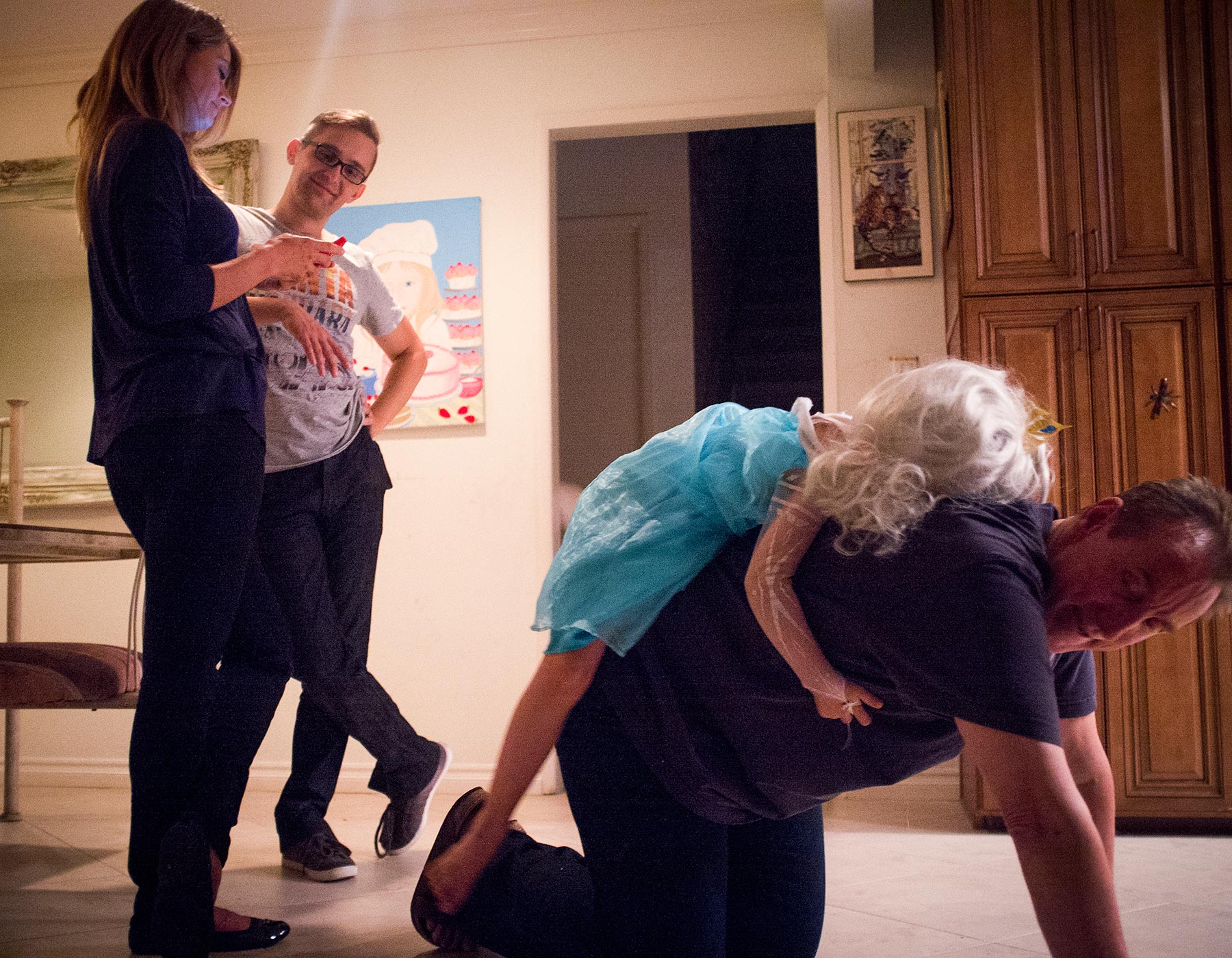 Launched in 2012, Modamily is one of a handful of websites that cater to would-be parents like Joos. Another, Family by Design, was started two years ago by a single gay man who wanted to be a dad but realized that his parenting experience would not be conventional. It's still a niche service in the United States — Modamily has roughly 7,000 members, Family by Design, 10,000 — but these websites reflect how society is warming up to the idea that parenthood and romantic commitment don't necessarily need to be connected.
The Web has been responsible for single-handedly changing the prospects of romance and marriage for millions of Americans, and Internet dating is now a $2 billion a year industry. It would seem that parenting is a natural next step, especially as more Americans put off marriage and baby making while they earn degrees and establish careers — and sometimes want to become parents when, biologically, it might be close to too late. Plus, co-parenting websites provide another means for same-sex couples to create a family and help minimize the financial burden and red tape that a sperm donor, surrogate or adoption agency typically brings. At the end of this month, Modamily plans to launch an iPhone app that will make it easier for prospective co-parents to find the best match, favorite profiles and sign up quickly through Facebook.
"Kids are living in two homes anyway," says Ivan Fatovic, the founder of Modamily. "A lot of times it's not an amicable divorce, and Mommy and Daddy don't like each other, and they spend hundreds and thousands of dollars in legal fees. The kid gets caught up in the middle, and I just think there's a better way to do that."
Despite the "oh, gosh" moment that some people have when they come across his website, cautions Family by Design creator Darren Spedale, co-parenting is not to be entered into with haste. "They're so eager to get started," he says of the websites' members. "[But] you can't do it that way, because you're signing up for a 20-plus year commitment with another person or persons. It's like dating with the idea of getting married. You need to find Mr. or Mrs. Right."
Perhaps because of this kind of cautiousness and the fact that both sites are only a couple of years old, the first Modamily baby was born only in June 2013, to a Toronto-based gay man and straight woman, in what Fatovic calls the "'Will & Grace' scenario."
The concept for co-parenting websites emerged in Europe, where in many countries, commercial and in some cases altruistic surrogacy is illegal. While European websites such as Coparents.com and CoparentMatch.com have existed for more than five years, many members aren't looking for a platonic parenting partner; they're simply seeking out sperm or egg donation. (Though some people end up on Modamily and Family by Design with donation in mind, both Fatovic and Spedale say this is not the primary purpose of their sites.)
The websites have entered the marketplace as the public's perception of what a family is has evolved. A 2010 report from the Pew Research Center found that 86 percent of respondents considered a single parent and child a family, and 80 percent said the term applies to a cohabitating unmarried couple with a child. And changes in LGBT rights have influenced public opinion: 60 percent said a gay or lesbian couple raising a child qualifies as a family.
Membership in Family by Design is evenly split between men and women, according to internal numbers, with a quarter identifying as gay or lesbian. The demographics reveal that it's millennials who are making parenting a priority. On Modamily, 65 percent of members are women, and among them, 61 percent are under 35 years old. A 2011 Pew poll points to this trend as well. It found that people in their 20s and 30s place a higher value on being a good parent than on being a good spouse.
"If you have a child together and you're involved romantically, it can go wrong, so that's a big, big issue. Co-parenting is a way to say the child is the center and you do the best for the child."

— FLORIAN JOOS,
PROSPECTIVE CO-PARENT
The difficulties associated with being a single parent, too, contribute to the desire for a partner in raising a child. This is why Spedale ultimately started his company. "The scheduling pressures on one person, the financial pressures on one person, the lack of emotional support and the lack of a relationship were all things I just wasn't willing to accept to be a single parent … So I said no," he says.
Research doesn't yet exist on platonic parenting; it is too recent a phenomenon for that. Elaine Gordon, a clinical psychologist specializing in reproductive medicine in Los Angeles, says she looks at studies of other types of nontraditional families, such as same-sex couples and extended family members — aunts, uncles, grandparents — serving as primary caregivers. "I think if anything is done right, it's probably going to be fine, but we don't know what's right yet," she says. "There would have to be long-range research."
She typically works with prospective co-parent clients before they have decided to have a child. "Most of the time, they're concerned about the best interest of the child and are they putting their child at social or emotional risk by doing this in a nontraditional way, what do they tell others and how do they protect their child," she says. "They're really talking about their own feelings and their own fears and their own concerns about stepping out of the norm."
But finding a childrearing partner is just the first step; next comes the paperwork. Co-parenting agreements may bear similarities to those for same-sex couples, but they can also look a lot like divorce papers. They include the big-picture information such as how involved each parent should be (with whom the child will live primarily, whether holidays and birthdays will be spent together as a family), the financial obligations and where everyone will live (in the same city, neighborhood or home). But lawyers encourage parents to include details that have more to do with parenting styles than legal formalities — opinions on vaccination, circumcision, plans for the child's education and more.
"The scheduling pressures on one person, the financial pressures on one person, the lack of emotional support and the lack of a relationship were all things I just wasn't willing to accept to be a single parent
... so I said no."

— DARREN SPEDALE,
FOUNDER, FAMILY BY DESIGN
Diana Adams, the managing partner at a boutique family law firm in New York City that handles cases for nontraditional and LGBT families, says it's easy for people to get swept away in the romance of having a child even if actual romance isn't part of the picture.
When she works with clients, she is often faced with two opposing forces: state law may favor a biological parent but also put the child's best interest first, because sometimes the nonbiological parent — such as a same-sex partner of a biological dad or mom — may be one of the primary caregivers. This means that all parties must be accounted for. And when a nonbiological parent is involved, there must often be a stepparent adoption agreement to make sure everyone is protected under the law.
"I've had situations in which people have downloaded a sperm donor agreement or co-parenting agreement from the Internet and just signed it without fully understanding what it is they're signing," Adams says, citing the importance of seeking legal help. She knows of some cases in which a biological father signed both a birth certificate and donor agreement and settling a custody dispute would therefore be left to the discretion and kindness of a judge.
"Unfortunately, in several of these cases, I've seen children really suffer psychologically because of a breakdown in which that person who was a donor/dad picked up and left," she says.
Parker Williams, 44, has been actively looking for a parenting partner for the last several years. He says he has wanted to be a father for some time now but, since he's a gay single man, the opportunity hasn't yet presented itself. So he joined Modamily two years ago and has since spoken or met with 15 to 20 women who have expressed interest in having a child with him.
Some people call these meetings dates, but Williams doesn't see it that way. "The conversation tends to be a little more focused," he says. "They start really basic, focused on just your lives, like with any friendship. Then after a certain point, you start to really ask each other questions about possible parenting philosophies."
Not long ago, he came close to forming a serious partnership with one woman, but when his job took him to a different city, she changed her mind. Williams, who now splits his time between Los Angeles and Dallas, is currently in talks with a single woman in Los Angeles and a lesbian couple in Dallas, all of whom he connected with on the website. He's open to a number of different parenting arrangements, but he knows one thing: He wants to be fully involved with parenting, not to simply supply the seed and end up feeling like a visiting uncle.
Joos, too, wants to be just as involved in parenting as the mother of his child. Early on in his search, he found Rachel Hope, a 43-year-old woman half a world away in Los Angeles. The author of "Family by Choice: Platonic Partnered Parenting," a how-to manual for aspiring co-parents, Hope already has two children, 23 and 5, with different male friends. She met the first man through work and the second through a mutual friend.
"The first way I loved my son was the pick the best dad I could find for him, regardless of my intimate romantic feelings."

— RACHEL HOPE,
AUTHOR, "FAMILY BY CHOICE: PLATONIC PARTNERED PARENTING"
From her online profile, Joos could tell they shared similar interests. Hope is passionate about environmental activism and education; she enjoys sports and gardening. He could see that she was attractive, which was important to him. So he sent her an email through the website, outlining what he was seeking. Joos and Hope have been in almost daily contact — via Skype, email and phone — since that first meeting online almost two years ago.
Hope maintains the primary household for her young daughter, Grace, whom she had with her 67-year-old friend Paul Wenner. Both parents spend quality time alone with Grace, but they also sometimes eat meals, go on vacation or do other activities together as a family. Wenner lives in a separate house on the same property as Hope and Grace. "He's brilliant and fun and gorgeous, and my daughter looks at him and goes, 'That's my dad,'" says Hope, who conceived Grace through in vitro fertilization. "There's no romantic connection between us, but I knew that this was someone I could really work with, I could really raise a kid with."
Hope raised her firstborn in Hawaii under a similar arrangement with his father, whom she met through her activism. They decided to form their unconventional relationship well before platonic parenting websites existed, before even the advent of the Internet; her son was conceived naturally. "The first way I loved my son was to pick the best dad I could find for him, regardless of my intimate romantic feelings, which were changing like the weather anyway," she says.
Her son has since grown up and moved out. He recognizes the value of his mother's choices, Hope says, but has more traditional values when it comes to parenting and family; he is currently living a monastic life and studying to become a priest.
Over the last few years, Hope has been cultivating relationships with a number of men she believes would be good dads and could get on board with what she calls a "custom-designed family." Early on she was having a difficult time arriving at a decision on whom she should choose to father her next child. As a result, she's planning to conceive embryos through IVF with three men: Joos, who identifies as bisexual, and a gay couple she met a year ago who live 40 minutes away from her.
In August, Joos hopped on a plane to Los Angeles to see if their relationship could hold up offline. While visiting, he spent time with Grace and Wenner and got to know the other couple Hope plans to parent with. Although Joos and Hope intend to take care of medical tests and draw up their co-parenting contract sometime in November, they don't plan to have a child until four to six years later. In the meantime, Joos will finish his Ph.D., and Hope will have babies with the couple.
To questions about his ability to be an involved parent while living so far away, Joos says he will be able to work it out with Hope. In the beginning he will be afforded "special baby holidays" and can stay with Hope for long stretches of time. She plans to go to Germany in the summers, and he will stay in Los Angeles for part of the winter.
"We would all cooperate, collaborate and assist each other, and we would be sharing a lighter load of responsibility because our kids would have us all in common," says Hope.
Hope and the three men plan to begin making embryos in December once the paperwork is complete. This could mean that they could end up with more viable eggs than any of them initially bargained for, but she says they are all comfortable with the proposition.
Hope didn't have a formal contract with the fathers of her existing children because she says there were no legal precedents, even when she began for her pregnancy with Grace. This time, however, she thinks it will be different, because the legal framework for platonic parenting now exists and because her relationships with her would-be co-parents are still relatively new.
"I'm very certain she is the right person to do this, because we've spent some time together and we share so many common things," Joos says of Hope. "I'm very, very optimistic that this will work out."