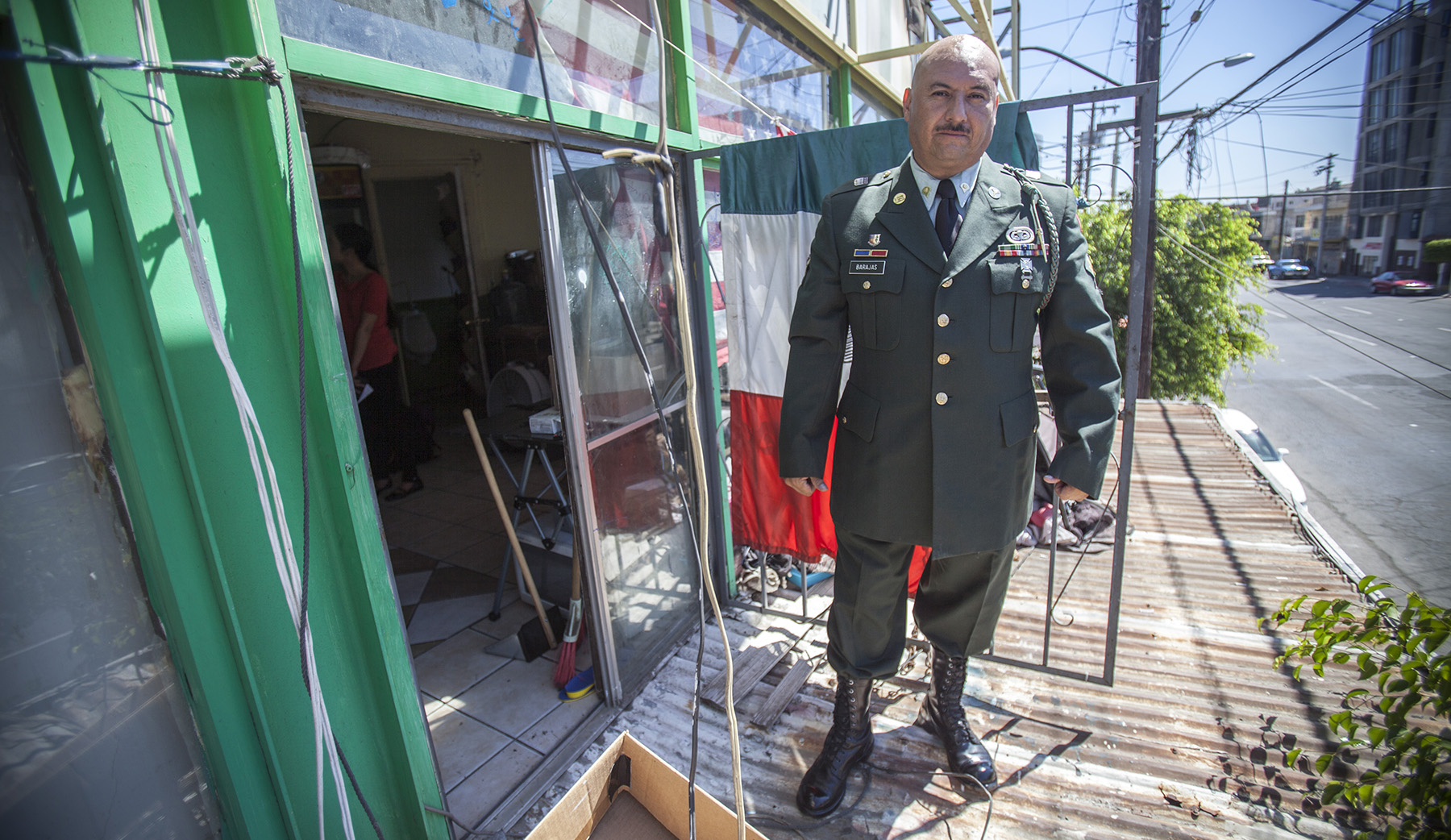 Deported Vets: Life in 'the bunker'
A support house in Tijuana gives former service members a place to call home
A
support
house
in
Tijuana
gives
former
service
members
a
place
to
call
home
Photos and video by Lam Thuy Vo
Edited by Caroline Preston, Mark Rykoff, Lam Thuy Vo
Above: Hector Barajas poses in his military jacket before going to an event to promote the work he is doing to help deported veterans.
Published on Friday, September 26, 2014
TIJUANA, Mexico — Hector Barajas carried suitcases, crates and trash bags filled with appliances, donated goods and clothes to the curb. He and a half dozen other men loaded up a silver Nissan pickup truck, tightly packing the items with the precision of gamers playing Tetris.
The men were moving from their rented apartment in downtown Tijuana, a 500-square foot room nicknamed "the bunker," to their new home in Otay Centenario, on the east side of the city. "Feels like taking down a base," said Marco Rodriguez, a former U.S. Marine, as he packed.
At any given time, the bunker had housed between one and six people, most of them U.S. military veterans. Its founder and first resident, Barajas, who served in the Army from 1995 to 2001, used the apartment as his home, office and a shelter for other veterans.
Barajas and the veterans staying with him are establishing a new life in Tijuana — a life after deportation. Their stories are similar: Each was honorably discharged from the military, but was later charged with a deportable offense — for example, drug possession, discharge of a firearm or perjury. In some cases, the veterans say, their offenses were triggered by the post-traumatic stress they developed after serving in combat. Most have spent the vast majority of their lives in the United States and are now starting over in a country they barely know.
No agency tracks the number of deported vets, but some immigration advocates estimate there are hundreds, if not thousands. Barajas says he is aware of more than 300 in 19 countries, including Bosnia, Ghana and Ecuador. Most deported veterans were permanent residents (green-card holders) at the time they enlisted; according to Department of Defense spokesperson Lt. Cmdr. Nate Christensen, about 5,000 documented noncitizens sign up for the military every year.
A series of new laws and programs introduced after September 11, 2001, have relaxed the requirements and streamlined the process for service members wishing to become U.S. citizens. Today, most recruits can become citizens by the time they graduate from basic training.
But those who did not apply for and gain citizenship are subject to deportation if accused of certain offenses. While some deportable acts still allow a veteran to apply for citizenship and avoid deportation, a subset of those actions — called "aggravated felonies" — guarantees deportation and prevents the person from ever applying for citizenship.
Such actions have grown to a "laundry list of random offenses," including misdemeanors that don't require jail time, says Margaret Stock, an immigration attorney with Cascadia Cross-Border Law and retired lieutenant colonel in the Army Reserve who has worked with deported veterans.
While a 2011 Immigrations and Customs Enforcement (ICE) memo requires the agency's officers, agents and attorneys to give veterans special consideration in deportation hearings, in practice, the guidelines are applied inconsistently.
Some critics of immigration reform say that people who have been convicted of crimes shouldn't be able to re-enter the country, but immigration attorney Craig Shagin thinks differently. "I'm suggesting that we recognize the loyalty factor involved with having somebody serve in the United States [military]," he said. "We are, and we should expect them to be loyal to us. And if we're expecting that from them, the reciprocal obligation of the States is to provide them the loyalty of nationality."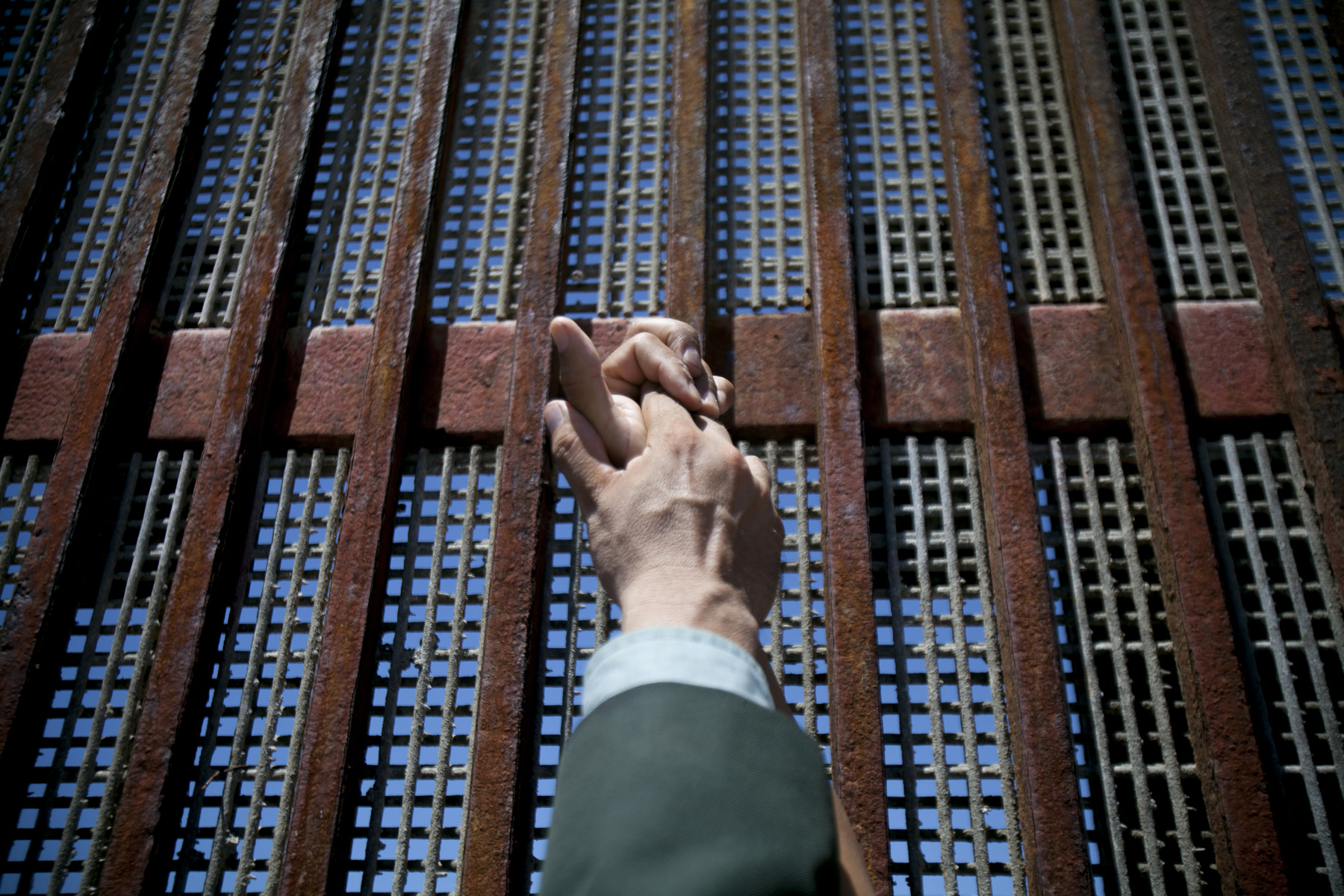 Barajas, a green-card holder who moved to the United States at age 5 and enlisted in the military at 17, was deported twice, once in 2004 and again in 2009. He crossed back into the U.S. shortly after his first deportation, for discharging a firearm into another car. (Barajas said his friend fired the weapon and he took the charges to avoid being a snitch). But after a run-in with police following a fender bender in 2009, he was deported again, this time leaving a 4-year old-daughter, Liliana, in the United States.
That year, Barajas, who said he joined the military to escape the "drug-infested gang neighborhood" where he grew up in California, moved into a two-bedroom apartment in Rosarito, a town 15 miles south of Tijuana. He relied on his parents and the mother of his daughter back in the United States for financial support as he applied for a Mexican government ID — a requirement for many jobs — and searched for work. After six months, he found a job as a nursing-home caregiver, working 12-hour shifts.
As he found more stability, he was able to help other deported veterans by letting them share his Rosarito apartment. Barajas rarely charged rent, relying on his salary as well as donations from his family and military buddies. (Many of those donors are still regular contributors today, giving more than $1,300 in the past six months.) When he lost his job at the nursing home in October 2012, he devoted himself full-time to helping deported veterans and began sharing their stories through his Facebook group, Banished Veterans.
Deported Veterans Support House rent
| Dates | Location | Area | Monthly rent |
| --- | --- | --- | --- |
| 2009–2013 | Rosarito | 2-bedroom apartment (square footage unavailable) | $180 |
| Jan 2014–Aug 2014 | Downtown Tijuana | 1-room apartment in downtown Tijuana (503 square feet) | $200 |
| Aug 2014–present | Otay | 3-bedroom, 2-floor building (1008 square feet) | $360 |
Barajas had struggled with drugs while living in the United States, and in mid-2013, stress and relationship problems triggered a relapse. He started doing crystal meth and lost all his savings. But after five months in a tent and homeless shelters, Barajas cleaned up and moved into the bunker downtown.
He said his time in the shelters taught him about services for those in need and left him with a stronger vision for his new organization. "It was a good and bad experience," he said. "It helped me [with our program]."
Barajas said the support house, now run out of the vets' new home in Otay, will provide not only three meals a day, access to the internet and housing, but also aid in securing identification cards, jobs and connecting with U.S. immigration lawyers. (Many of the veterans, including Barajas, hope to one day return to the United States.)
The home, a 1,000-square-foot, three-room building, is located in a quiet community near pastel-colored houses and a karaoke bar where students from the nearby university relax and play pool after class. "Reminds me of California," Barajas said.
To keep the bunker running smoothly, Barajas has introduced a set of rules akin to those at larger, more established shelters in the city. He schedules household chores and dictates when lights have to be turned off in the bedroom and when the doors are locked at night. The structure and rules keep the veterans busy, either with household chores or a job.
Rodriguez, a combat veteran who served in both Panama and the Persian Gulf, said the support house is giving him a sense of purpose, something he hasn't always had, especially after being deported in 2000. "[R]ight after the [Marine] Corps and you're a civilian again, and you don't know where to go, where to begin. And when I was deported, even less."
When he was six, Rodriguez immigrated from Aguascalientes, Mexico, to Pico Rivera, in southern California, with his mother. She had a work visa that also covered her children. But when he turned 18, he was required to return to Mexico and apply for a visa of his own. The idea scared him; he didn't want to risk the possibility of not being able to return. So instead he paid someone $1,300 for the birth certificate and basic information of a deceased Italian American citizen who was about Rodriguez's age.
With that identity and his new name, Rodriguez joined the Marines in 1985, had the first two — twins, a boy and a girl — of his four children and was deployed for two years beginning in 1988. He lived under the assumed name for almost 30 years until 2000, when officials from the FBI and ICE showed up on his doorstep in Azusa, California, and deported him. The deportation process took all of seven hours.
He arrived in Mexico carrying only his wallet, which was stripped of his U.S. and military IDs. He also lost his veterans' benefits because the benefits were attached to a false identity.
Rodriguez spent 11 years in Mexico City, working as a private security officer, bodyguard or bounty hunter and battling a prescription drug addiction he'd developed in California, when a psychiatrist had prescribed him Xanax for PTSD, which he says he developed after his deployment to the Persian Gulf. He eventually grew tired of the congested city life and moved to Tijuana. There, he found a Christian rehabilitation center that helped him get over his drug addiction; he's been off prescription drugs, he says, for a little over two years. He also found the bunker. "It was kind of like finding a lost relative," he said.

Both Barajas and Rodriguez see the bunker as a resource to help orient people when they first arrive in Mexico. "When you're in Tijuana, there's a time period where, if people don't help you, if you don't get yourself on your feet, you could end up being addicted, end up on the streets, homeless," Barajas said. "You could end up getting targeted by criminal organizations. They could kidnap you. You could get involved in the criminal organizations. So I think it's really important to get these guys before that happens."
Barajas expects recent deportees to stay no more than three to four months. "I want these guys to get work, help them with their IDs. Make sure lunch, breakfast, dinner is there so they can focus on work and getting their situation straightened out," Barajas said. "Then we can help the next guy."
While many of the benefits that are available to veterans with an honorable discharge are still available to deported veterans, getting access to them can be difficult outside of the country. For example, the process of securing disability compensation through the Department of Veterans Affairs can often be smoother with medical records from a VA doctor — in the U.S.
In recent years, there have been attempts by the U.S. and Mexican governments to help deportees. In 2007, the Mexican government started one repatriation program that formalized the way people are received. Depending on where they were deported, the program, along with state-sponsored groups and nonprofits, helps deportees make phone calls and get water, snacks, transportation to a shelter and discounts on a bus ticket. However, the help is limited and most deportees can only stay in each shelter for an average of 7 to 10 days, says Enrique Morones, president and founder of Border Angels, a nonprofit group that sponsors a handful of shelters in Mexico. Most deportees rely on extended family, churches and shelters around the city.
"The aid is lacking, especially for people who don't know Mexico," said Jeremy Slack, a lecturer at the University of Texas-El Paso who has researched immigration issues for more than 8 years. "In the case of vets, they might never have met the family they have in Mexico. The vast majority of their families are living in the U.S."
Mario DeLaCruz, a veteran of the Army Reserve, is reaching the end of his three months at the support house. For DeLaCruz, the bunker has been a stable place to live while he saves money and builds a reputation as a personal trainer. He was a fitness manager at a gym in Las Vegas, where he lived for about three years until 2011. A father of six, he made up to $100 an hour and had as many as 15 clients at a time.
But deportation changed all that. In 2007, DeLaCruz was charged with welfare fraud and perjury after he signed some papers to help a relative. He pleaded guilty to avoid a long trial, he said. His fraud charge wasn't a deportable offense, but perjury was. In January 2011, after serving two years in prison, he was deported to Mexicali, a border city two hours east of Tijuana.
When DeLaCruz arrived at the border, Mexican officials didn't believe that he was Mexican. He'd immigrated to the United States when he was 6 months old, and spoke only broken Spanish.
"Mexico didn't accept me. They sent me back, and they told the Border Patrol that I wasn't Mexican. And so they had to take me back and investigate where I was from," DeLaCruz said. "And they go, he doesn't even sound Spanish. He doesn't even sound Mexican. He doesn't know about the presidents. He doesn't know about what's going on over here. There's no way he's Mexican."
After he was deported, DeLaCruz traveled up and down Mexico twice and spent a few months in Central America; the longest he stayed in any city was eight months. Now, he's been in Tijuana for about three months and, for the first time since his arrival in the country, is putting down roots. He credited the bunker: "One of the things that helps is being around other people who are like me, who are service members and are deported … We understand each other, what we're feeling."
He spends his days working out, finding new clients and training boxers at the Olivaritos gym. "Once I step into a gym, it doesn't matter that I'm deported," said DeLaCruz. "All of that goes away."
Building a new life in Tijuana
On the day of their move, DeLaCruz, Barajas and Rodriguez climbed out of the silver Nissan truck. Drawing from their experiences in military fieldwork, they formed a chain to move their belongings from the truck to their new home. "Chain it up," Barajas said.
Over the next few days, they cleaned up the new space, set up cots and created separate living spaces for each person. "I like it a lot. We'll be a lot more relaxed. There's more space," DeLaCruz said, looking at his personal belongings.
Meanwhile, Barajas said he is planning to apply for U.S. citizenship. A court ruling last year in the case of another individual facing similar deportation charges may have helped his chances. He is putting together the necessary paperwork and finding an attorney to help him through the application process. "My daughter's getting older. I missed out on a lot of years of being her father. It's time for me to make more of an effort."
In the meantime, he has Skype, his deported-veterans family and a new place to call home. ◆