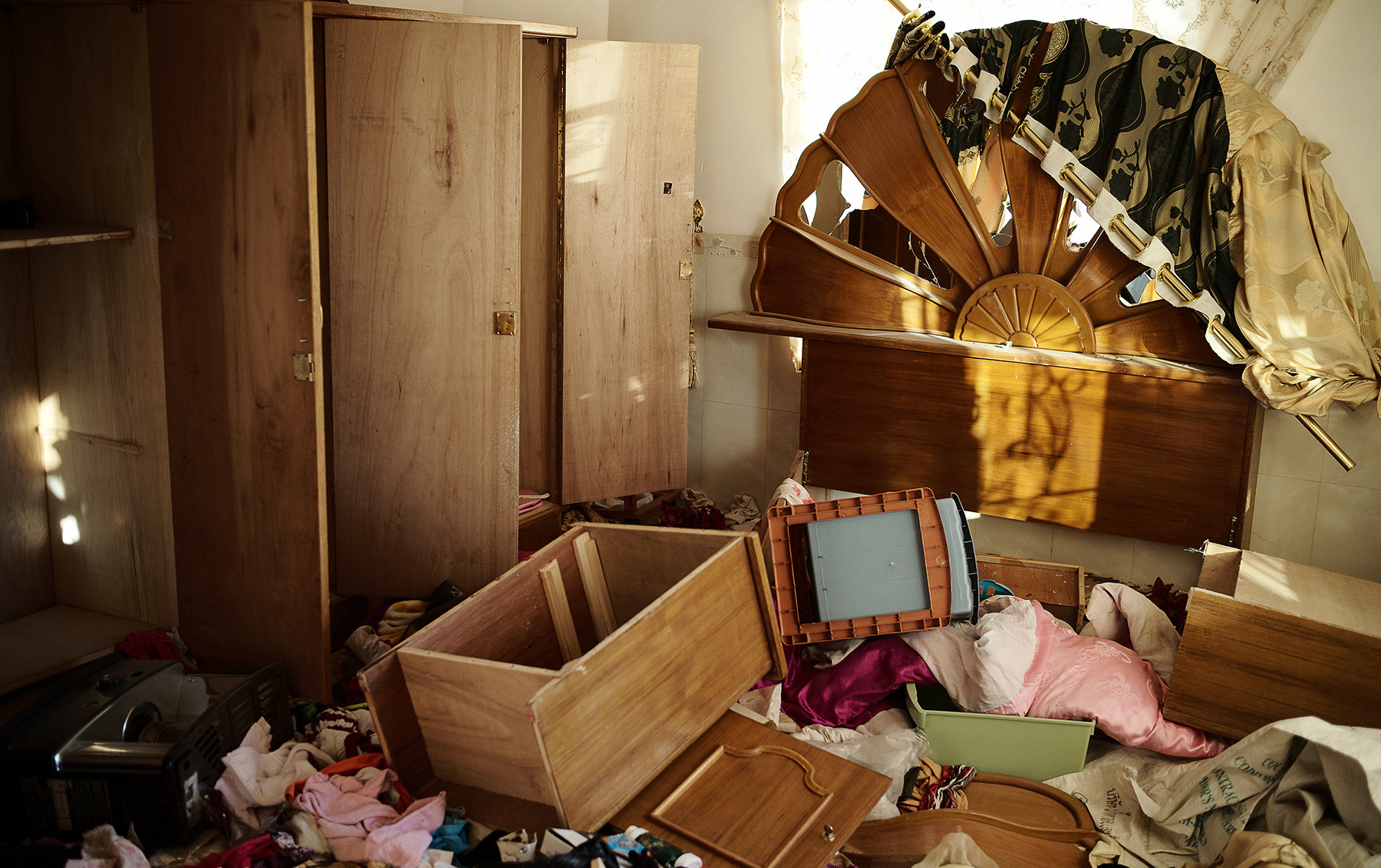 Neighbor Against Neighbor
Tracking the exiles of Green Mosque Road in Kurdistan
Tracking
the
exiles
of
Green
Mosque
Road
in
Kurdistan
MAKHMOUR, Iraq — On this nameless street, colloquially known to residents only as Green Mosque Road, the high walls that line the sidewalks make each house a compound unto itself, with only roofs and treetops visible to the outside. But behind these walls, neighbors say they shared their lives — weddings, funerals, holidays and meals — and lived as one family.
The Kurdish Mohsens and the Arab Mareis, whose houses are at opposite ends of their block, broke bread together for years, whether in their homes or on picnics in the cooler mountains above their town, some 60 miles south of Mosul. Mohammed Mohsen, 20, remembers that at their last outing in the spring, they laughed endlessly over a generous feast — though the Mareis' cooking was never quite as good as his mother's.
But a few days after the town of Makhmour was liberated from the forces of the Islamic State of Iraq and the Levant (ISIL), an angry mob came to set fire to the empty Marei house.
Mohsen stood aside and let it burn.
"We were like brothers and sisters until they betrayed us," he says, surveying both houses from across the street and repeating what he has been told: When ISIL invaded and captured Makhmour on August 7, members of the Marei family helped.
"They drank from our blood," adds another resident who has been eavesdropping on the conversation.
As ISIL swept across Iraq this summer patching together its caliphate, it tore through bonds carefully built between Kurdish and Arab residents in this town, where coexistence has not always come easy. On Green Mosque Road, those ties proved more delicate than the years of shared living had led neighbors to believe.
While both Kurds and Arabs fled Makhmour the day ISIL arrived, only Kurds were let through checkpoints to the relative safety of Erbil, the capital of the semi-autonomous Kurdistan Regional Government (KRG), leaving Arabs to sleep in the open or risk going back to ISIL territory.
And when Makhmour was freed four days later, the KRG allowed only Kurds to return to their homes.
Today, two months out, only Kurds remain in Makhmour. Arabs, who just weeks before were their neighbors, customers, grocers, friends and even relatives, are now gone.
In a region and a summer of displacements, theirs is one of the smallest, but remains singular for this: unlike those Iraqis whose lands lie in the grip of ISIL, the homes of the Arabs of Makhmour are in liberated areas. It is the KRG – sometimes touted for its ethnic tolerance – that is preventing their return.
After all, Makhmour lies in the areas disputed between Iraq and the KRG, and manipulating demographics has long been a weapon both Baghdad and Erbil have used to stake claim to this territory. This summer, the town was about 70% Kurdish and 30% Arab.
For one stretch of Green Mosque Road, this latest shift in power means several households are now in exile, two homes lie destroyed by fire, and neighbor has turned against neighbor.
The Makhmour province, including the town of Gwer, have all recently been recaptured from ISIL.
The word spread quickly when the Kurds returned to their homes in Makhmour: The Arabs had supported ISIL when they invaded and its ranks were made up of Arabs they recognized and knew.
On Green Mosque Road, specifically, Kurds say they were told that their neighbor Abdul Aziz Marei, whose family had picnicked with Mohsen's, had celebrated the takeover by running into the streets to hand out sugary sweets to the fighters. And there were rumors that during its short tenure, ISIL had anointed Majid Hamed Salman, the neighborhood food distributor, as the mayor.
Both their houses were set ablaze by armed men. Other Arab homes were looted, as were Arab-owned stores.
To prevent any further looting, another Kurdish resident of the road, Hamza Hamad Amin Sharif, put locks on the windows and doors of his next-door Arab neighbor's house and rolled an old 1984 red Passat that belonged to Arabs onto his property and flattened the tires, so no one could steal it.
Hamza has been feeding the chickens left behind. Figs hang, burnt and unpicked, on his neighbor's tree, and the leaves, many of them gone brown, have lost their fragrance.
Click on the dots below to see who lives in some of the homes on Green Mosque Road.
(Mosque photo in map by Salar Salim.)
Sharif says that Najat Ali Saleh, head of the peshmerga, or Kurdish security forces, in Makhmour, prevents the family from coming back. While the edict is imperfect and overly broad, he agrees with the decision for safety reasons. Even though not all Arabs supported ISIL, he says he doesn't see that they have any choice.
Gesturing toward Abdul Aziz Marei's burnt house, he describes his former neighbor as a big talker — "He had a mouth like Caesar"— though he concedes Marei didn't fight with ISIL.
As for the exiled family whose house he now protects, he doesn't know where they are, but says they are good people and that they speak excellent Kurdish.
"The man," he adds as an afterthought, "is an English teacher."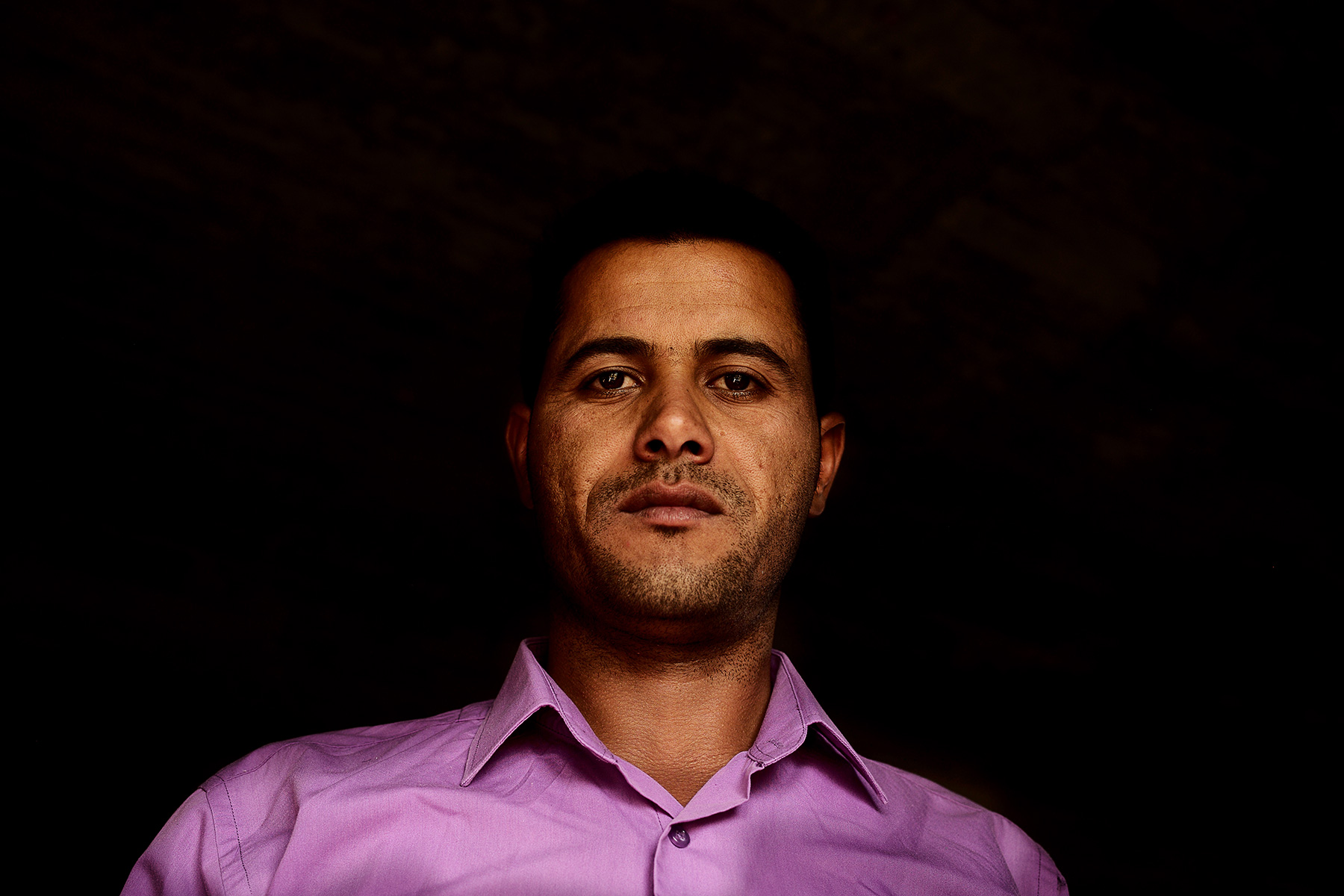 The English teacher, Hamid Majout, 37, is forbidden to return to his home, leaving his classes without an instructor. He, his sister, his mother, his four brothers and their families live in disbelieving limbo at the end of an unpaved road off the main highway that runs like an artery between Erbil and Makhmour.
It's a bumpy three-mile ride, flanked by flat, barren terrain crisscrossed with telephone poles and wires and sudden tracts of lush cornstalks that rise unexpectedly and incongruously.
Hamid's wife is Kurdish, and he has sent her and their two daughters to live with her parents in Erbil. She did not want to go, but after that first night in the open, stuck between ISIL and the last checkpoint into land controlled by the Kurdish Regional Government, he insisted she take advantage of the mobility her ethnicity permitted her.
He had spent the night watching over his family as they slept in the open, holding a flashlight and scaring the scorpions and snakes away. They would be safer with his in-laws. Every day, he misses her, his toddler and the baby, 25 days old on the day they took flight.
A Kurdish farmer lets them live on the property, which is composed of a warehouse, used as a shelter for livestock and storage for grains, and a room for the farmer to rest in when working the land. The family has made a kitchen out of part of the warehouse and sleeps all together in the room. There is no bathroom or shower.
Everything — the refrigerator, the basin, the cushions and carpet that cover the concrete floor in the room — is donated to them by their Kurdish host and Kurdish neighbors from Makhmour who come to visit. An old homemade seesaw, long on the property, allows the small children some whimsy.
Hamid knows why he has been denied his wife, his home, and the money and electronics looted from his house: He is Arab.
Even though ISIL is made up of many ethnicities, including Kurds, Iraqi Kurds have felt particularly stung by the enlistment of Iraqi Arabs in the movement. Hamid and his brothers say they believe it is true that Arabs from the villages surrounding Makhmour were indeed part of the invading force.
"We understand why they don't let us back, but we are shocked at the same time," says Hamid's brother Ali, who slips into Kurdish more easily than Arabic.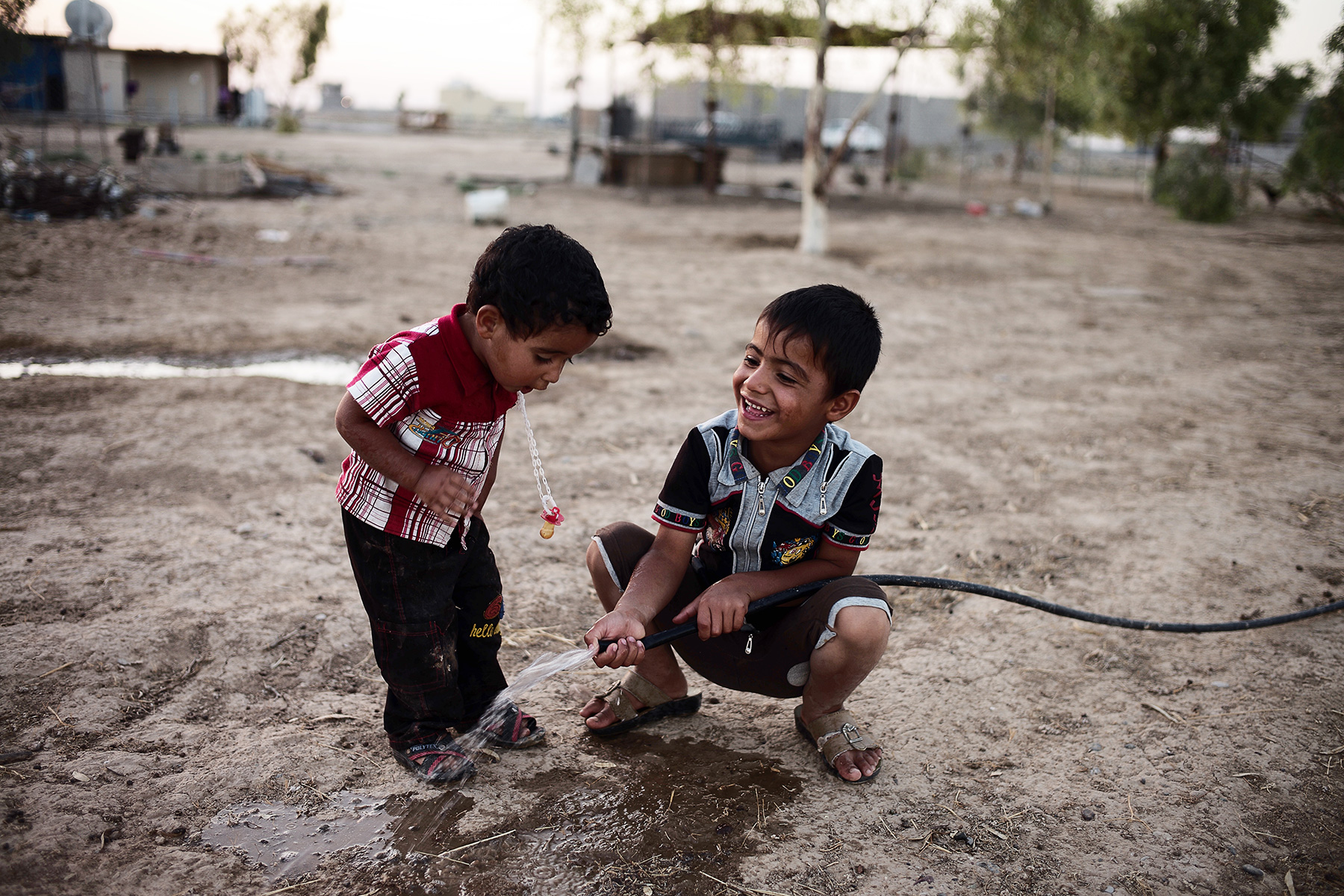 The younger Majout fled one day earlier than his family and most Makhmour residents. Well known as a radio anchorman on the Dangi Gali Kurdistan (Voice of Kurdistan People) channel, with its anti-ISIL positions, he was a ready target. His Kurdish friends are so close to him, he says, that in addition to the household items they have donated to his family, they've brought him the pair of jeans and plaid shirt that he wears today and is now his daily uniform.
"It's true that Daesh had supporters from surrounding areas, but not all," says Hamid, using the Arabic shorthand for ISIL. "Daesh has members from the United Kingdom, USA, France and Australia — are they all Daesh?"
To emphasize his point, he gestures toward their sister, who sits sullenly apart from them, and explains she was meant to marry a Kurd during the summer.
The brothers believe it was no accident that ISIL attacked Makhmour, intending to drive a wedge between Arabs and Kurds, who unified could oppose it better than divided.
"Why else would they come to Makhmour?" asks Hamid.
Ali is hoping the KRG will begin to differentiate between "who hates them and who doesn't" sooner rather than later. But like their sister with her married dreams deferred, both men realize they might be pawns in something larger than them.
Why, for instance, were two Arab houses burned on their block?
"Rumors," Hamid scoffs. His understanding of Abdul Aziz Marei's sin was that his son Saad, who worked as a barber, helped ISIL when they came into Makhmour.
As for their neighbor alleged to have been named mayor by ISIL, Hamid makes an exasperated face and swats the notion away like the evening flies.
"He was a poor man who made some money and some nice improvements to his house."
"They don't even have positions like mayor in a caliphate!" says Asad Ali Mohammed, 47, of the al-Taie family, pained at having to state what he thinks is obvious.
Also an Arab from Makhmour, he and his family lived around the corner from Green Mosque Road. They too are not allowed to return, now living off of another vein of the same main highway. This road is also unpaved and weaves sinuously through the several concrete factories that rise up from this stretch of land.
Asad, his two brothers and their families came here in August when they couldn't clear the checkpoints, and have taken residence in the small office of one concrete plant. With the ISIL crisis having slowed the demand for its concrete blocks, the owner is allowing them to stay at the plant until the pace of production picks up again.
The family now lives in the shadow of its silo and looming mountain of cement. They watch those grains like the sands of an hourglass — when it runs out, their time will be up. The workers will return full-time and the family will have to leave. Where, then, they would like to know, are they supposed to go?
"Our only choice is to go home," says Balkissa Hassan, 44, Asad's sister-in-law. The families refuse to go to a refugee camp or to ISIL-controlled areas lest the suspicion attach to them that they are sympathetic to the group.
"ISIL are 'kfar' and destruction," says Massoud Ali Mohammed, 49, using the Arabic for infidel. "They make tensions between Kurd and Arab."
Though their families are now caught between those tensions — they heard from friends back in Makhmour that their stores were looted — they still want to go home and move on.
"We will relax, we will let it go," says Asad. "Those who really betrayed Makhmour won't go back."
They say they've begged their Kurdish friends to ask Najat Ali Saleh, the peshmerga chief in Makhmour, why they can't go back to their homes.
They are indignant at his reticence, especially as they say they voted for him and his party, the Kurdish Democratic Party, as recently as April in the Iraqi parliamentary elections.
"He came to our house to ask for our vote for the KDP," says Asad, incredulously.
Ahmed Aziz, 25, another displaced Arab from Makhmour visiting that evening from the concrete plant he is staying at with his family, raises his right index finger, points to it with the other and says, "I want to cut off this finger that I used to vote for Najat."
Najat Ali Saleh is unmoved. He says the Arabs didn't vote for him but rather voted for the party. Then he says the majority of Arabs just didn't vote.
He says that yes, he has given the order not to let Arabs into Makhmour, including residents. "Because of security — theirs and ours — it is better to stay where they are," he says.
Saleh explains that the Arabs betrayed the Kurds with their support for ISIL, and when the peshmerga retook the town, Makhmour's Arab residents ran away with ISIL as it retreated. While he says local Arabs' support of the invaders shocked him personally, it was a foreseeable result of Baghdad's "mismanagement" and exclusion of Sunnis in Iraq. "Anyone would carry weapons and fight," he says, in such a situation.
But because of their betrayal, he says, Arabs will no longer be safe in Makhmour.
"Their life will be in danger; it's not easy to convince the people that not all Arabs are ISIL," he says. "If I allow an Arab family to come back, I have to protect them." With the responsibility of a military frontline on his shoulders, he has other priorities.
While he says the events of this summer will "leave scars" on the people, he affirms that there is room for Arabs in Kurdistan. He cites the more than 100,000 Arabs who live in Kurdistan, making up 5 percent of the total population, which includes many sects and ethnicities, including Christians, Yezidis, Armenians and Shiites.
"It will be cured, but will take time," he says. "It's a lesson for the next generation."
Saleh, who is also studying for a master's degree in international relations, adds, "Civil wars are a part of state making."
This summer, those growing pains were on display in Kurdistan. Days after the ISIL takeover in Makhmour, anti-Arab protests erupted in Erbil, which the KRG quickly silenced. The influx of thousands of internally displaced Arabs who have fled ISIL-controlled regions (some because of ISIL, others because of fear of the airstrikes) for camps in Kurdistan has made several locals uneasy and resentful of a burden they feel they have spared Baghdad.
As for those with fears of an official policy to tip the ethnic balance in the disputed territories in favor of the Kurds, Saleh suggests a trip to nearby Gwer, which he says will prove there is no official policy to not allow Arabs to return. One of the villages attached to Makhmour administratively, Gwer is home to hundreds of Arabs, Saleh says.
When the peshmerga, again assisted by American airstrikes, were able to liberate Gwer in August, ISIL retreated across the Great Zab River to Gwer's other bank, Kenhansh. To prevent any pursuit, ISIL blew up the bridge connecting the two sides. Before the events of this summer, Gwer had a majority Arab population.
Now it is almost a ghost town, and only the poorest of the Kurdish families have returned. The hum of planes above is a constant presence, and evidence of airstrikes is not hard to find. Many of the Arab-owned shops, in the absence of their proprietors, have been burned down and looted.
A trio of Kurdish men who have returned say there are no Arabs in the village because all of them have gone to live in ISIL areas.
"They clapped for ISIL," says one. "Arabs are a disloyal people; they want the elimination of Kurds in this area. They are all Baathists."
His friend interjects that no, not all Arabs are pro-ISIL. "One percent are not," he says.
The other says it will be hard to live together again. "Honestly, we will assault them."
By the riverbed, an all-Kurdish unit of the Iraqi Army (paid by Baghdad, commanded by KRG) stays on lookout to ensure that ISIL doesn't cross back over. The major in charge says it is necessary for the Arabs to stay out of Gwer. "They gave information to ISIL. ISIL is a Sunni Arab movement, so they definitely ideologically support them. They prefer to be with them than with us," he says.
On the way out of Gwer in the early evening, with the sun lower in the sky, the smoke rising from across the river is more easily seen. Pickup trucks and cars pull over, and Kurdish men and boys get out and point at the distant hills.
Taking up positions, they pass a pair of binoculars between them and take in the airstrikes and the sunset across the river.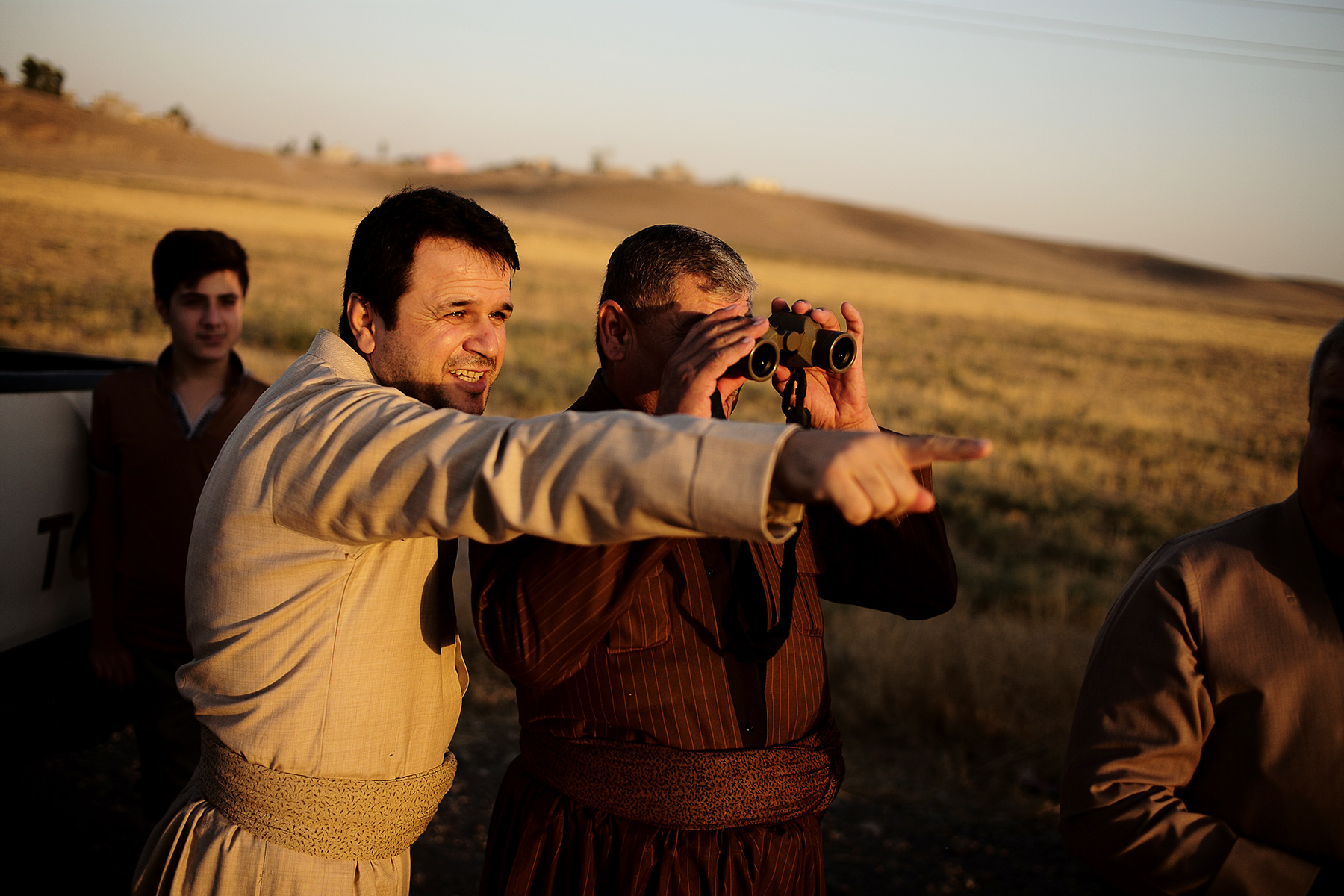 Like the others on Green Mosque Road, Majid Hamed Salman, 39, fled with his family after ISIL invaded Makhmour. Like other Arabs, he was turned away at Erbil's outskirts and found shelter in ISIL-controlled territory.
But then he began to receive calls on his cell phone, where voices would sneer at him: "Congratulations, mayor of Makhmour."
He didn't recognize the numbers or the voices, and the calls came in Kurdish and Arabic. He also received calls from the Asayish, the KRG's internal security apparatus, asking for his whereabouts. Each time he confirmed he was not in Makhmour.
Salman, a food distributor for 700 of Makhmour's families, didn't know what the calls were about. The food distribution system first was implemented in 1991 during the sanctions against the Saddam Hussein regime, which rationed items like rice, cooking oil, sugar, lentils, beans, flour and milk. After 2003, it was continued by the central government.
A person's food distribution ID works as proof of residency and is one of the most important documents an Iraqi possesses. A distributor is paid a monthly salary by Baghdad but can make significant money from selling rations left over, as not all families collect their share regularly. To hold such a position, a person must be generally well respected in their community.
When ISIL attacked on August 7, Salman was at sunset prayer. Returning home, he saw that neighbors were fleeing the city. Hearing that armed groups were near the citadel of Makhmour, his family, along with nine other families — teachers, doctors, even a judge — decided to make a run for it.
In a large convoy of cars, they sped toward Erbil. All Arabs, they were denied entry. They spend that night sleeping in the open. The next day, the peshmerga told them to take the road to Gwer and head for Arab villages. Salman says he warned them, however, to consider splitting up, that travelling in a nine-car convoy might attract the attention of the planes coming to target ISIL.
Salman decided to go where he had two uncles, to a nearby Arab village under ISIL control.
When he heard Makhmour had been liberated, he was ecstatic and began to prepare to go home. But then he received another call: Armed mobs had set fire to his house. He says it was not his neighbors but rather "peshmerga bastards" and people in Asayish vehicles.
It was then that he probed the calls about becoming mayor and found out: People in Makhmour had been told that he had stayed during the invasion and had received the position of mayor under ISIL. He was in shock.
"I had great relationship with neighbors; we were like one family," he says. "My father, my grandfather — we were always very proud of Makhmour and proud to have Kurdish neighbors."
He wants to know on what evidence he stands accused. "I'm ready to confront it," he says. "Any allegation, my neck is ready — in the legal way or tribal way."
Salman says he forgives his neighbors for believing any rumors or for being jealous of any money he made and the improvements to his house it allowed him to make.
He wonders about those who burnt his house. He asks, "How do they feel knowing they burnt the house of a man outside his house?"
But as for punishment, he says, "I leave it to God. He will take my revenge."
The Marei family, whose home was the other to be destroyed by fire on Green Mosque Road, also fondly remember the picnic they had in the mountains with the Mohsens. They remember other times as well, like trips together to the shopping malls in Erbil or celebrating the Kurdish holiday of Newroz, which welcomes a new year.
When they are reached by phone, it is the younger son who answers, and he vehemently denies all allegations. Twenty-year-old Ahmad Marei is incredulous that people believe his brother the hairdresser is part of ISIL.
"He's a coiffeur!'' he says.
The rumors that a member of his family gave out sweets to ISIL fighters are also contested. Ahmad says his Kurdish partner in the sweets shop they own called him from Erbil on August 8 with a request: open the shop and sit there, as a deterrent to ISIL looting it. When the armed ISIL men came in, Ahmad says they took food and money.
"Can I say no? They had weapons – who was going to defend me?" After that, he packed up and left Makhmour, joining his family in Karmerdi, an Arab village under ISIL control now.
He too says his family wants to return, that they lived happily in Makhmour. "We don't differentiate between Kurds and Arabs," he says. "We are all Muslims."
Salar Salim contributed reporting to this story.