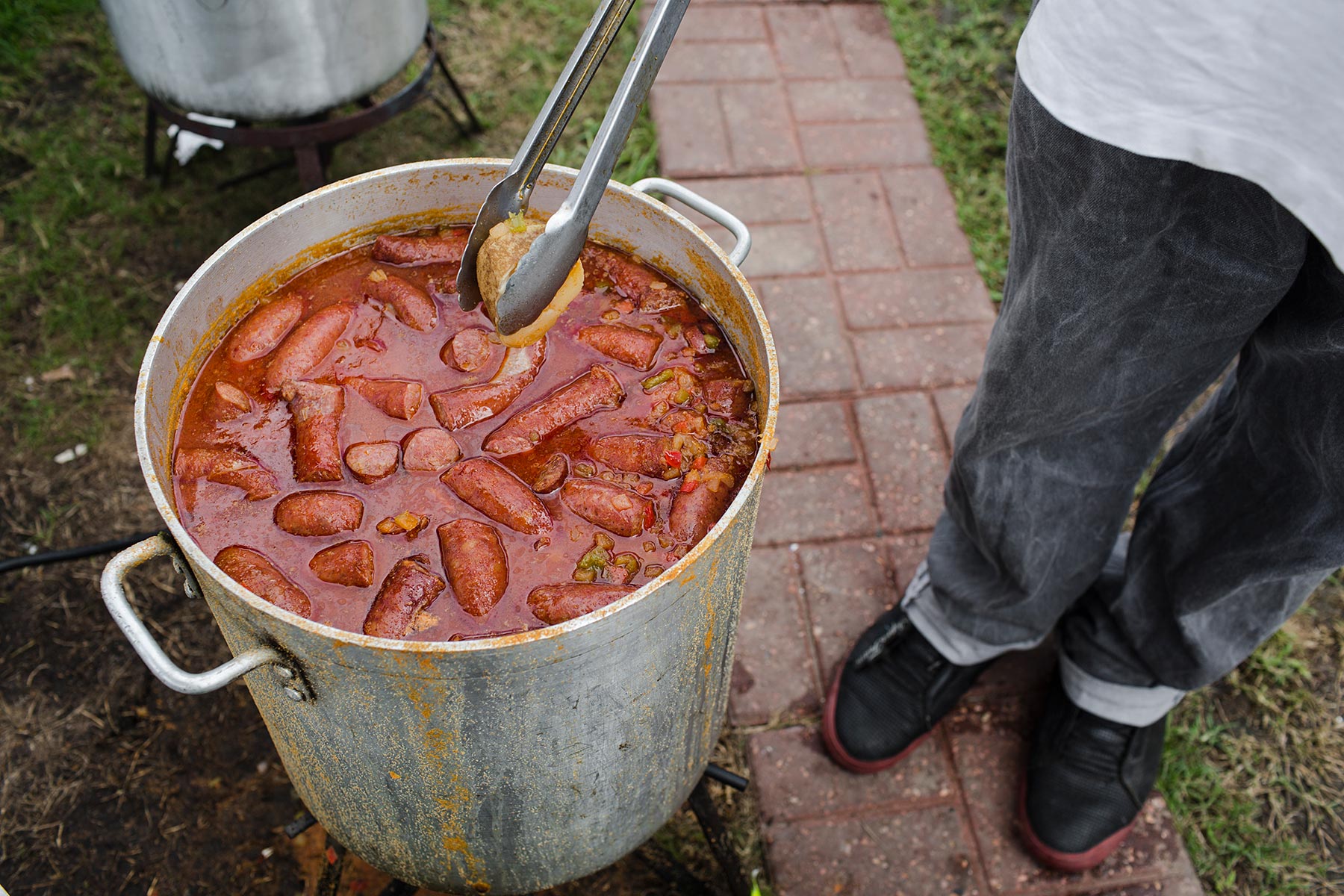 'Red beans and ricely yours'
Free rice and beans still a Monday night tradition in New Orleans
Free
rice
and
beans
still
a
Monday
night
tradition
in
New
Orleans
Around 11 p.m. on a Monday night at B.J.'s Lounge, an old wooden shack of a dive bar in New Orleans' Bywater neighborhood, 40-year-old musician Jimmy Horn warms up his vocal cords. "We got beans and cornbread" he sings, as he strums his guitar, "100 percent good, I tell you what."
Like any good bluesman, he's just telling it like it is. There are, in fact, beans and corn bread (with jalapeños) about four feet from where he's playing. Earlier in the day, he and his band, King James and the Special Men, slow-cooked five pounds of red beans and rice, simmering it for six hours. Just like every Monday night at B.J.'s, their weekly gig, they've made enough for everybody, which tonight is about 50 people.
Listen: Jimmy Horn at BJ's Lounge
"It's just part of the culture here," says Horn. "You got your people who appreciate quality cooking. You got people who are drunk and need some food in their stomach. You got people who are actually hungry. They come here too, and they tend to come a little early. Some of them leave before the music starts."
Twenty years ago he arrived in Louisiana a bright-eyed and penniless 19-year-old from Utah. He wanted to absorb the famed traditions of New Orleans music. In order to survive in the Crescent City, until his musical skills were recognized, he relied on another local tradition, the myriad city bars that put out red beans and rice free on Mondays. "As broke as we were, some nights we were taking big bags of beans home as payment for playing music."
"That's a Haitian thing," says Mona Lisa Saloy, a New Orleans native and an English professor at Dillard University, a historically black school in the city's 7th Ward. The Haitian revolution in the late 1700s brought an influx of immigrants from Haiti to New Orleans. She says their traditions were familiar to the slaves already in Louisiana. "Even in West Africa, there's a lot of beans and rice. And they cook it very much the way we do."
And the Monday aspect of red beans and rice, that's Haitian too, says Saloy. "It was laundry day. So you soak the beans the night before. You separate them … and you slow-cook them all day while you're getting your chores done. By the time the family's home, the beans are done."
Saloy says the basic recipe requires "the holy trinity": onions, parsley and celery. "We also add garlic. We do a lot with garlic." And she says a little thyme helps too. What makes New Orleans style red beans and rice different is that the beans are creamed. "You mash the beans so that it's tender enough. You literally take a big spoon and mash it," she says.
She says this idea of sharing what you make, like Horn's five-pound cauldron of red beans and rice that disappears while he plays, developed as the Creole community in New Orleans grew in the 1800s. Before the modern-day nightclubs and bars, people had parties in their backyards, she says. "This is in the day before AC [air conditioning]. So you tie blankets to shade yourself, and everybody had backyard parties, and then we had suppers."
She remembers these suppers as a kid, growing up in New Orleans' Gentilly neighborhood, famous for perpetuating local Creole traditions. Now she teaches at Dillard, down the street from where she grew up, an institution that received $$1 million from Ray Charles before he died to research and preserve culinary traditions like red beans and rice.
Gentilly was hit extremely hard by flooding after a levee on nearby Lake Pontchartrain broke during Hurricane Katrina. As New Orleans moves into its 10th year since Katrina, Saloy is still trying to rebuild her childhood home. She weathered Katrina and its aftermath, but more than 200,000 residents left the city. She says she's constantly sending local food to her relatives who moved away. "We send them oysters. We send them shrimp, the [chicory] coffee."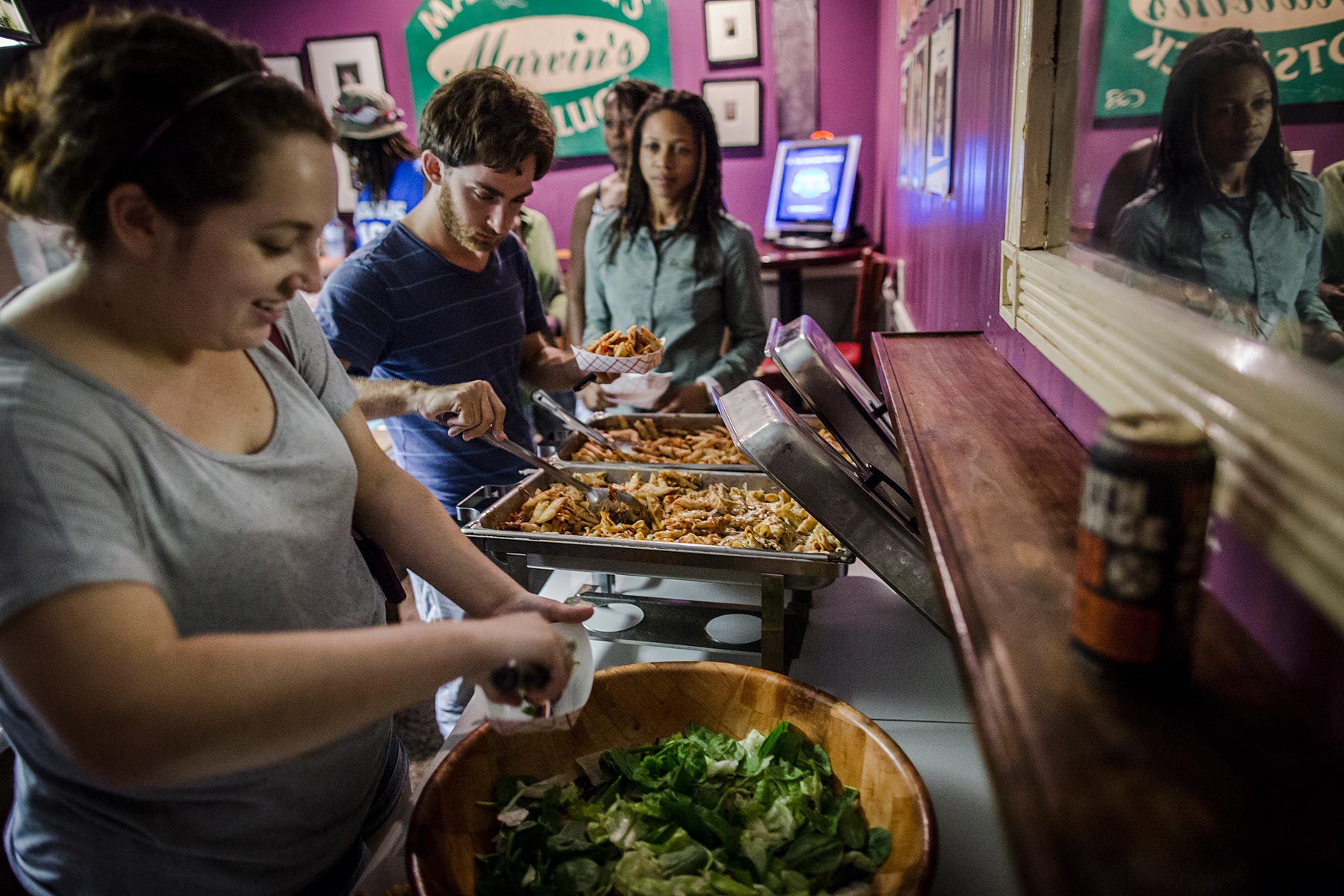 The latest data says New Orleans is back to 78 percent of its pre-Katrina population of about 480,000. But that's not just people returning home. There are a lot of new faces around town, including transplants from other parts of the country who admire local traditions like red beans and rice but are also creating some of their own.
T. Cole Newton, 31, went to Louisiana after college from Washington, D.C., to help with Katrina recovery. After working as a bartender in a variety of local restaurants and bars, he wanted to make his mark. He bought a rundown old bar in the Mid-City neighborhood and four years ago opened 12 Mile Limit.
"It had a bullet hole in the window when I found it," he says. "It wasn't exactly the fanciest bar in town, but it was in an up-and-coming neighborhood."
Newton knew about the Monday night tradition of red beans and rice from working at other bars around the city. At first he kept 12 Mile Limit closed on Mondays to give his chef, 30-year-old Chris Shortall, a night off. But a year in, they began offering a Monday night free meal, with one caveat. No red beans and rice, ever.
"That's the one rule," says Newton.
Shortall has prepared meals for about 100 people every Monday for the last three years. Sometimes it's something local, like a crawfish boil. Sometimes it's Thai food.
Newton says he and Shortall occasionally lose money on Monday nights, as the free-food crowd tends to drink less and tips are smaller. But he's confident he wins in the long run, converting a few new loyal customers every week by offering something free. "It feels like the right thing to do," he says. "It feels like we've offered this thing and people have come to know it and come to depend on it, to a certain extent."
There is grumbling around town about gentrification and rent increases, and it's generally directed at the whiter, younger crowd that tends to frequent newer establishments like 12 Mile Limit. But Horn, once a newcomer himself, says guys like Newton are showing they are willing to fit in and people need to embrace that. "Instead of complaining about the fresh blood that we've needed so desperately, you just try to lead by example and show 'em how it's done."
Horn says the particulars of his red beans and rice recipe came from Antoinette K-Doe, the wife of Earnie K-Doe, one of New Orleans' most decorated hitmakers. The couple ran the Mother-in-Law Lounge, named after Earnie K-Doe's song that hit No. 1 in 1961. Antoinette K-Doe was infamous for keeping the bar open at all hours of the night, and she made sure there were red beans and rice on Mondays too.
"She wasn't going to share it with you," says Horn of her recipe. "You learn by watching. You spend some time in the kitchen. You pick it up as fast as you can."
Horn likes to use local brand Camellia red beans, and his biggest decision is usually whether to add pickled or smoked meat to the mix. "I like smoked. Sometimes I'll use both. Or I'll lean toward the pickled meat in the summer when it's really hot."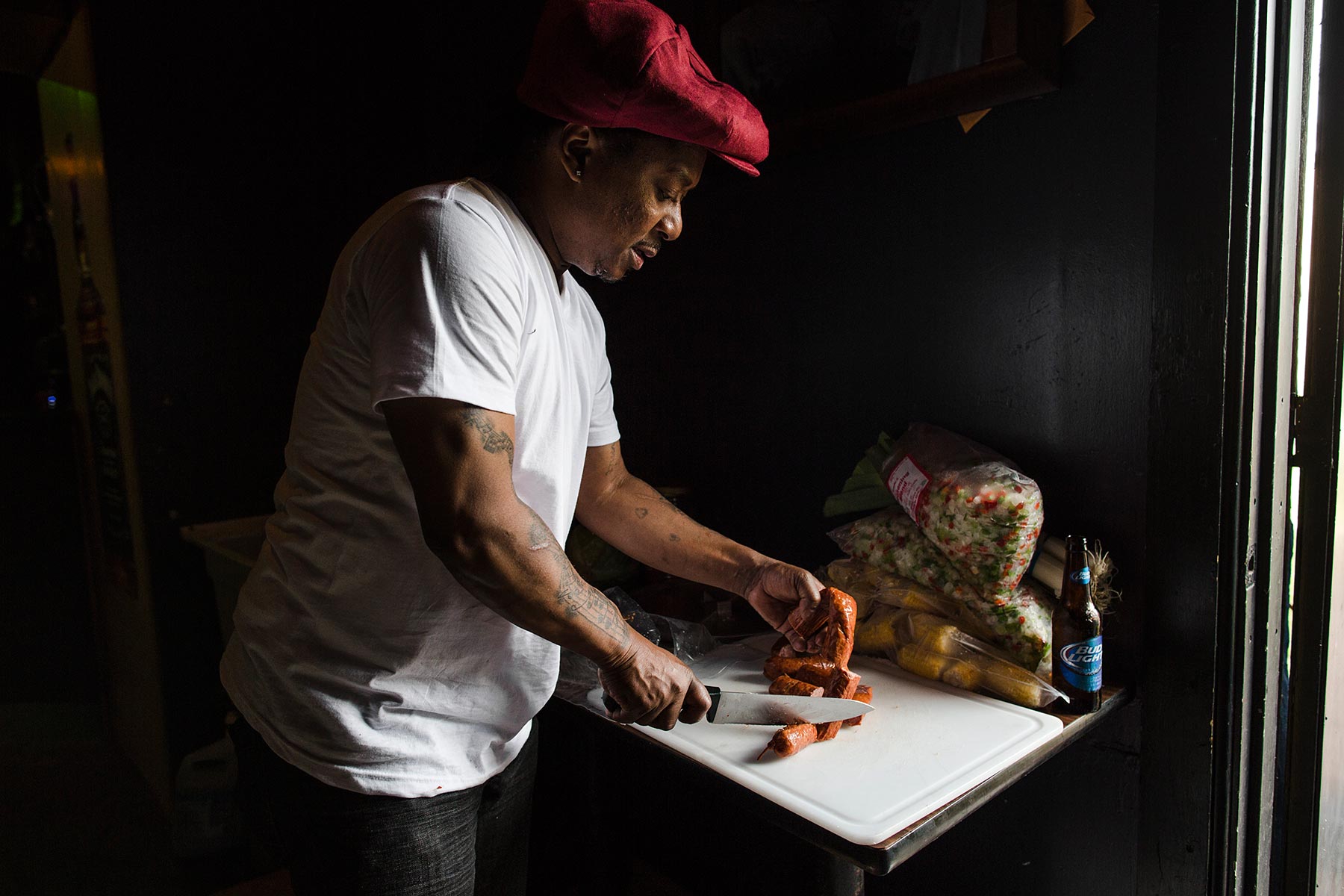 On an early Monday afternoon in the side yard of the Mother-in-Law Lounge, which is painted with bright murals of everything from K-Doe singing to a quote by former Louisiana Gov. Huey Long, the current proprietor is simmering red beans on a propane burner.
Kermit Ruffins, 50, is running through the history of his relationship with red beans and rice. "I started helping in the kitchen with my grandmother, in the lower 9th Ward, at about 8 or 9 years old, just getting the beans off the porch. We didn't buy any beans," he says. "We had everything growing in the goddamn backyard."
Ruffins' recipe is a mixture of old and new. He uses smoked neck bones, six onions chopped in two, kidney beans and smoked sausage. For seasoning, he leans toward convenience, with four sticks of butter, granulated garlic and "Tony Chachere's [Creole seasoning], to taste. Stuff is real potent, so don't use too much."
Today Ruffins miscalculated, and too much Tony's has made the bubbling bean stew really spicy. He's thinking of adding some potatoes to tone things down a little. "I've never ever, ever measured anything in my life," he admits.
A group of high school buddies are gathering in the backyard of Mother-in-Law, waiting for some beans. You'd never know it, based on the amount of grunt work Ruffins is doing, but he is considered one of the best jazz trumpeters in New Orleans and is often referred to as a kind of heir to Louis Armstrong.
Satchmo, who became a global ambassador for all things New Orleans, used to sign off his letters "Red beans and ricely yours." Ruffins sings in his song "Monday Night in New Orleans," "So baby, don't look so mean. Fix me some beans. Before you know it, I done licked the plate clean."
But there are differences between the two jazzmen. Armstrong traded the Big Easy for New York City's Corona neighborhood in Queens, while Ruffins still gets a kick out of just hanging out around his hometown.
"It's hard to put it into words, man. I'm not a great talker or nothin'," he says, "but I love this with a passion. I wouldn't have it any other way. What would I be doing right now if I didn't have a bar to sit in?"
Ruffins sips on a Bud Light and stirs his red beans and rice a few times with a big wooden spoon. He's waiting for the Monday crowd to hurry up and eat what's in the pot. "I cook all this stuff and hardly eat it," he says.
Afterward, he plans to head over to a new Whole Foods that opened up nearby and buy some salmon and greens for dinner. Think of it as his new personal tradition.
"I like to feel real light," he says.