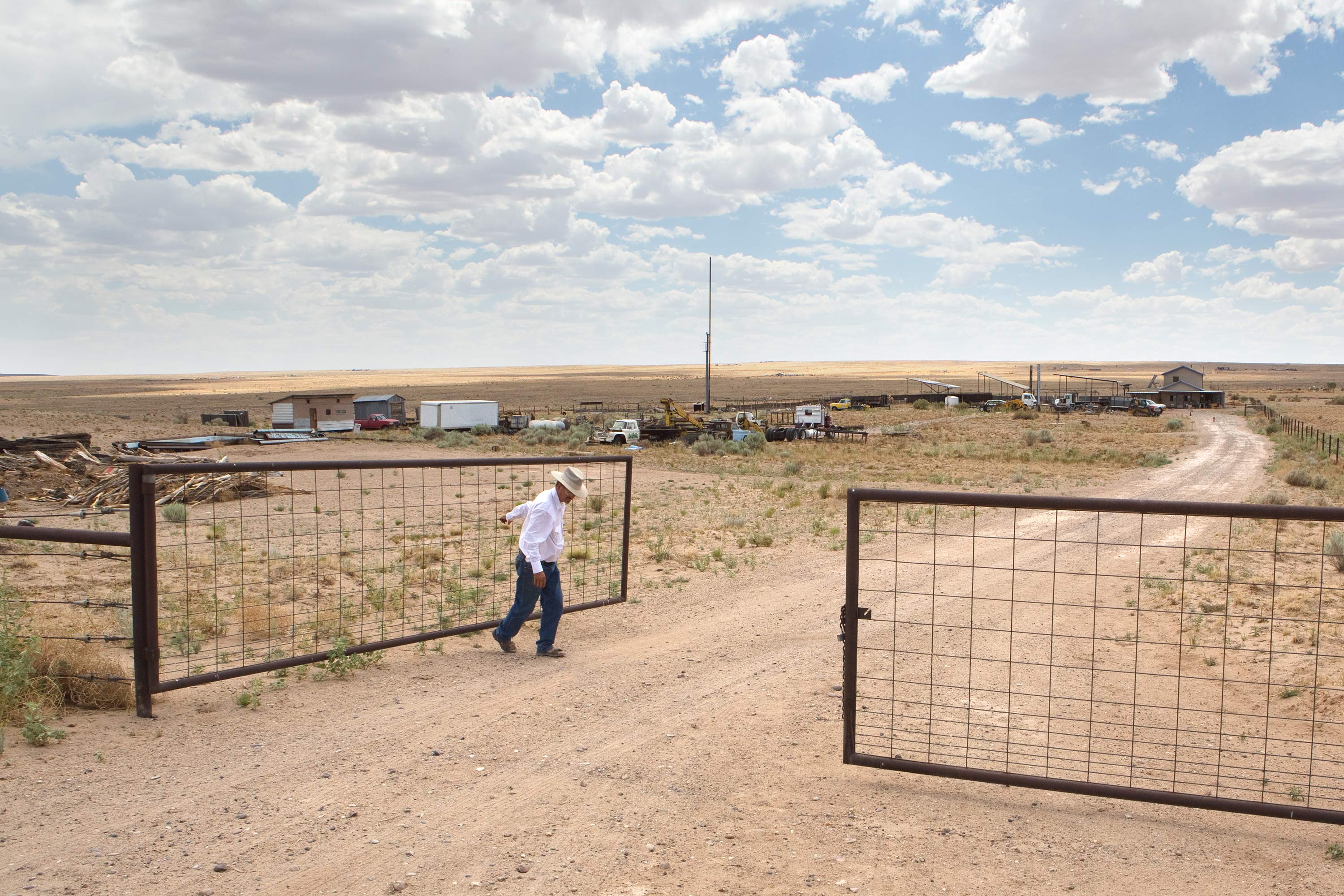 Off the grid, onto the mesa
Pajarito,
N.M.,
is
10
miles
and
a
world
apart
from
downtown
Albuquerque
PAJARITO, N.M. — A couple of years ago, Sandra Montes' husband, Salvador, was building the ceiling of their modest home on this dusty mesa at the outskirts of Albuquerque when he lost his footing and fell between metal struts, slamming his head on the concrete floor some nine feet below.
As Salvador lay prone with what doctors would later determine was a fractured skull, friends called 911. Then they drove out to the edge of the Pajarito settlement, with the Rio Grande Valley unfurling below. From there, Salvador's friends led emergency responders through the mesa's desolate interior, an 18,000-acre expanse of dunes and gullies with no paved roads or government services, just 10 miles from downtown Albuquerque but in many ways a world apart.
By the time an ambulance arrived, "he was almost gone," Sandra says.
Their relationship had begun in the valley, and for a moment, it seemed as if it might end on the mesa.
More than 250 years before Salvador's fall, the property on which he built his home was a land grant bestowed by the Spanish royal court on settlers in territory that would later become part of Mexico and, following a war, the United States. At the time, the mesa was known as San Ysidro de Pajarito, named after Isidore, the Catholic patron saint of farmers. ("Pajarito" means little bird.)
The mesa's modern problems began in 1929, when a California-based company called Norins Realty began acquiring the land to sell for oil exploration. Over time, others bought pieces of Pajarito, including out-of-state speculators and free-willed pioneers looking to live off the grid.
Unlike other land grants that were passed down within groups of families through generations, Pajarito became a tangled mess. New landowners illegally subdivided property and promised buyers utility services that never came. No one built a road, meaning it was illegal to move in on the mesa, but for decades, the government made no serious effort to halt new arrivals. That history of greed, aspiration and neglect yielded a community out of place in the modern United States. Though it is not the only settlement of its kind in the country — those along the Mexican border even have a special name, colonias — few lie so close to a major city.
Pajarito's cheap land, most often sold through private real-estate contracts that don't require credit histories or bank loans, made it attractive to a new kind of settler: working-class families, many of them immigrants, chasing the dream of home ownership in an era of rising inequality.
"Land is becoming more scarce. … It's what I see every day, are people who are blue collar, people who work in the service industry, people who no longer have that access to upward mobility," says Angelica Anaya-Allen, a lawyer with the Fair Lending Center at Albuquerque's United South Broadway Corporation. "There's a group of consumers who can't get traditional loans, and so that's the only way they can purchase land."
In 1997, when Sandra and Salvador arrived, fewer than 100 families lived on Pajarito. The two had hoped to buy a house in the valley, but they never built credit in the United States, and banks wouldn't write them a loan.
They found an owner willing to sell 10 undeveloped acres on the mesa for $25,000, so they drew up contract, made a down payment and arrived in a mobile home. Over the years, they built their own house, with a kitchen, living room and two bedrooms.
Salvador survived the fall, but these days, he is slow on his feet, skinny and stooped. He is no longer allowed to drive and relies on Sandra, friends and other relatives to take him most places, including regular physical-therapy sessions in the city.
Yet the two have no plans to leave. Salvador, a welder by trade, still works on the house, and they joined an evangelical church group several months ago. Sandra feels blessed by good omens: Salvador's head injury seems to have suppressed his diabetes, and on a recent day when they had no gas for their car, her daughter turned up unannounced and drove Salvador to therapy. Their solar panels power most of what they need, including lights, a small television and some other appliances. They have some of the valley's comforts, and the mesa is quieter than the city. More importantly, they have a chance to own their own land.
In the eyes of local government, however, Pajarito has become a planner's nightmare, a place where officials wish no one had ever settled, but for which they are now responsible. Today, officials with Bernalillo County, which encompasses Pajarito, Albuquerque and the surrounding area, estimate that 2,000 to 2,500 different owners claim property on the mesa. According to the 2010 U.S. census, which included only Pajarito's more populated eastern half, 579 people lived in the area, 93 percent of whom identified as Hispanic, most of them Mexican.
Without paved roads, mesa residents navigate rutted dirt tracks and gullies to get from place to place. One family's home might be a dilapidated trailer, another's a multistory house built from scratch and painted a pleasant burnt orange. No one has an address, and horses and cows can be seen grazing freely. There is no trash collection, sewage treatment, regulated electricity or broadband Internet. Until a few years ago, when Sandra and others convinced the county to install a pump on the edge of the mesa, residents had to haul their water from the city. School buses don't drive past the entrance to the community, where the county's asphalt road ends.
To make up for the lack of addresses, the county devised a grid system that assigned each parcel a unique number. But not all residents know their number, and neither do all the police officers, firefighters or sheriff's deputies. The lack of law enforcement has made the area an attractive place for crime, from illegal rodeos and trash dumping to drug trafficking, methamphetamine manufacturing and, occasionally, murder.
Still, the land on which Pajarito sits is valuable. It is one of the last undeveloped stretches in the county, bordered on the south by the Isleta Pueblo reservation, on the west by the Rio Puerco Valley and on the east by Albuquerque. To the north is a well-managed former land grant, Atrisco, which some residents describe as a model for what Pajarito could have been.
In 2001, the last time Bernalillo County paid for a comprehensive study of Pajarito, it recommended giving residents five years to bring their homes in line with safety codes before forcing them to move. The government never followed through, and now officials find themselves frustrated by an intractable problem.
"Our nightmare is we just don't want more uncontrolled sprawl and miserable kind of conditions out there," says Enrico Gradi, the county planning section's community-development manager. "They think that if they can just stay out there for a certain amount of time, that they'll be immune from the rules."
Carlos Proffit, a 54-year-old champion of mesa life, has long lobbied for more help from the county, but these days, he says he wouldn't mind if the government forgot all about Pajarito.
"I've quit believing that the county is up to any good," he says. "I'm to the point of saying marginalization has been good for us."
Proffit came to the mesa in the mid-1980s after dropping out of high school in Virginia and making his way to Albuquerque, where he worked for a paving company. One fall, as the weather cooled and business slowed, his funds dipped so low that he feared he wouldn't have enough money to pay his rent and warm his house. He bought an acre of land on the mesa from a colleague — an immigrant from Mexico — and moved onto the land.
Proffit, a tinkerer by nature, used his skills to find work helping Pajarito residents level and reshape their property. Later, he became a solar-power enthusiast and advised neighbors on how to buy and install panels. He acquired more acreage on the mesa and built a two-story house, powered by solar panels, and his own well and water pump. His property is littered with cars and trucks and other pieces of machinery, beneath which an ever-shifting cast of dogs finds shade. He installed thermal pipes beneath the floor to keep warm in the winter. Proffit and his partner, Dora Verdin-Everett, could afford to live in the valley, but they choose to stay.
For years, he had been an outspoken critic of local law enforcement, which he has accused of neglecting the mesa. He's also had numerous altercations with police, and his criminal record in Bernalillo County includes five arrests for acts ranging from assault with a deadly weapon to false imprisonment to battery upon a police officer. In each case, prosecutors dropped the charges, and Proffit says most of his arrests stemmed from confrontations with illegal trash dumpers.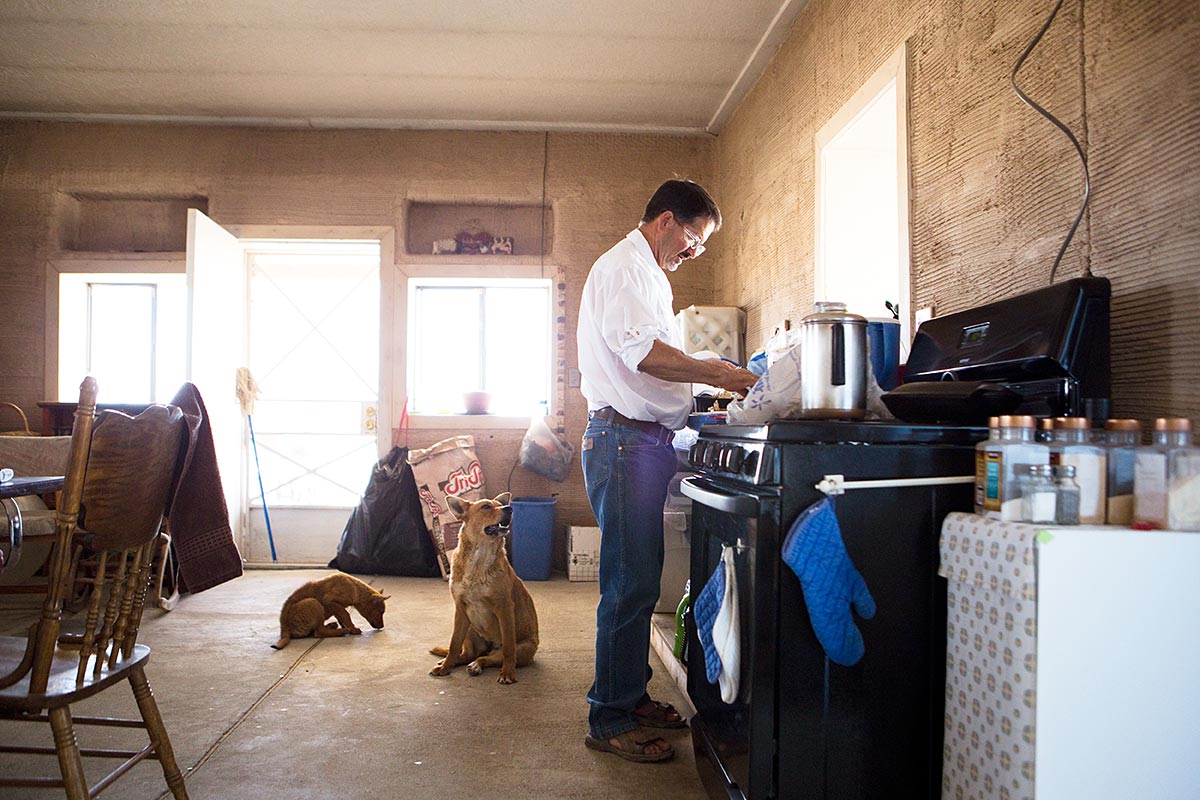 Two years ago, Proffit called 911 after spotting black smoke and flames on the horizon as he was preparing for bed. The next morning, in a gulley a few minutes' drive from his home, he came upon a burned-out Nissan Pathfinder and called the police again. Within a few hours, officers arrived and discovered two bodies stuffed in the trunk. There have also been several shooting incidents in past years; according to Proffit, police rarely come or show up late if they do.
After the Pathfinder fire, Proffit's opinion of law enforcement reached a nadir. He remains incensed that, in the wake of the incident, a spokesman for the sheriff said in a press conference that Pajarito was essentially "off the map."
"We can describe Southeast Asia, southwest Asia, Mars, the moon, the backside of the moon, but you can't describe southwest Bernalillo County?" he says. "It'll take a boatload of dead deputies for them to care."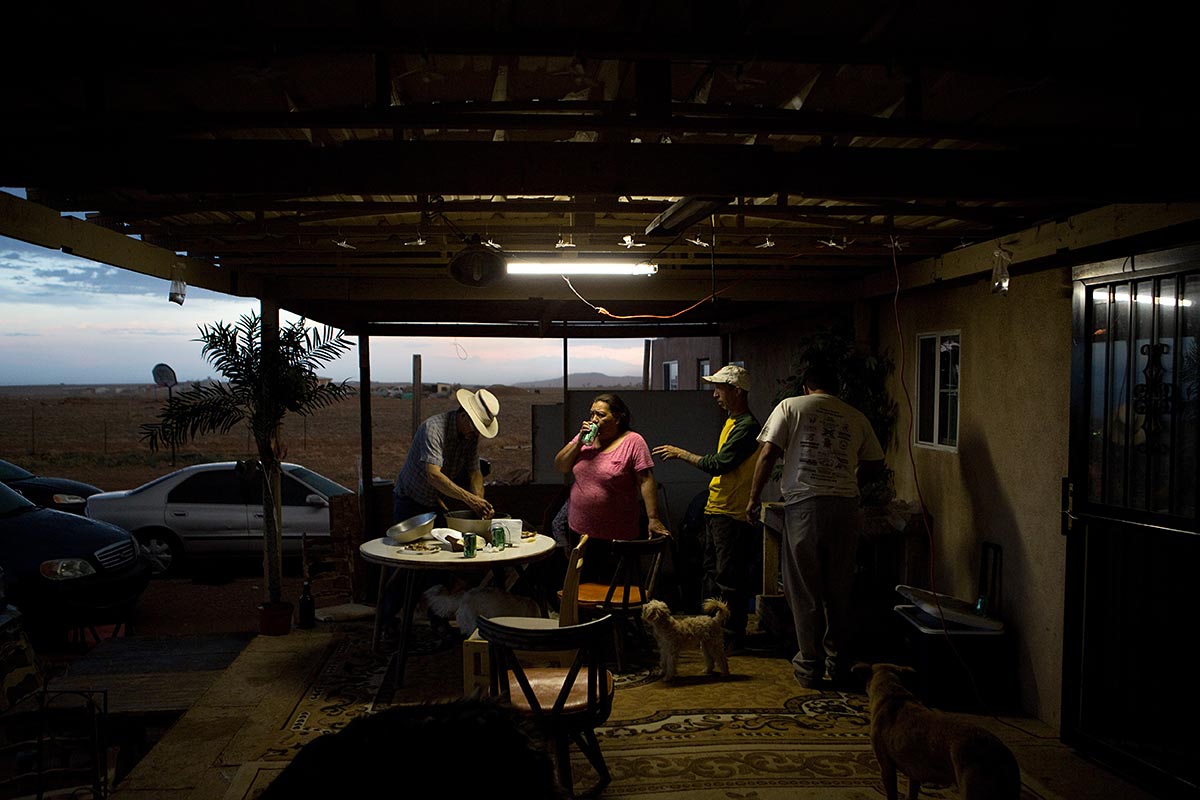 Reluctant or unwilling to offer a comprehensive solution for Pajarito, the county says it has tried to at least address "humanitarian" issues in recent years. Residents, though, say the government's newfound interest looks more like the beginning of an attempt to push them out.
In 2010, Michael Gallegos, a longtime county employee, was tasked to be a full-time Pajarito community-relations officer. The county has set up signs, in English and Spanish, to warn newcomers about the risks of purchasing property on the mesa. There is the new water pump, as well as a nearby structure built by the county that has been used as a summer food-drop-off location for children.
The heart of the problem, in the county's eyes, is the patchwork nature of Pajarito — its discordant mixture of libertarians, working-class immigrants and black marketeers, who seem to resent the county when it tries to provide services and resent it even more when it does not, all while paying little in property taxes.
"What I don't see from this community, for many years, is a single voice," Gradi says. "Many of the folks out here want to have a lot of space between them and their neighbors."
But some residents and other advocates for the community argue that the county has actually undermined unity on the mesa and is now quietly forcing people to move. Gallegos, they say, is less interested in community relations than aggressively enforcing building codes. Lately, residents say, he has told some of the mesa's most established families to tear down their homes. The county is currently pursuing 155 code enforcement cases on Pajarito, a spokesman said, while it has filed 1,472 such cases in other parts of the county since the beginning of the year.
Megan Cervantes, who married into a large family that emigrated from Mexico in the early 2000s, says her husband's relatives were forced to tear down one of several multistory houses they had built on a modest piece of fenced-in property because building codes didn't allow for multiple homes. The family is fighting back, circulating petitions among their neighbors to carve out property easements between them and the county road that would allow for the construction of a paved street, making their property legal.
"Our understanding is that they're trying to use us as an example," says Cervantes.
Craig Acorn, a local defense lawyer who previously served as managing attorney at the New Mexico Center on Law and Poverty, says he believes the county has targeted those who complained.
"I think they'd like virtually everybody to be out. All the people scattered around that are not on permitted parcels, they want them gone. They're just in the way of real development," says Acorn, who joined but ultimately left efforts to organize the community several years ago.
Acorn thinks the fact that some of Pajarito's residents are undocumented immigrants may also be a factor. In several meetings between Acorn and county Commissioner Art De La Cruz, whose district encompasses the mesa, De La Cruz told him that his constituents in the valley would be upset if he was perceived to be helping "mojados" — the derogatory Spanish term for wetbacks — on the mesa, Acorn says.
De La Cruz denied the statement. "Bernalillo County has made real progress providing more services to the people of Pajarito Mesa during my tenure," he said through a spokesman. "This progress has occurred despite the fact that there are few legal rights of way to the mesa community."
Some families have already decided to abandon the hardship of Pajarito life.
The Alcudias, immigrants from Mexico, moved into a mobile home on the mesa six years ago, living on land they rented from a friend for $150 a month. In the summer, the temperature inside their trailer grew stifling, almost too hot to sleep. The six children threw buckets of water on themselves to keep cool. In the winter, Carlos, the oldest son, would wake early to light a fire, but still their water often froze.
Their solar panel didn't power everything they needed, and they lacked enough gas to run their generator constantly, so they stuffed food into an ice cooler when they needed to turn off the refrigerator. Depending on how long the father, Isidro, agreed to run the generator at night, the children could play video games for an hour or two. Friends never came to visit.
"It wasn't fun at all," says one of the brothers, also named Isidro, age 16.
The family came to the mesa after packing themselves into a two-bedroom apartment in a rough neighborhood of Albuquerque that the younger Isidro calls "the war zone." But now, they weren't even saving money. After Isidro entered the 8th grade, four years ago, they moved away.
These days, they live in a large mobile home on the western outskirts of Albuquerque, off a small lane lined with similar homes. They pay the same amount as on the mesa, perhaps more with the fee their landlord charges to park their trucks, but they have constant electricity powering a refrigerator, two televisions and a swamp cooler.
Isidro is a successful student at South Valley Academy, a charter high school, and a high-scoring forward for the school's soccer team. He is applying for a work permit under the Obama administration policy aimed at young people brought to the United States before the age of 16, and he is thinking about joining the Navy after high school to eventually pay for college. He loves the smell of grass, a rarity in his neighborhood, and wants to live in California.
Coming down off the mesa, for Isidro, may have been a first step.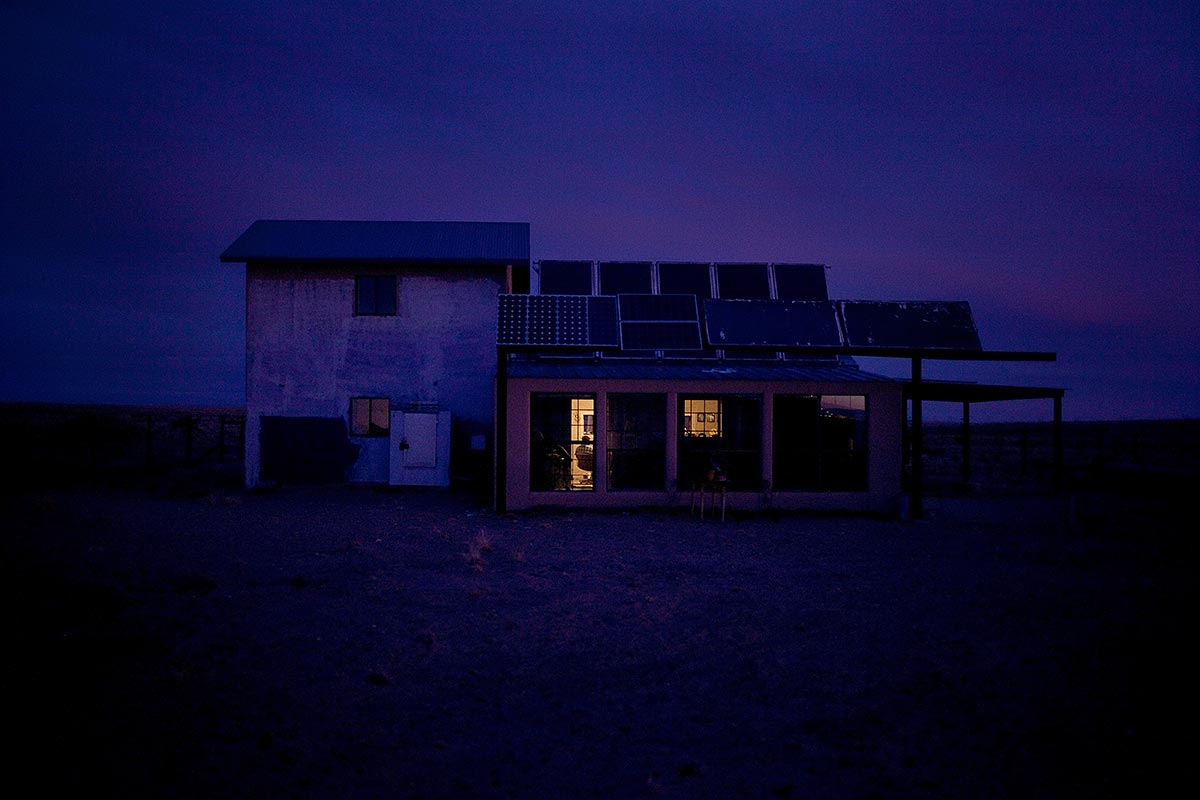 Editor's note: A previous version of this article contained incorrect references to Carlos Proffit's level of education and marital status.