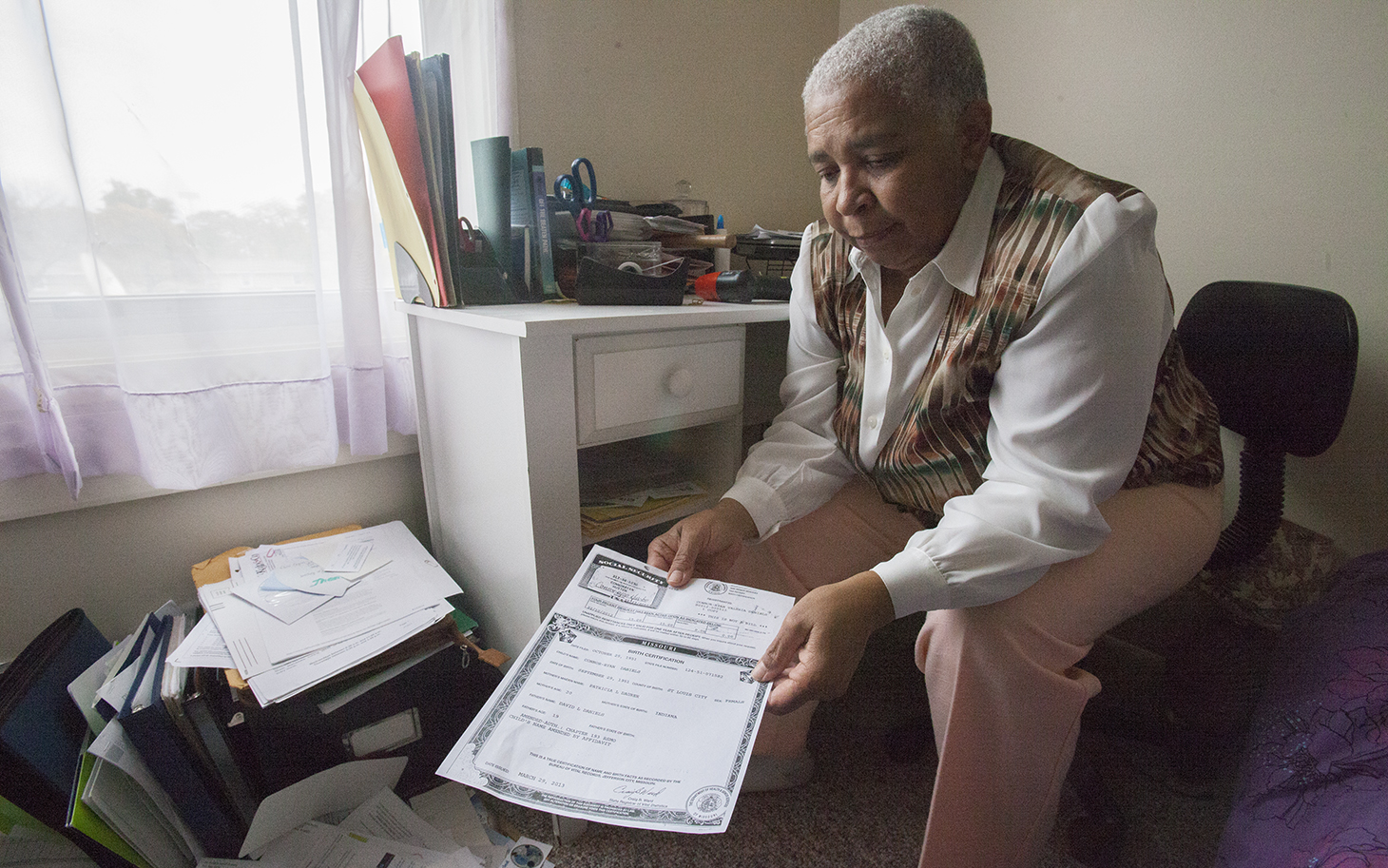 Voters in the Rust Belt
Will Indiana's voting rules keep the poor from the polls?
Will
Indiana's
voting
rules
keep
the
poor
from
the
polls?
ELKHART, Ind. — Nick Veron, 34, is a third-generation Elkhart factory man. He works on the same assembly line as his dad, making steel lathes and machine screws. Years ago, a factory paycheck could comfortably support an entire family; today, Veron earns $16 an hour and has no health insurance. His wife, Janet, a sometimes retail worker and homeschool teacher, says of their town, "Most people are really ragged, tired, beat down. The only reason they're here is because they're too poor to get out."
The Verons, like so many low-income people in northern Indiana, do not plan to vote on Nov. 4. In their case, Nick says, they've distanced themselves from a political process they see as irredeemably corrupt, drowning in tainted money "the higher up you go." Others in this section of the Rust Belt — where more than 16 percent of the population lives in poverty — say they have faced logistical obstacles to voting.
Indiana has below-average voter-turnout rates: since 1990, less than 40 percent in midterms and 50-60 percent in presidential elections. Yet it has led the push for strict polling rules. In 2005, the state became the first to require all voters to present an official state ID, a statute eventually upheld by the Supreme Court and replicated in other states, including Texas and North Carolina. (Judge Richard Posner of the 6th Circuit Court of Appeals, who authored the majority opinion upholding the Indiana ID law, later wrote, "I could not be confident that it was right.")
Indiana has since added other provisions, such as requiring volunteers to list their own address on voter-registration forms, giving counties the right to centralize voting locations and permitting partisan polling-place challengers to question voters and demand identification. In fact, 22 states have enacted new "voter restrictions" that take effect this year, according to the Brennan Center for Justice. Supporters of the laws say they are designed to combat voter fraud, but opponents argue that they are politically motivated attempts to undermine the rights of voters — the elderly, poor, minorities and ex-offenders, in particular — who tend to vote Democratic.
Here in the 2nd Congressional District, one of the few Indiana jurisdictions that hasn't consistently swung Republican or Democratic over the past few decades, incumbent Jackie Walorski is in a relatively close race against Democrat Joe Bock, a career humanitarian-aid worker who teaches at Notre Dame. Walorski is a moderate Republican who boasts of her track record with vets, support for the Keystone pipeline and, above all, commitment to a balanced budget. Bock is a moderate Democrat who has distanced himself from the Affordable Care Act and speaks in vague terms about bringing manufacturing jobs to the 2nd District. The candidates have led quiet campaigns focused on reliable midterm voters of which, in this part of Indiana, there seem to be few.
Indiana's Voter Laws
In 2005, Indiana was the first state to implement an ID law that required voters to show government-issued photo identification. Since then, the state has introduced additional voter laws, which some experts argue disproportionately affect low-income households. Al Jazeera America visited Indiana residents at their homes and workplaces to find out how much these laws have influenced the voting process for those who get by on very little.
Prospective voters in Indiana must register a full 29 days before an election — in contrast to 10 states with same-day registration. And a new law requires anyone who assists in filling out a form to provide her address, potentially deterring volunteers, says Elizabeth Bennion, a political-science professor at Indiana University, South Bend. Early in-person and mail-in absentee voting are available in limited circumstances, but on Election Day, the polls only open from 6 a.m. to 6 p.m., the earliest closing time in the country.
Two more changes may catch voters unaware, advocates say. Elkhart and several other counties in Indiana have adopted a system of centralized "voting centers" instead of precinct voting, a possible source of confusion for residents lacking reliable transportation. And again this year, as in 2012, the state is allowing "polling-place challengers" at voting locations: partisan monitors authorized to ask for voters' names and IDs (PDF).
Since the civil rights era, the trend nationally has been to expand access to voting, says Bennion. But "in the past few years, the laws are decreasing the franchise ... the trend has been backwards." A preliminary study (PDF) of Indiana's 2005 requirement projected that blacks would be disproportionately affected and that the lowest-income category of voters would be the least likely to have an acceptable photo ID. It is difficult to determine the exact consequences of tightened voting rules, but research has shown a correlation between higher turnout and low barriers to entry, particularly for African-Americans and young people.
In Elkhart, John Wooten, who is enrolled in a job-skills class and looking for steady work, says he had planned to vote but was unable to get a copy of his birth certificate, a prerequisite for state ID. Similarly, Isaac Hunt, a community-resource advocate at a Goodwill in South Bend, says he spent months helping a client recently released from prison gather the documents needed to obtain a driver's license, but not in time for this election. (In Indiana, people convicted of a crime, including felonies, may resume voting once released.)
Strict voting requirements, however, do not seem to bother the general public. Linda Silcott, a GOP volunteer and retired county clerk who once processed voter-registration forms in South Bend, says that such measures are necessary to curtail fraud. Her friend Christine Murdock, proud owner of what may be the largest "Jackie Walorski for Congress" yard sign in town, says she's heard no complaints about these voting rules in her many hours of phone-banking from the local Republican headquarters.
The question of how low-income Hoosiers should make their voices heard could depend on the outcome of the November secretary of state election. (In Indiana, as in most states, the authority to enforce voting laws resides with the secretary of state). The incumbent, Connie Lawson, boasts of having "championed the most sweeping election reforms since photo ID" and "the effort to clean Indiana's voter rolls." In November, she faces off against Democrat Beth White, who points to "very few documented cases" of voter fraud in the state's history.
In the 2nd District race, neither voting rights nor the welfare of those living near poverty, the group most affected by voter restrictions, has been much at issue. Elkhart County, just east of South Bend, depends on a limited number of jobs in traditional manufacturing: an anachronism in the U.S. economy. It is best known for its recreational vehicle plants and a series of midrecession visits by candidate-turned-President Barack Obama when the region had the highest joblessness rate in the United States, nearly 20 percent. The district is increasingly diverse — 87 percent white, 8 percent Latino and 6 percent African American.
Earlier this month, Bock and Walorski made their sole joint appearance in a candidates' forum at the Wabash Chamber of Commerce, in the district's rural, whiter, less-populated southern end. They answered questions about domestic terrorism, health care, fracking and immigration, but not about poverty or civic participation. (Neither candidate agreed to be interviewed for this article.)
Walorski was elected to Congress in 2012 following a career in state politics before that. To her supporters, she's a straight shooter, a mainstream Republican guided by Christian convictions. Fewer voters are familiar with Bock, a political newcomer. His boosters seem to like him most for his party affiliation.
South Bend resident Karen Green, a 55-year-old factory worker, has a Joe Bock sign planted in her front yard. She knows little about his platform but always votes Democratic, she says, because they "help poor people." Green previously worked as a poll monitor and encouraged her co-workers to turn out on Nov. 4. "People died so I could vote," she says, referencing the history of black suffrage. "Every chance, I vote."
Reporting contributed by Lam Thuy Vo.
Editor's note: This version of the story corrects the spelling of Beth White's name and updates the number of states with new "voter restrictions" in place this election year— from 22 to 21 due to a recent court decision striking down Arkansas' voter ID law.