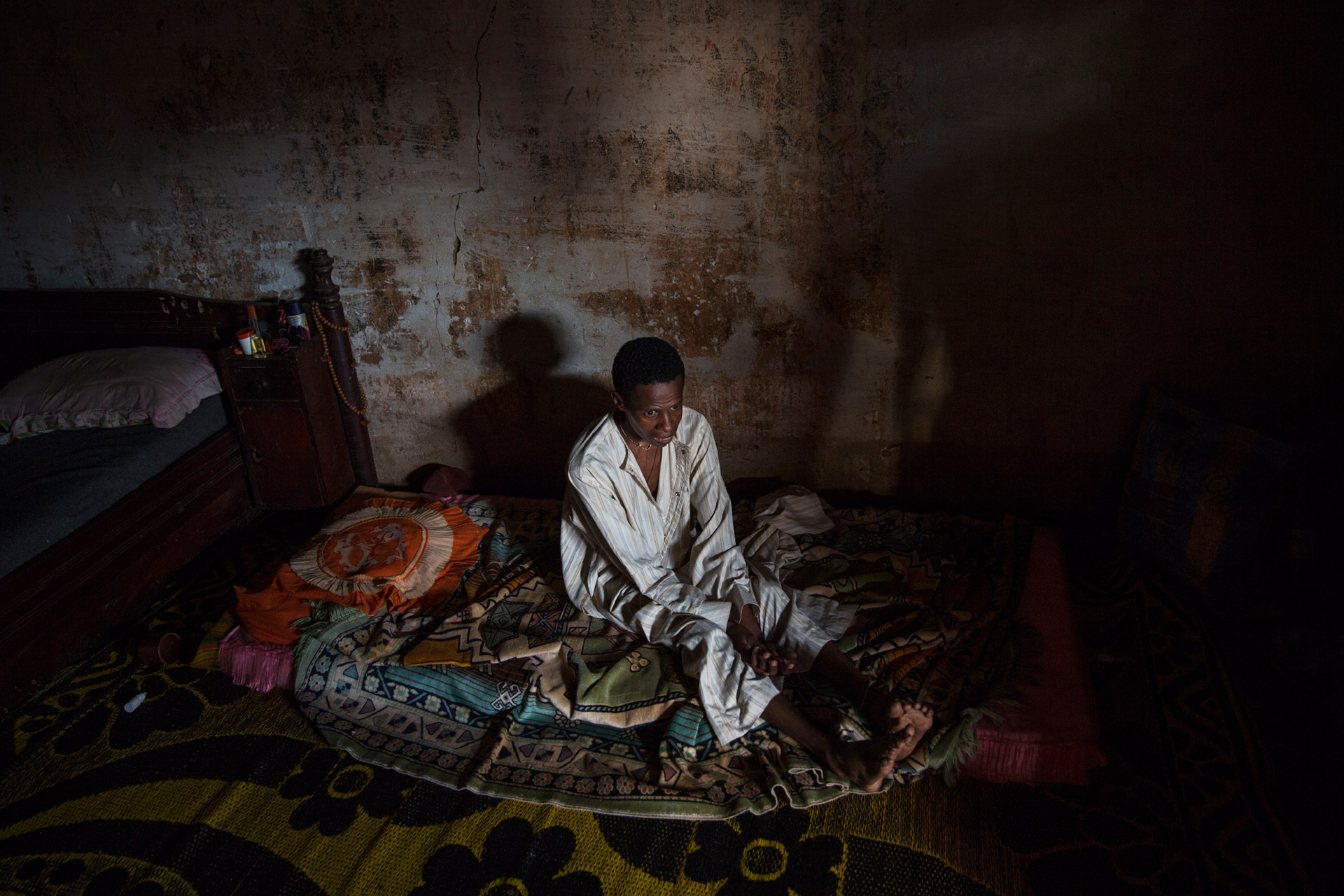 Trapped in a Nightmare
As
the
Central
African
Republic
falls
into
barbaric
violence
between
the
country's
Christians
and
Muslims,
23,000
refugees —
traumatized,
malnourished
and
dying
— remain
stuck
in
the
town
of
Boda
About the anti-Balaka
The name anti-Balaka has roots in local defense groups whose members have undergone spiritual initiations (and hence are impervious to
balles-AK
, Kalashnikov bullets). "Balaka" also means machete in the Gbaya language, spoken in western CAR.
Read more
Starved bodies and emaciated faces are illuminated by rays of light filtering through the planks of the barn. The heat is stifling in this confined space where about a hundred Peuhl tribesmen are staying. Living in the Muslim community, tolerated but not assimilated, these nomadic cattle farmers are forgotten human beings in a landlocked enclave – an additional conflict in a city already beset by violence amid a humanitarian catastrophe.
In Boda, a mining town 200 km west of the Central African Republic's capital, Bangui, 14,000 Muslims are trapped in a perimeter that boils down to a single street lined by a few houses. Nicknamed "Boda the Beautiful," the city has been surrounded since January 29, following the departure of ex-Seleka (Muslim) rebels, a group responsible for a coup in March 2013. Driven from Bangui in December by anti-Balaka (anti-machete) militiamen, they withdrew in the cover of darkness to Boda.
Unlike many rural towns where they had sown anarchy, the Seleka's presence in Boda didn't make waves. But since their departure, the city has plunged into unprecedented fighting that has drawn battle lines through the area.
The city is totally transformed: a Muslim enclave formed at the center of the city, surrounded by a no man's land where anti-Balaka and Christians have entrenched themselves. "They all need to leave," say the anti-Balaka, who are based near a church where thousands of Christians have fled following the destruction of their homes. They number around 500, primarily local youth.
Map: The Conflict in Boda, Central African Republic
Opinion: On CAR's Violence
"In CAR, the seemingly contradictory impulses of openness and mistrust are fundamentally interwoven."
Read more
In such a tense situation following months of violence, few are willing to identify themselves fully. Some have wondered if they plan to exploit the situation and take control of the gold and diamond mines owned by Muslims who can no longer reach them. The anti-Balaka claim their only goal is to "make the Muslims leave," said one. They organize day and night patrols to make sure that the "red line" around the Muslims clustered in Boda isn't broken.
"Here, the Muslims are businessmen and Christians are workers," said the head of the gold and diamond trading office in Boda. "In all of Central Africa, the economic actors are Muslim."
"Manioc [also known as cassava, a type of root] will become the new diamond," said the young Bachir, who resides in Bangui but became trapped in his hometown during a visit with his family before the violence broke out.
Opinion: Finding Sustainable Peace
"The challenge is to build trust for the first time, across Central African society. The immensity and difficulty of that task does not diminish its necessity," writes Louisa Lombard.
Read more
"You know, 75 percent of Muslims want to leave Boda to go to a city within [CAR] where they know they are safe," said Mahamat Alami, aka Bony, who is sitting on a wooden bench in the Muslim enclave. "I was born a Central African and my parents are Central Africans. I don't want to leave my country. I ask God to protect [French President] Francois Hollande and [the] Sangaris so that they can help us leave. We just want to be free."
For now, the Peuhl tribespeople holed up in the barn do not yearn for freedom, but simply for access to food. Some have already succumbed to hunger; we may never know precisely how many have starved to death. "I asked the head of the district for a map of the food distribution points. But when I went there, there was nothing for me. My name was not on the list," said Khadidja, a woman in Boda. For more than a month and a half, neither she nor her large family have eaten a solid meal. "I do not have the proper nutrition to give to my kids. No clothes, no beds." The mayor of Boda, a Muslim, assures them they will be cared for. His name appears first on the list submitted to the World Food Programme, which thus far has only organized two food distributions.
Both were insufficient and late. ◆