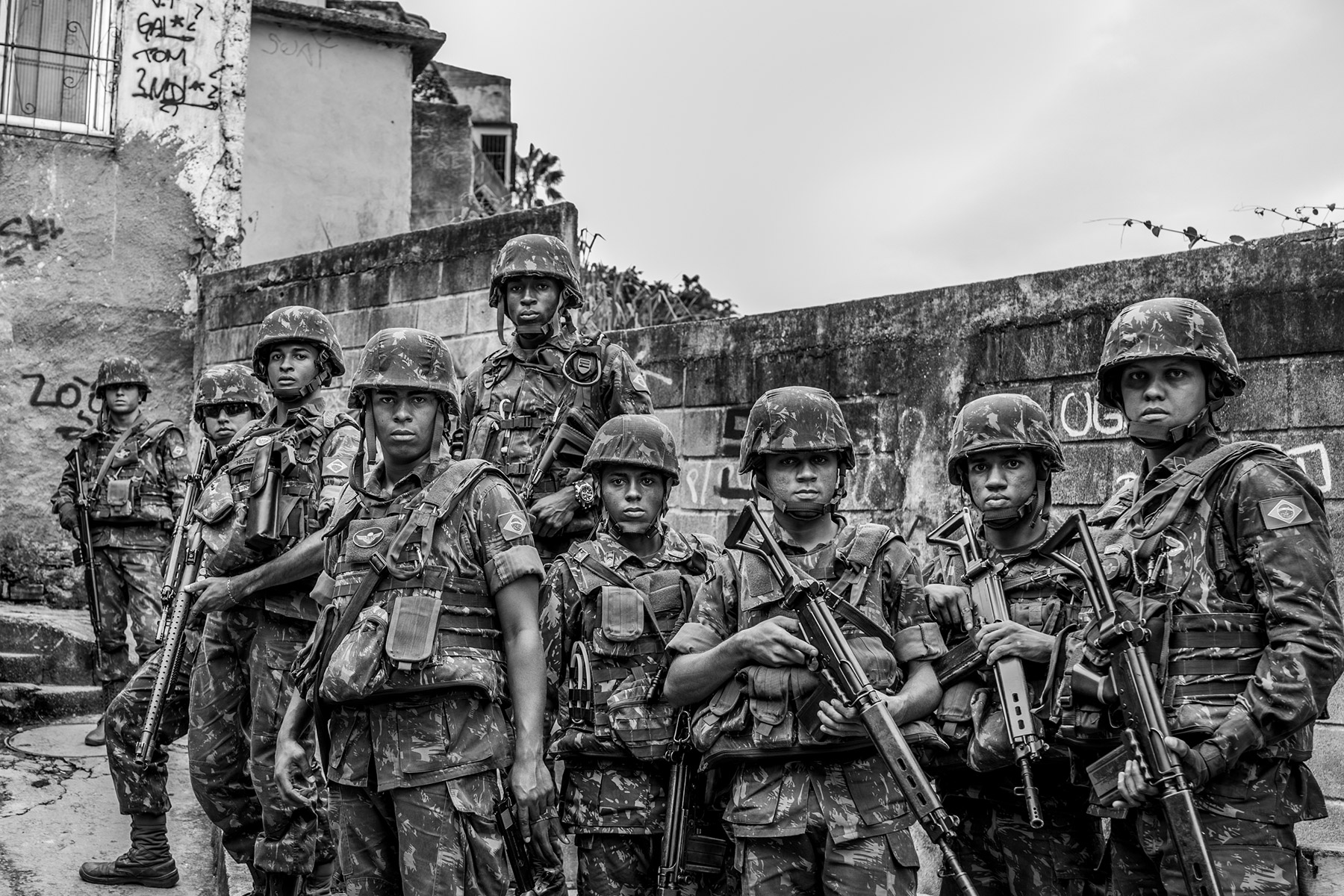 World Cup Showdown
Brazil's
pacification
police
have
driven
the
gangs
in
Maré
favela
underground
—
for
now
Soldiers in camouflage helmets and black boots edged forward, guns poised. Every doorway and corner of this cobblestoned back street is treated as a threat.
Around them, everyday life continued. Mothers washed bath mats. Teenagers played cards. A man with a loudspeaker sold shrimp from his Kombi van. Only a 5-year-old boy sitting on the curb looked up inquisitively from his plate of biscuits.
Maré — one of the most dangerous of Rio de Janeiro's slums, called favelas — has grown used to poverty, mob law, indiscriminate incursions by deadly police units and now — military occupation by thousands of federal troops.
A collection of 16 enclaves straddling two strategic roads leading to Rio's international airport, Maré was a war zone between rival drug gangs for roughly three decades. Now it's a key battleground in the authorities' effort to "pacify" the city's favelas ahead of the 2014 World Cup, which begins June 12.
Thirty-seven pacifying police units (UPPs) have been installed in favelas since 2008 to wrest control from the gangs. But a recent upsurge in violence against police in pacified favelas has caused a crisis.
The situation in Maré was so volatile that 2,700 troops have been deployed to keep the peace until July 31, two weeks after the tournament ends.
"We are not thinking about the World Cup. We are thinking about Rio's citizens. We are thinking of the police who are dying," Rio Security Secretary José Mariano Beltrame told reporters after the announcement.
But many residents doubt the sincerity of that promise and fear the consequences if it proves hollow.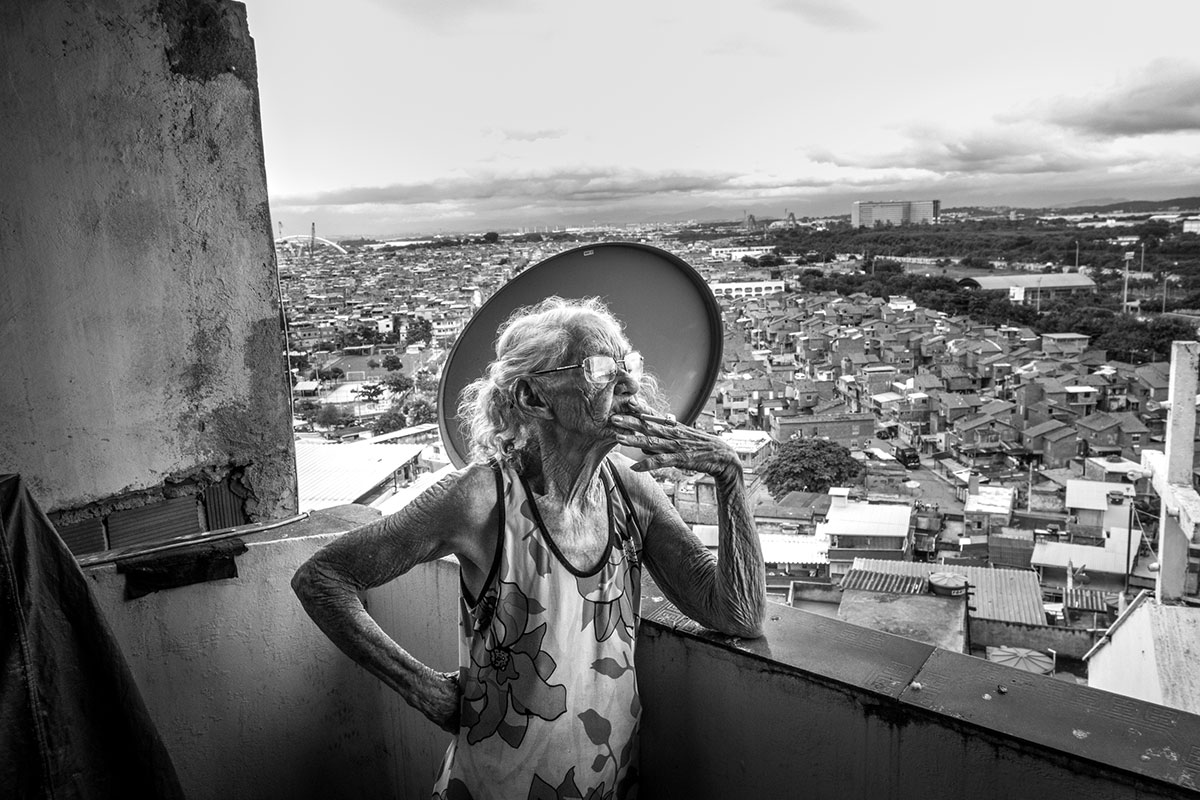 Maria de Lourdes Silva, 90, stood on the balcony of her home on the Morro do Timbau, a gentle incline that affords a panoramic view over Maré and the industrial hinterland beyond. For years, young recruits of the Pure Third Command gang that controlled this area were posted as lookouts on the steps of the Chapel of Our Lady of Aparecida outside Silva's front door.
A mural of a white dove is painted on the chapel. But this wasn't a peaceful place, as the splattering of bullet holes in both the church and Silva's home attests. She says that two months ago, a poorly aimed bullet came through her living room and missed her head by inches.
"I can only hope that it does not happen in the future," she says.
But while the gangs have been forced underground by the army's arrival, they haven't vacated. Their continued presence unnerves residents. Officials say the gangs are conducting a war of attrition, as the attacks on army patrols shows.
Outside Silva's home, a young man swaggered past, a gun sticking out of the waist of his trousers.
In a neighboring favela a few streets away, Michel Dionísio, 16, put his viola to his neck and played Bach's Minuet in G, the elegant notes drifting through the afternoon air. His father looked on proudly. Neither Dionísio's hobby nor his home conform to stereotypes of favelas. His family's tidy living room has a flat-screen TV and computer.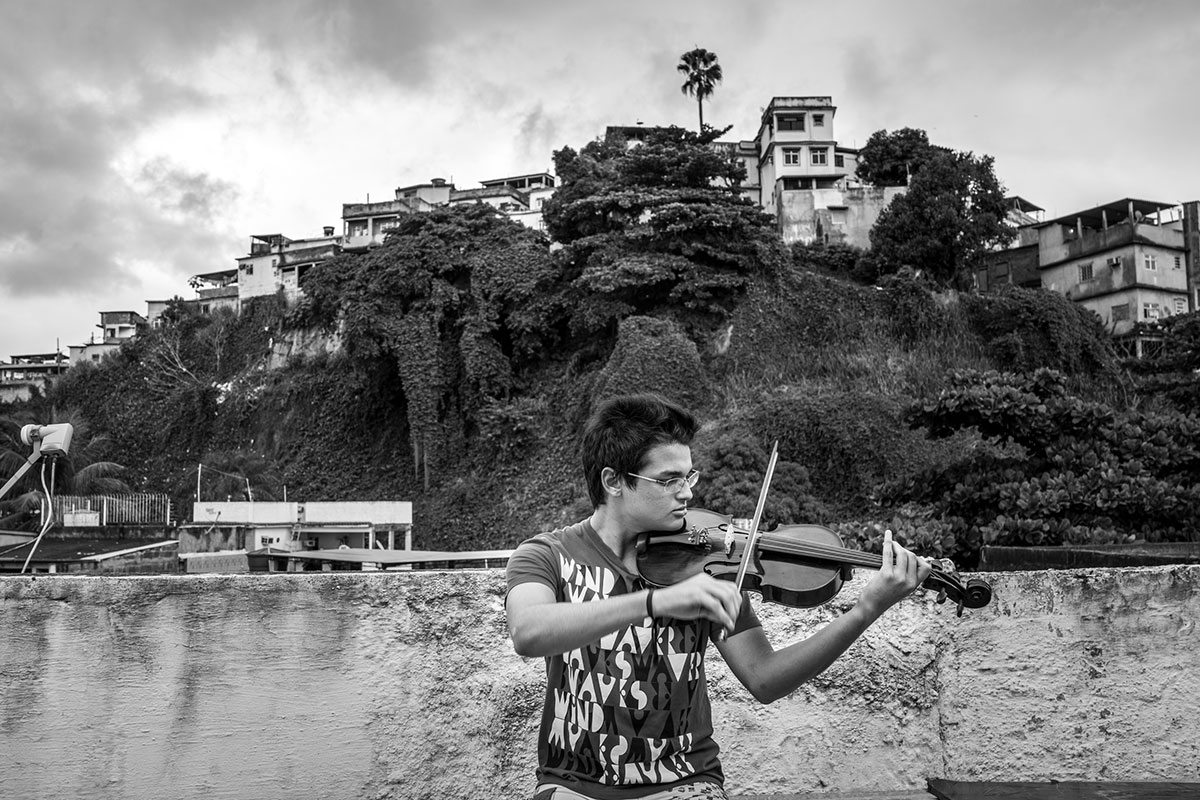 "Despite the problems, I have always liked living in Maré," said Dionísio, who plays in the Maré Orchestra of Tomorrow, a social project created to give local children hope and ambition for the future. "Since I was young I have always seen armed people in the favela. We are hoping that the armed gangsters don't return to walk freely down our streets, but we will have to see."
"It is my dream to become a professional musician," he added. "There is little culture here. So whoever enters the world of music here is less likely to enter the world of drugs."
Many residents of Maré have first-hand experiences of violence. Thamires Christina da Silva, 16, who plays flute alongside Dionísio, lost her 13-year-old brother when he was shot in the head by a gangster.
"There was no one we could report it to as a crime," she said. "The day afterward, we had to just walk through the favela pretending that nothing had happened."
The fear will take a long time to erase, said Osmar Paiva Camelo, a 54-year-old retired military police officer and president of the residents' association in Timbau. "Peace never happens quickly," he said. "We need to change the minds of the young people here. Because before their idols were the traffickers, and that needs to change."
Camelo believes the tense relationship between the army and locals will improve. "When residents realize that they are more secure now than under the traffickers, everything will be better," he said. "People are still wary about whether the pacification will really succeed. So many are afraid to speak."
"They will start to have a voice," he added.
Maré, meaning "the tide," was once a swamp along the Guanabara Bay. In the 1940s immigrants, mainly from the poor northeast of Brazil, occupied the area. The first homes were built on Timbau, which means "between the waters" in the indigenous Tupi language. As the community expanded, many homes were built on stilts.
Joaquim Severino da Silva, 83, recalls building roads and schools with few tools available.
"Here in Maré we have everything we need," said the father of 10, standing outside his workshop in the Nova Holanda district, where he makes cleaning products and repairs furniture. "I have seen so many transformations but we have always had a good life here."
With the expansion of Rio over the years, Maré grew into 16 separate communities housing nearly 150,000 residents. The rapid population growth was eventually matched by infrastructure — albeit of a haphazard kind — including the removal of the last stilts in the 1980s. But the same decade brought trouble for Maré.
Criminal gangs controlled many of Rio's favelas in the wake of a boom in the cocaine trade. Maré became a battleground where gangs competed viciously for territory.
Nova Holanda, where Silva charges 90 cents for a two-liter bottle of homemade cleaning fluid, was dominated by the Red Command, whose graffiti adorns the neighborhood's walls. Other areas were controlled by the Pure Third Command gang, and yet others by a militia of corrupt former police officers.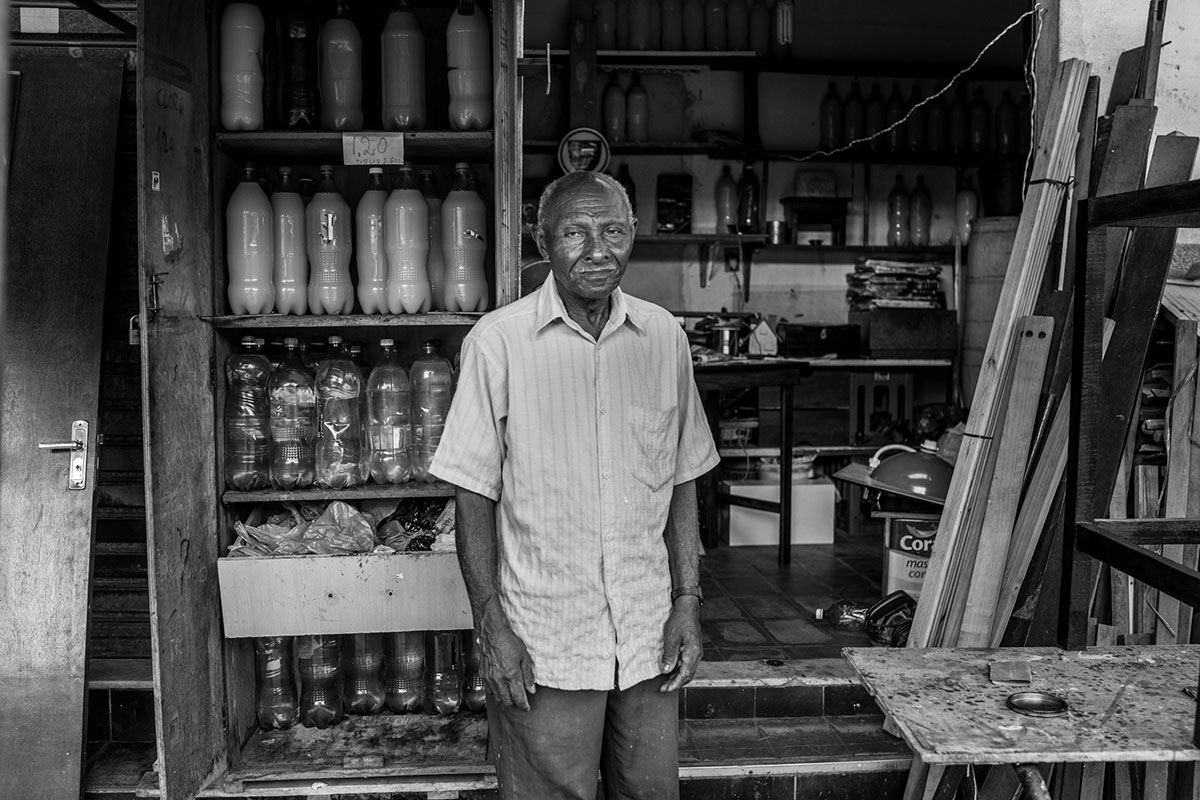 The gangs' ruthlessness was legendary. Young boys with machine guns stood on street corners, and any gang member who strayed into opposition territory could expect execution.
The violence occasionally spilled out, with the gangs shutting down the nearby major road Avenida Brasil, shooting at cars, setting buses alight and hurling Molotov cocktails.
In one of the most famous cases of brutality, Raphael Rodrigues da Paixão, a local DJ, was murdered by the Red Command in front of his ex-wife and 3-year-old daughter in 2012. He had apparently angered the gang by planning music events in nearby favelas controlled by the militia.
It's a callousness that Bira Carvalho, 43, knows well. Born and raised in Nova Holanda, he joined a gang at age 14. Eight years later a shooting during a robbery left him paralyzed. He now does photography and helps young gang members create new lives for themselves.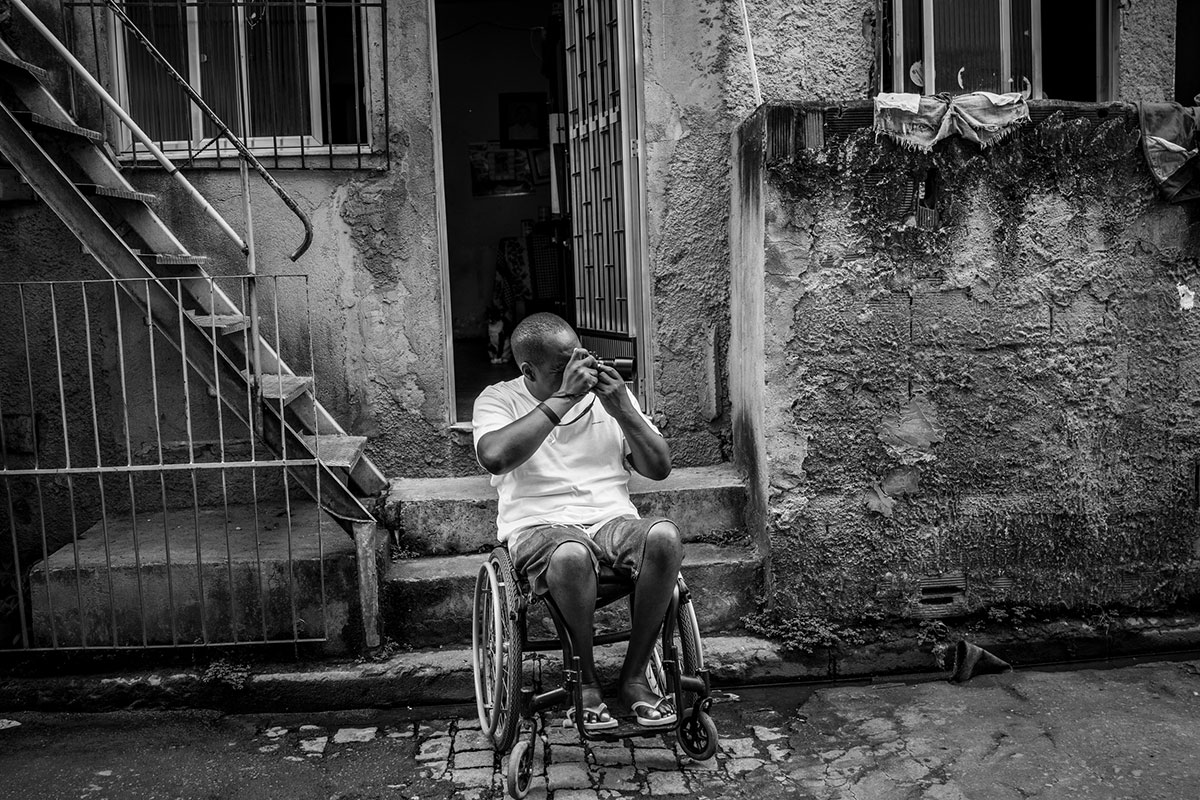 "The gangs have always been seen as one of the best routes for boys," Carvalho said. "There were always more people wanting to become traffickers than vacancies in the gangs."
"The problem with pacification is that it is not seen to benefit the population," he continued. "The situation here will remain the same. The schools will remain the same. They will not invest in the favela."
In the poorest parts of Maré, residents live in wooden shacks without electricity or running water.
And like many favela residents, Carvalho said the source of violence isn't always the gangs.
Carvalho, who is in a wheelchair, said that last May, BOPE — a police special-ops unit known for its brutality — invaded his house, smashed his possessions and dumped his cameras in the toilet.
A month later, 10 neighbors of his in Nova Holanda died in an apparent retaliation attack by BOPE after a police officer was killed in the favela.
On the surface, at least, Maré has changed. There are no more young gangsters wielding guns. But the gangs remain determined to fight for their lucrative territory.
In the weeks since the army entered, two people have died, including a 67-year-old woman killed by a stray bullet. Troops report an average of two attacks a day, though no fatalities. Some motorcycle taxi drivers refuse to transport passengers to certain parts of the favela, still respecting the gang boundaries that were until recently so strictly enforced.
"There are two drug gangs and one militia. So it won't be in two days, it won't be in a year, that we bring peace quickly," Luiz Pezão, the governor of Rio, said in a press conference in April after meeting with President Dilma Rousseff to discuss Maré.
"We are facing a lot of resistance and believe there are still many armed traffickers in the favelas," said a spokesman for the Brazilian army. "Residents are a little afraid, but we believe that with time they will get used to our presence."◆