Afghanistan's Team of Rivals
Can two former political foes overcome a bitter election stalemate to combat the country's endemic corruption?
Can
two
former
political
foes
overcome
a
bitter
election
stalemate
to
combat
the
country's
endemic
corruption?
KABUL, Afghanistan — It was subtle, but telling: One of the immediate consequences of the new Afghan president taking office was that everyone around him turned into a note taker. Members of the powerful political elite, accustomed to 13 years of casual politics characterized by grand postures and long-winded speeches, all scribble in Ashraf Ghani's presence. Some, more traveled — such as the already-powerful national security adviser, his cane at his side — write in small, chic notebooks. Others — indolent bureaucrats, MPs with dark pasts, more used to the gun — are obvious amateurs: bulky notebooks, single sheets of white paper. In many of his first meetings with foreign dignitaries, Ghani himself took notes in his small, black, leather notepad.
"If you have a meeting of five minutes with him, he gives you so many tasks — there is so much intensive content — that you need to write down," said Ajmal Obaid Abidy, the president's new spokesman and his close aide over two campaigns. "And he follows up."
One evening in January, members of the senate were due for dinner at the presidential palace. Plates of rice with carrots, raisins and pistachios were being rushed from the kitchen. "Oh, people, don't eat yet. The president hasn't arrived," a female senator shouted to colleagues around the table. Ghani, dressed in a dark-gray tunic and a striped-black turban, went around the room and shook hands with the more than 100 guests. As he reached the female senators, he waited for them to initiate the handshake or placed his hands on his chest in respect.
As the plates were cleared, Ghani opened his notebook. He checked his watch and scribbled as the burly head of the Afghan senate began his remarks. The terms of some of the senators had concluded, he said, but they should continue to be provided two policemen apiece for security. Eight members of the senate had been killed over the preceding decade, and threats against the country's legislators had increased since Parliament ratified the bilateral security pact in December, allowing U.S. troops to remain in Afghanistan. The deputy speaker of the senate, to Ghani's left, occasionally peeked to see what the president was writing.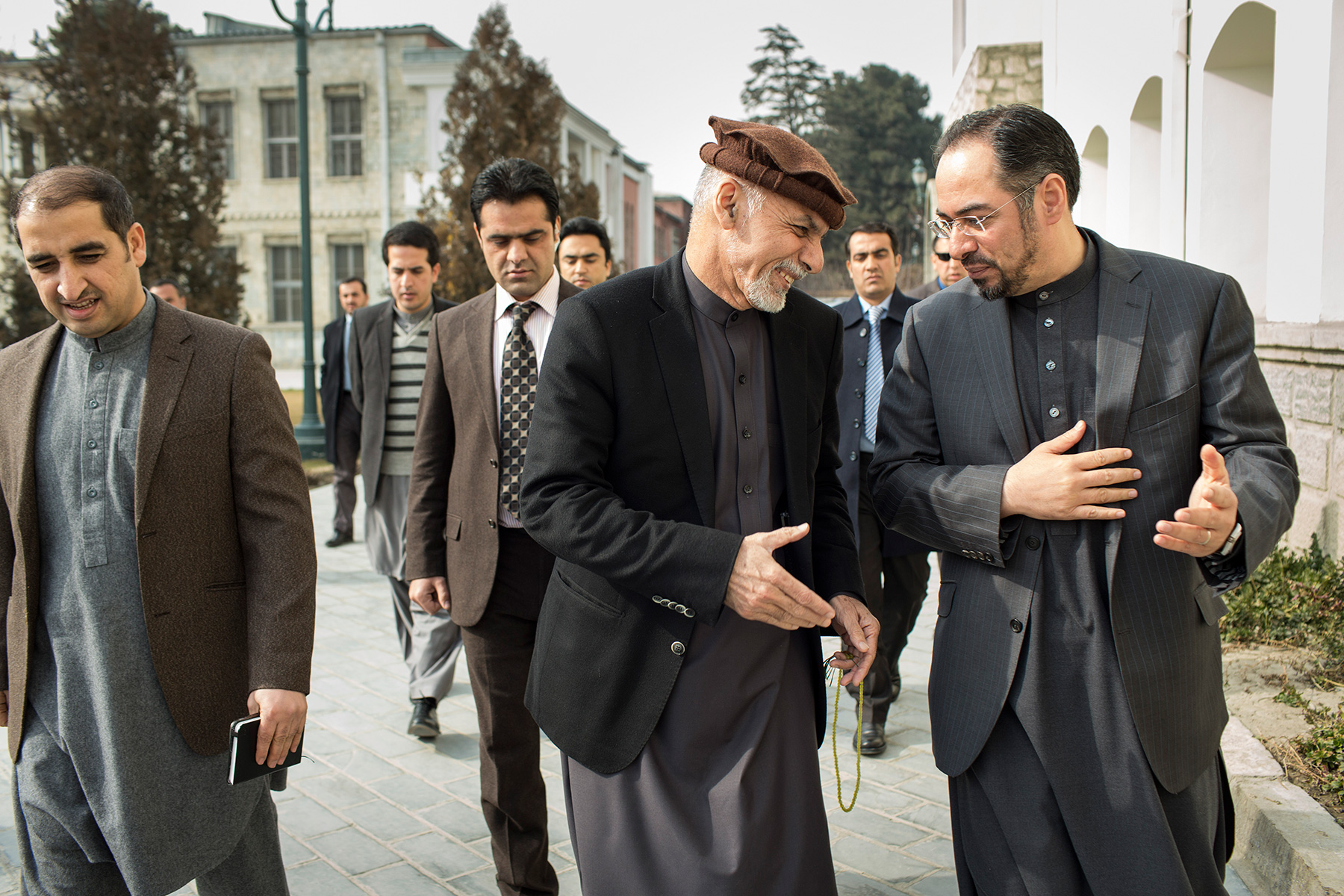 A longtime academic known for his perfectionism, Ghani is trying to change Afghanistan's culture of kleptocratic government, now bankrupt and its authority divided. A bitter election stalemate resulted in a power-sharing agreement in September in which Ghani became president and his rival, Abdullah Abdullah, was given the newly established role of chief executive, which, within two years, will be turned into a prime-minister position. He was also awarded the authority to appoint half the government posts, which means the top positions effectively doubled in number. "We used to only worry about the president and his two VPs," said one Afghan intelligence official, who works for the directorate that provides security to the government's top cadre. "Now there is the president, the CEO, the vice presidents, the deputy CEOs … How many total? Seven? Nine?"
From day one, the new president wanted to be hands-on, with an urgency that is part his personality and part a response to the grave problems facing the country. Corruption and patronage have become the norm. Economic growth has plummeted, with the government scrambling to attract more foreign aid to plug a budget deficit of an estimated $138 million. The Taliban insurgency, which has persisted over 13 years, threatens a bloody spring against the Afghan armed forces, which are on their own for the first time. "We are living in a house that is burning," Ghani said during an interview in January. "Every hour, some piece of the furniture is burning. So you have to put out fires. But simultaneously, we are building next door the foundation of a very solid structure and every day taking a step so that foundation is created."
Upon assuming office, Ghani promised his government would have a cabinet within 45 days and that he would personally put every nominee through a rigorous interview. ("My heart was trembling; it wasn't easy questions," Mohammad Yaqub Haidari, a nominee for agriculture minister, recalled of the interview. He was later dropped from consideration after it was discovered that he was on Interpol's most-wanted list.) Ghani also gave his new government as many days to solve the Kabul Bank case, in which a small group of politically connected individuals were accused of embezzling nearly $900 million of depositors' money. He was a man in overdrive: popping into a police station unannounced; checking in on the prisoners of the notorious central jail at night; asking about the state of the country's largest military hospital, where soldiers have died of routine infections and starvation. And, along the way, he has been firing government workers left and right — without due process, many complain.
Ghani displays no diplomacy in his dealings with subordinates, officials say. And he has begun doing away with discretion in public as well. During a meeting with local businessmen in western Herat province, he was informed that precious stones from Afghanistan were being smuggled into Iran. "If you sold them to Iran tomorrow and I didn't stop it, I would not be son of a human," Ghani screamed, pounding the table in front of him. (A video of his scream made it to the top of a Facebook montage titled "Ashraf Ghani's 20 Hard Screams." "Not for those with heart problems," the disclaimer read.) "Yes, he might seem short-tempered at times," said one adviser. "But he has strategic patience. He doesn't make important decisions in a rush — he deliberates." Ghani seems oblivious to how he is perceived. "I have become the most patient president that this country has witnessed," he said. "The problem of most leaders is that they command or bark before they understand."
Ghani's breakneck speed during his first month was partially aimed at regaining what control he had lost in the political deal. The government was shared, but the president, in his populist drive, had to distinguish himself as the ultimate authority. Since the loyalties of the cabinet would be divided, he moved to centralize much of the decision-making in his own office. Abdullah, struggling with a role that was undefined, was out of the headlines. His absence created the impression that Ghani's team might be preparing to sideline Abdullah. But the new president's international partners made the red line clear: He had legitimacy only as long as Abdullah was in the government.
"There might be tendencies among political entities around President Ghani to tell him, 'You are the president of the country. You shouldn't compromise,' " Abdullah said. "The country doesn't have two presidents — I am the first one to understand this, that there is one president called Mohammad Ashraf Ghani. That's it. … But at the same time, there is a national unity government, and there is a partnership. That part also cannot be ignored."
Toward the end of the dinner with the senators, when it was Ghani's chance to speak, he stood up behind the microphone. His hands crossed and his back hunched, the president made what he called "a bitter confession" about the lack of due diligence and order. "Every recommendation that comes to me is without examination," he said. "Recently, one ministry sent a list of 20 names for appointments. When we investigated, 80 percent of them were chaar-aib-sharahi" — a term for corrupt criminals. "The legacy we have inherited," he said, "is a difficult one."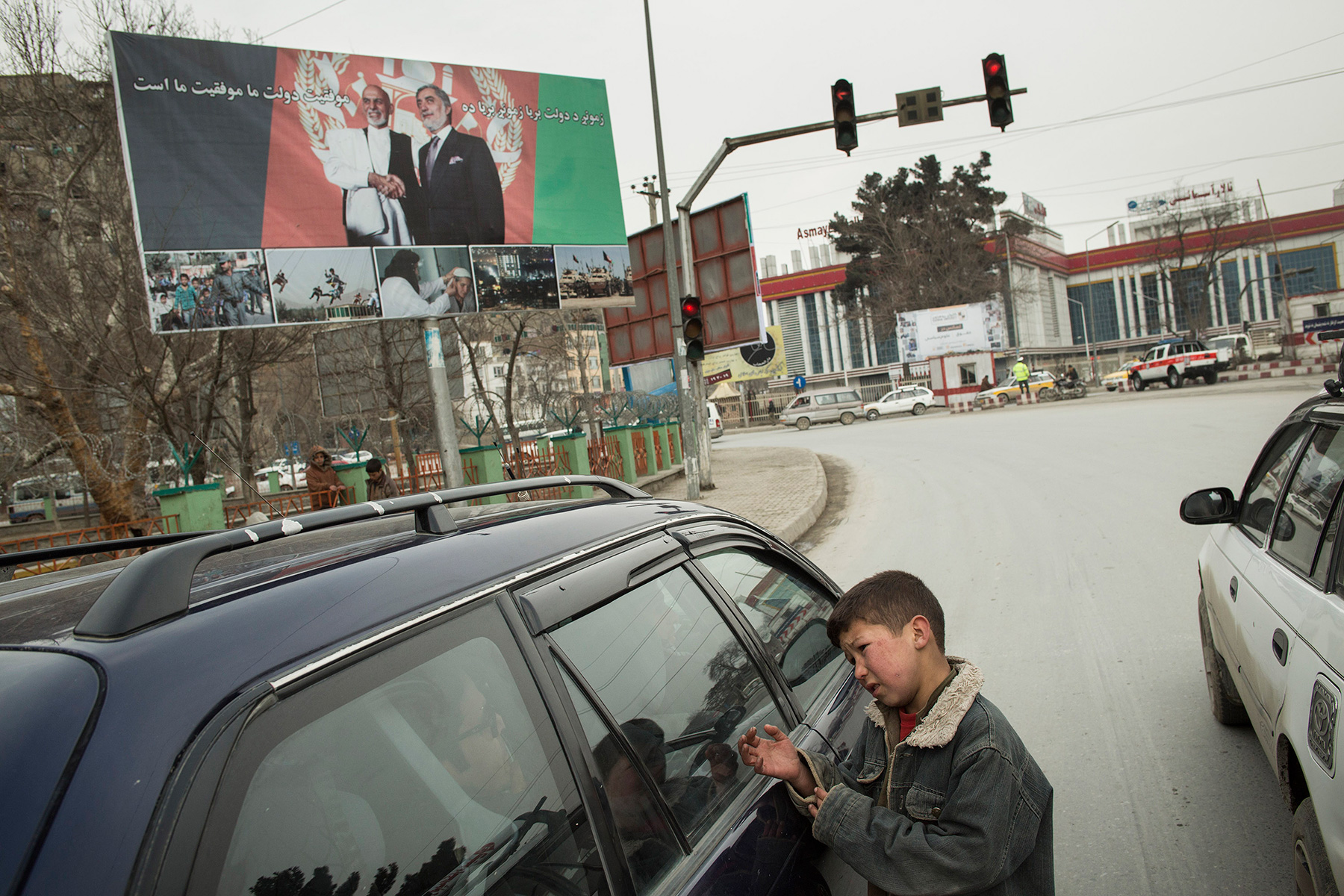 The arrangement that brought Ghani and Abdullah together in the government — and avoided a catastrophe for a country so prone to them — was at risk of falling apart on its first morning on Sept. 29.
At the end of his farewell address, outgoing President Hamid Karzai closed the folder that contained his remarks and took center stage. The air inside the narrow auditorium at the presidential palace was stuffy, the hall so crowded with members of the country's political elite — only a scattering of women among them — that some, not finding seats, fetched chairs to place in the aisles. Outside, the asphalt road to the palace was washed, the sidewalks swept clean of crumbling autumn leaves. The parking lot was brimming with armored vehicles. "A parliamentarian with a prosthetic leg approaching," crackled the radio of one palace security officer as he ushered in guests. "Make sure you check his leg."
Karzai adjusted his trademark cloak draped over an immaculate white tunic, then placed his right palm on his chest and took a final bow to the applause of a standing audience. His 13 years at the helm of a shattered nation effectively came to an end when he found his seat between Ghani and Abdullah, two men who will, to a large extent, decide the fate of Afghanistan for the next four years.
But the fragility of what Karzai left behind was apparent in the messy election of his successor, which took the country hostage for nearly six months. The extent of the ballot stuffing was termed a "North Korea situation" by one European Union observer; the subsequent deadlock cost the economy nearly $6 billion. Finally, after months of wrangling — marked by sit-ins and protests, but also threats of military force at the gates of Kabul by former warlords, including some present at the inauguration — U.S. Secretary of State John Kerry brokered a deal. Both candidates, in a sense, would be winners in a power-sharing national unity government.
Ghani and Abdullah's teams had negotiated the details of the inauguration ceremony late into the night. Ghani would sit on one side of Karzai and Abdullah on the other. But as Abdullah prepared to leave his house for the affair, his representatives noticed that the seating arrangement had been altered, to Abdullah's detriment, and that he had been excluded from the list of speakers that day. Officials from both camps quarreled loudly, in front of the audience that was trickling in, before Abdullah's seat was returned to its agreed-upon place and his name was put back on the speakers' list. But Abdullah still did not have a designated office. His team had come close to a confrontation with one of Ghani's two vice presidents, Gen. Abdul Rashid Dostum, over the number-two space, the Sadarat palace, on the eve of the inauguration. Karzai reportedly intervened, offering Abdullah a new compound, the Sapedar Palace, which had originally been built as the president's retirement home.
"The frustrating part was that we didn't need those issues to come … our way," Abdullah said during an interview in his office, a dimly lit room with a minimalist design and purple curtains. "Because a big thing had happened: The country was rescued."
For Abdullah, the last-minute headaches might have reinforced what his colleagues had repeatedly warned him about. Abdullah had comfortably won the election's first round with 45 percent of the votes, compared with 31.6 percent for his rival. But when the election commission announced the preliminary results of the second round on July 7, Ghani won handily. Noting the dramatic increase in voter turnout compared with the first round, Abdullah's team suspected fraud. That evening, they gathered at Abdullah's house to decide how to respond. They saw the commission as part of a conspiracy to deprive the winner of the first round of what was rightfully his. There was an overwhelming consensus in the room, according to two senior advisers present, that Abdullah should declare his own government, even if by force. "They told us to get disarmed, we said OK. They told us to join a political process, and we did," said the adviser, referring to Karzai and the international community. "And now that we have won that political process, they are pushing us back to arms." One of Abdullah's supporters, a strongman from eastern Nangrahar province, stormed out of the house after unleashing a burst of profanities at what he felt was his candidate's softness. Even the technocrats, returnees from the West, were speaking the language of the gun. Abdullah found himself alone, overwhelmed by the consensus. "I know that some of my colleagues were extremely upset with me that night," Abdullah said.
The next morning, dressed in a casual, double-pocketed shirt that belied the seriousness of the occasion, Abdullah sweated as he struggled to control a crowd of roughly 6,000 people gathered in the historic loya jirga tent in Kabul for his address. "Today, we are announcing the government of the Islamic Republic of Dr. Abdullah," shouted a bespectacled old man from the podium to loud cheers. Before arriving at the hall, Abdullah had spoken to Kerry and President Barack Obama, who promised to push for an audit of the votes. "That promise also helped in a way," Abdullah said. "But … my decision was known to me. In these sorts of cases, if … you let emotions of yourself as well as your colleagues drive you toward a decision, then fatal mistakes can take place."
In his speech that day, Abdullah walked a fine line: a call for calm to give negotiations more time with an undercurrent of threat. "I have this belief, this confidence, that with one call from us, the scene in Afghanistan will turn upside down," he said. But he stopped short of announcing his own government. "I ask you for a few days of time — for consultations, for talks. Brothers and sisters, I will continue asking you for this time. This is my request, my plea, my hope. I will not betray your vote, your dreams."
Even in the most difficult days of his career, Abdullah said, he never had trouble sleeping. But in those few nights of political drama, he rarely got more than a few hours. He lost about nine pounds during the election wrangling. On the one hand, he had already earned a reputation as someone who protests too much. It was a precedent he set by claiming fraud in the 2009 election, when he lost to Karzai, which landed him at the center of a viral joke about a stubborn character who always objects. On the other hand, his advisers calculated that if Abdullah announced his own government, about 20 provinces would join. The army and the police would have found themselves divided and may have fallen apart just as they did when the Soviet-backed government of Mohammad Najibullah collapsed in 1992. And if Abdullah had proclaimed himself president, his only choice would have been to march on the palace. "Having lived in this country, and having gone through difficult times at different ages, I wouldn't forgive myself if … I made that decision and the conditions gave rise to a situation … I knew that the situation would be beyond everybody's control if I made a bad decision."
And, most importantly, the situation would also have been out of Abdullah's own control. He gained in keeping the struggle in the political realm.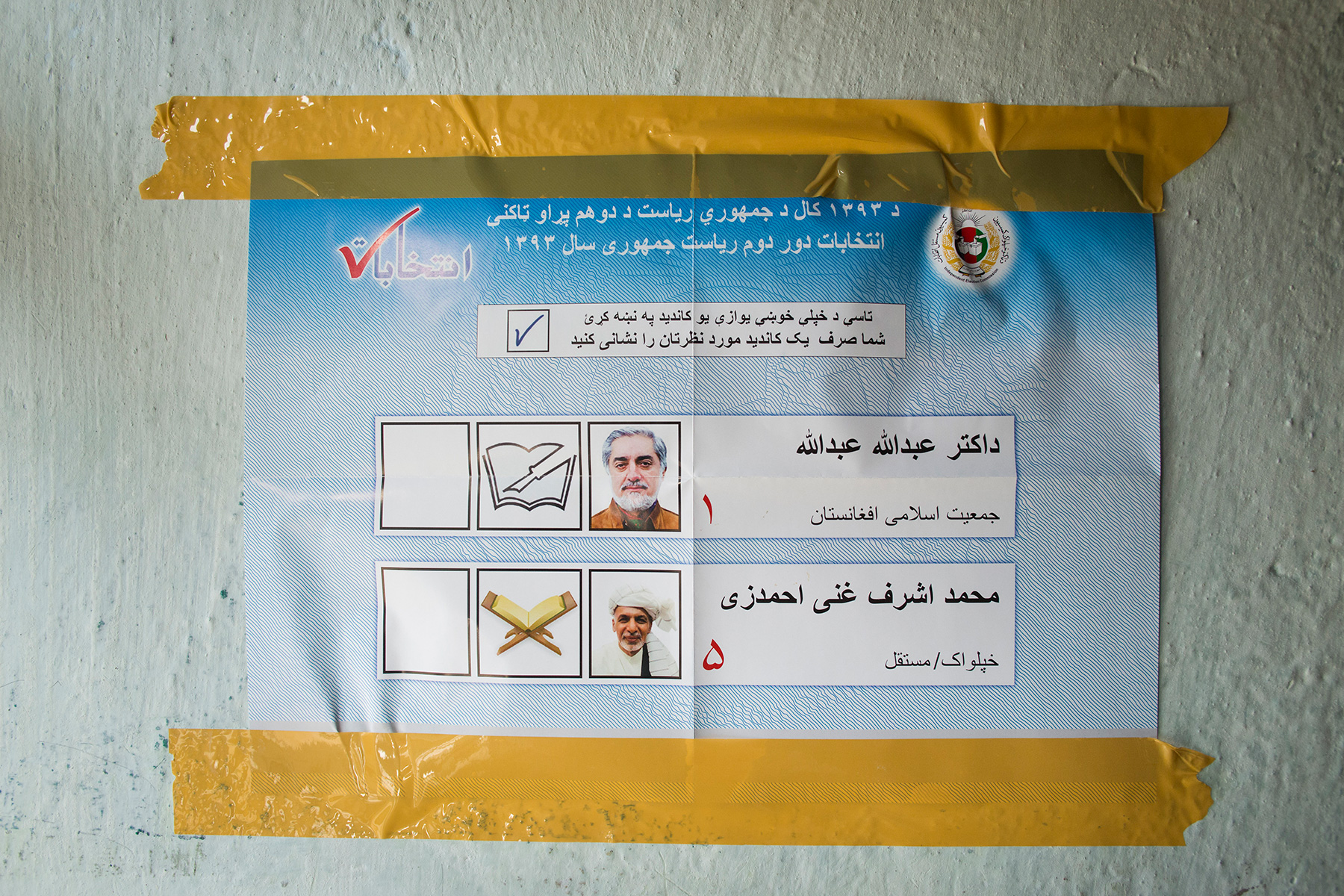 Ghani and Abdullah are products of two different schools of thought, with at times divergent trajectories. Yet, the two men's attempts in the last years of Karzai's presidency to rebrand themselves, combined with the responsibility they shoulder now, have brought them to a shared reality. And there, perhaps, lies the explanation for how the two leaders have quickly put much of the bitterness of the elections behind them. Gen. John Campbell, the commander of the U.S. and international forces in Afghanistan, believes Ghani's skills and expertise complement Abdullah's and vice versa. What unites them is a common understanding of the grave risks the country faces and a realistic outlook on the country's dependence on the West. While Karzai stubbornly refused to sign the bilateral agreement with the U.S., the two men have embraced the foreign presence and have even asked for a reconsideration of the withdrawal schedule. (Approximately 5,500 U.S. troops are currently slated to remain in Afghanistan beyond the end of the year, and the White House is reportedly examining an adjustment to that plan). "We are in a much better place with them than we were with Karzai," Campbell said.
"Corruption bothers him [Abdullah] as much as it bothers me," Ghani said. "Dr. Abdullah is a formidable coalition builder and coalition breaker. He has unbelievable strength … I know what he brings, and that is essential to Afghanistan's success. So we work very well together."
Ghani, who lived in the U.S. for more than two decades teaching anthropology at Johns Hopkins University and working for the World Bank, made a reputation for himself as a development-minded technocrat, in contrast to the unruly former warlords who dominated politics in Afghanistan after the 2001 U.S. invasion. As adviser, cabinet minister and then university chancellor under Karzai, Ghani often clashed with the strongmen in cabinet meetings. In 2005, he returned to Washington to start the Institute for State Effectiveness, a think tank focused on governance, and co-authored a book on fixing failed states. His professional and academic work — he spent a decade researching his 450-page doctoral thesis, titled "Production and Domination: Afghanistan, 1747-1901" — all seemed to have been preparation for the country's top job. "I have spent 40 years thinking about every aspect of this country from a national perspective and from a comparative perspective," he said. But his first run for presidency, in 2009, made it clear that his reformist agenda and intellect did not make up for his lack of political roots in a country used to patronage politics. Ghani garnered a humiliating 3 percent of the votes.
The last five years have been a period of re-education and rebranding. With the pretext of coordinating the security transition from foreign to Afghan troops, but with an eye on the presidency, he traveled to every corner of the country, grew a beard and replaced his suit and tie with traditional clothes. He took notes, which inevitably reminded him of his fieldwork as an anthropologist. When it was time to run again, in 2014, he was a different man: He built a large coalition that, in addition to reform-minded youth, embraced controversial characters — former communists, conservative clerics, firebrand ethnic nationalists — whom he'd once shunned. He brought on his ticket as a vice president Dostum, a strongman from Afghanistan's north whom Ghani had called, just five years earlier, a "known killer." He promised to eradicate "the gap between the mosque and the palace" and promoted an end to "the politics of exclusion," essentially, accepting the former strongmen as a reality.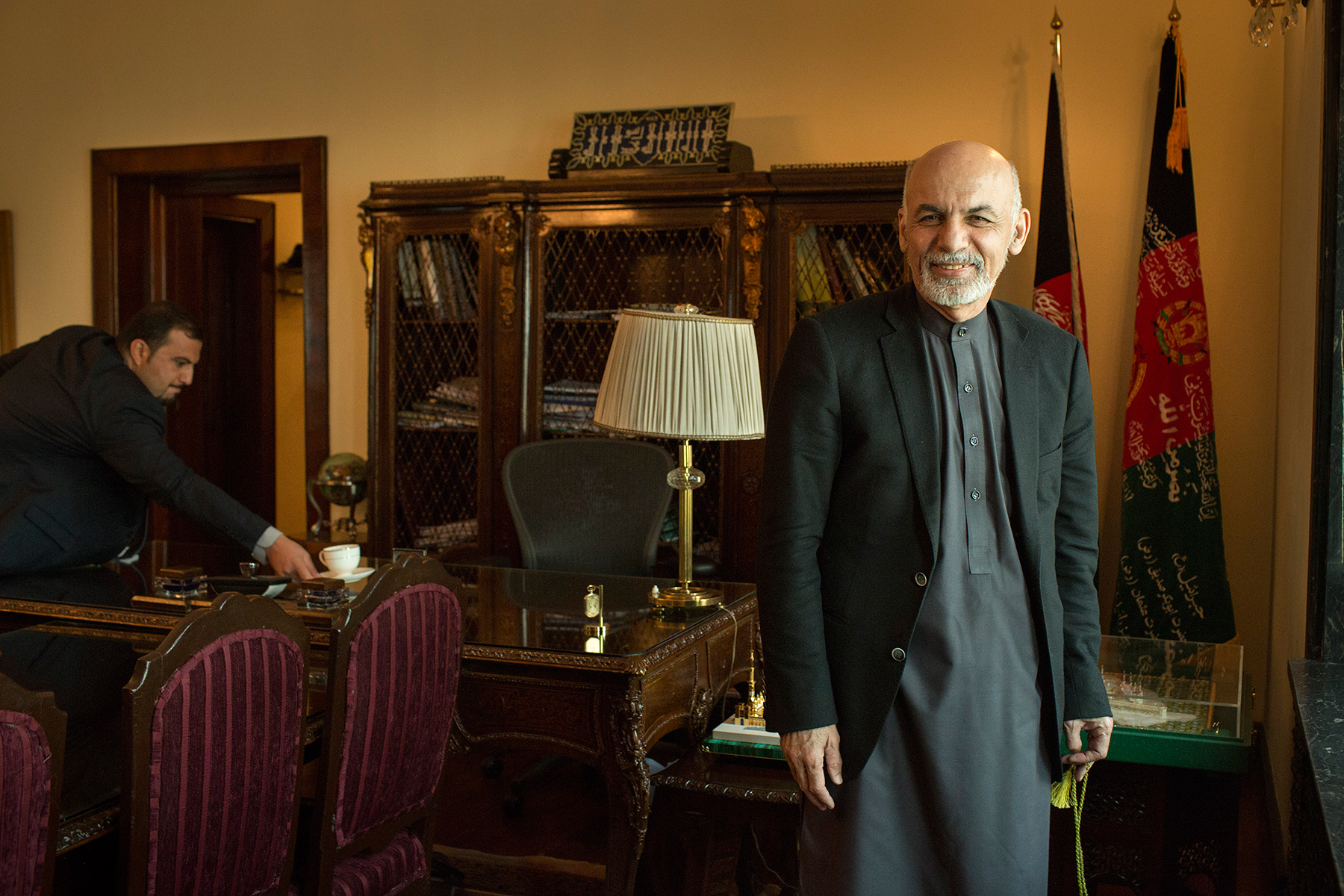 Ghani's mixed bag of allies tainted his image, so much so that some of his closest supporters from 2009 started questioning his intentions. "It was [a] challenge to believe in the reform agenda despite Dostum," said the adviser, who left him following the former warlord's selection as vice president but returned after a period of reflection. Any successful candidate would be forced to strike a balance between idealism and the complex reality that, at its core, had an electorate still at the mercy of these strongmen, the adviser acknowledged. Conscious of the contradiction between his past speeches and current rhetoric, Ghani asked voters to take a leap of faith. His supporters called him a man of ideas, a reformist dedicated to leading the country in a new direction, but one forced to play old politics to win the presidency so he could then clean it up. But then came the election's second round. His brand was further tainted by the allegations of fraud that surrounded his team after his 13 percentage-point win.
One campaign official described Ghani's shift in strategy with a parable: "If you throw clean watermelon rinds to a cow, it won't eat it clean. It will smear it in dirt and dust and then eat it." In other words, after three decades of war and rule by force, Afghan society wasn't prepared for clean politics.
Abdullah's struggle has been the opposite: to show himself adaptable to a new reality that requires technical skills, yet maintain the constituency that sees itself as the legacy of the anti-Soviet jihad (and subsequent bloody civil war). After the 1979 Soviet invasion of Afghanistan, Abdullah, an ophthalmologist by training, found himself performing battlefield surgeries under kerosene lamps with anti-Soviet fighters. He soon became a political adviser to Ahmad Shah Massoud, the military commander and leader of the Northern Alliance and later his diplomatic envoy. But Abdullah was never a military man. The only time he led a military front was during the bloody civil war of the 1990s, when Massoud sent him to the northern city of Kunduz to reverse advances by Dostum. "He is a man of liberal ideas who likes protocol and chic things," said one adviser. "By nature, he is not made for war."
During the Karzai government, Abdullah saw an opportunity to distance himself from his wartime associations and recast himself as a proponent of the democratic process. As Karzai's foreign minister, and then as the opposition leader, Abdullah developed a style and speech that exhibited little that was reminiscent of the trenches. Yet, over time, he inherited the leadership of what remained of the former Northern Alliance as those senior to him died or were assassinated. He proved himself one of the savviest politicians of that generation, as comfortable engaging with world diplomats at the U.N. General Assembly as chatting up local elders on the floor of a village hut. But the coalition he put together for the campaign included many strongmen who were still known to have illegal militias. Both of his vice presidents were involved in the civil war, and that perpetuated Abdullah's image as a warlord.
"Your image outside … it is imposed upon you under these circumstances," he said. "But when you have an opportunity in your life, then you can prove yourself one way or another. Throughout the 13 years, this was the opportunity: to show that you are not fighting for the interest of an ethnic group or another, but rather for the people to have the opportunity to participate, to feel proud of being a citizen and have the rights."
Amid the chaos and fragility of the national-unity government, one thing that gives Afghans hope is that both leaders speak directly about the nation's challenges. Both exhibit a greater interest in the economy than Karzai ever did. And while they appear to be moving forward with peace talks with the Taliban, both also seem more committed than Karzai to the military struggle against the insurgency. And much to the dismay of some of their supporters who expected positions in the new government, Ghani and Abullah have also shown willingness to appoint officials based, at least in part, on merit. So far, the two appear unfazed by the political costs of confronting patronage and corruption.
"Look, I am 65. No ambition. I dislike wealth, I dislike conspicuous consumption. My life is incredibly simple," Ghani said. "I am dedicated to this country … to bring structural change. To focus on the basics, on the fundamentals that would change the rules of the game and the playing field."
By January, Ghani's approval ratings had dropped by 27 percent. As one official said, "Running so fast also brings with it falling flat on your face." But Ghani's harshest reality check came with the cabinet: He missed his deadline to fill the posts by two months. His supporters were angry that they weren't consulted more about who to appoint. All of a sudden, Ghani's biggest challenge was no longer Abdullah, but managing the expectations of his own allies. In fact, Ghani's increasingly close working relationship with Abdullah fueled the insecurities of many on his immediate team. Parliament members who had appeared at Ghani's side during campaign rallies emerged as some of the harshest critics of his choices for the cabinet. The Parliament put its foot down against allowing dual citizens as cabinet members (which applied to seven of the nominees). Only nine out of 19 cabinet nominees were able to get votes of confidence. His abandoned allies sent a strong message, but Ghani seemed unfazed.
He says he realizes there is a political cost to curbing patronage, but the cost is manageable. "Political capital is like a cup of tea," he said, gazing at the cup on his desk in front of him. "If you have one cup, you use it or lose it. But if you have a pot, and a system to renew the pot, then renew the cup; you use it, you renew it. The art of the possible is to use your political capital judiciously, which means you have to be able to take risks."
Abdullah's cabinet choices caused a similar uproar. His allies from the Northern Alliance felt they were not represented. Many refused to speak to him; some on social media called him a traitor. It was as if "the whole world starts with the cabinet and ends with the cabinet," Abdullah said. He said he knew the anger "would be temporary," but managing it, even for someone with his aptitude for diplomacy, has proved difficult. Consoling elders from Herat province who'd wanted one of their own in the cabinet consumed a four-hour meeting that lasted until 2 a.m.
Whether the power-sharing agreement will last depends in part on how the two men harness the negative forces around them. Some members of Ghani's team think of Abdullah as solely focused on "golden spoons and red carpets," a reference to his attention to appearances. They refuse to acknowledge that he is, essentially, half of the government. Members of Abdullah's team, on the other hand, still question Ghani's legitimacy and point out that he is not an elected president, but the product of a political agreement.
Meanwhile, the power-sharing agreement itself has set a poor precedent. While a consensus has emerged that extensive fraud occurred in the elections, the agreement means there will never be a clear probe of the graft's extent. That threatens to further drain Afghans' faith in elections. Electoral reform, which Ghani and Abdullah committed to when they signed onto the agreement, is necessary to ensure an end to the cycle of messy elections. But since the details of reform will be hammered out by two sides with a bitter recent past, it has the potential to open old wounds — and drag the country back to deadlock.
Nevertheless, the two leaders are moving forward, albeit slowly, and both seem to inspire each other with their routines. Ghani works 16-hour days, much of that time spent reading documents. He has said that he read all 499 pages of the CIA torture report as soon as it came out. Abdullah regularly holds meetings that go past midnight. "If the two of us agree on something, [it] works in this country. If we don't, it doesn't work," Abdullah said.
One afternoon in December, a group of shopkeepers from Kandahar visited Abdullah. The mayor had closed the gates to their fruit market, they said, where they had operated shops for 20 years, forcing them to relocate to a new private market. "Our goods are rotting, we are in debt to Pakistan now," one shopkeeper recounted, wiping away tears with his shawl. Abdullah consoled them and said the problem would be solved right away if he could reach the president on the phone.
One of the aides dialed Ghani. The president was in a meeting, but he called back in less than two minutes.
"There are 160 shops there, each one a fruit trader," Abdullah reported on the phone as the shopkeepers listened. The local government had evacuated all of the traders, he said, and 13 days ago shut the door to the market.
On the other end of the line, Ghani said he would fire the mayor.
"No, you don't have to fire the mayor," Abdullah said quickly. "Just instruct the governor to solve their problem. It's a serious injustice. … If you could instruct them, please, they will pray for both of us."