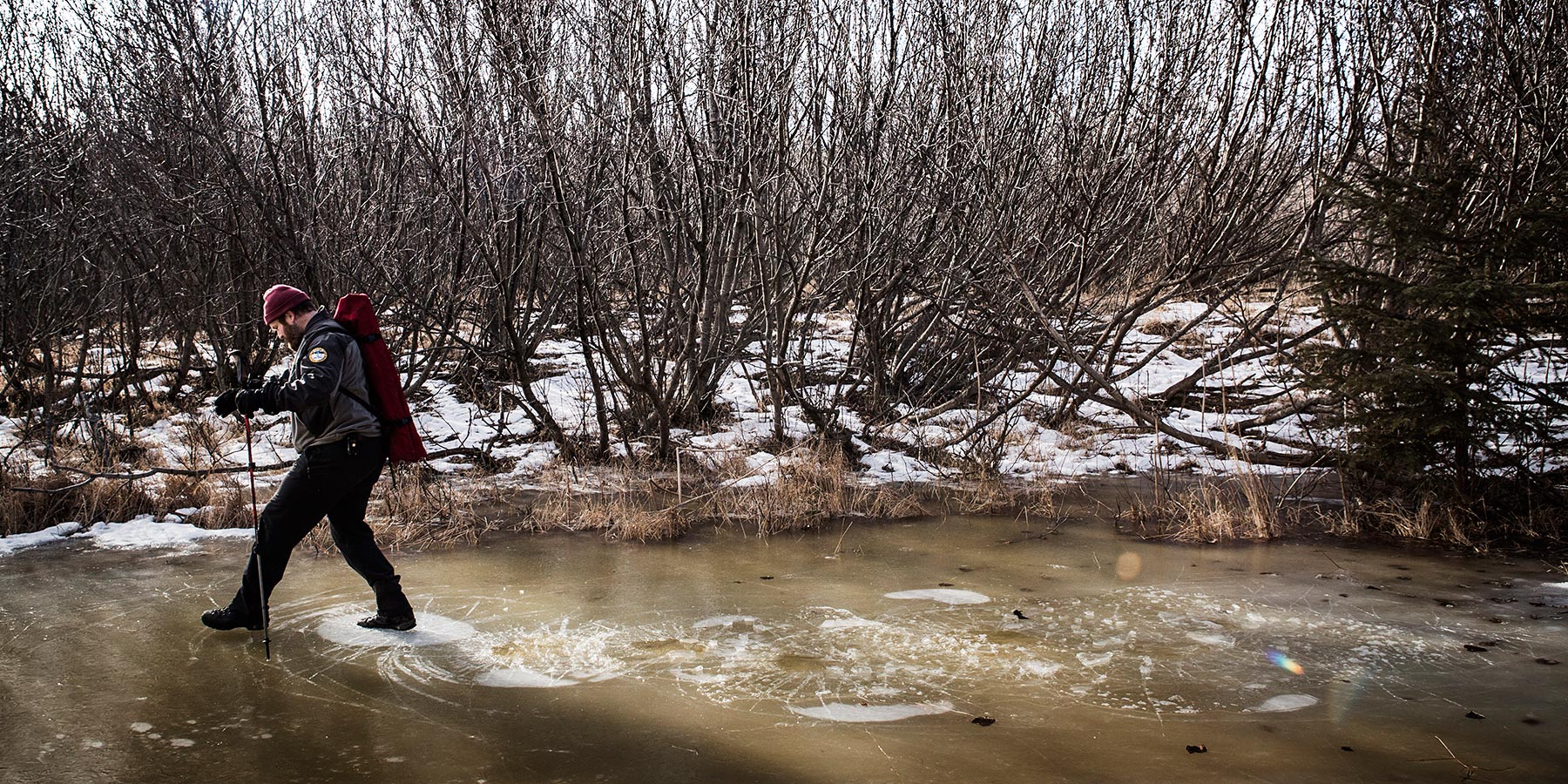 Hot Alaska
When it comes to winter weather, the state known for cold and snow is on thin ice
When
it
comes
to
winter
weather,
the
state
known
for
cold
and
snow
is
on
thin
ice
A few weeks ago, as champion musher Martin Buser prepped for the 1,000-mile Iditarod Sled Dog Race across Alaska, ugly images from last year's trail kept flashing in his head. In the old days, a bad trail meant lots of drifting snow. But last year was just the opposite: miles of open, snowless ground, fraught with hazards. It was the worst he has seen in decades of running dogs.
"Glare ice, stumps, roots, rocks and tussocks," Buser said. "There was so much carnage out there, musher- and sledwise."
As temperatures dropped and snow climbed to record heights in East Coast cities like Boston, many parts of Alaska this winter warmed to record highs for the second winter in a row, and rain fell instead of snow, putting a major damper on the state's normally robust wintertime recreation culture.
Luckily for Buser, the Iditarod, which usually begins outside Anchorage, was moved north to start in Fairbanks because of the lack of snow. The trail was rerouted. The winner, Dallas Seavey, crossed the finish line on Wednesday morning with 68 mushers, including Buser, behind him. Trail conditions this year have been snowy and very cold.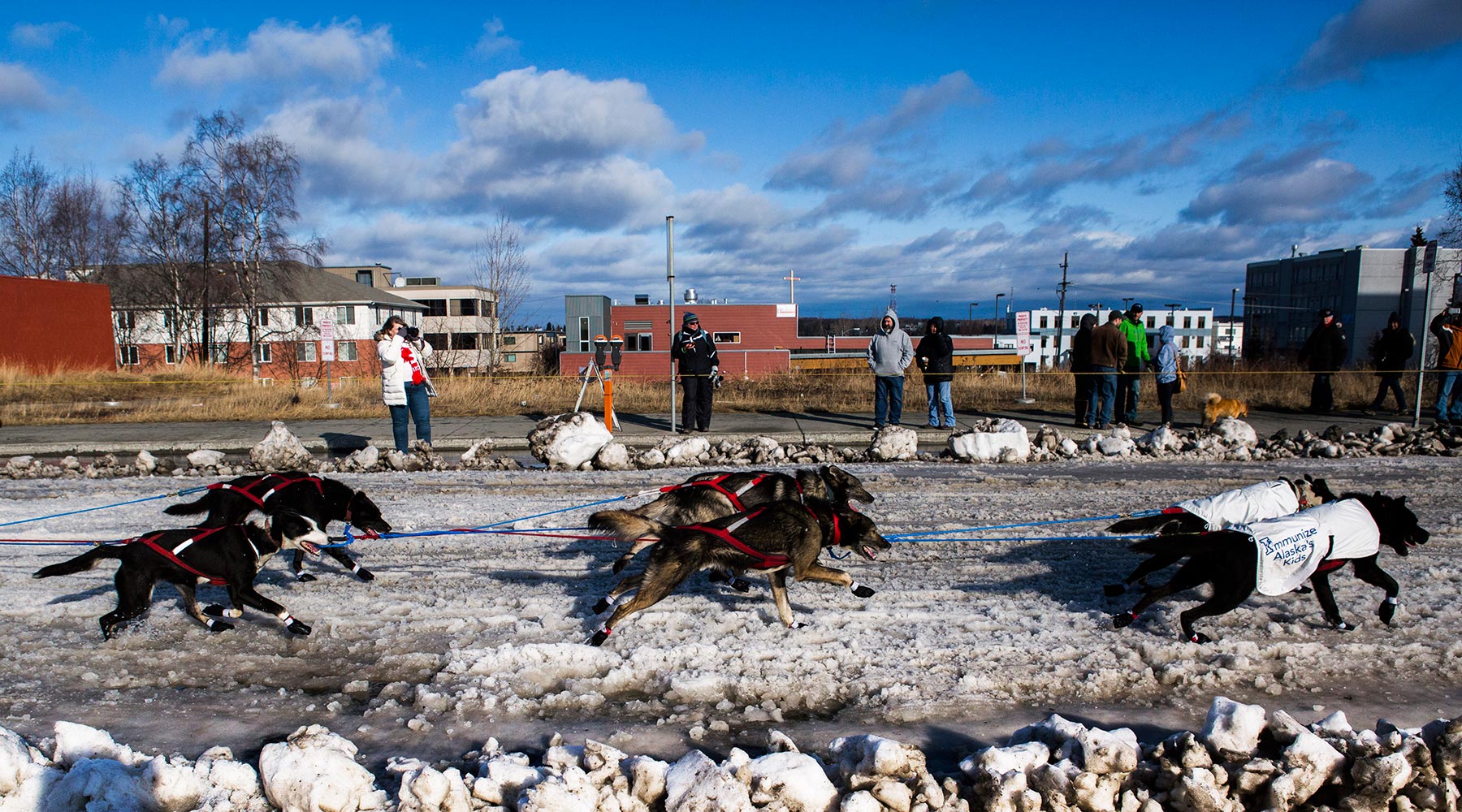 The same can't be said elsewhere in the state. Two-thirds of Alaska has below-normal snowpack, or accumulated snow, according to Daniel Fisher, a hydrologist and data collection officer with the Westwide Snow Survey Project. Near Anchorage, 14 of 19 monitoring spots set or tied records for low snow, he said in early March.
"It's depressing. At least for me," he said. "A good portion of us live up here because we like winter."
Lack of snow has turned wintertime life upside down. In the southwestern Alaskan village of Quinhagak, schoolchildren posted a music video in December, pleading for snow as they held their skis and sat in sleds in their snowless yards. Snowmobile riders competing in the 2,000-mile Iron Dog Race in February were zipping across a normally frozen lagoon on Alaska's Seward Peninsula when they hit an unexpected miles-long patch of open water and sank. On the East Coast, schools were closing because of blizzards; in Fairbanks, where February temperatures are usually well below zero, schools shuttered because rain and ice made for dangerous driving. And in early March, the Nordic Skiing Association of Anchorage canceled its 50-kilometer Tour of Anchorage ski race, which draws racers from across the state, and threw a beachthemed party instead, as temperatures rose into the high 30s.
"People were skiing in shorts and bikinis," said Tamra Kornfield, the group's program director.
Anchorage has since cooled, with a few weeks of single-digit temperatures, but long-term forecasts call for periods of warmer-than-normal temperatures into the summer. Alaska is in the midst of a long warming phase linked to climate change.
Eight cities in the state set records in 2014 for warm temperatures. For the first time since records were kept, temperatures in Anchorage did not dip below zero once last year. The state had one of the warmest Januarys on record. It was 62 degrees in Port Alsworth in southwestern Alaska on Jan. 27, tying the record for the highest temperature reported in January. In the northernmost part of the state, Barrow and Kotzebue had two of the three warmest winters ever this year and last. On a number of occasions, temperatures in Alaska have been warmer than in many places on the East Coast.
Take Feb. 24. It was 29 degrees in Nome, 16 degrees in Chicago and 18 in New York City. Anchorage, where snow was 40 inches below normal by early March, had only about an inch of snow in February.
Boston had the snowiest month since records have been kept, with more than 60 inches. By mid-March the city set a snow total record, with 108 inches. This is part of what climate scientists call a warm cold split, in which there are warmer temperatures in the west and cooler temps in the east. But that's not all that's going on.
Alaska has warmed more than twice as rapidly as the rest of the United States over the past 60 years. A warmer, rainier state with less snow and ice isn't a fluke; it's part of the new normal in the era of climate change, said Rick Thoman, the climate sciences and services manager for the National Weather Service in Alaska. "It's certainly part of what we would expect in a warming world," he said. "It's part of the trend but it's not always going to be like this."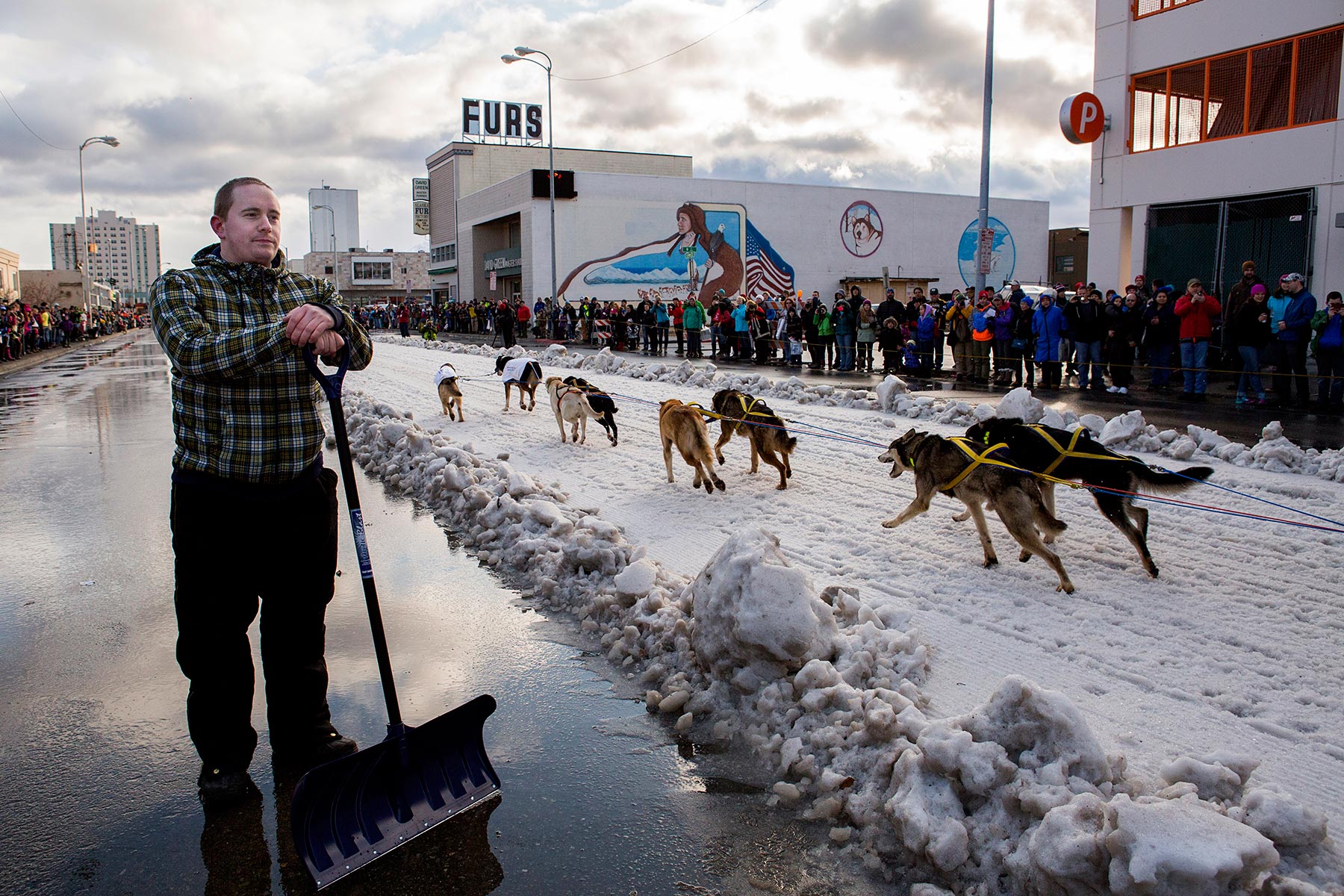 At the ceremonial start of the Iditarod, held March 7 in Anchorage, more than 300 trucks full of reserved snow arrived downtown the night before to cover bare streets. But by noon the next day, much of it had melted in temperatures that peaked at 40 degrees. Sled dogs, making the traditional trip through the city, were soaked from running through puddles. Mushing fans wore rainboots and played Hawaiian music.
Low snow levels have implications for animals. Without snow, dark ice on lakes absorbs more heat, changing water temperatures, which in turn changes some fish behavior, said Dan Bosch, a regional management biologist with the Alaska Department of Fish and Game. Some fish, like pike, may be spawning under the ice. Low snow years can be bad for salmon, but biologists can't determine that until ice melts, he said.
Moose in the southern central part of the state have had a great year, said Jessy Coltrane, an Anchorage-area biologist for the Department of Fish and Game. Without snow, they have an easier time finding food, and they don't expend as much energy without snow to slow them down, she said.
"Have you seen any moose lately?" she said. "They are, like, pudge-omatic." Animals that eat moose, on the other hand, might not be doing as well because it's easier for the moose to run away without snow, she said. "It may be slightly more difficult for predators like wolves to catch prey," she said.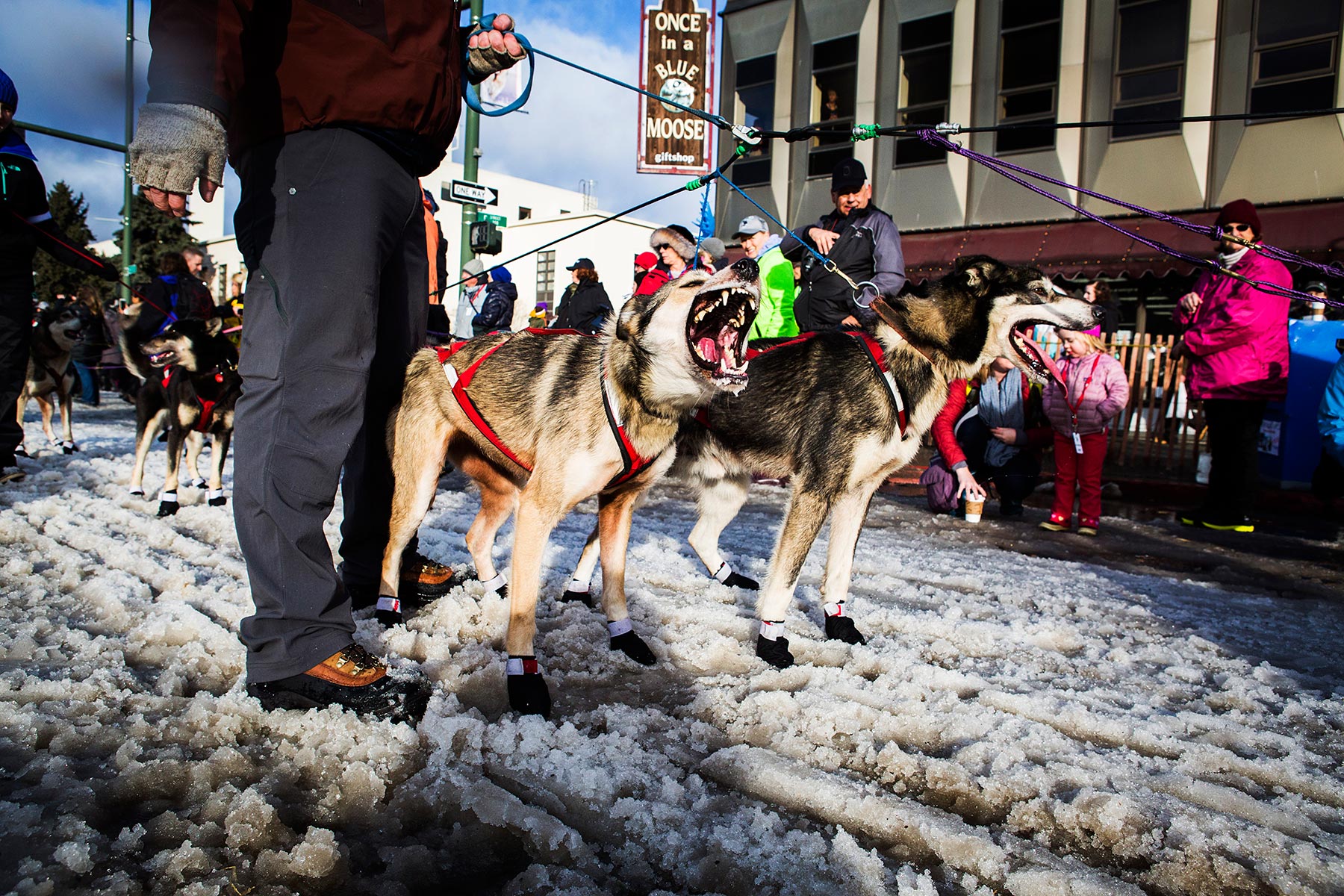 Rural Alaska Native communities depend on winter hunting for food.
Many communities have only a few cars and trucks, and low snow has caused trouble for hunters who rely on snowmobiles to travel. In the village of White Mountain, one of the last stops on the Iditarod Trail before the finish line in Nome, there have been periods of rain.
"We just stayed home and waited for snow. Nothing else we could do,"
said Adrian Barr, a hunter from the village. "It's something we live with.
We can't help Mother Nature."
Winter snow returned to the area in time for the mushers. As Buser heads out of the village today on his way to Nome, he'll have gear for everything from rain to subzero temperatures. He didn't previously pack all that, but last year's trail taught him that winter in Alaska isn't what it used to be.
"It became more and more vivid," he said, "how things have changed."