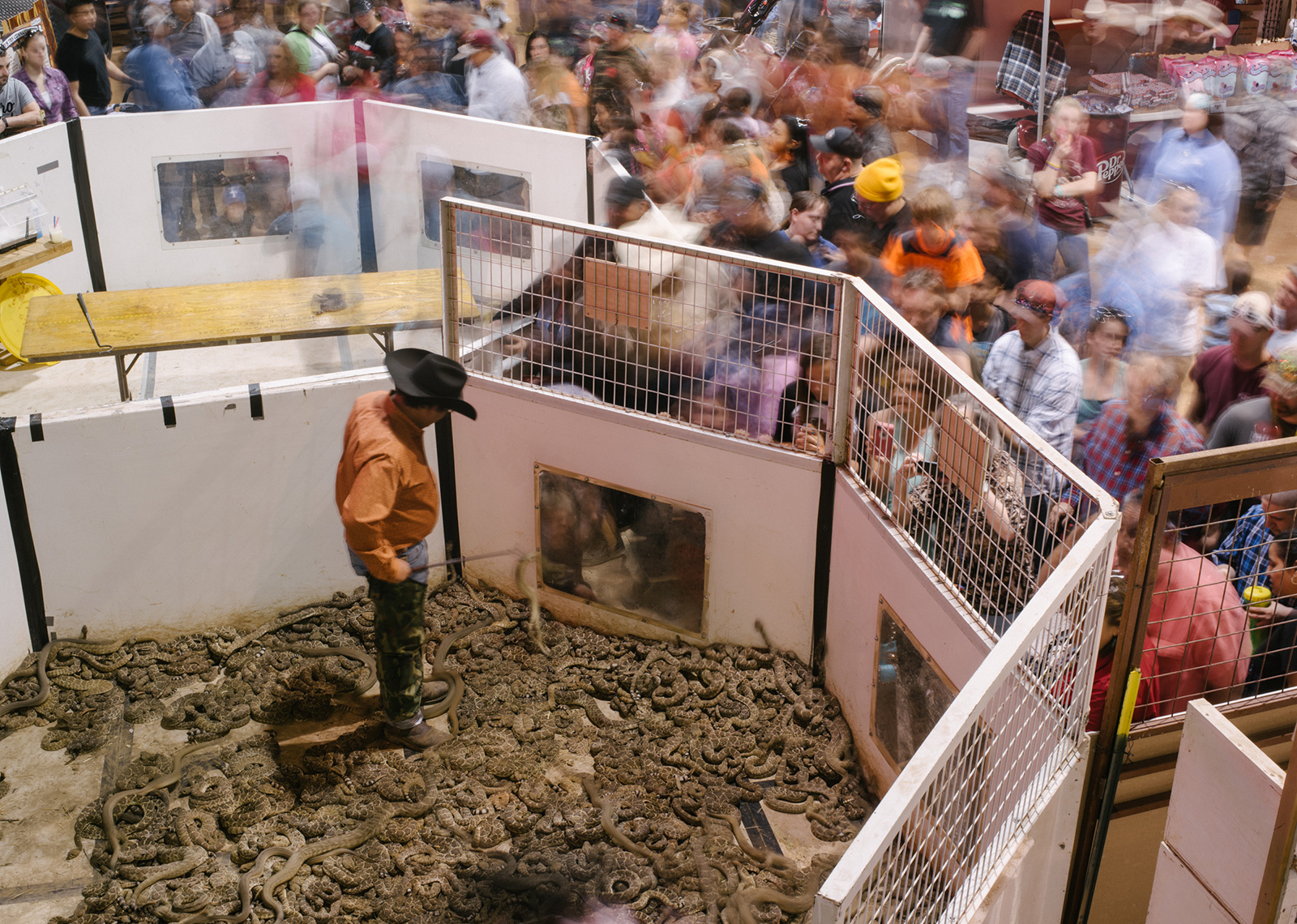 Hiss and slither in Sweetwater
Controversial rattlesnake roundup collects 2000 pounds of snake in four days
Controversial
rattlesnake
roundup
collects
2000
pounds
of
snake
in
four
days
SWEETWATER, Texas — On the first day of the world's largest rattlesnake roundup in this small West Texas town, Rob McCann hoists a flat, wooden box out of the back of his car. It emits a telltale rattle. "These are my media rattlesnakes," McCann says. "They're the ones that get to be on TV today."
Rattlesnake roundups, an increasingly rare, rural phenomenon, involve hunters competing to see who can catch (and, usually, kill) the largest number of snakes. McCann, the public-relations director of the Sweetwater Jaycees, the nonprofit group that hosts Sweetwater's annual festival, isn't the only one porting around potentially lethal reptiles this weekend. All told, teams of rattlesnake hunters delivered thousands of snakes to Sweetwater's 57th annual roundup in mid-March — prime snake-hunting season. Over the course of the four-day festival, more than 2,000 pounds of rattlesnakes will be measured, beheaded, skinned and eaten, while an equal amount will be sold, alive, to dealers interested in the medicinal properties of their gallbladders or the fashion potential of their skins.
Sweetwater's rattlesnake roundup is both a celebration of local tradition as well as an economic engine for the town, drawing tourists from across the country and the globe. Peggy Romanowski of Marietta, Georgia, drove eight hours to attend it this year. Though she had gone to similar events in Georgia, the Sweetwater festival had been on her bucket list for years. "It's the granddaddy of them all," she says.
It's also an increasingly controversial event. Rattlesnake roundups have come under fire by animal-rights activists and conservationists, who say that such events encourage animal cruelty and that snake-hunting practices — particularly the use of gasoline to lure the animals out of their burrows — cause environmental damage. In a position paper on rattlesnake roundups, the American Society of Herpetologists said that it "strongly opposes" these events because they "promote overexploitation of natural populations of wildlife, unnecessary killing and inhumane treatment of individual animals, degradation of habitat, and promotion of outdated attitudes toward important elements of America's natural heritage." Given these objections, and a proposal to ban gassing the snakes out of their dens, there's some question as to whether the world's largest rattlesnake roundup might itself soon become an endangered species.
Rattlesnake roundups were once a common part of rural life in the United States, particularly in the south and west. The first roundups were a by-product of western expansion: New settlers would gather to kill large numbers of venomous snakes in order to make an area safer for humans and livestock. Sweetwater's first roundup took place in 1959, when a period of drought resulted in a large number of snakes making their way into town in search of water. "Law enforcement was dealing with so many nuisance calls about rattlesnakes that they couldn't do their jobs," McCann says. The roundup served as a way to eradicate the snakes while building community spirit. The festival soon became popular with tourists; in 1979, photographer Richard Avedon shot a 13-year-old snake skinner displaying his eviscerated trophy. In their current incarnation, the weekend's festivities also include a carnival, a gun show, a parade, a barbecue cook-off and the Miss Snake Charmer beauty pageant.
For most of the year, Sweetwater is a sleepy place, the kind of small town where a local radio disc jockey reads the day's birthdays over the air. (The RJ, Jeff Stein, also hosts the Miss Snake Charmer Pageant.) But during the festival, the town swells from fewer than 11,000 people to about 40,000. Hotel rooms fill up, the ice cream shop has a line stretching halfway down the block and yard sales pop up all over town. The Sweetwater Jaycees estimate that the town derives more than $2 million in revenue from the festival and its attendant tourism boom.
On the roundup's opening day, Keith Willman stands in the middle of a circular pen known as the pit, a hundred rattlesnakes writhing at his feet. This is one of the main attractions of the roundup. The snakes hiss and rattle, occasionally lifting their heads up to strike. Willman wears boots and leather chaps, but his upper body is protected by only a thin shirt. "As long as I don't fall over, I'll be OK," he tells the spectators. Every few minutes, he walks across the pen, kicking masses of snakes out of the way. They strike at his boots, drawing gasps from watching children. "People see me do this, and they say that it's animal cruelty," Willman says. "But we have to move them — if we don't, they'll smother each other to death."
At one end of the arena, volunteers hold safety demonstrations, teaching spectators how to react when they encounter a snake in the wild. In another enclosed pen, two men in white button-down shirts are milking snakes. Plucking the reptiles out of yellow recycling bins, the men grip them just behind their heads, coaxing their jaws open to release their venom, which drips through a funnel and into a beaker. After being milked, the snakes are taken to a third staging zone, where they are beheaded and skinned. Spectators gawk at the sight of the headless snakes' bodies jumping and writhing. For $10, the festivalgoers can tackle the bloody business of skinning the snake themselves; for another $10, they can keep the skin as a souvenir. Nearby, children dip their hands in a bucket full of snake blood in order to make a red handprint on the arena's white wall.
It's the gory spectacle of snake killing and skinning that many of the roundup's critics object to. "I can't go," says Tim Cole, a founding member of the Austin Herpetological Association. "I know myself well enough — I would lose control." While the skinning and beheading troubles Cole, a longtime reptile enthusiast who moved to Texas because the state had more snakes than his native Illinois, it's the way the snakes are treated before they're killed that really riles him. Cole alleges that some hunters keep animals on hand for weeks or even months before the roundup and that they don't provide proper care for the animals in the meantime. "In the videos I've seen, these snakes look half-dead. Their backbones are sticking out. They've got no muscle mass, no energy. Sometimes people will look at my snakes and say, 'Wow, your snakes look so healthy!' I always know those people have been to a roundup."
Kristen Wylie, curator of the Kentucky Reptile Zoo, in Slade, Kentucky, agrees. "Even if you take their claims that the snakes need to be removed, it's simply not necessary to treat them that way," she says "Sure, as humans we use animals for our own purposes. But we are not treating those animals fairly. And we are better than that in this day and age."
Furthermore, there's some question as to whether roundups are putting fragile rattlesnake populations at risk. While the western diamondback — the primary species in the Sweetwater area — is not endangered, the eastern diamondback, hunted in a Whigham, Georgia, roundup, is; there is also plenty of evidence that both climate change and shrinking habitats are having a negative impact on population size.
Leroy Higginbottom, a snakeskin dealer who's been in the business for more than four decades, says that in his experience, the snakes have become scarcer in recent years. To Higginbottom, the reason is clear: "Overhunting and hogs." (Feral hogs, a troubling and growing scourge in rural Texas, have a twofold impact on rattlesnakes: Not only do they eat the snakes, but they also destroy their habitat through rooting.) But Sweetwater snake hunters assured me that they'd seen no such reduction in population. "I've been hunting the same dens since I was 16," McCann says. "I'm still getting anywhere from 10 to 30 snakes from them."
Despite the controversy surrounding the roundup itself, Sweetwater's snake hunters bristle at the suggestion that the festival is an example of animal cruelty. They deny that they neglect the reptiles, and stress the great respect they have for them. McCann notes that a representative from the Texas Department of Parks and Wildlife is present throughout the festival. While a game warden was on hand to oversee the proceedings, he says that his only role is to ensure that snake hunters have the proper permit. When asked about animal cruelty, he needs to pull up the relevant piece of legislation on his phone. As in many states, many nongame animals can be hunted at any time, by any lawful method and in any number. (Coyotes, another animal not appreciated by ranchers, are subject to similar mass eradication efforts in New Mexico, which tried and failed to ban coyote-hunting contests earlier this year.)
Snake hunters argue that the roundup is a celebration of a local tradition that helps keep their community safe. Hunting is a part of life for many Sweetwater residents; a sign welcoming visitors to town proclaims that Sweetwater is the "Quail Hunting Capital" of Texas. Snake hunting, which mostly involves walking around and peering into holes, is a popular springtime activity here. Many of the town's snake hunters started out tagging along with their fathers or grandfathers. Chris Soles is one of them; he now hunts for snakes on a friend's ranch. The arrangement benefits both men — fewer snakes means safer livestock for the rancher, while Soles has spent years getting to know that particular piece of snake-hunting land. A dedicated hunter may catch around 70 pounds of rattlesnakes in a year; on the first day of the festival, the going price for snakes was $12 a pound.
The highlight of the weekend is a guided, all-day snake hunt. At this year's roundup, one such hunting group includes four tourists from Brazil, who have traveled to the United States expressly for the festival, and six brothers from Minnesota, clad in brand-new snake-wrangling gear, who have driven all night to make it to Texas in time for the hunt.
The group of about 20 snake hunters walks through a narrow, red-dirt canyon, looking for their quarry. They peer in holes, look for slither marks in the dirt and generally try to get into a rattlesnake frame of mind. After about half an hour of fruitless hunting, the guides bring out the gasoline and begin piping fumes into a burrow. Soon enough, one of the Minnesota brothers spies movement in one of the holes. The snake, perhaps 2 feet long, is easy to catch using a pair of metal snake tongs.
After a lunch break, the more dedicated members of the group treks back into the canyon, while the rest stay in town to enjoy an afternoon beer. One of the guides takes the captured rattlesnake out of its box and places it on the ground. As the group gathers to take pictures, the guide teases the animal with his boot, trying to get it to strike, but the snake doesn't seem inclined to oblige.
But even apart from the issues raised by the roundup itself, snake-hunting practices are themselves controversial. Hunters pump gasoline fumes into snake holes to coax the critters from their burrows, a practice known as gassing. While snake hunters maintain that the amount of gasoline used in a day's hunt is negligible, the Department of Parks and Wildlife is concerned that that gassing has a negative effect on other burrow-dwelling animals, as well as the environment as a whole. Arkansas, Louisiana, Oklahoma and New Mexico all have either a partial or total ban on gassing; a proposed ban failed in Texas last year.
While the Sweetwater roundup continues to draw tourists and locals alike, fewer townspeople are taking up snake hunting. "You used to get 15 or 20 teams," Soles says. "This year there are just five. Most of the wranglers are older guys." In 2012, Claxton, Georgia, opted to convert its annual snake hunt into an educational festival. Other festivals across the nation have followed suit. Tim Cole, the herpetology enthusiast, co-founded an event to compete with Sweetwater, the Texas Rattlesnake Festival, an educational celebration of the reptile that is now in its second year. "We'll have close to 60 different species of snake," Cole said. "And none of them will be killed."