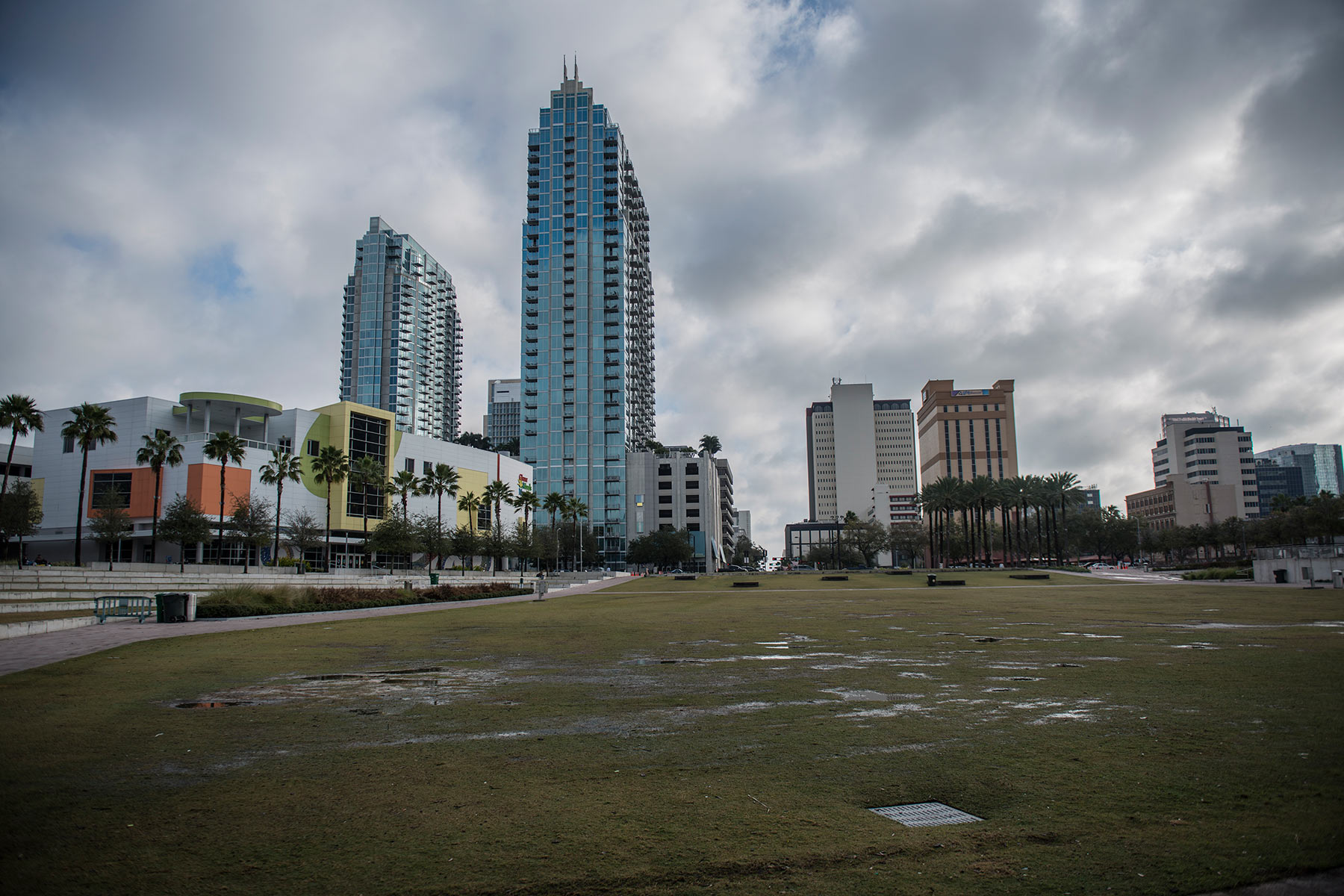 Finding a place to stay
For the homeless, getting through the day is a constant struggle
For
the
homeless,
getting
through
the
day
is
a
constant
struggle
WEST PALM BEACH, Fla. — On a typical day, Ira Russell easily walks more than 20,000 steps — four times that of an average American. Russell, who has been homeless since last July, says he enjoys moving around, but he also spends so much time on his feet to avoid being harassed by private security officers.
Across the country, homeless people struggle to find places to sit, sleep and pass time. Shelters often close during the day and private property is generally off-limits. Now, more cities are implementing laws that criminalize sleeping in public areas and vehicles, making it even harder for the homeless to find places to rest. Sitting or lying in the wrong place could result in a misdemeanor or arrest, which can make it more difficult to obtain a job or qualify for certain housing assistance programs.
Florida, where Russell lives, has more restrictions on homeless people's behavior than any other state, according to advocates, although laws and their enforcement vary by city.
"Florida is an innovator when it comes to criminalization. We develop really horrible policies, and we export them all over the country," said Kirsten Clanton, an attorney at Southern Legal Counsel, a Florida not-for-profit law firm at which she directs their Homeless Advocacy Project. "It is directly affecting policy in other places."
Broward County, which includes the city of Fort Lauderdale, has attracted media attention in recent months after the passage of ordinances banning panhandling, sleeping on public property and sharing food with the homeless. The laws may be contributing to an increase in arrests of homeless people: According to county sheriff department records, 18 people whose home addresses are registered as "at large" (which is often an indicator that they are homeless) were arrested between October 1 and November 30, 2013, for violating municipal or city ordinances. A year later in that same time frame, 47 people, more than 2.5 times the number in 2013, were arrested following the passage of several laws over the year.
While some cities have clauses for certain ordinances that say that officers cannot make an arrest if they cannot provide an alternative, these laws still create fear among the homeless. Advocates argue that it's this additional stress that makes it harder for the homeless to focus on achieving financial stability.
Lawmakers say that these laws protect the community. Fort Lauderdale Mayor Jack Seiler said that the ordinances keep up the quality of life for "our neighbors, visitors and for the homeless," citing examples of someone in a wheelchair having trouble accessing a park because of personal belongings on the sidewalk and a family who can't use a park because of human feces.
Seiler also said the city's focus is on improving the lives of the homeless with comprehensive programs and "not just [to] get them from breakfast to lunch to dinner on the street."
Tim Marks, president of Metropolitan Ministries, a homeless assistance organization in Tampa, said that he thinks the laws and guidelines are proper if they come with a corresponding solution. "We need to help … those who truly need the help [more]. But we also have to hold people accountable because the community is for all of us."
But others say that law enforcement officers need to use more discretion in how they treat the homeless. Aaron Broughton, a former law enforcement officer at the Citrus County Sheriff's office and security guard, says he was often asked to escort homeless people off property. Before becoming homeless himself, he says he removed them without stopping to assess each individual situation. But his attitude changed once he experienced the other side. "I give them time, because I know how it feels," Broughton said of how he approaches the homeless in his current security guard job in Tampa. "You want to leave a positive message with every encounter of a homeless person."
Interviews with a dozen homeless and formerly homeless people illustrate the sorts of daily challenges people on the streets face. Below are their accounts.
In recent years, homeless advocates have succeeded in using lawsuits to fight the ordinances in several Florida cities. Most recently, the Southern Legal Counsel sued the city of Fort Lauderdale over its restrictions on sharing food with homeless people, saying it violated the First and Fourteenth Amendments. Since a judicial circuit court order in December, Fort Lauderdale has temporarily stopped enforcing the law, which took effect on October 1.
"The top line takeaway is that these laws and ordinances treat homeless people as the problem, as opposed to treating homelessness as the problem to be solved," said Eric Tars, a senior attorney at the National Law Center on Homelessness & Poverty, in Washington. "If we look at homeless persons not as pests to be dealt with, but rather as fellow human beings and citizens whose needs aren't being met, that would refocus people's efforts to try to deal with the problem."
Several cities and states around the U.S. have considered a "Homeless Bill of Rights," which would provide legal protections against discrimination and certain rights in public spaces. On March 2, Indianapolis became the first city to pass such a bill.
Ultimately, advocates and service providers — like Diana Stanley, CEO of the Lord's Place — believe that it comes down to community buy-in and collaboration that involves input from both service providers and the homeless they serve. "I think the most important thing is just hearing the clients' stories," Stanley said.
Correction: This article was updated with the correct spelling of Eric Tars' last name. Previously, this article stated his last name was Pars.