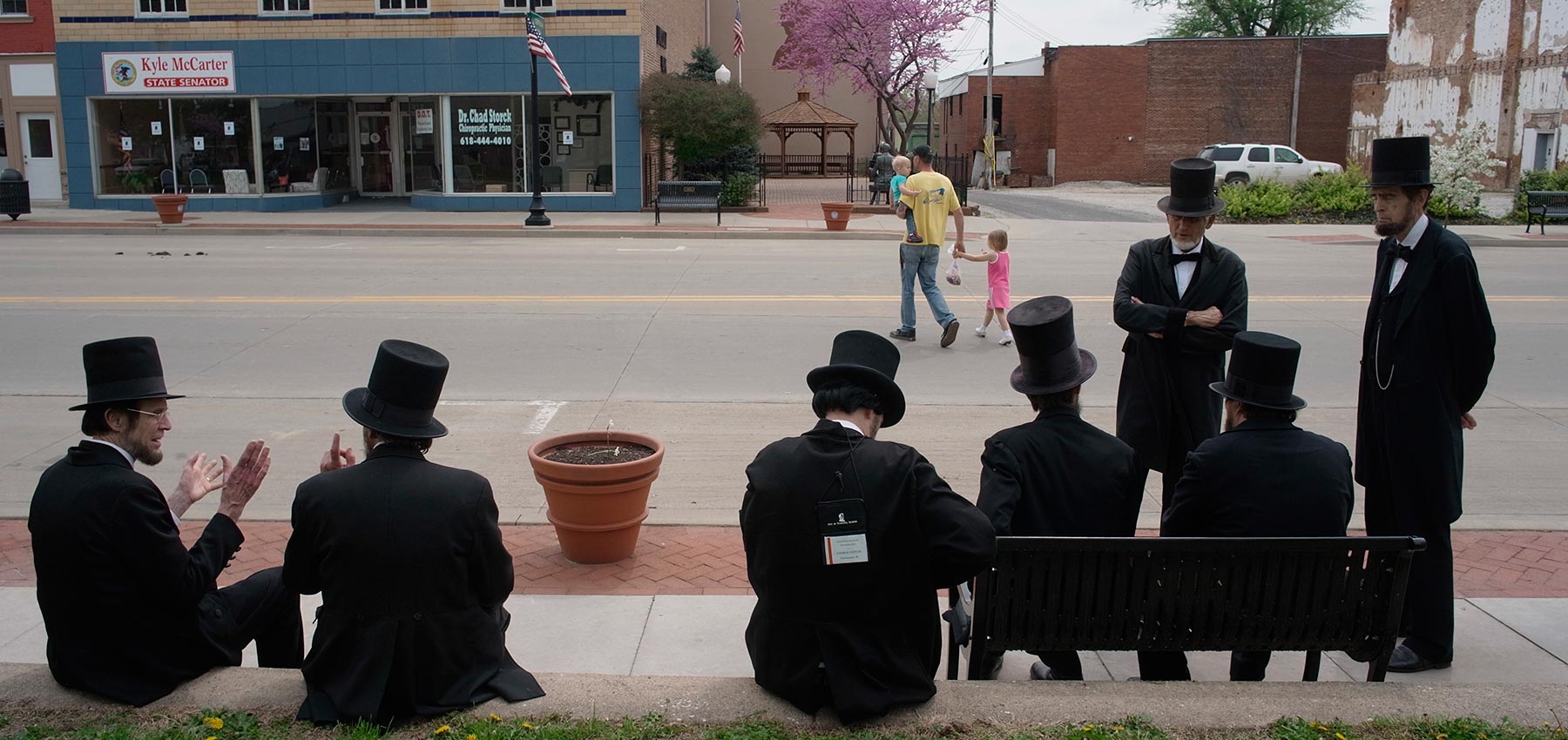 Lincolnpalooza
At their annual convention, Abe and Mary Todd take over small-town Illinois
At
their
annual
convention,
Abe
and
Mary
Todd
take
over
small-town
Illinois
It's a spring afternoon in southern Illinois, and that man checking into the Holiday Inn Express on the edge of town sure looks like Abraham Lincoln.
Stovepipe hat? Check.
Six feet tall and then some? Check.
Whiskers? Check.
In fact, the only thing more disconcerting than watching the nation's 16th president check into an economy motel is seeing four or five Abraham Lincolns wandering about the lobby, each a tall man with a beard and a skyscraping chapeau.
The 2015 annual convention of the Association of Lincoln Presenters (ALP) — do not call them impersonators, please — is underway in Vandalia, a hamlet about an hour northeast of St. Louis. A pride of nearly 30 is prowling the halls, with Lincolns clearing their throats and readying themselves for three days of Lincolnmania, in which they will catch up on the finer points of portraying the Great Emancipator.
Think of it as Lincolnpalooza.
The numbers are a little short of previous conventions, says Lewis "Abe" Clymer, the local host of the meeting, which is in its 21st year and has hosted up to 60 presenters on previous occasions. After all, the opening day of this convention, April 15, is the 150th anniversary of Lincoln's assassination at Ford's Theatre, and many of their members are booked.
"It's hard to get a lot of Lincolns this year," says Clymer, 84, a hint of mischief in his eyes. He has been with the association since 1994. "The end of the Civil War and the death of Lincoln has given them a lot of jobs. And given the choice of going to a convention or making money, they'll make money."
It's not just Lincolns who can't make it this weekend to this town of 7,000.
"Stephen Douglas has a job," says Clymer, referring to the fiery politician who faced Lincoln in a series of historic debates. "Frederick Douglass has a job. Oh, he's very good."
About 10 Mary Todd Lincolns have shown up to accompany the Abes, all of them so in love with history, they want to embody it. In a post-ironic age, the Lincolns are thoroughly, wonderfully earnest.
"Do you remember Vicksburg?" one Lincoln says to another in the lobby, referring to last year's convention, held in Mississippi. "Jeff Davis was downright critical!"
The former Confederate president can't make it this year either.
The Lincolns recite the Gettysburg Address
In many ways, people get the Lincoln they deserve.
At the ALP conference, they can discover more about Lincoln's faith, listen to a thoughtful discussion of Civil War strategy or hear him reflect on his family's hardscrabble early days in Kentucky and Indiana.
Supporting the thesis that all one needs to become Lincoln is to be told there is a resemblance, a wide range of candidates is available. There are rail-thin Lincolns and portly ones, Honest Abes who stand the proper 6 feet 4 inches and those with more diminutive frames. There's a silver-haired Lincoln, another with a toupee and one with a faux beard that hooks over his ears.
A few are young enough to earn the title of rail splitter, a sobriquet for the young Lincoln who spent part of his youth splitting logs for fences and shingles — a fact later employed to cement his reputation as a self-made man. There is even a Lincoln with a crutch.
One of them, Kevin Wood, now of Oak Park, Illinois, lived for a decade in Spain and translated the Gettysburg Address into Castilian Spanish. Chester Damron, a missionary and pastor, has performed in Thai and Indonesian while overseas.
"People know the name of Abraham Lincoln," says Wood. "Even in remote places, they have a general idea. He's known for emancipating the slaves."
Despite the fact that Lincoln is revered as one of the most gifted American writers to serve in the White House, some of the presenters see fit to offer their own material. Homer Sewell III of Jasper, Georgia, estimates he has been Lincoln in front of nearly 2 million people during his four decades of presenting.
He often uses the occasion to tell young people to stay away from drugs, tobacco, alcohol and crime, he says. He has his own advice for the nation to stay indivisible.
"I always say if we had more hugging, there'd be less mugging," he offers.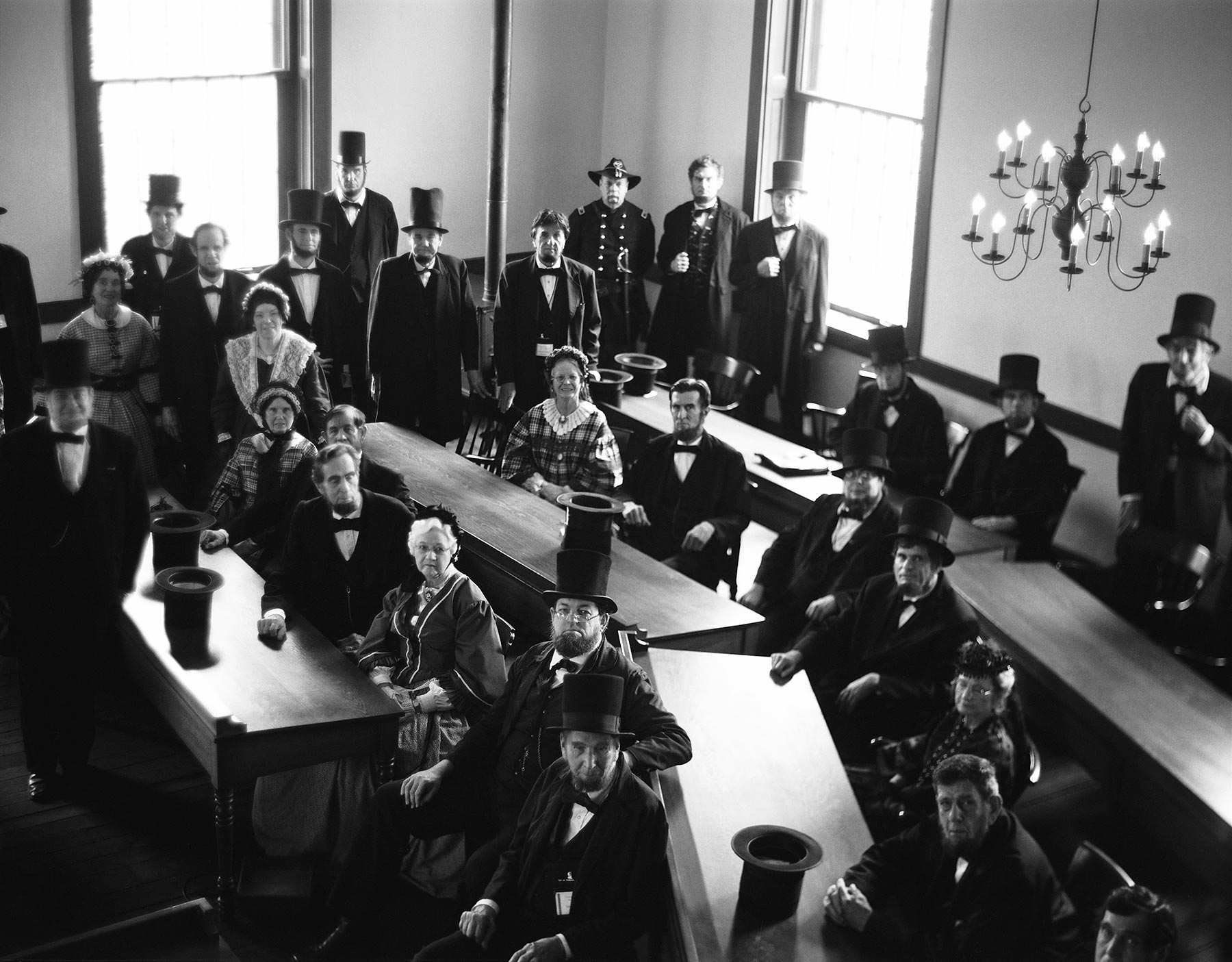 On Friday, the Lincolns troop over to the Fayette County Museum to look at Abraham Lincoln's froe, an old iron implement that was used to help split shingles from a log. His initials are carved on it.
The froe is just one of the reasons they are in Vandalia. The big reason is the building next door to the museum, a two-story white-columned structure that is known as the Old State Capitol. From 1819 to 1839, the capital of Illinois was Vandalia. The current building was erected in 1836 — an improvement that didn't stop Lincoln and other members of the state's general assembly from voting to move the capital to Springfield.
Still, Lincoln, who served as a state legislator from 1834 to 1846, walked these wooden floors, the same ones the Lincolns are treading on now.
"Abe Lincoln spent 180 days of his life in Vandalia," local historian Dale Timmerman tells the Lincolns later that day. "They weren't necessarily ones he enjoyed. But he was 25 and poor, happy to have a job as a legislator, which beat the hard labor his father knew."
In Vandalia, Lincoln met Stephen Douglas, his opponent in the presidential debates that made them both famous, on Dec. 1, 1834. And it was in Vandalia that Lincoln made his first public statement against slavery, on March 3, 1837.
Seemingly every move Lincoln made in Vandalia is documented with historical markers. In a town where the two main employers are the health care industry and a nearby minimum security prison, a little Lincoln tourism can't hurt. A café and saloon called the Copper Penny is located where an inn once stood. While Lincoln supposedly abstained from alcohol, Douglas did not and reportedly once imbibed so much at a local tavern he danced on the tables. Sadly, there are no cocktails named after Douglas at the Copper Penny.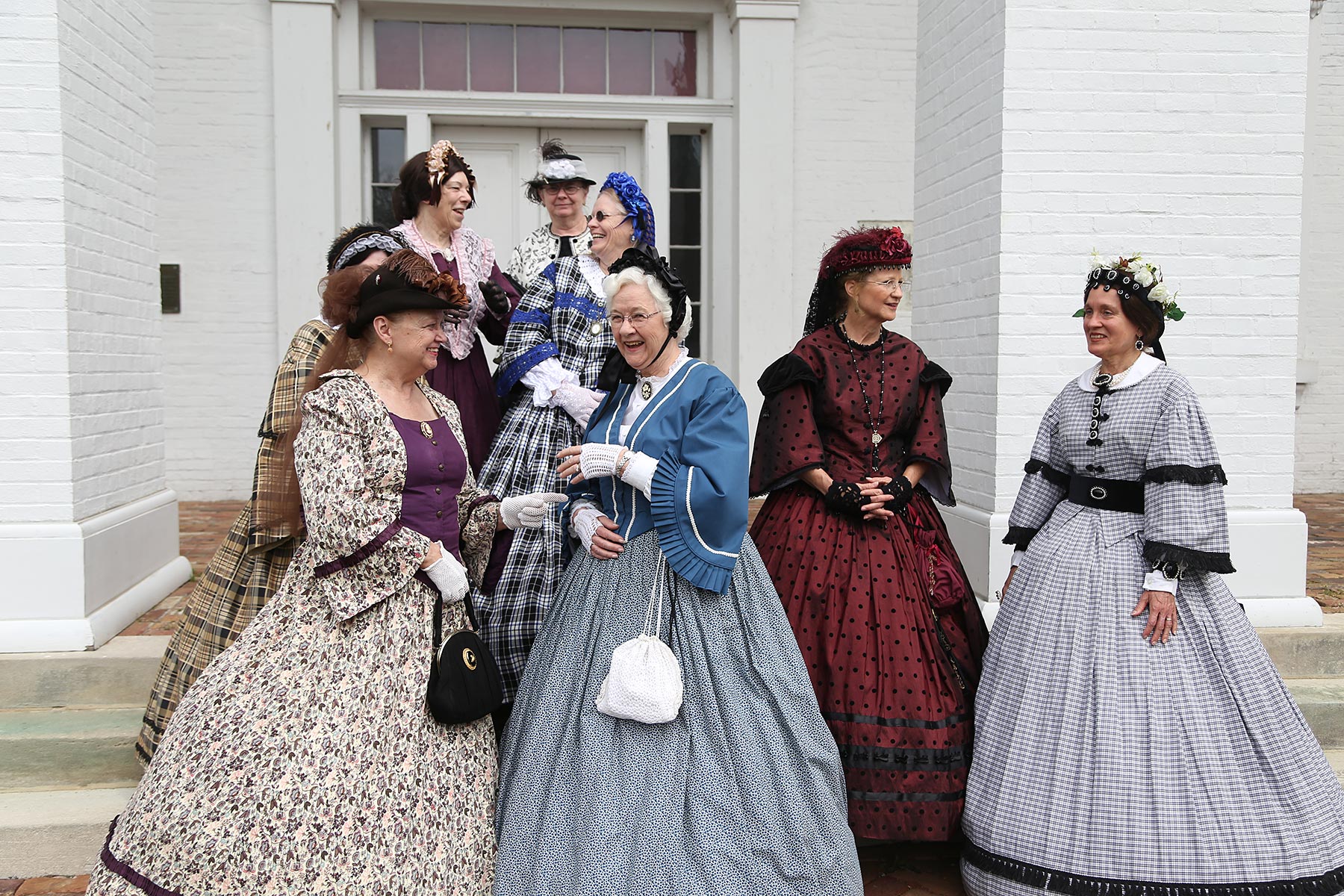 At this point, it's fair to ask, What about Mary?
Poor Mary Todd Lincoln. Maligned in her day as a traitor and a spy because of her roots as a belle in Lexington, Kentucky, and because most of her family there supported the Confederacy. Mary, who bore the deaths of three of her four sons, one while the family was in the White House.
For some of the women who portray Mary Todd Lincoln, it's a reclamation project. Marilyn Cole, 70, a sister-in-law of Clymer's, does it "to show people she wasn't insane," she says. "I think she was probably depressed. But so was he. They always mention that he was melancholy."
Laura Keyes, 32, is a librarian in Arlington Heights, Illinois, who portrays both Mary Todd Lincoln and her less known daughter-in-law, Mary Harlan Lincoln, who married Robert, the only son to survive into adulthood. She also performs with a woman who portrays Jacqueline Kennedy Onassis, both of them widows of assassinated presidents.
"I want people to know the Lincolns as a family," she says. "They were people almost just like you and me."
While many people know Mary Todd Lincoln for her faults, Keyes says, fewer are aware that she could be quite generous, especially with soldiers wounded in the war. She would take flowers and crates of fruit and sit and talk with them. Then she would write letters to their mothers.
"I don't want this woman to be forgotten in history," Keyes says. "And I don't want her to be misrepresented in history.
But there's history, and there's popular perception. At a Friday night event at the Copper Penny called Drinkin' With Lincoln, Sharon Wood is dressed in period attire when a female patron greets her with, "Here's crazy Mary!"
Wood has been portraying Mary Todd Lincoln alongside her husband's Abe Lincoln for 15 years. She likes to respond to people as she imagines Mary would — sharply, and with some spirit, once scolding a man who called Mary a name with the line, "No gentleman would ever say that to a lady."
"It was pretty quiet after that," she notes with satisfaction.
It's all part of the same battle for Wood, who used to counsel the other Mary Todd Lincolns to think in advance about WWMS — what would Mary say?
"It all helps us to be better storytellers," says Wood, who is leaving her post as head of the Mary committee after this conference.
But there are practical considerations as well. To wear pantaloons or not? Does one dress one's own hair or buy a period-appropriate hairpiece? And how long, really, can anyone wear a corset?
"The worst thing," says Cole, "is getting your hoop skirt caught in the car door."
For a visitor, one of the most jarring sights on the trip from the St. Louis airport to Vandalia is a highway exit sign for Ferguson, Missouri. It's hard not to think of the progress — or lack of it — in race relations when a convention honoring the Great Emancipator is held about an hour from the events that gave us the hashtag #BlackLivesMatter.
Of those asked, most had never considered the juxtaposition.
James Mitchell, a Lincoln who hails from Hope, Kansas, admits he thought about going in character to Ferguson, just standing on a streetcorner to see what might happen. He was also thinking of taking his gun.
"That's my right, you know," he says, but his wife put the kibosh on that.
Joan Howard, 70, has portrayed both Mary Todd Lincoln and Verena Davis, the wife of Confederate President Jefferson Davis, since the mid-1980s.
She thinks it's unfair to ask how Lincoln would have responded to the events in Ferguson. After all, in the 1860s, she notes, there was no "Cassius Clay, no Martin Luther King."
"We do tell people," she says, "if you have to judge us, judge us in our day. You have the benefit of 150 years."
And then Frederick Douglass arrives in Vandalia.
Crutcher, Sr. as Douglass
His eyes crinkle with wry amusement when you ask him about what Lincoln would say about Ferguson. Michael E. Crutcher, Sr., is an Army veteran whose great-great-grandfather served in the 116th Regiment of the United States Colored Troops, which was organized in 1864 at Camp Nelson in Kentucky.
Ten years ago, when he started portraying Douglass, the former slave and abolitionist, Crutcher says he was terrified. But he has grown into the role. "There's something other than me," he says. "I'm not an actor. I'm a message."
If he were to go to Ferguson, he says, "I'd stay in the past as much as possible."
Then he reminds you of that past. On April 14, 1876, Douglass gave a speech at the unveiling of the Freedmen's Monument in Lincoln Park in Washington, D.C.
Lincoln "was pre-eminently the white man's president, entirely devoted to the welfare of white men," Crutcher says as Douglass.
As Crutcher points outs, "Lincoln was a very complex man, just as Frederick Douglass was." And yet, he says, without Lincoln, Douglass could not have said in the same speech that "we saw ourselves gradually lifted from the depths of slavery to the heights of liberty and manhood."
Crutcher is speaking from a bench in the Old State Capitol when he stands to make his leave. As though someone flipped a switch, a ray of sunlight illuminates him, and he is backlit, in silhouette. He begins to orate as Douglass, stentorian tones filling the hall.
"If we ought to forget a war which has filled our land with widows and orphans; which has made stumps of men of the very flower of our youth; which has sent them on the journey of life armless, legless, maimed and mutilated; which has piled up a debt heavier than a mountain of gold."
The quote is paraphrased from a speech Douglass made at Arlington Cemetery on Decoration Day (a precursor to what we know celebrate as Memorial Day), May 30, 1871.
"Well," Crutcher says, raising one hand and riffling his fingers in the air. "That's just a little something."
The Lincolns love an audience. And the audience loves them back.
On Saturday they pose in front of the Old State Capitol, and it's not long before they've drawn a crowd, including Laurie Joachim, an editor in advertising who has flown in from New York for the conference. She is wearing a pendant that features a likeness of Lincoln along with a necklace of beaded stovepipe hats.
Joachim grew up in Denison, Iowa. She was a child when her fascination with Lincoln took hold. She made a stop at Springfield this weekend to leave flowers at his tomb, she says, and then went to Vandalia.
Why such devotion to Lincoln? "There were times in my life when I thought I was having hard times and then I thought about what he went through," she says.
This doesn't surprise Sarah Watson, who heads the Looking for Lincoln Heritage Coalition, based in Springfield, and has known her share of Lincolns. If you want to teach history, she says, "One of the most powerful ways to do that is through a person."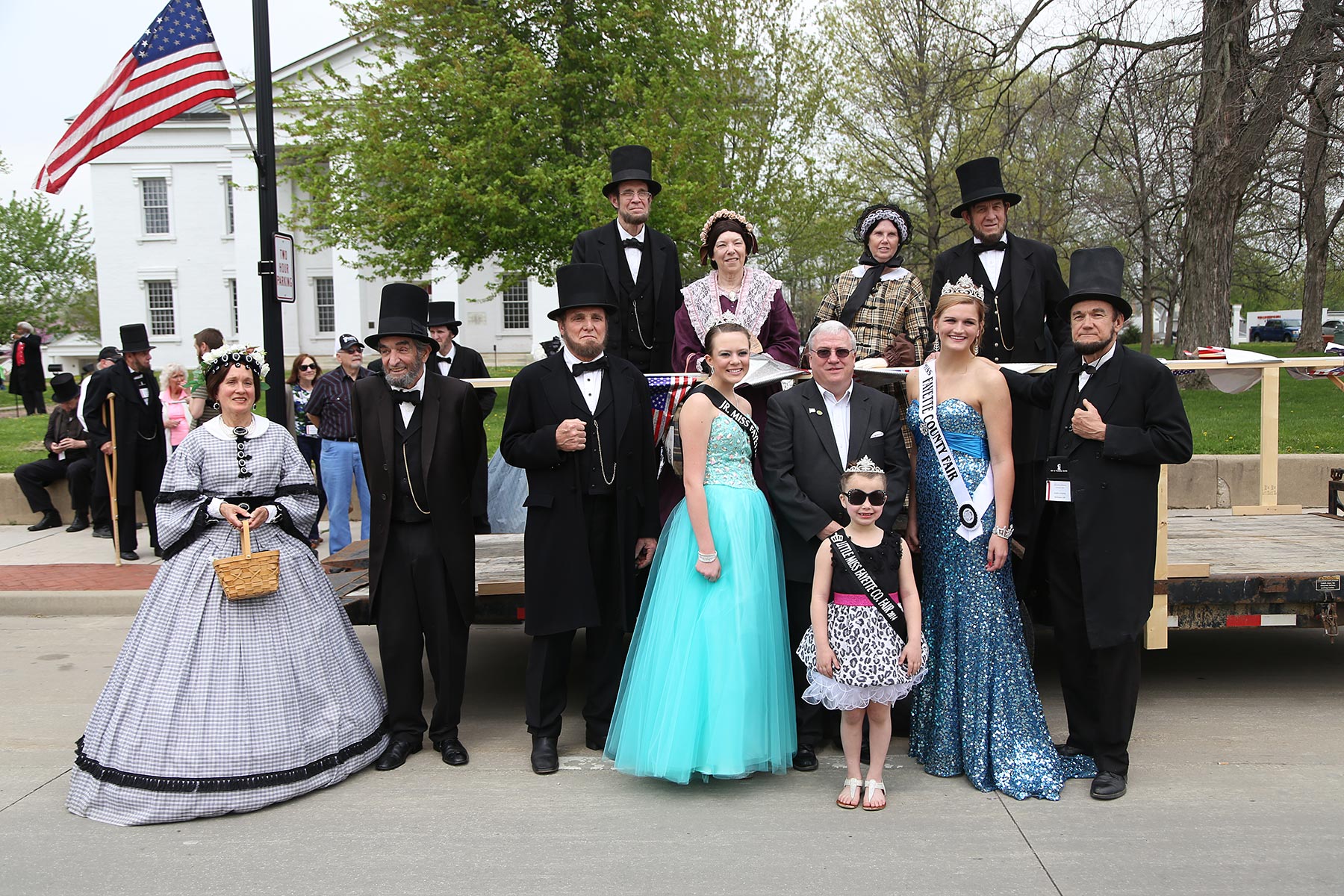 If the members of the ALP are disappointed by the turnout for the Lincoln Parade down Gallatin Street on Saturday afternoon, they are too polite to show it.
In a hallowed small-town tradition, there are more participants in the parade than there are spectators. But no one seems to mind. The Abraham Lincolns and Mary Todd Lincolns lead the parade, some presenters walking, the others in two flatbeds decked out in red, white and blue bunting, followed by a gospel quartet on another float, belting out "When Johnny Comes Marching Home Again."
Chester Damron, pastor cum Lincoln, walks over to some children and shakes their hands. "Good to see you," he says. "Glad you came out."
Keyes, dressed as Mary Todd Lincoln, looks a little embarrassed as she waves a white handkerchief from her perch on the back of a burgundy 1983 Chrysler LeBaron convertible. A massive speaker lashed to the grille of a teal GTO with a sign that reads "Welcome Abes" blares music as a middle-aged couple swing dances down Gallatin Street.
Even the stoniest heart would have to be moved, just a little, at the article of faith that is a small-town parade, people walking down the wide street, past the café with the chalkboard specials, past the shuttered antique shop or the closed Liberty movie theater, the L long dropped from the marquee.
Lincoln came from towns and communities much smaller than this. His very commonness is what so many people like to remember, a reinvestment in an old American myth that seems harder and harder to realize in a day of super PACs and pollsters.
There must be a certain solace in playing Lincoln, of poring over the facts of his life, shuffling the stories like cards in a deck, then laying them out in different patterns to arrive at the conclusion you want or you need.
The Lincoln Ball is held Saturday evening at Moose Lodge 1447. As a band plays Civil War–era songs and people are do-si-do-ing and dancing the Virginia reel, Stanley Wernz, the president of the ALP, explains why he has now performed Lincoln for 40 years.
"You have the opportunity to convey the feelings and compassion and understanding of a man for his fellow man," he says. "The words of Lincoln are as relevant today as they were then."