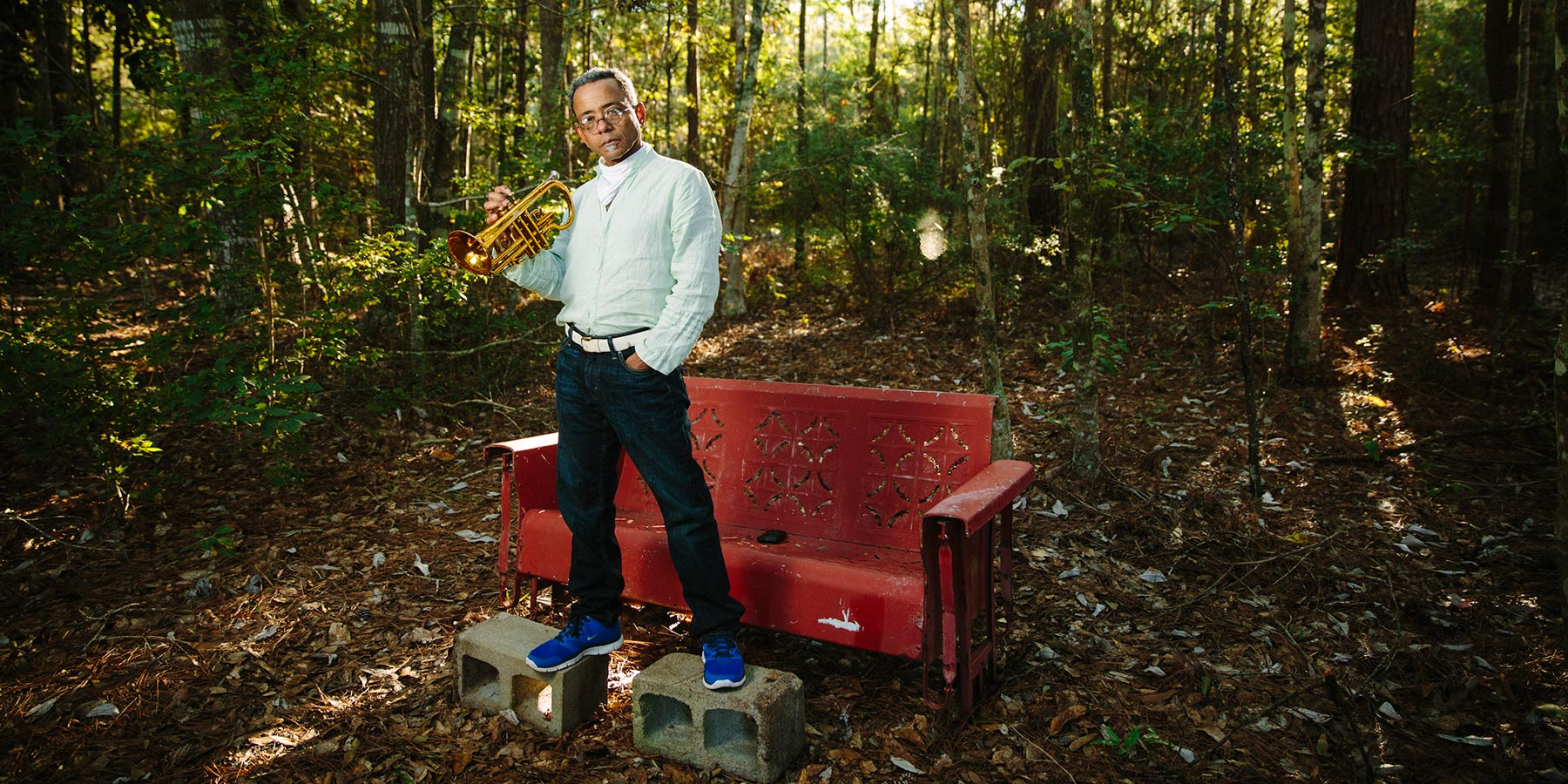 Jazz after Katrina
A new sound takes hold on Frenchmen Street
A
new
sound
takes
hold
on
Frenchmen
Street
It's easy to get to Frenchmen Street in New Orleans. Just follow the tourists as they toddle from the French Quarter down Rue Decatur and across tree-lined Esplanade Avenue, toward the sounds of music echoing off the pastel buildings. Soon you'll be part of the gathering crowd.
Frenchmen is packed on this Saturday night, despite the oppressive August heat. People stream down the sidewalks, drinks in hand, or stand in clutches around street players. A line of cars picks its way through the spillover. On one corner, a man plays blues on a slide guitar as a rickshaw driver looks on. Pot smoke hangs in the humid air like a resident ghost. Farther down, a brass band blasts away, somehow neither in time nor tune.
Theirs is an ancient New Orleans' lineup: trombones and trumpets, marching bass and snare drums. They carried their instruments here in cardboard boxes. The nightclub doors are open and the bands are loud. The cacophony on the street only resolves into music once you step inside. Whoever's left standing tomorrow morning will pad around Frenchmen Street as if avoiding an angry parent. Tonight, however, everyone will do as they please.

New Orleans is the origin point of modern music. Jazz emerged a century ago from the happy combination of African rhythms and Western musical structure, played on military marching band instruments. Rock and roll was only a slight reinvention, when the raw energy of the original needed renewal. Some of rock's earliest expressions came from the Big Easy too, as when famed producer Cosimo Matassa recorded the first incendiary Little Richard records.
If one place can serve as an example of how Hurricane Katrina changed New Orleans' music, it is Frenchmen Street. Though what is being played here is mostly old school jazz, it is different enough from the local tradition to cause some upset among musicians. The way the clubs on Frenchmen hire and pay their talent is different as well and similarly controversial. Moreover, many of the musicians are recent transplants from New York and Chicago and play in a slightly different style.
To the crowds, it's business as usual: good time music in a party town. But Frenchmen Street is the new music district in New Orleans, and it appeared in its present form after Katrina washed everything away. This is not the music made in local neighborhoods generations ago for dances and social functions. It is an altered reflection of that music, influenced by other forms of jazz that it helped create. Depending on whom you talk to, this represents either augmentation or commercialized adulteration.
"Frenchmen became the district it is now after the storm," said Matt Perrine, a respected local bassist and sousaphone player who has recorded with Eric Clapton and Willie Nelson. "I jumped on Frenchmen Street quick. I saw it coming, on some level. I couldn't have seen this unbelievable Harlem Rennaisance-ish music space that opened up. When is the last time you saw a music scene that the city didn't plan, that city organizers didn't plan in some way? It's rare and it's sustainable at this point. You can't seem to put enough clubs on Frenchmen Street."
Like everywhere else, it took a while for Frenchmen to recover after Katrina. Clubs elsewhere in the city shut down, like The Funky Butt on Rampart Street. Local musicians, determined to return after the storm, took whatever gigs they could find. One of them, vocalist and trumpeter John Boutté, came home to the place he was born and raised "as soon as they said the doors were open." He returned to a New Orleans without music.
"The sounds after the catastrophe – the helicopters, the buzz saws, the sirens, the pile drivers, the hammers, shit falling down around you – the sounds were not pleasant," Boutté said. "There were no natural sounds. We didn't have any crickets. We didn't have any birds. As musicians, we had to counter that with positive sounds."
"I gigged with whoever was in the room, whoever had an instrument, to make the music," Boutté remembered, "and then eventually we started getting a little congregation on Frenchmen. And every week I was totally surprised how many people came – every week." In those early days, Boutté was careful to sing songs that comforted the crowd, standards like "Start All Over Again," "Smile" and "Accentuate the Positive." The experience was transformative.
"I never felt obligated to sing before," Boutté said. "I never really knew how important what we do is to other people. People really needed to hear the music to either escape or deal with whatever reality they were dealing with; to cry or laugh, to get angry, and just make it through the next week."
Violinist Matt Rhody moved to New Orleans in 1998. After Katrina, he returned as soon as he could, playing with friends in a French Quarter pizza parlor ("it was the only gig in town for a little bit."). The crowds were mostly comprised of FEMA workers. Rhody had made a run to the city once before, a few weeks after Katrina. He needed to break into his band mate's apartment to get CDs to sell at gigs in their temporary home in New York, where the money was a disappointment.
In Matt Rhody's mind, decent gig money is one of the reasons so many musicians have moved to New Orleans after Katrina. "I know people who do dual citizenship in New Orleans and New York and it sounds pretty sad in New York," he confided. "Unless you're going on tour constantly or if you're lucky enough to play Broadway ... 50 dollars is a good night. We got a little taste of that when we were in New York and it was a shock."
As new players moved in, the old guard receded. Some native New Orleans musicians died in the storm. Others who were evacuated could not afford to return or chose not to when they found better lives elsewhere. And some chose not to play the new game, even when former big money gigs like private parties and festivals dried up. Traditional New Orleans jazz clubs like Preservation Hall or Palm Court Jazz Café pay their musicians a flat rate. Many clubs on Frenchmen Street do things differently: musicians play for tips and a percentage of the bar.
}
"People have voiced the opinion that they're taking bread and butter out of the mouths of professional working musicians," said Dr. Michael White, a professor, clarinetist, native New Orleanian, and veteran of Preservation Hall. "Also, some groups tour around Europe and claim they're from New Orleans and work for low money, so once again it's harder for some musicians to tour under those conditions."
As a result, the music has changed. "Unfortunately, with the loss of the old guard in the music clubs of New Orleans, the public has less of a chance to hear New Orleans music as it developed," Matt Perrine said. "What happened after the storm was a lot of young musicians, especially from New York, realized they wanted to be part of New Orleans' musical rebuilding and heard of a new district. There was a bit of manifest destiny to it. They came and found open space and claimed it. Now, that space was available to New Orleans musicians. They could have walked in the same doors and made the same deals. They didn't."
One of Matt Perrine's bands, Aurora Nealand and The Royal Roses, recently gave a perfect primer on New Orleans music with their cover of Sidney Bechet's "Dans les Rues d'Antibes." It begins as a strict march played with typical Dixieland instruments – clarinet, soprano saxophone, trombone and sousaphone – before becoming a strut. What sounds carefree, though, is still very mindful of tradition. Matt Perrine moved to town 24 ago. "You think that would be enough time for me to absorb New Orleans music," he said, before adding a simple, "No." Perrine doesn't believe much of what is being played on Frenchmen Street is New Orleans music, calling it "something else."
This photo gallery uses audio. Headphones or speakers are recommended.
Michael White is inclined to agree, and blames a lack of native interest. "When people come here from other places and they're trying to play more authentic-sounding New Orleans jazz than locals," he said, "well, that's a problem. That's a big problem. I think New Orleans jazz music is one of the world's great musical forms, and I don't think a lot of people here are trying to deal with it or are serious about it."
"This is the kind of music that was played in the community, played for dances and functions," White continued, "and it was less about tourism and commercialism as it was more like a collective, local celebration." Although that aspect of the music was already passing away, according to White, Katrina's destruction and the city's subsequent gentrification sped up the process.

Matt Rhody has had a residency at the Spotted Cat on Frenchmen for years, playing every Friday night. His band, The New Orleans Cottonmouth Kings, worked for tips and a percentage of the bar until the size of the crowds forced them to also charge a cover. "I hear people complain about that all the time," he said. "That's a touchy subject – playing for tips. People don't like it when other people are working for tips because it's driving down their ultimate payday." Both Rhody and Perrine admit that, now they're established Frenchmen Street players, they're making better money than in the traditional clubs, a benefit occasionally augmented by a couple free drinks and some food.
The Cottonmouth Kings play their own kind of music, one rooted in New Orleans but also influenced by jazz from New York and Paris in the 1920s and 1930s. "We call it New Orleans swing," Rhody said, "which is our way of saying 'it's different, it's not traditional jazz, but it has that New Orleans influence."
A few days later in his house, he demonstrates on his violin. First, he plays an example of the traditional New Orleans jazz sound with "Struttin' With Some Barbecue," a song by the city's favorite son, Louis Armstrong. Then we hear some Parisian swing with a quote from Django Reinhardt's "Djangologie."
To the untrained ear, it may be hard to make a distinction – they are both old forms of expression, played with slightly different rhythms. But to a town with a living memory of those who invented the form – a town of persistent tradition in a culture noted as much for its amnesia as its innovation – this is big stuff. To many, to abandon the tradition is to abandon the community.
Because of this, Matt Rhody has mixed feelings. "I don't want to admit that it's changed, but I know it has," he said. "I think New Orleans has so much culture – why mess with that? Why mess with tradition?"
"We love playing anything by Fats Waller," Rhody said later, before adding, "He's not from here."
Like so many others, Dr. Michael White lost everything to Katrina, including an original Jelly Roll Morton music manuscript, one of Sidney Bechet's clarinet mouthpieces, and more than 5,000 records. He believes the New Orleans tradition should abide. "The great thing about this music," he said, "is it doesn't have to be played like they played it in the 20s. If you have the feeling, the spirit, the basic musical principles, it can be created today. Just because you're using a style that originated over 100 years ago, that doesn't mean what you put into it can't be fresh and alive and creative."
John Boutté, who played himself in the HBO series "Tremé," will resume his own residency on Frenchmen Street in September. He is aware of the criticisms, but unconcerned. "You always have the purists," he said. "They don't want anything to change – they want to play every scratch on the freakin' record – but I'm here to tell you: It has to change. It has to be fluid. It has to move. You still have to know your instrument, you still have to practice, and you have to have some talent. Your basics don't change. The time changes."