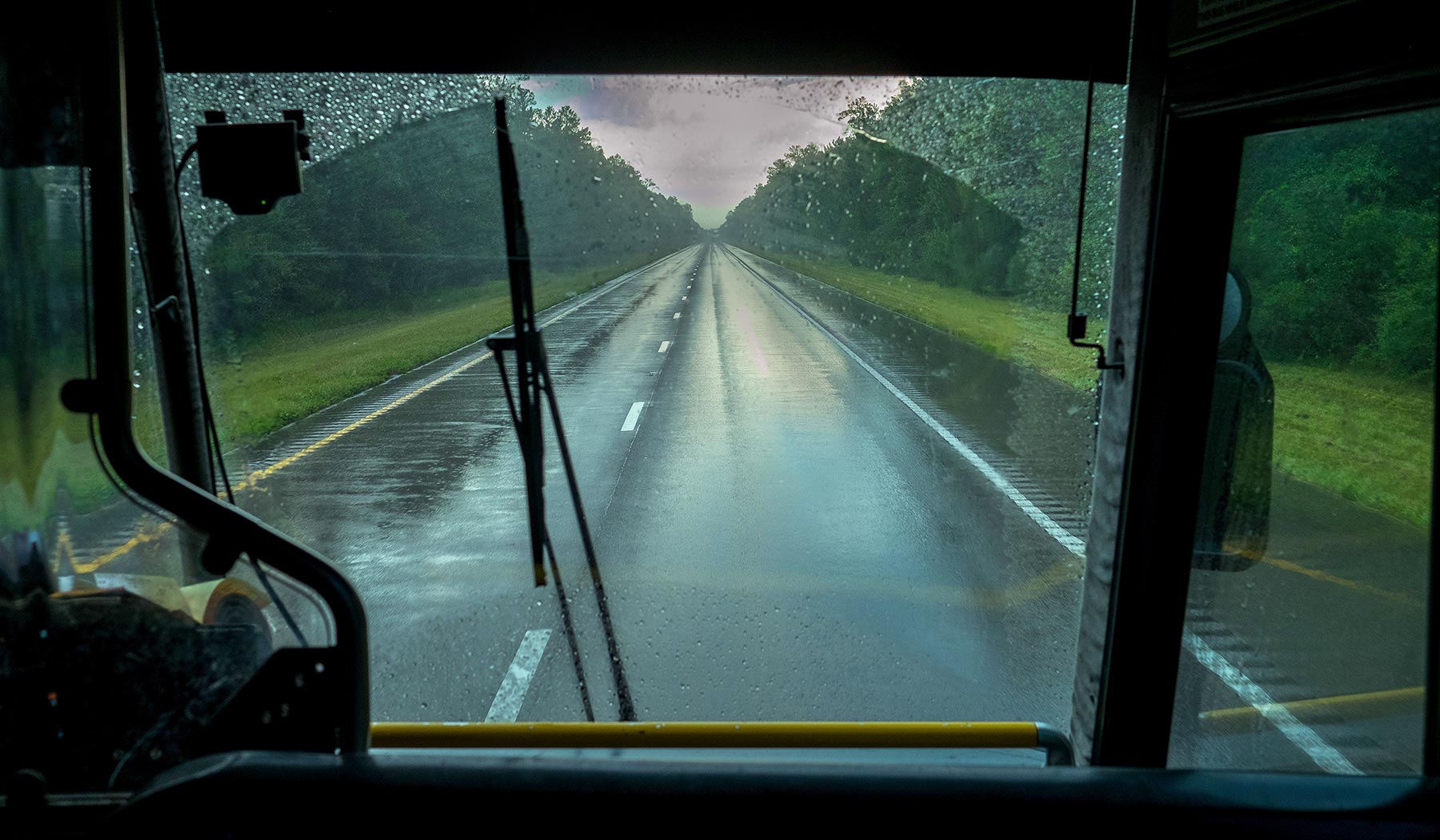 The United States of Bus Travel
The people you meet in this country are a trip
The
people
you
meet
in
this
country
are
a
trip
Dusk, with orange streetlights winking on. The bus groans, hisses and lumbers out of the station heading to New York City, Los Angeles, Seattle or some backwater like Dothan, Vidor or Paoli. Slow and loud, it makes its way down the blacktop, parting traffic like a bull whale. Inside, its dark tinted windows are painted with gestural, greasy smears from cheeks and foreheads. The bathroom — a glorified porta-potty at the back of the vehicle — is soaked in neon blue deodorizer. The air conditioner blows till the bus feels like a meat locker.
The bus driver is overweight and needs a shave. He sets down the rules through an intercom system that pops and fizzles like an old phonograph cylinder: No smoking of any kind. That includes e-cigarettes. No alcohol. No firearms. No bladed instruments over 3 inches and no explosives, fireworks or pyrotechnics of any kind.
"Should you have any of that paraphernalia," he intones, "please keep it hidden. I don't want to see it. If I do, I'm obligated to report it, and I will, which means I pull over, call the highway patrol, and then everyone is delayed in their journey as we wait for them to haul you off."
This is the journey. You pick a bus company — like Jefferson Lines, Badger Bus, Hoosier Bus, Starlight Express or Greyhound — and you settle in for the long haul with some 50 other people. On the outside, the bus will be lustrous chrome and steel with a bright paint job. On the inside, there will be cloth or leather seats that haven't seen much more than a quick wipe down over the last few weeks, a patina of grime on armrests and windowsills.
You'll eat from vending machines filled with Funyuns, Doritos, Cheetos, Cheez-Its, Skittles, lemon sandwich crèmes and Orange Dream bars. If you're lucky, your bus will pull off the freeway for a McDonald's, Burger King or Taco Bell, which will provide you with the semblance of a solid meal.
Your trip may take anywhere from a few comfortable hours to days, depending on how far you're going. New York to Boston? Four hours and 20 minutes. New York to Los Angeles is closer to 68 hours. Seattle to Portland may take four hours and 15 minutes. Seattle to Miami, 80 hours and 35 minutes. But that's only if your bus is on time and you don't miss your connections.
The bus is almost never on time.

When the bus stops at a Flying J, Gulf, Cenex or Shell station, you'll bolt for a clean bathroom, grab a bag of chips and suck down a cigarette — your first in at least three hours — and you'll savor it, every blast of nicotine, every cloud of smoke that rolls in and out of your lungs. You'll smoke it right down to the butt, and if there's time, you'll light another. If you're broke, someone might give you a smoke. If someone else is having hard times, maybe you'll share one of yours.
Movement and trajectory have always been at the heart of the American experience, from the merchant ships and caravels of the oceans to the diesel engine and blacktop highway of the plains. Think of it — Gold Rush, Great Migration, Sand Creek Trail, Mormon Trail, Trail of Tears, La Bestia. The reasons for being on the road now aren't that different, really. Some passengers are dislocated, others trying to escape. Some need help, with a few ready to give it.
Consider the bus as an unlikely filter of whatever can be deemed the real America, what's left of the mythical Western stagecoach that pulled together unlikely neighbors as close as a coat sleeve. There's a reason foreign tourists and students and poets end up on the bus: to see the real pilgrims of this country, the searchers most of us don't even see, with stories that may never have resolutions. America — her space, solitude, triumphs and sadness.
From Los Angeles, covering the country route by route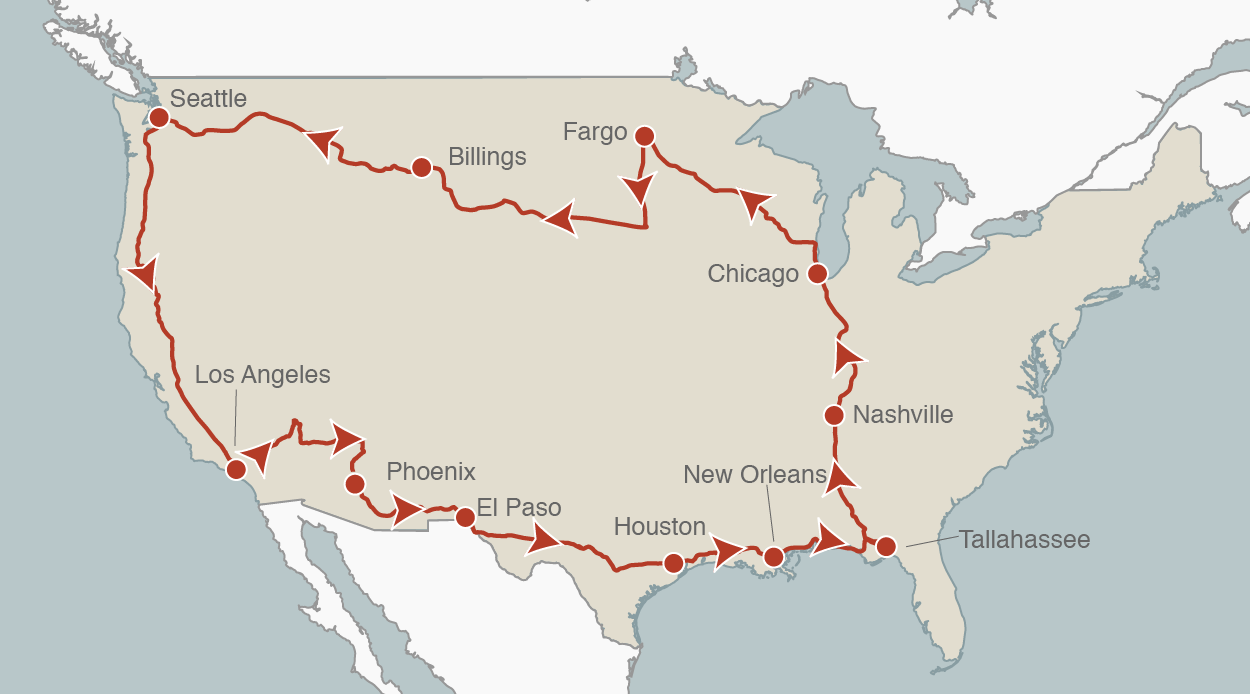 The former gang member
'I grabbed him by the neck and the leg, because I took tae-dwon-do, you know.'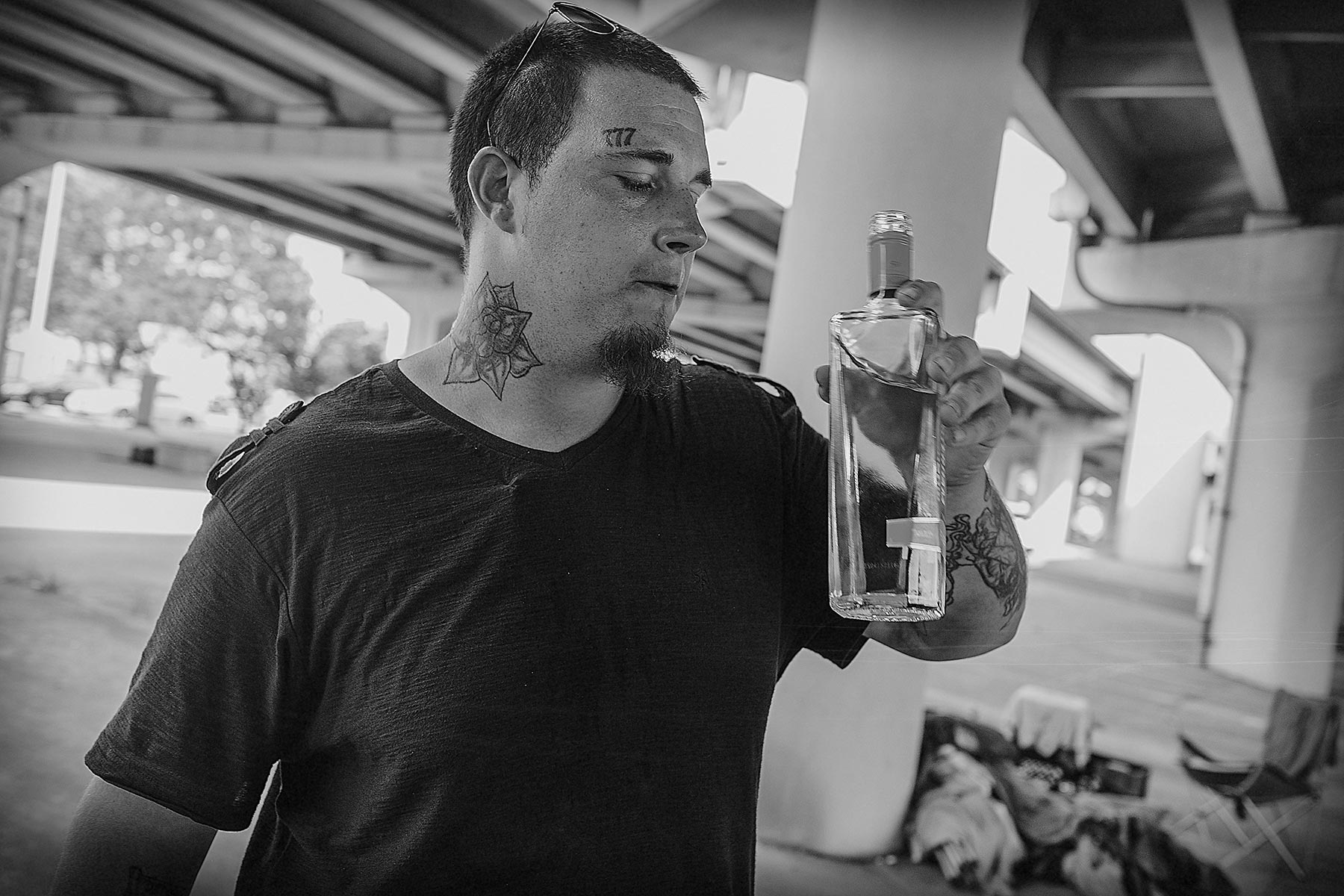 Read more
Read more
3 mins
Route: Houston to New York City
Riding buses makes Peter Anthony Sposato happy. They allow him to sightsee, unlike planes. He especially loves going north when the seasons are changing and the trees turn red, orange and yellow.
In the Bronx in New York, Sposato claimed, some Bloods put a hefty price on his head, but he wanted to see his son and stepson. The reason for the bounty was that he had dirt on a few people, he said. Also, he had unceremoniously retired from gang life after a three-year stint in prison. It was supposed to be 25 years, he said, but the man he assaulted at a construction site dropped the charges.
"The dude had called my daughter a nigger baby," said Sposato, 24, whose daughter is half black. "I grabbed him by the neck and the leg, because I took taekwondo, you know, and I leg-swooped him and threw him on the ground and in just one fast motion tried to cut his head off with a circular saw."
Sposato later found out that the child was not his biological daughter. A few months after his bus trip, his wife was diagnosed with cancer. He moved his family to Palo Alto, hoping that would bring them closer to a cure.

The couple
'We finish each other's sentences. We're like that.'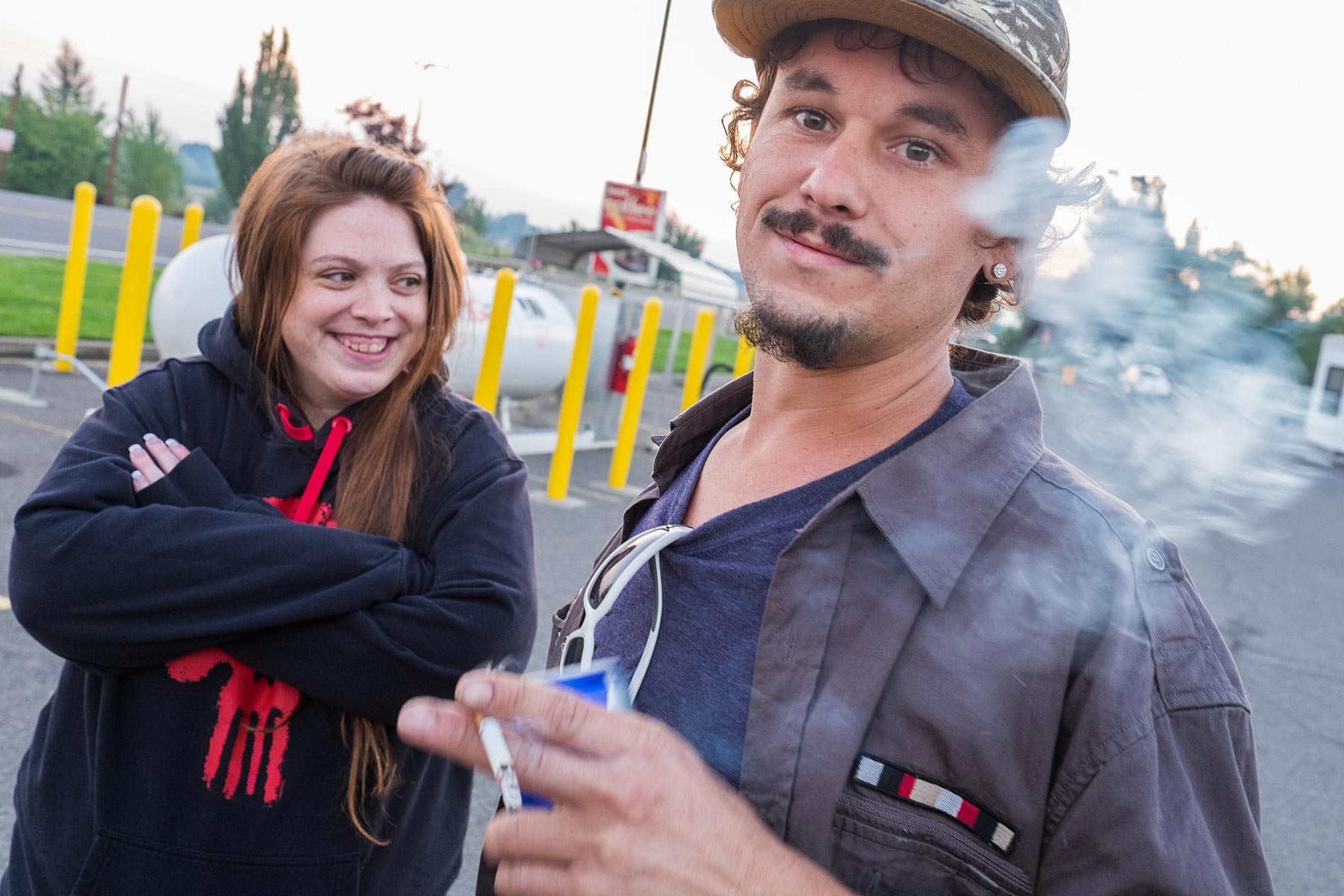 Read more
Read more
1 min
Route: Seattle to Red Bluff, Calif.
The two met online. Rachel Haney was the heiress to an English bulldog breeding empire in northeastern Washington, and her boyfriend, Andres Medcalf, was looking to get out of the drug life after being stabbed three times by a meth head.
"Technically we've known each other for two months," Medcalf said as he held Haney's hand. "But we've been together like this for a month."
"We're both Aries," she said.
"We're three days apart in birthdays. She's three years older than me," he said. "It seems like we've known each other for our whole life. We finish each other's sentences. We're like that."
Medcalf had a "legal situation" to deal with in California, and the two also wanted a vacation, so they packed a few bags and a pair of fishing poles, headed south and discussed their future, starting with the kind of bulldog they would raise.
"I want to get me a male," said Medcalf.
"Female!" exclaimed Haney.
"The only way bulldogs can breed is if you jerk 'em off and inseminate the female," he said. "It's weird, but that's the only way."
"They can't do it themselves because they're too short and stocky," she explained earnestly. "People think it's gross or whatever, but each time my mom or dad gets a phone call for semen, that's $800."
"Eight hundred, just for the nut," said Medcalf, and the couple blushed and giggled in unison.
"I love you," said Haney.
"I love you too."
"Butthead," she added, poking him in the arm playfully.
The two laughed again.

The fisherman
'We're so grateful, father! Amen!'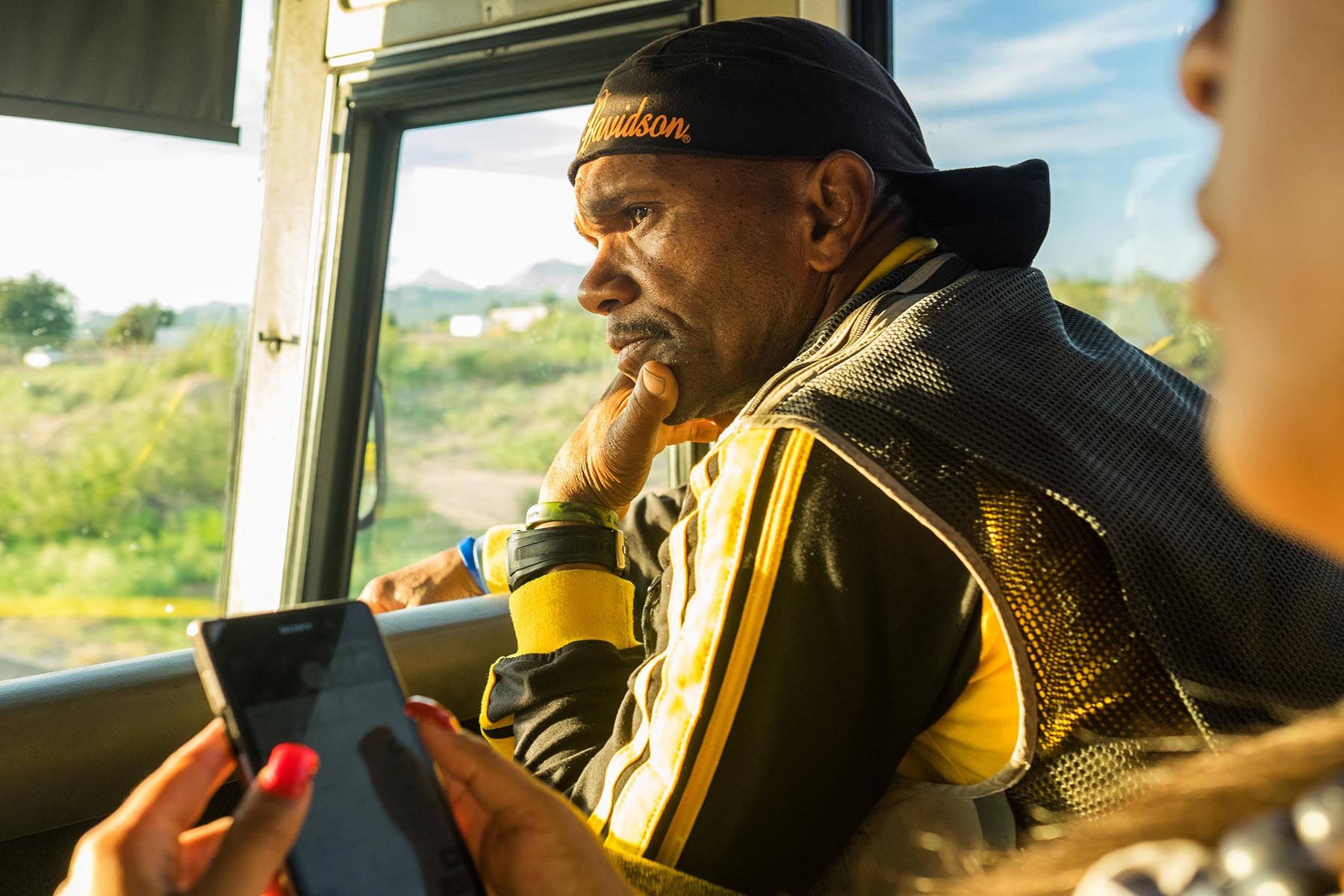 Read more
Read more
1 min
Phoenix to El Paso, Texas
Russell Hall flipped open his phone, opened his Bible and said hello to the person on the other end of the line. Then he began to pray. Then sing. He sang quietly and politely but loud enough for the young Mexican woman next to him with long black hair, Jackie O sunglasses and fire engine red toenails to give a look of concern that perhaps she had chosen the wrong seat.
"We're so grateful, Father!" Hall exclaimed before cupping his hand over the phone to keep things quiet, then said, "Amen," and hung up.
The air conditioning roared as the bus rattled into the desert, passing the dusty remains of an 18-wheeler with the words "Jesus is the answer" painted in large friendly letters. Hall nodded in approval and put his cellphone in the pocket of his yellow and black jogging suit.
Hall's final destination was Alamogordo, New Mexico, to attend a sort of family reunion with his sisters, where he expected to do a lot of fishing.
He opened his Bible. It looked ancient and well worn.

The exchange student
'I know this. It's called Xie Zi in Chinese.'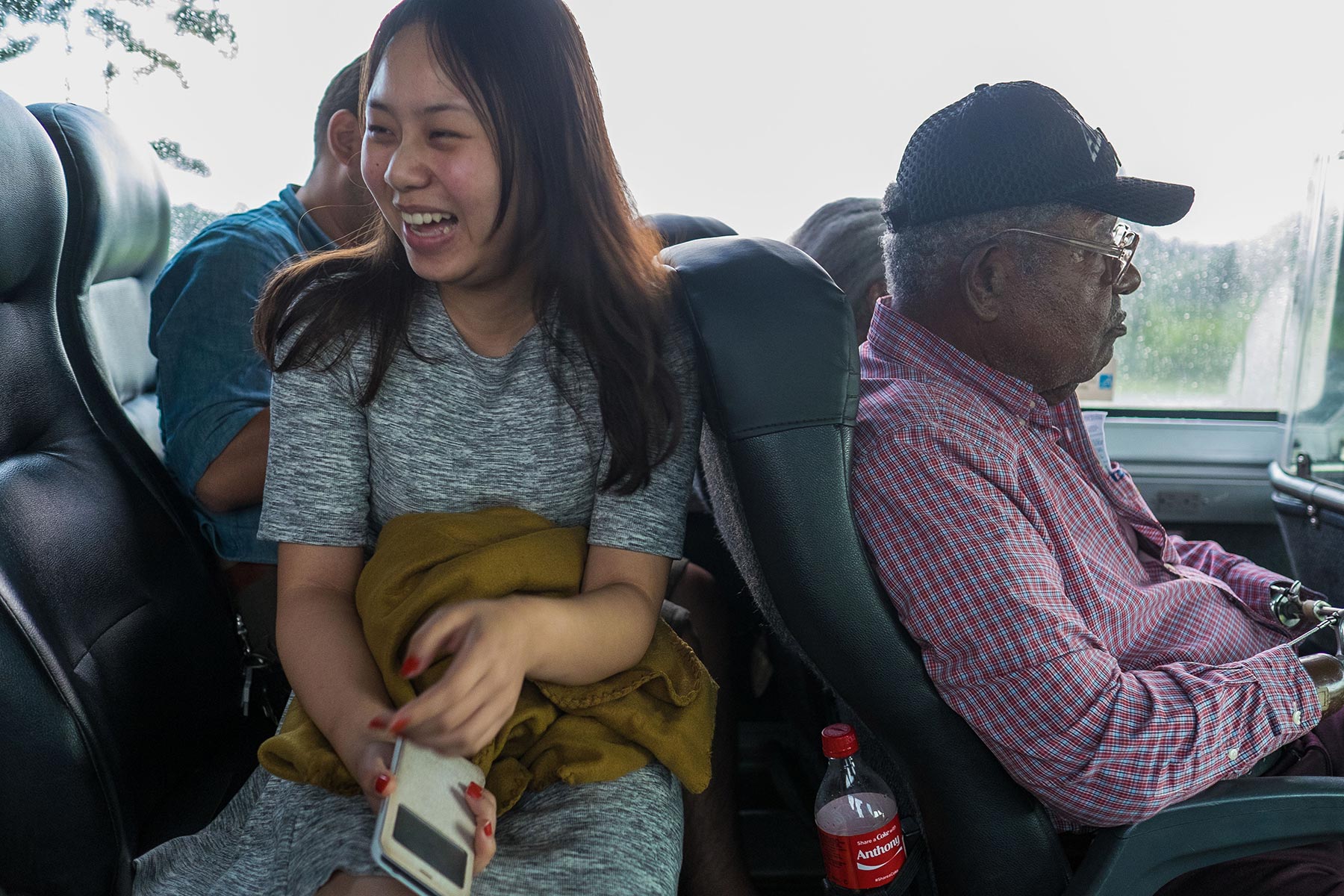 Read more
Read more
1 min
Route: New Orleans to Tallahassee, Florida
The bus sang a low, growling song as it rumbled through the oak and cypress corridors of I-10 into Florida.
"Do you guys really eat the duck eggs with the baby ducks?" a woman from Slidell, Louisiana, asked Hu Li. "I saw a man eating one once, and the foot fell out."
"I don't understand," replied Hu, a 21-year-old Chinese exchange student from Guangdong province on her way to Panama City, Florida.
"They eat scorpions in China," the woman from Slidell continued. "They really eat dog and cat too."
Hu stared, confused. "Scorpion?" she asked, unsure of the word.
The woman from Slidell pulled up a picture on her phone and handed it across the aisle for inspection.
"Ahhh, I know this," said Hu. "It's called xie zi in Chinese."
"And you eat them?" asked the woman incredulously.
"I liked the Chinese noodles when I was in Hong Kong," interrupted Lindsey Brown, an 83-year-old Korean War vet.
Hu agreed: Noodles were good.
Brown and his wife were returning to Jensen Beach, Florida, after a Texas vacation. The two have been married for 37 years.
"In China, that's called a golden marriage," said Hu, impressed by how long the Browns' relationship has lasted.
"Life still goes on," said Brown with a chuckle, and he waved one of his prostheses in the air to indicate the passage of time.
The woman from Slidell interrupted the two to inform them that she was going to Florida to help her family. Her daughter-in-law was having medical problems after a number of failed pregnancies, which was putting a strain on her son.
Hu and Brown nodded in acknowledgement, then continued speaking of the things they loved about Hong Kong.
The musician
'So this is an old-fashioned tune, this is one of my favorites.'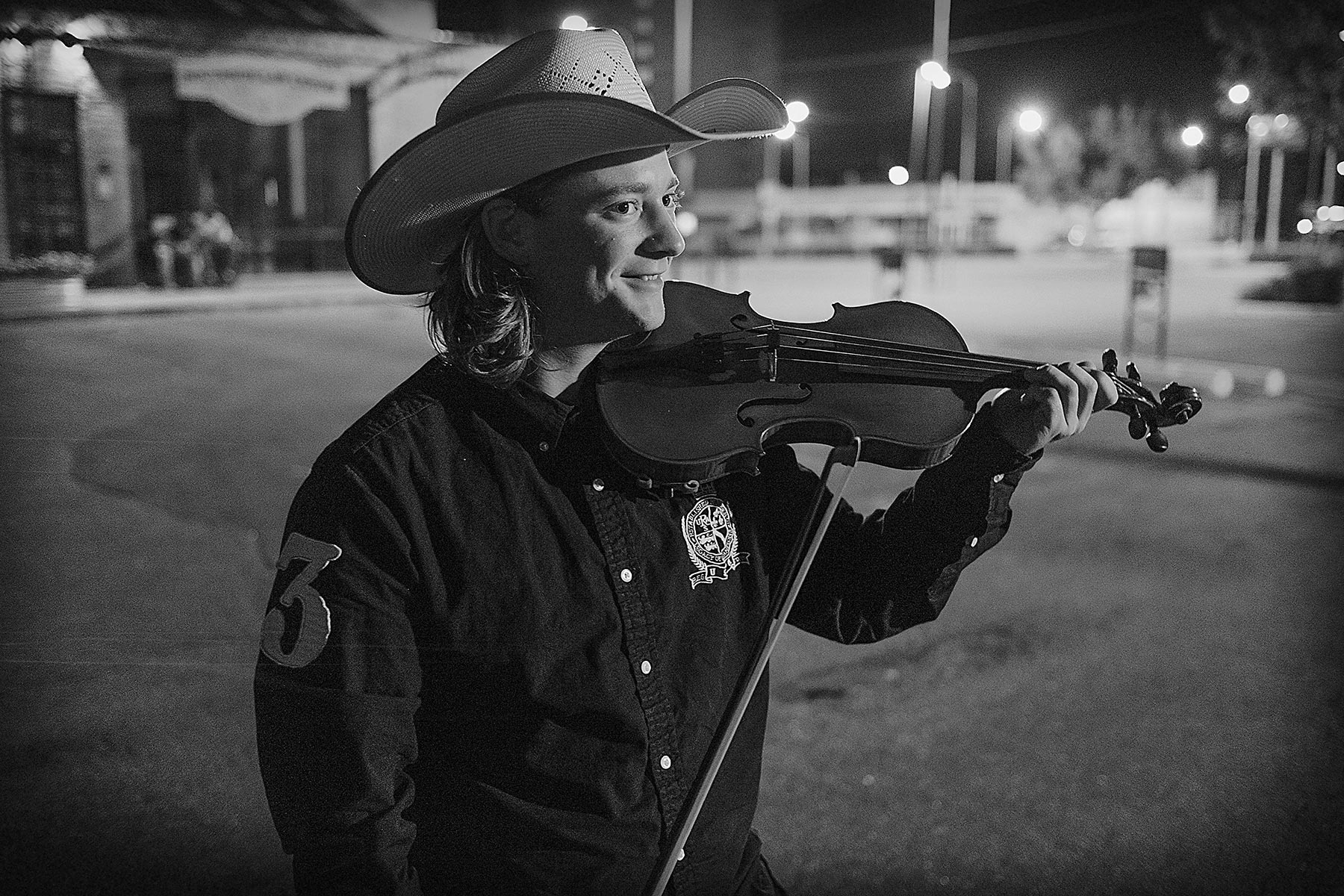 Read more
Read more
3 mins
Sioux Falls, South Dakota, to Billings, Montana
It was dark when he carefully laid the case out on the black asphalt of the parking lot, opened it and looked inside at the violin. He was a short kid wearing tan and brown cowboy boots with a pair of khaki cargo shorts, a black western shirt and a straw cowboy hat. He wiggled his fingers and stretched his arms then pulled out the instrument.
"This violin is actually fairly new. I just got it a couple of months ago," said Cody Miles. "I was still playing on my bass fiddle that I started on, and I was like, 'I definitely need another instrument.' I took a fancy to this one."
He held the violin in his hands and tuned it. When it was just right, he put it to his shoulder.
"So this is an old-fashioned tune. This is one of my favorites," said Miles as he prepared to play. "It's a song from 'Titanic.' It's called 'Near My God to Thee.' It plays when the Titanic sinks in the movie."
Cody's violin
In the parking lot, there was no one else, just two men smoking cigarettes on a nearby bench waiting for the next bus out of town.

The veteran
'If my friend doesn't want to help me, I'm in trouble.'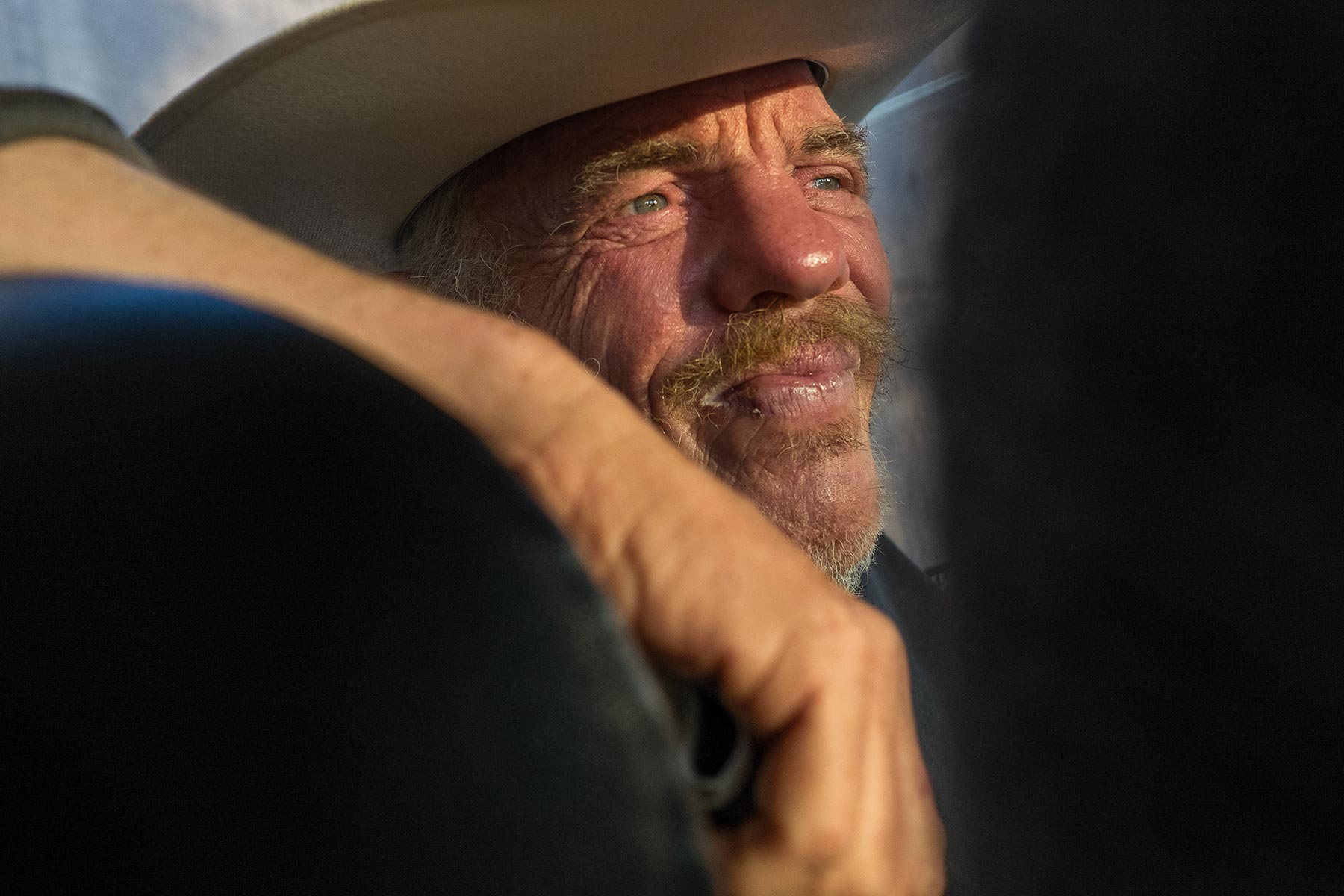 Read more
Read more
3 mins
Route: Seattle to Tacoma, Washington
Vietnam veteran Roland Gerhard has an aluminum plate in his head. Born and raised in Seattle, he calls Michoacán, Mexico, home these days because it is all he can afford on his military pension.
"I live way up in the mountains," he said. "In a very small pueblo. You might see three or four cars all day in the street."
He said he was having a hard time doing things for himself, like tying his shoes and getting around, so he caught a bus from Mexico up the coast, back to Seattle, to try to find a Veterans Affairs doctor who could help him. He didn't find one.
"I'm on my way to see a friend to see if he can help me a little bit," said Gerhard. "He lives outside Tacoma."
He stood in line and waited for his bus. It was late, again. Behind him, a young woman from Finland on a world tour also waited.
"From Malaysia, I went to Indonesia and then to Australia and then Hawaii, Washington, Oregon, Utah, Canada and then back here," said Katri Heinämäki. "I'm going to San Francisco, Los Angeles and New York. That's what I'm going to do."
"Your English is very surprising, because when I was in Finland, nobody in the schools could speak it," said Gerhard. "You ever had yak tea? I love it!"
"What is it?" she asked.
"It's an animal that looks like a cow, only it's different," he said as a smile crept under his mustache. "They take the yak butter when it's frozen and mix it with honey, then they put hot water over it."
"I don't —" she began.
"Long hair and long horns — they use to pull their sleds with it, they make the rugs for their houses," continued Gerhard. "What's the Finnish word for it?"
"We don't have yaks in Finland," said Heinämäki kindly. "Are you sure you were in Finland?"
"Of course," he said, then paused to think about it. His eyes wandered. He scratched his cheek. A look of discomfort crossed his face.
"Where's the bus?" a man in the line said loudly. "Where's the fucking bus?!"
Gerhard came out of his memories, dreamlike, to the Seattle Greyhound station. He looked at his ticket, adjusted his straw cowboy hat with an old tattered feather attached and stood at attention for the bus to arrive to take him to Tacoma.
"If my friend doesn't want to help me, I'm in trouble," he said. "I don't know what I'm going to do."

The sister
'He tells me where to go, God does.'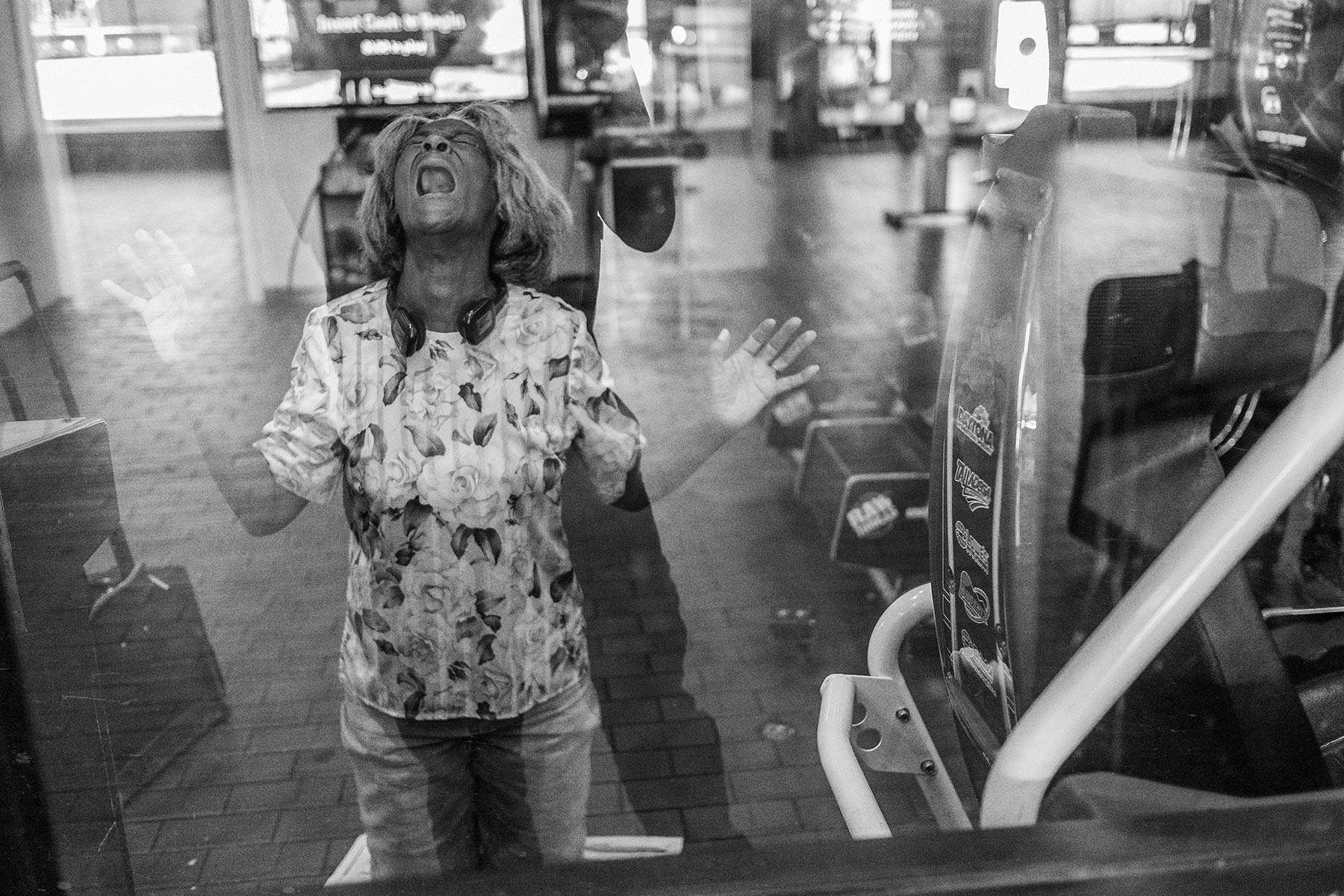 Read more
Read more
2 mins
Route: Louisville, Kentucky, to Chicago
"He tells me where to go," said Evelyn. "God does."
God instructed Evelyn that she had work to do in Chicago. Something needed fixing. So she packed a small roller bag with some clothes and two massive Bibles.
"He lets me see things before it happen, lets me have visions of what he want me to do and stuff," said Evelyn. "I just follow his lead, because he never wrong."
Evelyn was a tall, skinny woman with ash white hair. When she prayed, she nearly filled the bus station. She leaned forward onto the waiting bench and clasped her hands together, mouthing a prayer, then rocked back and raised both hands in the air.
She continued praying when she boarded the bus, moving from left to right, occasionally clapping her hands, mouthing the prayer silently and ecstatically to herself, pausing only to listen to announcements and look out the window.
"I was born in Pickins, Mississippi, in a rural area," she said. "I had a pet pig. His name was Whitey. I used to ride him like a horse."

Despite being raised in the church, Evelyn strayed from God for a number of years after her family moved north to the city. It wasn't until she was 40, she recalled, that God began talking to her.
Their relationship evolved, and before she knew it, she was working full time for him, traveling around the country by bus, cleaning up for him. For Evelyn, many of the jobs she was given were small, like the prostitute who needed help getting off the street and the drug addict who had fried his brain and had to be healed. But there were also the real evil cases, the ones that required battle with demons.
"One time, it was an evil spirit," she said. "These people knew this hoodoo stuff, and it got too tough for me, because the evil was coming at me all kinds of ways."
On that occasion, she said, the Lord came to her aid.
"It was a spiritual battle, and the guy and me started fighting, but it got tough for me when they were everywhere," recalled Evelyn. "God showed up and handled it. Sometimes he'll show up and I ain't never seen him like that. He reveals himself in different ways, through me, as we go along."
For this trip to Chicago, Evelyn had not yet been informed exactly what her task would be, but she was prepared for anything.
She shut her eyes, raised her hands above her head and began her private, celestial conversation.
The All-American
'I love America. I still love my country. Big time.'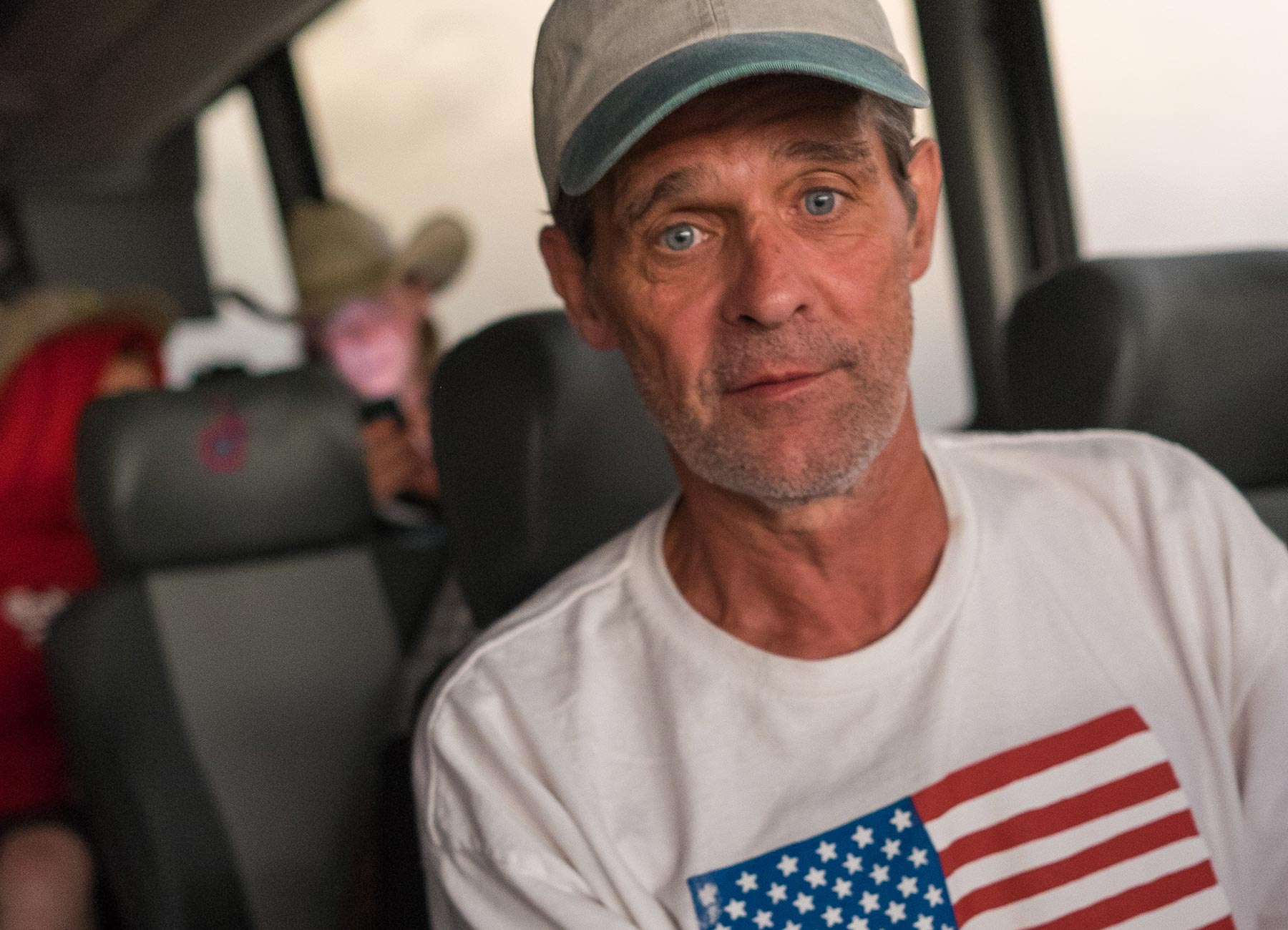 Read more
Read more
< 1 min
ROUTE: Sioux Falls, South Dakota, to Billings, Montana
He was on his way to Vancouver, Washington, to see his wife, then would shoot down into Oregon to pick up his brother and would end up in Carson, California, in order to help build a house. Jerry, who refused to give his last name, had just finished up a stint on his family's farm in Michigan but rather than fly west, he chose the bus.
"I have a phobia of flying," said Jerry. "I was in the service. I jumped out of helicopters, but I never got used to it. Never. I just had that phobia."
The product of a long line of Michigan mechanics, he has eight brothers, two sisters and 53 nieces and nephews. All but he and one brother decided to stay in Jackson County, Michigan.
"There's a lot of places worth seeing in this country. It's a beautiful country," said Jerry. "I love America. I still love my country. Big time."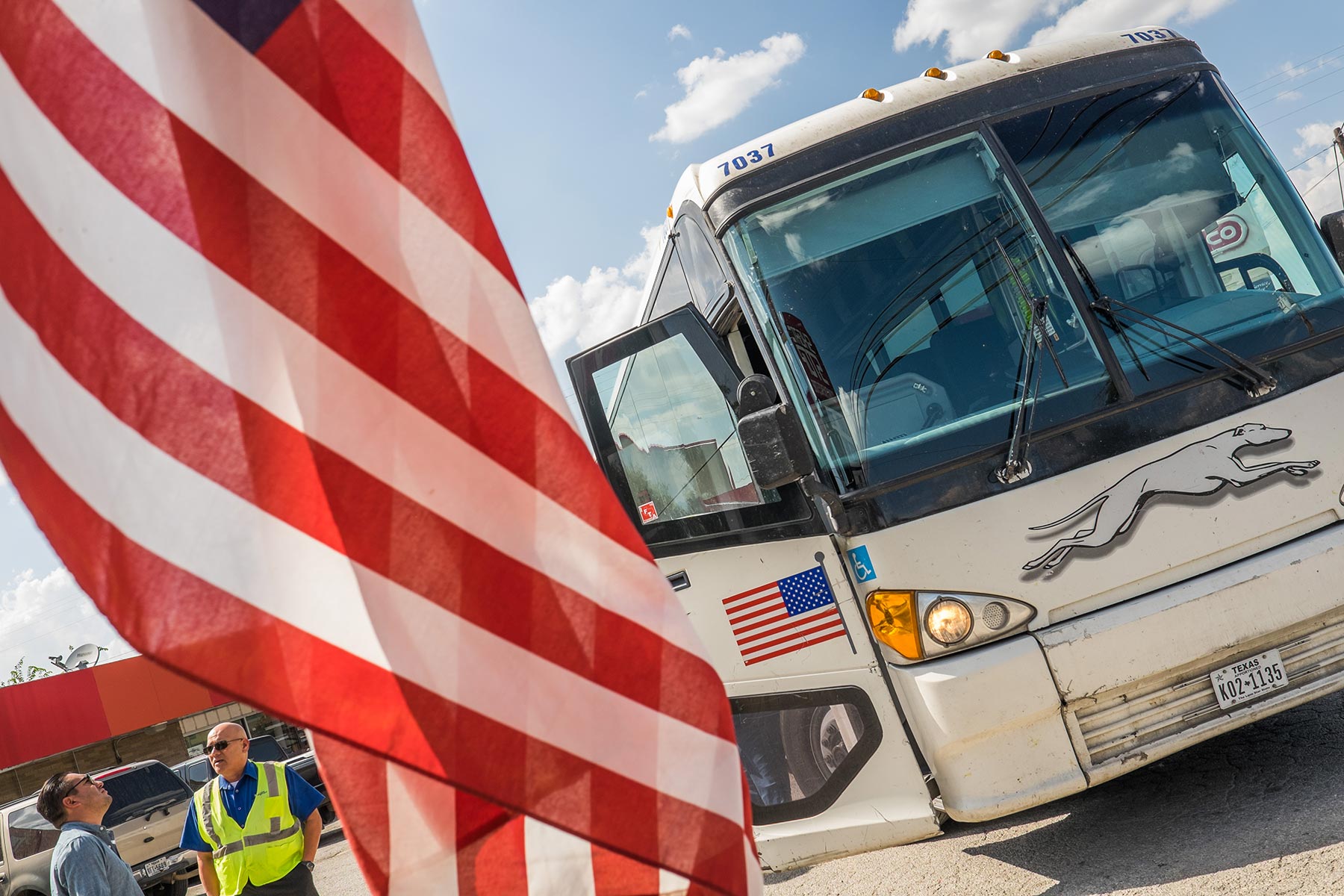 The Tattooed Man
'A lot of people take my generosity and my being nice as a weakness.'
Read more
Read more
3 mins
Lonnie Head didn't look like the kind of man you would want to run into on an empty street at night. A dragon, a few skulls and the head of Medusa are tattooed on his chest and stomach. His back bears the images of roses and swords. Scorpions, spiderwebs, flames and the severed heads of nightmare creatures cover his arms and neck.
After returning from Afghanistan wounded, Head, a Marine, was told he would never walk again, but with the help of a battery installed in his lower back, he has been mobile for years. The battery needed maintenance, though, so he hopped a bus from Alabama to upstate New York to see his doctor at Veterans Affairs. He had an eight-hour layover in Nashville and decided to spend it in the station's designated smoking area.
Meanwhile, on this August night at the Nashville bus depot, Christopher Nyman was drunk. He had been drunk for a long time, maybe years, and he was stuck.
Nyman, 47, reckoned that for the standard ticket exchange fee of $20, he could get back on a bus and get home to Austin, Texas, but he had spent that on the vodka, leaving him with only one option to get home: call his mother for bus fare. In the meantime, he had a pack of cigarettes and half a jug of cheap vodka to keep him entertained.
"I've been married almost 31 years," said Head as he took a puff off his piña-colada-flavored e-cigarette. "How long have you been married?"
"Well, I was married for 15 years, but right now I'm single," said Nyman as he took a nip of vodka and lit a cigarette. "What happened is that I drank too much, once again. Like how I got kicked off the bus."
A young man with a guitar sat down close by, lit a cigarette and politely declined the pair's requests to play "Piano Man" by Billy Joel.
"Play us a song, little piano man," sang Nyman. "Play us a song, 'cause I'm saaaaaad."
"And baby, I'm feeling all right," sang Head, picking up the tune where Nyman had lost it.
"La, la, la, de, di, da, dum," the two sang in unison. "La, da, la, di, da …"
The two chuckled as the boy with the guitar got up to move to another part of the station to smoke in peace.
"Will $20 actually get you on the bus?" asked Head.
"I don't know," said Nyman. "I actually don't know. I just want to cry."
"I'll get your ticket to get you back on the bus," said Head as he pulled out his wallet and handed over a worn $20.
Nyman looked confused. So did onlookers.
The skies may be friendly, but the road is not. Those who ride the bus know they'll be treated poorly but also know that a plausible explanation will never be offered. Staffers are unhelpful if not downright hostile, and passengers are often hungry, angry, late and broke. The unwanted synergy of the two can get to be so great that any expression of humanity on the open road can come across as downright mystifying.
"Thank you," said Nyman as he took another drag from his cigarette, then shuffled inside the station to stand in line.
"The tattooed freaks of America," said Head as he leaned back and took a pull off a soda, his skulls and scorpions and spiderwebs glinting in the fluorescent light. "A lot of people take my generosity and me being nice as a weakness, but it's one of my biggest strengths."
Twenty minutes later, Nyman returned. His face was gaunt. He had waited too long to change his ticket and would be forced to buy another at the full price. He polished off his vodka and chucked the plastic bottle toward a dumpster, where it missed, bounced, then rolled into a gutter.
"Are you lonely?" he asked to nobody in particular. "I am."

The mother
She had 50 hours to get to Florida, spoke no English, a touch of Spanish.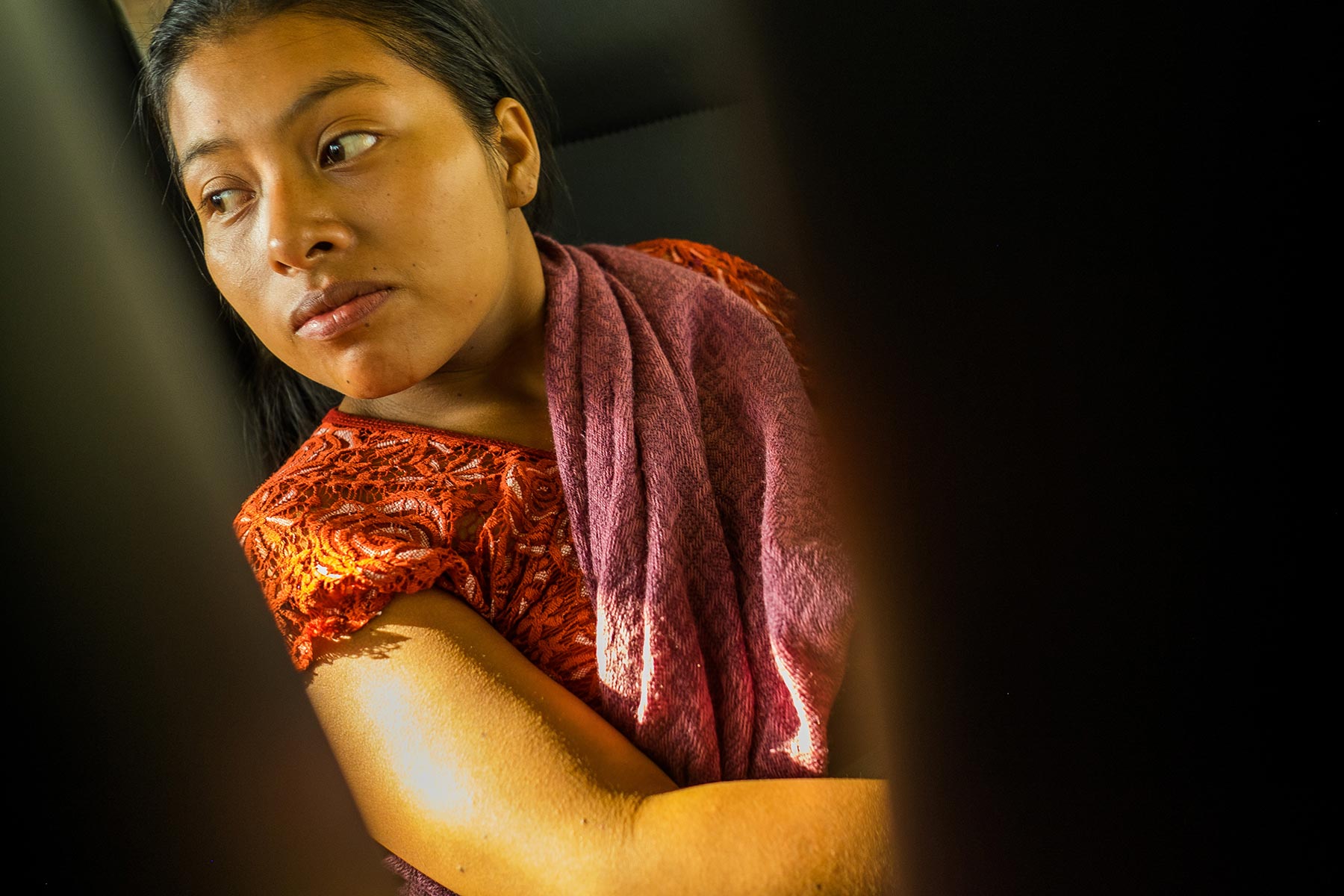 Read more
Read more
1 min
Rosalinda had all her possessions in two bags: a trash bag and a giant resealable storage bag with the Homeland Security logo on it. She and her baby had matching yellow wristbands, the kind one gets in a hospital or a prison. She spoke no English and only a touch of Spanish and, from what passengers could gather, had taken a bus from Guatemala to Arizona 13 days before and was now bound for Florida.
"She's probably Central American or something," said the bus driver. "I think she's going all the way to Miami. That happens all the time on this schedule. We get a lot of Central Americans probably getting sent from one detention area to another, and they're being processed."
From what other passengers could gather, Rosalinda had at least 50 hours left before she got to her destination, with a food voucher worth $7, some clothes, a 6-month-old and a stuffed animal for him, a small brown moose with bright orange antlers and large black beads for eyes.
"I want to get her something to eat when we stop, but I don't know how to communicate with her," said Dianne Whitlock as Rosalinda's baby cried. "She's not eating."
The bus flew through the Chihuahuan Desert, the sun beating down like a stone club, tarbush and creosote on the camel-colored desert floor in all directions, all the way to where the mirage on the horizon swallowed them up.
At the next stop, passengers in her section pooled their resources for water, soda, chips, diapers, baby food and a cheeseburger with a side of fries.