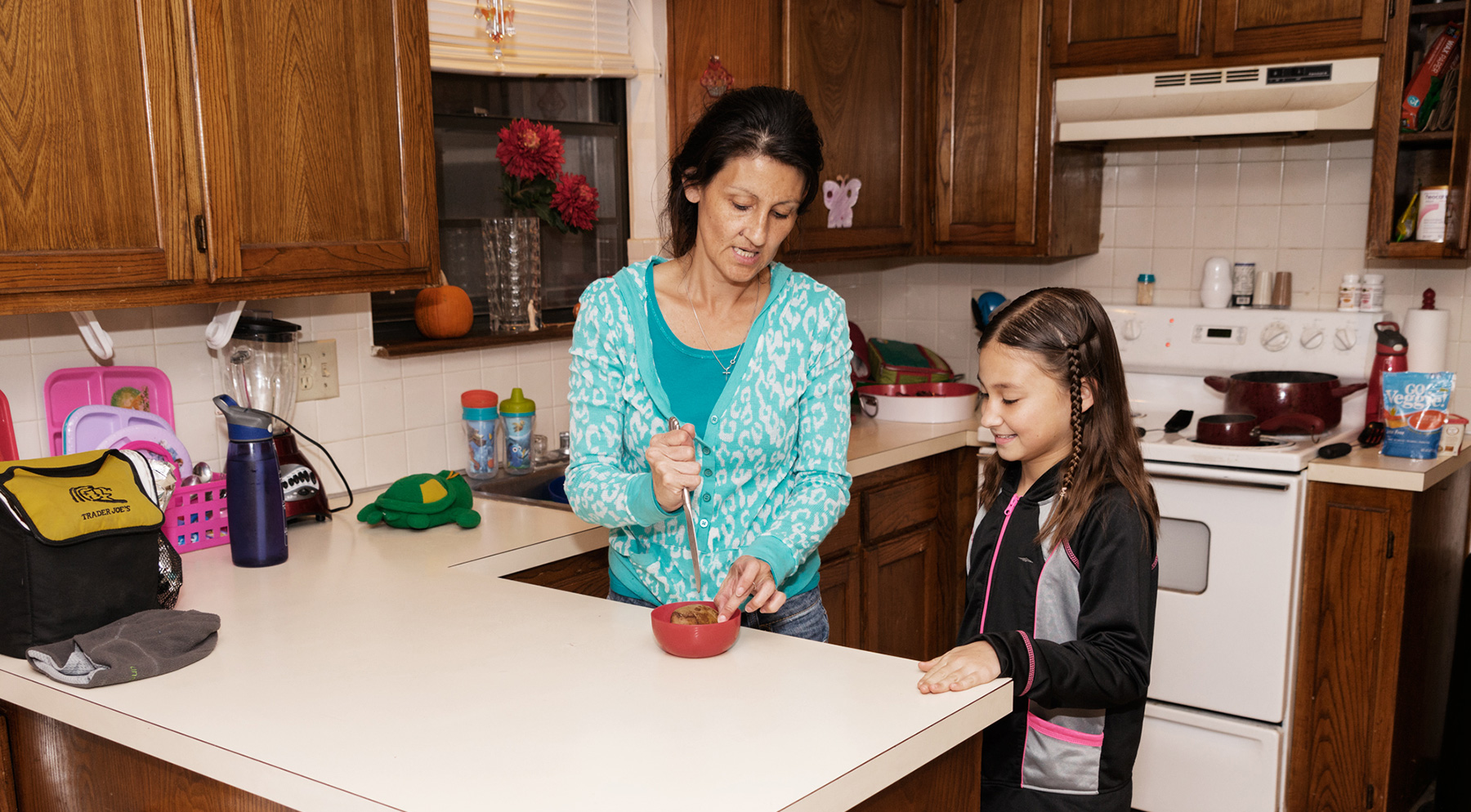 Food allergies on a budget
Stocking the shelves can be a struggle for low-income families who require gluten-free and allergy-friendly foods
Stocking
the
shelves
can
be
a
struggle
for
low-income
families
who
require
gluten-free
and
allergy-friendly
foods
The Neri kitchen is more organized than you would expect from a family of seven. Lisa Neri and three of her children — Nolan, 15; Adison, 10; and Link, 2 — each have their own shelf and color-coded plates and utensils. Her three other children, who do not live with her full time, share another set and shelf. There are even two refrigerators to separate particular items.
Neri isn't keeping such a tidy kitchen for the sake of being organized. Because of the family's wide-ranging food allergies, which trigger reactions such as intense abdominal pain, wheezing and throat swelling, she has developed this strategy to avoid potentially life-threatening situations. Neri is allergic to eggs, wheat, soy, corn and dairy. Nolan has severe nut allergies and milder allergies to corn, soy, wheat and gluten. Adison has a dairy allergy. Link loses his voice after eating rice or apples and is intolerant to certain types of milk. If someone inadvertently grabs the wrong food or cross-contaminates someone else's, bad things can happen.
Maintaining separate shelves is a challenge; keeping them stocked has been a struggle too. Neri brings in slightly over $1,100 a month from child support and her job at Pizza Hut, leaving her little to spend on food after rent, utilities and fees for day care, school and sports for her children. She supplements her food supply with help from various federally funded programs and food pantries. But she can't always control the food she receives from these programs, and that has sometimes meant having to pass on a bill or skip a meal.
Food insecurity affects more than 17 million families in the U.S. Many families who struggle to put healthy food on the table rely on government nutrition programs as well as local food banks. For families with food allergies or other medical conditions that require special diets, these programs aren't always enough.
"[Nolan has] had to go without bread if we didn't have enough money. He would just eat the chicken sliced up with lettuce," Neri said. "Sometimes we've run out of chicken and I don't eat for a day except for cookies or lettuce."
The Neris are among a growing number of families struggling with the costs of feeding members with food allergies. In 2012, 4.1 million children in the U.S. reported having food allergies, and that number is increasing. The same year, the National Health Interview Survey found that over 20 percent of children with food allergies are struggling with food insecurity. Allergy-friendly foods, particularly those free of multiple allergens, tend to be more expensive. For example, one 12.4-ounce canister of regular baby formula containing dairy and soy costs about $15. A dairy-free equivalent the same size costs $16.18, and a dairy- and soy-free equivalent costs over $34. The best way to manage food allergies is to find the right diet, and families that can't afford it often spend more on emergency care. According to a study to be published in 2016 by children's health researcher Ruchi Gupta, emergency room and hospitalization costs for low-income families are more than 2.5 times as high as for middle- and high-income families.
Interactive: How much does your food cost?
Foods that are food-allergy friendly are often more expensive than foods that are more commonly found on grocery store shelves. These costs make a big difference for families looking to safely feed their families healthy food while on a budget.
On the shelf are groceries that a typical family might purchase. Select combinations of common food allergies and intolerances and see how the cost of food changes to buy comparable alternatives.
Step 1: Grocery shopping habits
Click on the boxes below to select foods that you would normally purchase at a grocery store.
Step 2: Your allergies
Click on the boxes below to select one or more food allergies or dietary restrictions.
Results: The cost of food
Added costs due to allergies:
$0.00
Sources:
Bureau of Labor Statistics
,
Hy-Vee
(in-store and online prices), manufacturer prices; Photos: Getty Images
Methodology: Products and prices were selected on the basis of cheapest availability at the Hy-Vee where Lisa Neri normally shops. Store and local brand products were excluded. Manufacturer prices online were used if no alternative was available at Hy-Vee. Alternative food prices are for the cheapest alternative product that does not include a selected allergen. For a detailed breakdown of the products and their prices, see the
data on Github
.
A gluten-free, allergy-friendly food pantry
One morning in September, Neri pulled her aqua blue minivan into the parking lot of the Food Equality Initiative ReNewed Health food pantry in Overland Park. The pantry, which began operating in April, serves gluten-free and allergy-friendly foods to families earning up to 250 percent of the poverty level — roughly $60,000 for a family of four — and have documented medical needs. She has been going to the pantry every month since she learned about it from a co-worker.
Inside, co-founders Emily Brown and Amy Goode greeted Neri and helped her pick out foods for the month. Brown, who has struggled with food insecurity, is a mother of two — one of them a 3-year-old girl who is allergic to wheat, milk, eggs, soy and tree nuts. Brown decided to start ReNewed Health because of her experiences dealing with the cost of allergy-friendly food.
"I remember the first time I walked into a grocery store [after my daughter was diagnosed] and I looked at how much a bag of flour cost that was gluten-free. I was just shocked," she said. "When the food costs so much, even a middle-income or higher-income family is going to experience food insecurity, and if you're already experiencing food insecurity, it's almost unmanageable."
The pantry is filling a need that isn't being met by government programs and the charitable food system. For example, the Neris receive $383 a month from the Supplemental Nutrition Assistance Program (SNAP), commonly known as food stamps. It is the largest government hunger prevention program and serves more than 22 million families a year. The amount each family receives is based on the assumption that they will spend about 30 percent of their income on food each month. But shopping for a large family with many food allergies means the Neris often have to spend much more. And that's especially true when a family first learns of allergies. After Nolan was diagnosed with several allergies, Neri was given a food list from a nutritionist as a guide. But finding those foods at a reasonable price was a challenge. "It was very overwhelming in that grocery store. I think we went on a lot of trips in a week," she said. "Wasted a lot of money. Felt like we didn't have anyone there."
The Neris also receive assistance through WIC, the Special Supplemental Nutrition Program for Women, Infants and Children. Every month, they are given vouchers with a list of approved foods and brands that typically includes items like milk, cereal, eggs, fruits, bread and peanut butter. Although the number of allowable alternatives has increased since 2009 and WIC dietitians say that the food list works for a majority of their clients, state agencies are limited in their ability to replace allergen-containing foods on the list with safe alternatives. For example, almond and rice milk — which people with dairy and soy allergies often use as calcium sources — are not approved as milk alternatives because their protein content does not meet federal standards.
"I know what it's like to only qualify for WIC and be restricted to only things you can get help with," Brown said. "And now as a SNAP recipient, I know what that's like. And I can tell you the benefit does not go as far as it would if we didn't have these diagnoses."
ReNewed Health serves about 40 families, including the Neris and Brown. The pantry gives each family 75 to 120 pounds of food a month. In September the Neris received 70 pounds of food valued at nearly $200, about 25 percent of their monthly food costs.

In addition to distributing food, Brown sees the pantry as a public health education organization — teaching families to recognize the signs of food allergies, informing lawmakers about ways assistance programs could better help their constituents and encouraging the larger charitable food system, which provides food assistance to more than 46 million people in the U.S. every year, to make more allergy-friendly options available.
Before finding ReNewed Health, the Neris received assistance from another local food pantry that, like most, doesn't specifically source gluten-free or allergy-friendly foods. The Neris were able to get some foods from the pantry, but they were usually left to purchase the most expensive items on their own.
Eventually, Brown would like to see a system she calls a "pantry within a pantry." In this model, a food bank would source gluten-free and allergy-friendly foods and provide them only to clients who need them for medical reasons. Currently, most pantries do not have a regular supply of special foods, and when they do, they don't always make it into the hands of those who need it the most.
Jessica Kejr, the director of program services at Harvesters, a food bank serving northeastern Kansas and northwestern Missouri, said that over the past few years, she has noticed more and more food pantries in the area have started asking about gluten-free, allergy-friendly, low-fat and other specialty foods. She thinks that "it is possible" to adopt Brown's pantry within a pantry model but that it would require a number of changes to inventory and sorting processes.
After finding out about ReNewed Health and other community resources, Neri said, she doesn't worry about food insecurity on a daily basis. She can count on getting her corn squares cereal for Link, dairy-free cheese for Adison and soy-free mayonnaise for Nolan every month. She can instead focus on activities that keep her kids healthy and active, like soccer and gymnastics.
"I'm determined to keep fighting for equality for everybody to have the right to safe, healthy food. The right to live a healthy life. The right to feel good and have all of the nutrition that they need to thrive in school, to do well in work," Brown said. "It affects every aspect of your life."
And Nolan is an example: After finding the right resources to change his diet, he stopped having stomach cramps that woke him up in the middle of the night. His teachers stopped reporting bad behavior. His grades went from low C's to all A's and B's. He is on track to graduate from high school a year early and plans to pursue a career in soccer or law enforcement.