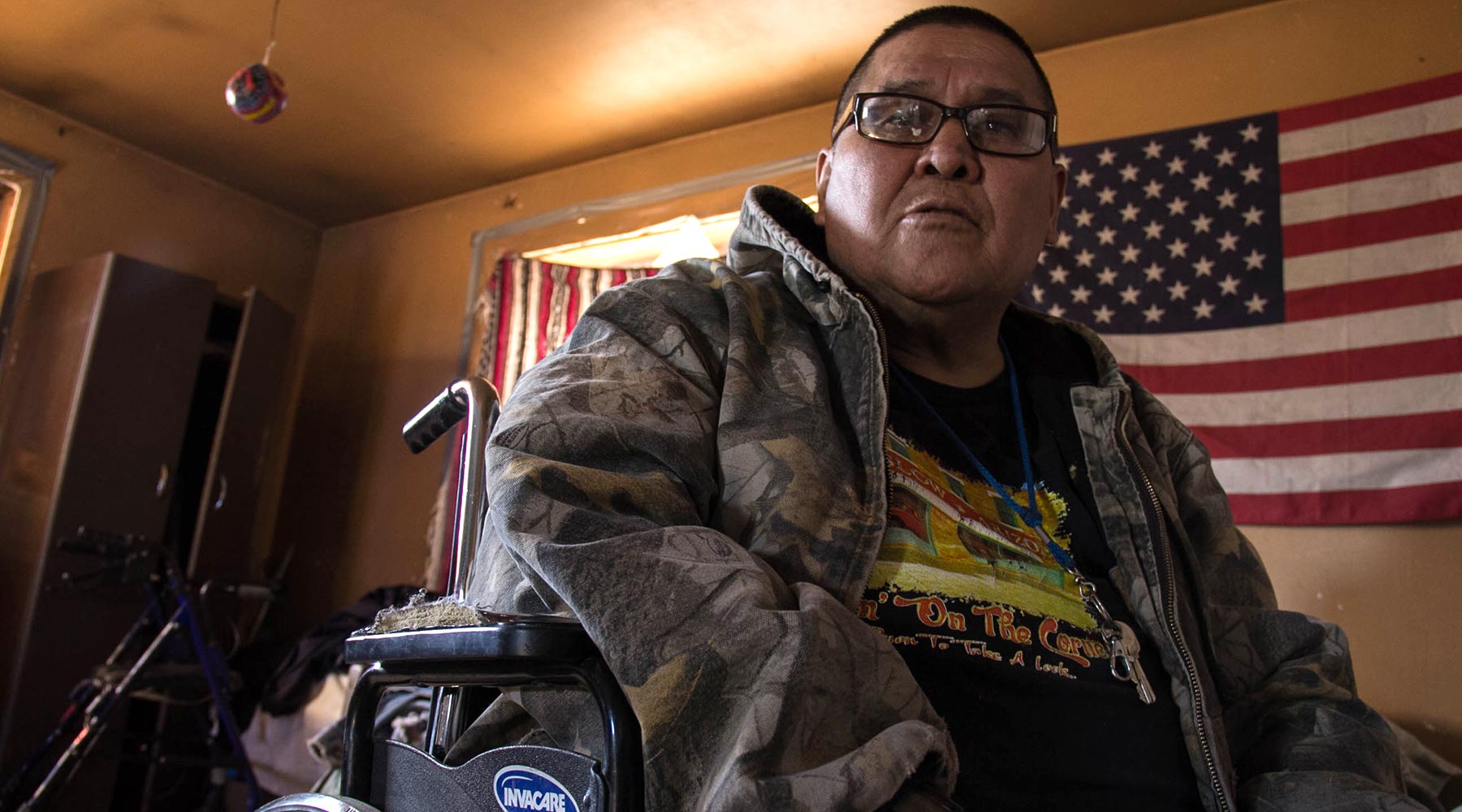 Navajo Nation's nutrition crisis
In Part 1 of our America Left Behind series, Al Jazeera looks at a community where 1 in 3 are diabetic or at risk
In
Part
1
of
our America
Left
Behind
series,
Al
Jazeera
looks
at
a
community
where
1
in
3
are
diabetic
or
at
risk
Series
At the end of this year, the targets set by the United Nations in 2000 for developing countries will expire. In this project, we take those eight Millennium Development Goals and examine how some communities in the United States measure up. We have applied each goal to the U.S. by looking at an indicator used to measure a country's development success and interpreting it for a specific community in America. The eight goals are: eradicate extreme poverty and hunger, achieve universal primary education, promote gender equality and empower women, reduce child mortality, improve maternal health, combat HIV/AIDS and other diseases, ensure environmental sustainability, and develop a global partnership for development. An indicator for the first goal — eradicating extreme poverty and hunger — is the proportion of the population below the minimum level of dietary energy consumption. In this piece, we look at the health consequences of a lack of access to fresh food in Navajo Nation.
Steven Thompson grew up poor on Navajo Nation. After nearly three decades on a diet built around potatoes, lunch meat and canned goods, he was diagnosed with Type 2 diabetes; his right leg was amputated as a result of complications from the disease eight years ago.
Now, at the age of 54, Thompson tries to stay active and eat the food his doctor recommends to prevent further complications from the disease, but it's not easy: the closest grocery store is 32 miles away and he has chronic pain.
"It's really hurting, but you don't to heal no more, you know, and then your whole leg aches like your leg's still there … They gave me this [medicine] to try to help it, but it don't really help me," he said.
The nearly 300,000 residents of the Navajo Nation — an area roughly the size of South Carolina — are served by only 10 grocery stores. Gas stations and trading posts fill the vast spaces in between those stores, selling foods loaded with salt, sugar, fat and preservatives. According to the Diné Community Advocacy Alliance, a Navajo think tank, 80 percent of food sold in the Navajo Nation could be considered junk. One in three residents is diabetic or prediabetic, and recent studies show that heart disease is the second-leading cause of death among tribal citizens living on the reservation.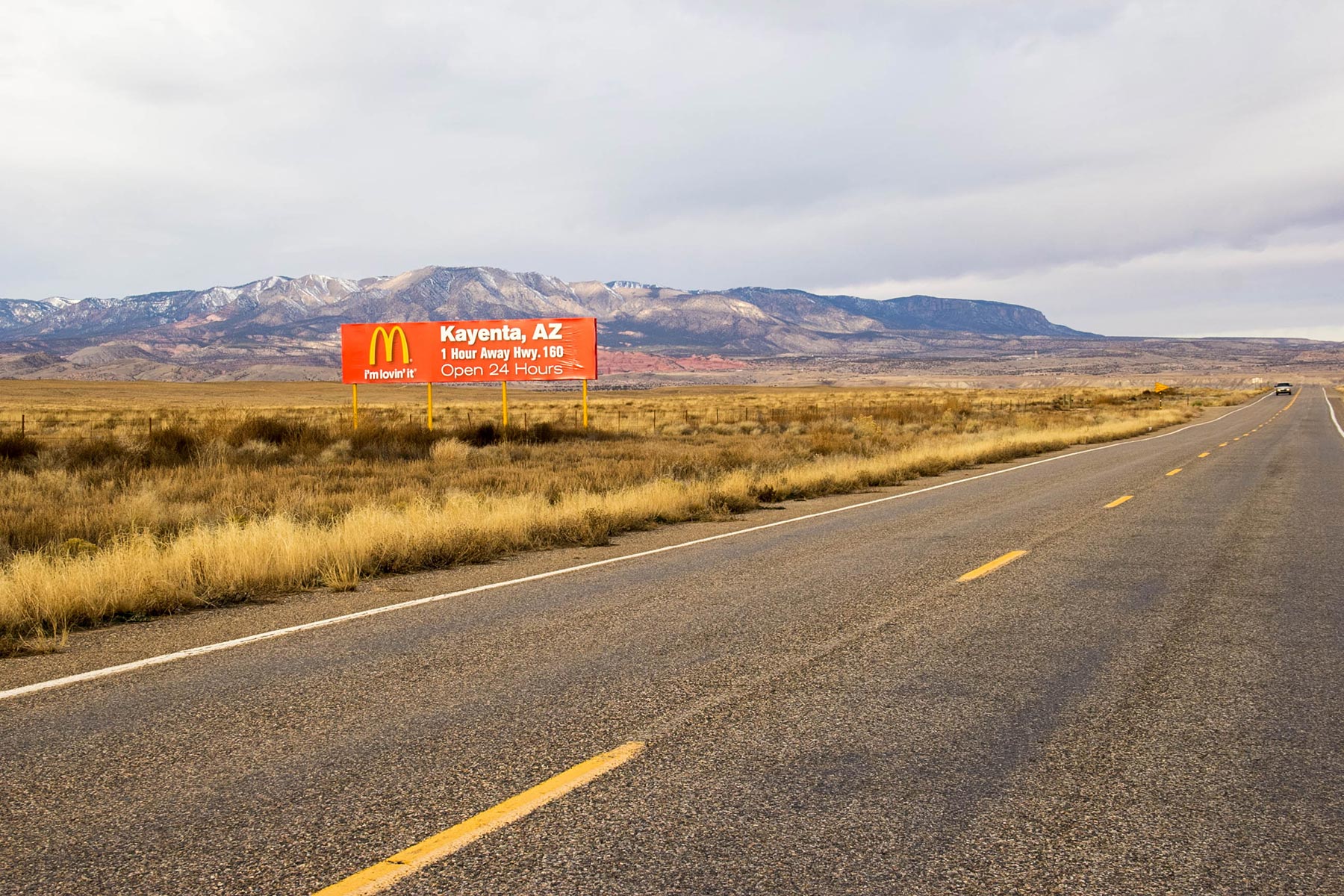 But the question of food access could soon be getting renewed focus. Starting in January, the United States will be aiming to reach the United Nations' new Sustainable Development Goals. One of the priorities is ensuring access to nutritious food. In Indian Country, achieving that goal is a long way off.
In a report to Congress , "Addressing Child Hunger and Obesity in Indian Country," researchers found that Native American children had "approximately twice the levels of food insecurity, obesity and Type 2 diabetes relative to the averages for all U.S. children of similar ages."
"We need to stop [trying to fix] the rest of the world and start pursuing solutions inside the United States," said Denisa Livingston, a community health advocate with the Diné Community Advocacy Alliance. "If things do not change, then the Navajo Nation will no longer exist."
Hundreds of miles, but only 11 grocery stores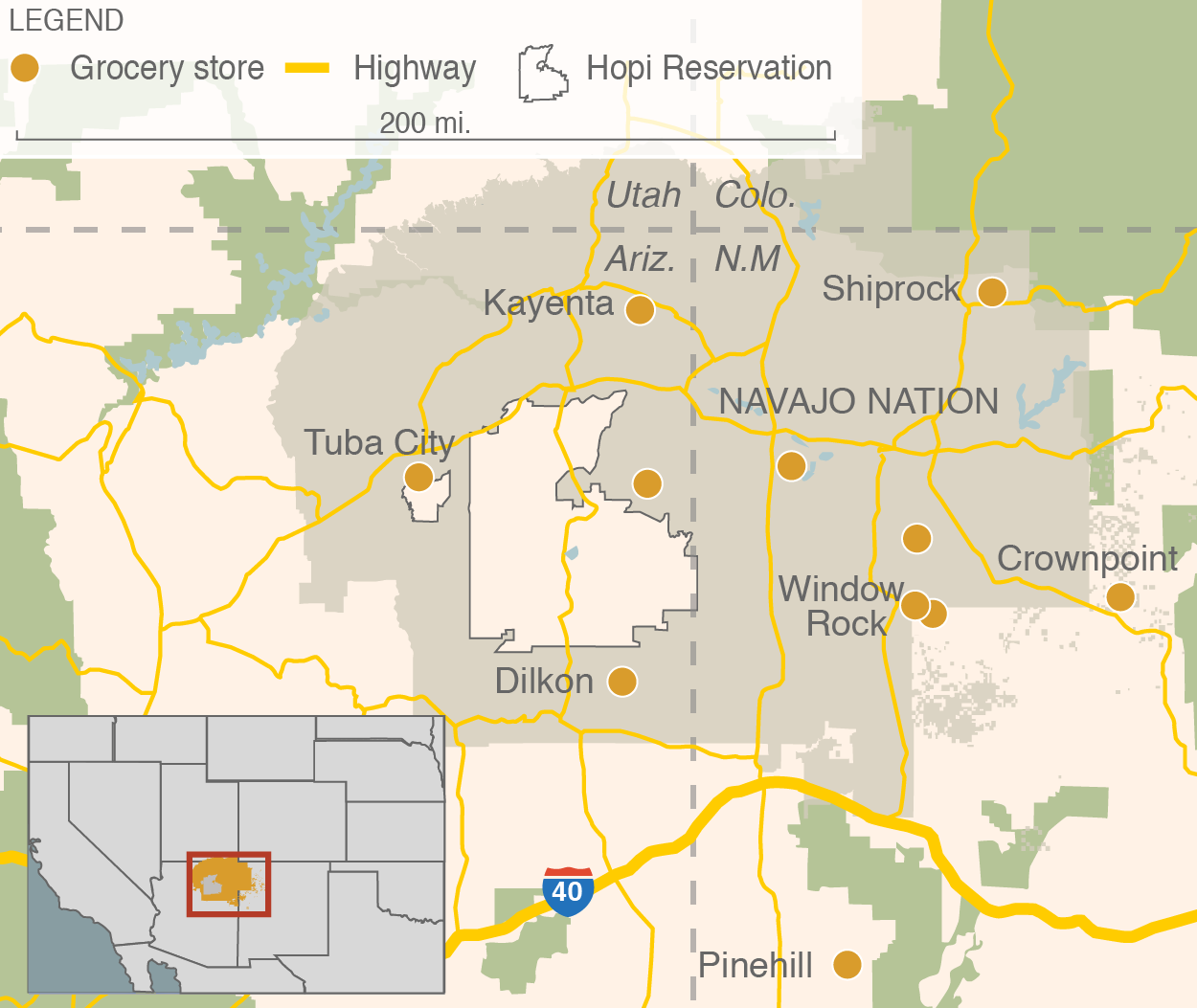 The report went on to say that children living on tribal lands were disadvantaged historically, with 24 percent of Native households living below the federal poverty line and Native families receiving Supplemental Nutrition Assistance Program benefits at nearly double the national rate. In Indian Country, the USDA estimated, 878,000 children in 2008 received free or reduced-price school lunches. 
"Over time we have actually created a culture to depend on unhealthy food," which are less expensive and readily available, said Livingston. "We have created an environment — not only physically but socially — that it is O.K. to eat unhealthy food."
Alfreda Baldwin Begay, 54, who was diagnosed with Type 2 diabetes two years ago, has to travel 30 miles to her nearest grocery store. She has seven children and said their diet preferences — which include fried bread and homemade french fries — make it hard for her to eat what her doctors tell her to. When she was diagnosed with diabetes, she weighed 315 pounds.
She said that she would advise other Navajo to "eat your vegetables" and exercise — neither of which were part of her routine — to avoid diabetes.

Thompson also struggled to change his diet after his diagnosis, because of the expense and ingrained habits.
"I'm supposed to drink rice milk, but I can't afford it. It's expensive stuff … You can't eat what you — all your life you ate what you wanted, [like] candy bars. You still sneak a couple bites of it, and then you save it for the next time around in a couple weeks, then eat the whole thing."
Aretta Begay is taking matters into her own hands. She raises five Navajo-Churro sheep for their meat and wool and keeps a small vegetable garden. For her, self-sufficiency is the only realistic option. 
"We have a huge problem with having access to good, quality food," she said. "We don't have access to grocery stores."
"The nearest grocery store, you probably have to drive at least an hour from here," said Begay. "So when you go there, you have to think in terms of preparing yourself and getting supplies for an entire month."
Historically, federal policy has made indigenous, self-sustaining agriculture difficult. Between forced removals of tribal nations from their historic homelands to concentration-camp-style reservations and the introduction of processed foods to replace traditional diets, farming and ranching have been almost eradicated from tribal practices.
"I've had family members who have passed on because of unchecked diabetes," said Moroni Benally of the Diné Policy Institute. "I know people who are constantly diagnosed with [diabetes], and it gets scary."
When the Navajo returned to their homes after being forcibly removed by U.S. forces in the late 1800s, they began rebuilding where federal authorities had slashed and burned their farms. By the late 1930s and early '40s, it was estimated, Navajo farmers owned over 1 million sheep and goats. However, the Bureau of Indian Affairs destroyed nearly half those animals over fears that overgrazing would create a new dust bowl.
Those livestock reductions crippled the Navajo economy and forced many tribal members to rely on nontraditional foods. Today almost the entire Navajo Nation is classified as a food desert by the United States Department of Agriculture, meaning it is a low-income census tract where a substantial number of residents have low access to large grocery stores.

"We want to move away from being dependent on external food systems, and having food trucked in just doesn't get to that end goal," said Benally. "You look at indigenous communities across the world, and they're dealing with that as well."
According to the Food and Agriculture Organization of the United Nations, indigenous people constitute 5 percent of the world's population but account for nearly 15 percent of the world's poor. The "main causes of marginalization of indigenous peoples derive from the violation of their right to their traditional land and territories," according to the organization.
"I think if you talk to indigenous people, just giving someone food doesn't solve the problem," said Benally. "There's an implicit understanding that if there's a reconnection to the cultural base — this cultural ethos of Navajo — it becomes easier for them to deal with the harsh realities of living in a colonized context. So, to be very simple, I think a grocery store is just a symbol of more Western incursion and encroachment into Navajo."

One way the U.N. hopes to end hunger: encourage sustainable food production among indigenous peoples by 2030. On the Navajo Nation, some tribal citizens are already on that track.
"When we raise our own sheep, we're able to sustain ourselves," said Aretta Begay. "We're able to feed our own family, whether it's big or small." 
But progress in Navajo Nation, with its high poverty rates and long-standing lack of access to nutritious food, will be an uphill battle.
Alfreda Begay said that when her doctors told her she had diabetes, at first she didn't understand the gravity of the diagnosis because it is so common. "I didn't know that that meant. I just figured, you know, everybody has it."