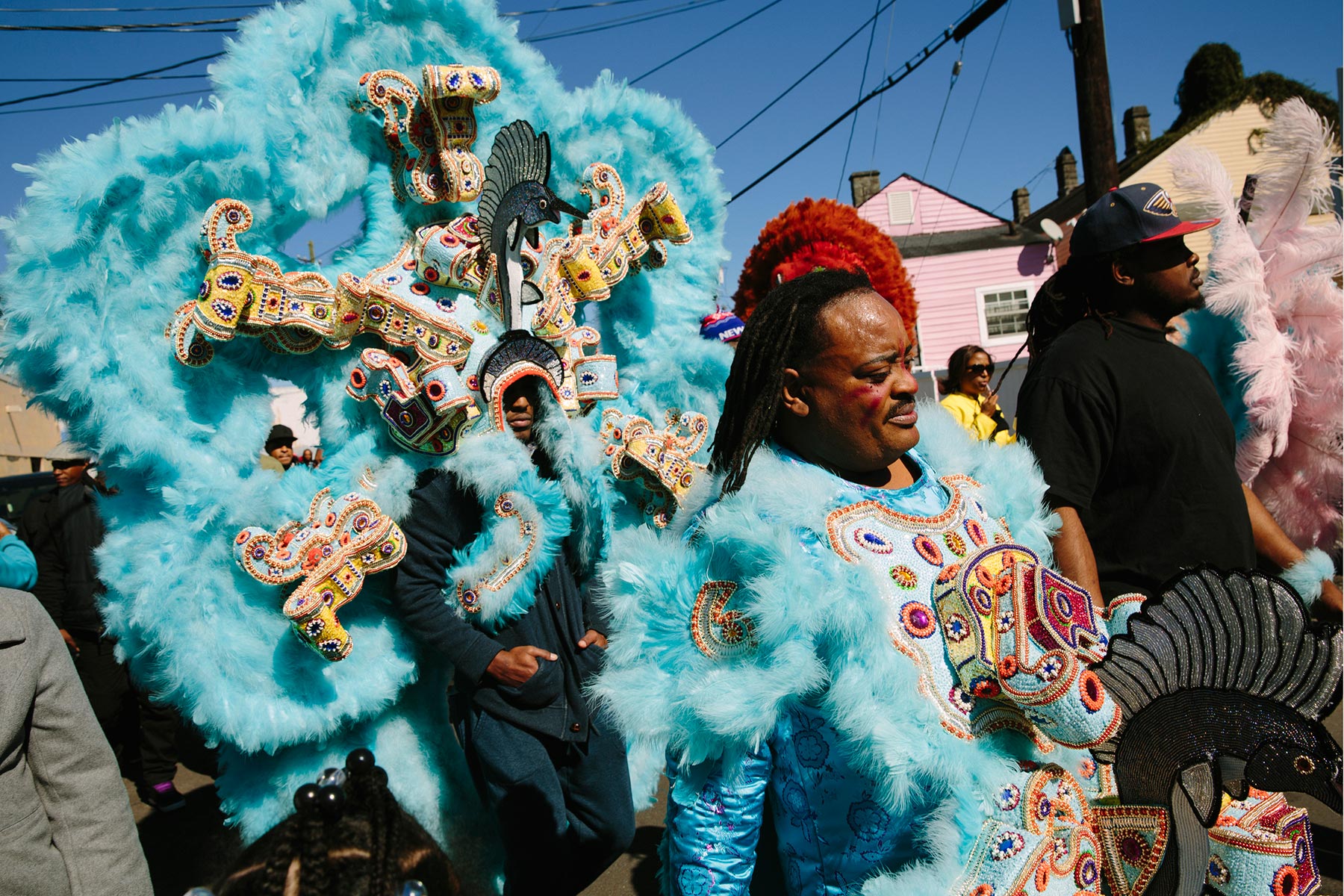 New Orleans' Indians suit up for Mardi Gras
This year, African American tribes commemorated fallen leaders
This
year,
African
American
tribes
commemorated
fallen
leaders
Corey Rayford didn't aspire to be a big chief.
For years, Rayford, 43, was content to be second-in-command under his older cousin, Lionel Delpit, Jr., the original big chief of the Black Feather Mardi Gras Indian tribe.
In a tradition that dates back to at least the 1880s, every year at the end of carnival season, African Americans in New Orleans "mask as Indian," debuting colorful, Native American-style outfits. Members of Black Feather and the city's other two dozen tribes are known as "Mardi Gras Indians."
This year on Fat Tuesday, Mardi Gras morning, Black Feather's 20 members did what they have done for more than 20 years: they gathered at family homes on Frenchmen Street in the 7th Ward and fastened together beaded and feathered aprons, wings, and crowns until they were transformed into Indians.
Once in full regalia, they stepped outside to the delight of waiting family and friends. Accompanied by a group of percussionists playing drums and tambourines, they danced and sang, moving through the streets of 7th Ward.
No one got in their way. When Indians step on to the streets of New Orleans, traffic stops to allow them to cross.

The Mardi Gras Indian tradition is an homage to the Native American tribes who lived in the nearby Louisiana swamplands and took in escaped slaves, sharing food, culture and bloodlines with them. Until recently, the tradition could also be a violent one: Mardi Gras Indians sometimes came home bloody after running into a masked rival who wanted to settle a score.
That changed several decades ago thanks to now-legendary big chiefs like the late Allison "Tootie" Montana of the downtown Yellow Pocahontas tribe, who gave Rayford and Delpit their start, and the late Bo Dollis of the uptown Wild Magnolias. These chiefs were successful in convincing Indians to compete through art, and to "out-pretty" each other rather than engage in physical confrontations.
Big chiefs are also known for more than their artistry. When New Orleans was still segregated and blacks were forbidden to mask in white sections of the city, Indians masked in protest and put on a Carnival show in working-class neighborhoods. Because of their defiance to the status quo — one of their well-known chants was "We won't bow down; don't know how" — they were also seen as local civil rights heroes.
Today, if New Orleans residents need attention from City Hall, they often seek out a big chief, knowing that councilmembers and even the mayor will listen when a chief speaks.

In 1992, with Montana's blessing, Delpit started Black Feather with Rayford and his friend Tyrone Yancy. Over the next 20 years, the group became a recognizable force in New Orleans. Other tribes knew Black Feather by Delpit's intensely emotional singing voice and by the tribe's signature sewing style, which features beaded and sequined shapes painstakingly stacked on top of each other.
But four years ago, Delpit got sick. His heart was failing, and doctors told him he didn't have much time to live. He decided he wanted to leave Black Feather to his youngest son, Lionel Delpit III, whom everyone called Bumma. Delpit had other sons, but he'd seen the spark in Bumma and believed he could be a great chief.
Bumma, however, was only 21 and wasn't yet ready to preside over Black Feather. So Big Chief Lionel sent for Rayford and made a request. "On Lionel's dying bed, he asked me to stand with his son and help him run the gang," Rayford said. 
Rayford had been raised in the Mardi Gras Indian tradition. During childhood, he was taught the call-and-response Indian songs like "Shallow Water, Lil Mama," which incorporates West African rhythms, drums, and tambourines. He knew the intricate street choreography that starts with a "spyboy" walking about a half a block in front of his tribe to look out for rivals, and ends when a big chief deigns to "meet" another big chief worthy of his respect, prompting the Indians in front of him to turn sideways and create an aisle for the opposing chief to walk through.

Rayford also knew how to scrimp and save to afford the $15,000 he spends annually on chicken feathers, beads, and canvas. Over the course of a year, he sews three-dimensional patches with beads and trims them with feathers to create suits that have wowed curators from the nation's most prestigious art museums. More importantly to him, they have also won the approval of Big Chiefs Lionel and Tootie.
Rayford is so recognized for his hard work and keen eye for color that hundreds of admirers gather at Frenchmen Street on Mardi Gras morning each year just to see his suits. "They come looking for him," said neighbor and fellow Indian Wendell Frazier.
Four years ago, after speaking with Lionel, Rayford teamed up with Yancy to shape Bumma in the mold of the city's great big chiefs.
They had already seen that Bumma had the raw talent to be a great chief. He was at ease with the tradition's chants and rhythms, and had already displayed needle skills on a dozen of his father's suits. But the men wanted to teach Bumma how to lead a tribe. They told him about the history of black Indians in New Orleans, and explained what it meant to be an Indian today. They instructed him to check in with Black Feathers as they sewed their suits, to make sure none looked sloppy on Mardi Gras morning. They showed him how to act like a chief with men who were twice his age. By the end of last year, they felt like their work was paying off. Bumma knew the culture thoroughly and had earned the respect of his tribe.
Rayford described a conversation he and Bumma had in mid-December. Over a backdrop of drums and tambourines, the two talked about their families. Delpit, whose girlfriend was pregnant and days away from delivery, shared his hopes for his son and his partner, a highly motivated young woman who had been valedictorian of her high school class.
Rayford approved. "He had his priorities straight," he said.
Three days later, gunmen shot up the couple's PT cruiser outside their apartment building in eastern New Orleans, and left them for dead in the front seat. Neighbors reported that paramedics agonized when they realized that they couldn't save either the mother or baby.
With only two months left before Mardi Gras, Rayford knew that he had to step in to take Bumma's place. Now, instead of grooming his cousin to be big chief, he would be wearing the feathered crown himself, leading a grieving Black Feather tribe onto the streets of New Orleans on Mardi Gras morning.
"The thing is: He don't have no choice," Yancy said. "He can't let Black Feather die out."

In Uptown New Orleans, about 20 minutes by car from the 7th Ward, the Wild Magnolias were also preparing for Mardi Gras. For decades, the tribe's members gathered on weekends in the home of longtime chief Bo Dollis to sew. This year, all 14 members convened to work on black-feathered suits in commemoration of Dollis, who died in January 2015. Most members wore beaded patches in his honor; his widow, Queen Rita Dollis, put a traditional "flat" beaded portrait of herself and her late husband on her apron.
Dollis was probably the best-known Mardi Gras Indian musician ever. Celebrated for his charismatic stage presence and smoky voice, he was one of the first to pair Indian percussion with electric funk and record it for a national audience. He also was a long-standing chief, having risen to the top of the Wild Magnolias in 1964.
In the weeks leading up to Mardi Gras, Dollis' son, Bo Dollis Jr., prepared to step into his father's position. He worked especially hard on a massive crown featuring beaded portraits of himself, his father and his mother on the front and a life size, 3-D representation of his father on the back. As Dollis sewed, he occasionally got too emotional and had to stop. "My dad's face is everywhere," he said, showing off a pant leg of his suit, which had a pink-beaded image of his father on it. On the opposite leg he had stitched a portrait of another mentor, Big Chief Lionel Delpit, Jr.
Dollis wanted Bumma to know about the commemorative image, and when he ran into the younger Delpit a week before the murder, he promised him a surprise on Mardi Gras morning. As second-generation chiefs and the sons of famous fathers, the two shared a special bond. "It's up to us to carry this on," Dollis said.

Five years ago, Rayford and then-fiancée Candy Vincent spent four frenzied months working on an elaborate dragon suit while waiting for the birth of their daughter. When Koray was born, they took two days off sewing, then put their baby girl into a car seat that they took turns rocking with their feet while they continued to work.
This year, their son Darren Vincent, 10, will be a spyboy. Candy, now Rayford's wife, and their niece Raquise Hawkins, 20, will be Indian queens, both for the first time. Hawkins says she used to be "terrified of Indians," but at a wedding reception last year, the family was singing an Indian song and Hawkins was drawn in. "The spirit just took over her. I saw it," Rayford said.
Between the two of them, the couple have eight children. Seven worked on this year's suits, along with neighbors, mothers, and other relatives. At the couple's house in eastern New Orleans in late January, suit pieces, tagboard patterns, and 3-D models were stapled to the walls, stuffed into bags, and hung up in closets and drawers. Pieces of turquoise feathers floated across the floor, no matter how many times they swept.
As Mardi Gras approached, the suits were far ahead of schedule, maybe weeks ahead of where they were at that time last year. The family had completed 300 beaded patches — almost as many as were needed for four suits, and enough to assemble the suits' 22 three-dimensional beaded pieces, which jut out like miniature sculptures.
Rayford looked around joyfully. "I can sing. I can dance. This comes from my heart. This comes from my family. I sit here sewing more than 12 hours a day. We sing Indian all day. We are real Indians," he said.
But the intense work has taken a toll. Two weeks before Mardi Gras, Rayford went to the doctor, struggling with eye problems from so much close needlework. Rayford's asthma is triggered by chicken feathers, so every time he went to his garage to assemble the suit, he put on a surgical mask and grabbed his inhaler.
On one of his trips, Rayford grabbed a glue bottle, attached a row of turquoise feathers to his suit and looked lost in thought.
His cousins have been on his mind constantly while working on this suit, he said. And on Mardi Gras morning, when he stepped onto the streets of the 7th Ward, he knew he would especially miss Lionel and Bumma.
"But they'll be with us. We'll be carrying them in our hearts," Rayford said, as he squeezed out some more glue and aligned the tall feathers that will top his crown.