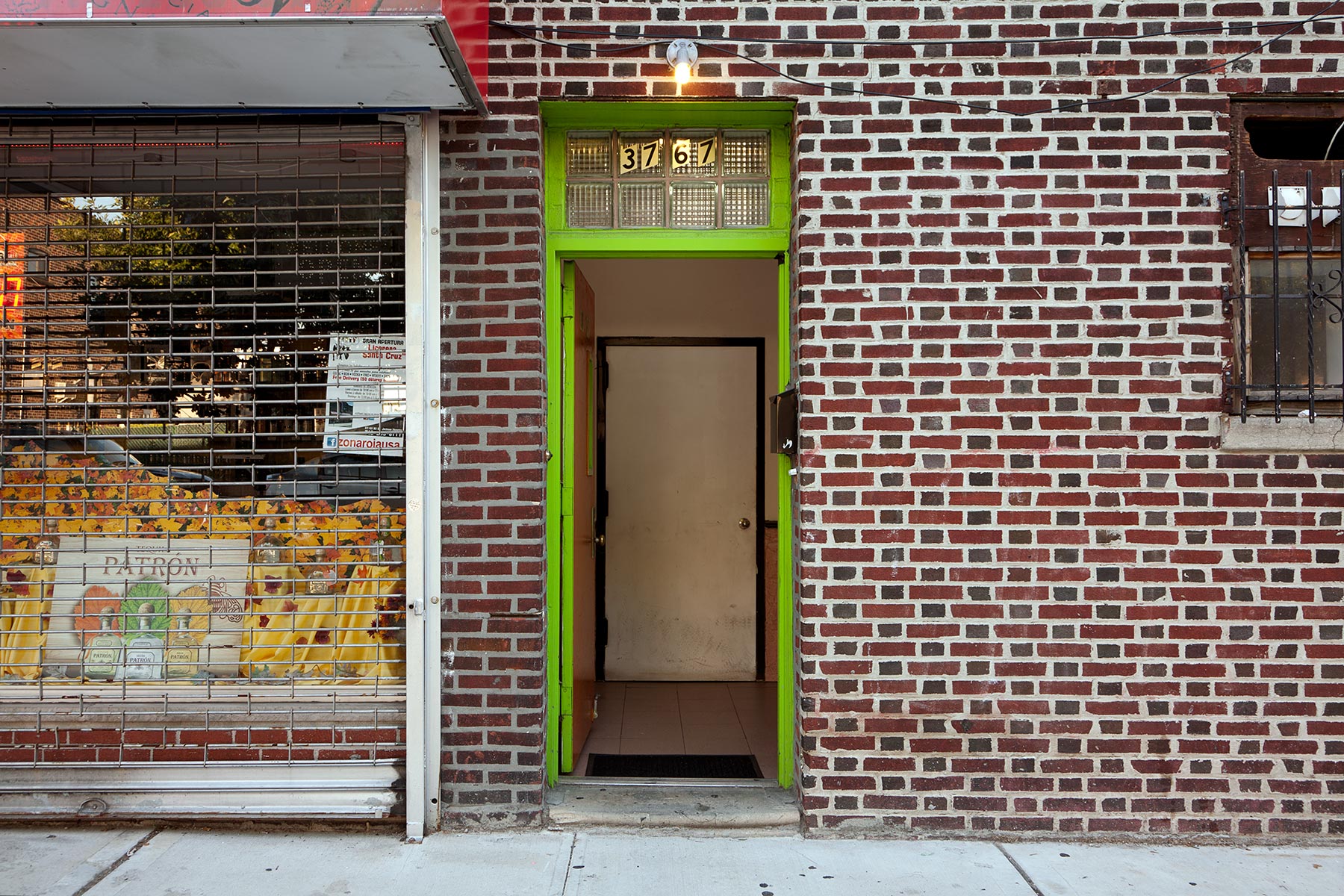 Seeing
green
with
Herbalife
NEW YORK — The tip-off could be a chartreuse curtain, a lime stairwell or a neon-green door. Here on a brick building beneath the elevated number-7-train subway tracks in Jackson Heights, Queens, it's the apple-green trim that tells attentive passersby that this is an Herbalife nutrition club. Inside, Maria, an independent Herbalife distributor from Mexico, is sweeping the stairwell leading to the club she and her husband, Leonel, run on the second floor.
"Like everyone says, [you succeed] little by little. It depends on the effort of each person," Maria says in Spanish. (The couple, like several people interviewed for this story, spoke on the condition that only their first names would be used). "Herbalife gives us the opportunity and we depend on ourselves."
In neighborhoods like Jackson Heights and neighboring Elmhurst, Herbalife nutrition clubs are a familiar sight. Visitors pay an entrance fee ($4 or $5), which entitles them to a cup of water with a shot of aloe (plain or mango-flavored); a hot tea; and a Formula 1 nutritional shake in their flavor of choice (wild berry, vanilla, dulce de leche, mint chocolate, cookies 'n' cream).
While controversy swirls around the nutrition-club system, which opponents say targets poor, often-uneducated Latinos, many of whom are living in the country illegally, here in this working-class immigrant neighborhood there are plenty of Herbalife believers. They have small bank accounts but big American dreams. And they're seeing green — specifically, the company's signature shade of lime on the awnings, window frames and front doors of the clubs that make up this discreet but dense underground network.
Before opening her nutrition club, Maria earned roughly $180 a week babysitting. She won't give exact numbers, but she makes more with her new business, she says, which is visited by about 20 clients a day. Leonel, who used to work in construction, says his current lifestyle is more relaxed; he has no boss to report to, and his health has greatly improved thanks to changing his diet and consuming the Herbalife shakes.
"Before, I was heavier," he says, adding that he wore XXXL shirts and weighed 280 pounds. "If I walked up the steps, I was out of breath. Now, no."
But Ruth Lopez, who moved to Queens from Colombia six years ago, says it's only a matter of time before nutrition club owners like Maria and Leonel realize they're in a very bad business. She, too, once ran a nutrition club in the neighborhood — until deep financial losses forced her to throw in the Herbalife towel. She hates to see so many in her community falling for the very same "opportunity."
"I just look at them and I think, pobrecito [poor thing]," she says.
Herbalife, which is based in the Cayman Islands but headquartered in Los Angeles, sells more than $4 billion in nutrition, weight-management and skin-care products a year. The products aren't sold in any stores, but through direct sales by its members in more than 90 countries around the world. Members pay about a $90 membership fee in order to be a "distributor" and purchase products in bulk, which they can either consume or resell. If they purchase 4,000 points worth of product (about a $2,500 investment), within a month they can become a "supervisor." This qualifies them for bigger product discounts as well as the ability to grow their "downline" — the members they recruit, who then purchase more products in bulk for which the recruiter gets a commission.
It's a multilevel-marketing business model, meaning members earn money from selling the product and from recruiting new members. The Federal Trade Commission (and possibly the FBI) is currently investigating whether the company is engaging in unfair or deceptive trade practices.
PYRAMID SCHEMES: A LEGAL EXPLAINER
Herbalife chief executive officer Michael Johnson says he has nothing to hide. "It's really insulting to see the stuff that's coming out and being taken as the truth because of one person's financial motivation," he said in an interview.
The person he referred to is billionaire activist investor Bill Ackman, who has accused the company of targeting low-income Latinos through its clubs, calling them "a pyramid within a pyramid" scheme. (Thanks to a $1 billion bet by Ackman's hedge fund, Pershing Square Capital Management, he stands to profit significantly if Herbalife's stock collapses.) He says the extensive training programs — Club 100 (or "Club Cien") is a popular one in Queens — which are heavily recommended to distributors who want to open their own clubs, are simply a racket to recruit more members. Before Club 100 trainees can open their own club, they must train in another owner's club, where they must also consume shakes and recruit prospects — friends, family, passersby — to also buy shakes in their sponsor's club.
Ruth Lopez used to wake up early each morning, put on her nice clothes and makeup and walk around the neighborhood handing strangers little photocopied invitations to a "free, healthy breakfast."
She says she and her sister-in-law Cecilia Lopez, who worked in security, ran an Herbalife nutrition club in their home. Cecilia kept her day job, using that income to stock up on Herbalife inventory and reach purchasing levels that qualified them for additional points and discounts.
A former teacher, Lopez is a people person. "Selling for me wasn't difficult, because I'm a good speaker and I talk too much," she jokes, an easy laugh accompanying the swing of her long braids and clink of gold rings and necklaces — the cheap stuff, mind you. She had to pawn all her 18k gold jewelry from Colombia to pay down her Herbalife debt, she says. Lopez believed she had it in her to convince people to join her nutrition club. But it didn't work.
While a busy day brought eight or so customers, Lopez says, "the problem is the people that were coming today, they were not coming tomorrow. We never had a client that went to our place to drink the shake every day. Never."
This despite following Herbalife's instructions to keep a list with each visitor's name and phone number so Lopez could invite them back the next day. But people were busy, she says. I don't have the time, they'd tell her. Maybe next week.
Meanwhile, in order to maintain their Herbalife discounts, Lopez and her sister-in-law had to keep buying more inventory — as much as $2,500 a month. (According to an Herbalife spokesperson, since 2013 all members have a money-back guarantee for unsold, unopened goods purchased in the past year. Lopez, however, would not have been able to avail of the policy.) To expand the club operation, Cecilia withdrew a few thousand dollars from her joint account with her husband, who became furious.
"Because he was telling us all the time that it was not working, it was a shitty business," Lopez recalls. "And we were telling him, 'No, no, no. You will see. Maybe the next month. Just wait.'"
And Lopez's story is hardly unique. According to Herbalife's 2014 pitch book, 88 percent of Herbalife's nearly half a million U.S. members didn't receive any payments from the company in 2012. Of those who reached supervisor level, with the prospect of monthly commissions, fewer than 1 percent (0.7) made $100,000 or more. Nearly 80 percent of those who did receive payments earned less than $1,000 for the year. Among the 47 members who made it to President's Team level in 2012, where you can earn $10,000 per month or more, it took an average of nine years with the company.
The nutrition-club model was developed in Mexico about 10 years ago, according to Herbalife, and is now a key reason for the company's continued success there as well as being a primary driver of sales growth in other countries such as India, Indonesia, Brazil and South Korea. A 2010 Herbalife document obtained by Pershing Square states that Latinos account for more than two-thirds of Herbalife's U.S. market, of which 70 percent ($316 million) is consumed in nutrition clubs. And according to Herbalife's fourth-quarter earnings call in 2013, there are 37,000 nutrition clubs in Mexico — nearly 30 times the number of Burger Kings, McDonald's and Starbucks combined.
In July, Ackman hosted a webcast to reveal the results of his firm's investigation into the nutrition clubs. In it, he attacked Johnson for tailoring the pitch to undocumented Latino immigrants — ideal for Herbalife because they need money, they're aspirational and entrepreneurial, they often lack the papers and English-language skills for other jobs, they live in close-knit communities and they're unlikely to complain, in part because many are in the country illegally.
The investigator, former journalist Christine Richard, studied the economics of 10 nutrition clubs in Queens. Pershing Square then concluded that the average club loses about $12,000 a year, without even taking time and labor into account. And rather than selling product, Ackman said in the presentation, the clubs' chief purpose is to recruit more members, who will become distributors and eventually club owners themselves.
Herbalife responded to the takedown attempt in a statement: "Mr. Ackman's claim about the earnings of Herbalife nutrition clubs is completely false and fabricated. In fact, according to a recent study commissioned by the Company, 87.5% of nutrition club operators feel good about the money they earn and 92% want to continue with their club."
Al Jazeera America visited the heavily Latino and immigrant neighborhoods of Jackson Heights and Elmhurst in Queens, New York, to speak with Herbalife nutrition-club owners. In the map below are the locations we were able to confirm, both in people's homes and in commercial storefronts, in an area south of Roosevelt Avenue where clubs are fairly concentrated.
Click the points on the map below to see the exact address and storefront of each Herbalife club.
The first residential club didn't open in the United States until August 2006, according to an Herbalife spokesman, and commercial clubs started popping up around 2009. There are currently more than 4,000 clubs in this country, from Fargo, North Dakota, to San Antonio, Texas. An Herbalife spokesman confirmed that there are 540 in New York state. The company's database shows that there are 15 commercial and 10 residential clubs registered in the Jackson Heights and Elmhurst neighborhoods alone. And according to Richard's investigation, the clubs are even more concentrated in neighboring Corona, sections of which are more than 80 percent Latino, according to census data.
Yet, despite the large number of Latinos that make up Herbalife's distributors, the company says it only made payments to "more than 33,000 U.S. Hispanic members" in 2012. On average, those payments totaled $5,255 apiece for the year. Still, the company says nutrition clubs play a positive role in the Latino community.
"Herbalife nutrition clubs are valued parts of the Latino community, where there's a long tradition of community wellness centers and where obesity is more prevalent than the nation as a whole," the company said in a statement issued after Ackman's presentation. "Herbalife is proud that its clubs positively impact countless Latinos by providing access to nutritious alternatives in a community that is flooded with fast-food options and further expand the Latino sense of community."
Furthermore, says an Herbalife spokesman, the nutrition clubs build communities that support customers in sticking to their health goals. The products and nutrition clubs "together create sustainable behavioral change that positively impacts the lives and health of consumers and communities worldwide."
'Willing to try anything'
Ackman may be Herbalife's wealthiest critic, but he's not the only one. The National Consumers League, Hispanic Federation, MANA, League of United Latin American Citizens, several members of Congress and some local elected officials were among those calling on the Federal Trade Commission to investigate whether the company is a pyramid scheme.
Make the Road New York is a Latino advocacy organization that has an office on Roosevelt Avenue in Queens. Francisca Montaña heads the group's anti-consumer-fraud campaign, which is intended to educate the community about predatory businesses.
After news reports raised the concern that Herbalife was targeting the Latino community, Montaña surveyed 455 Make the Road members in the New York area and found that more than 40 percent had consumed Herbalife products.
"They would all blame themselves" for not making as much as they had expected, says Montaña, who believes that blame psychology is part of the Herbalife training. They think, "It's because I don't know how to do it, I'm not good for sales. Yeah, I lost $3,000 but that's because of me."
"People are coming here for the American dream. [They work] 14 hours a day, making very little money. They're willing to try anything."
—Francisca Montaña, Latino community advocate
Make the Road has worked with 10 former Herbalife distributors to file formal complaints with the New York attorney general, the most recent just a few days ago.
"People are coming here for the American dream," Montaña says. "People work … 14 hours a day, making very little money." They're hardworking and resilient, she said, but also vulnerable. "They're willing to try anything."
Plus, many lack health insurance and suffer from ailments such as back pain and depression, obesity and diabetes. They're looking for affordable care. (In addition to weight-management supplements, Herbalife markets numerous products for heart health, stress relief, menstrual/menopausal ailments and male sexual performance.)
According to Montaña, the media attention on the billionaires' battle between Ackman and fellow hedge fund investor Carl Icahn, whose investment group is Herbalife's largest shareholder, has taken the "real people" out of the picture.
"Fifteen hundred dollars may not be a lot to … some people," Montaña says, referring to what a nutrition club owner might lose in a month, "but that's six months of rent for some of our people. It's a huge investment."
Shakes, lies and videotape
Lopez says that Herbalife's nutrition-club advisers told her why her club in the basement wasn't making money: It wasn't professional enough. She needed a place where they could get foot traffic, make strangers feel comfortable enough to enter and show videos of Herbalife's success stories.
"The Herbalife people started to tell us that it wasn't a good business to have it in the house," she says, "that we needed to have kind of an office."
So the duo rented a small storefront on 37th Avenue and 75th Street, a commercial corridor of ethnic restaurants, cafes and health and beauty services. The $800 rent was a big added expense, but the women believed the better location would draw more customers.
It didn't. Nor did the tactics Lopez adopted in a desperate attempt to sell more product.
"I remember I used to say to the woman who couldn't have babies that this is good for having babies…. I knew what I was telling to people was a lie."
—Ruth Lopez, former nutrition club owner
If a new client came in to try the free shake, Lopez would ask him or her how it tasted.
"So then I start, 'You like it? You should get more,'" she remembers. "'You're going to have better health — your skin, your hair, your nails.' I remember I used to say to the woman who couldn't have babies that this is good for having babies."
"I knew what I was telling to people was a lie," she says.
Other distributors told Lopez that she had to recruit people in order to increase her profits. But to increase her downline, Lopez understood, required more lies. Not only were the products good, she'd tell her prospects, but it's a good business opportunity — you should become an Herbalife distributor too.
"When we started to recruit people we were already 16 months in the business," she says. "And we didn't see any profit."
After three months running the storefront business, Lopez and her sister-in-law didn't have enough money to pay the rent and ended up abandoning the club altogether.
Bertha, an Herbalife supervisor with two nutrition clubs — one in Long Island City and one in Jackson Heights — has heard stories like Lopez's. That's not her experience, she says, though she admits Herbalife doesn't work for everyone.
"It depends on the effort you put in," the petite, 42-year-old Mexican immigrant says in Spanish. "I can only say that it's good for me and it's a great opportunity." Bright bunting flags are strewn across the front of her club, which has a white plaque with "Nutri Centro" in green letters.
Before becoming an Herbalife distributor, Bertha says, she had myriad health issues. She was stressed out and overweight. Her hair was falling and she had patches of discoloration on her skin. She believes her health issues related to working in a clothing factory, a sedentary job at which she drank a lot of soda instead of water.
Although she originally registered as a distributor to receive the discounts for her personal consumption, she says, people around her noticed she had gotten thinner and had more energy. She found herself recommending the products to friends, and in 2008, she decided to open a club in Long Island City. She opened another one in Jackson Heights last year.
"For me, it's not work, to see people, how they feel, how they look," she says. She remembers when she was in their shoes, always tired, in clothes that didn't fit. "To see them happy again — that's what I like. With energy, looking good."
That the Queens neighborhood appears already saturated with clubs doesn't faze her. She says many other clubs aren't attentive enough to their clients. According to Bertha, "If we give good information, good service, the people stay."
And while there are many clubs around her, she adds, there are many more people who still need the products.
Not Lopez, though. She says she still has a lot of leftover Herbalife inventory in her kitchen. Sometimes she gives it out as birthday presents or tosses a banana and a scoop of powder in the blender when she's feeling hungry.
"I don't want to waste the product," says Lopez. "We have so much."