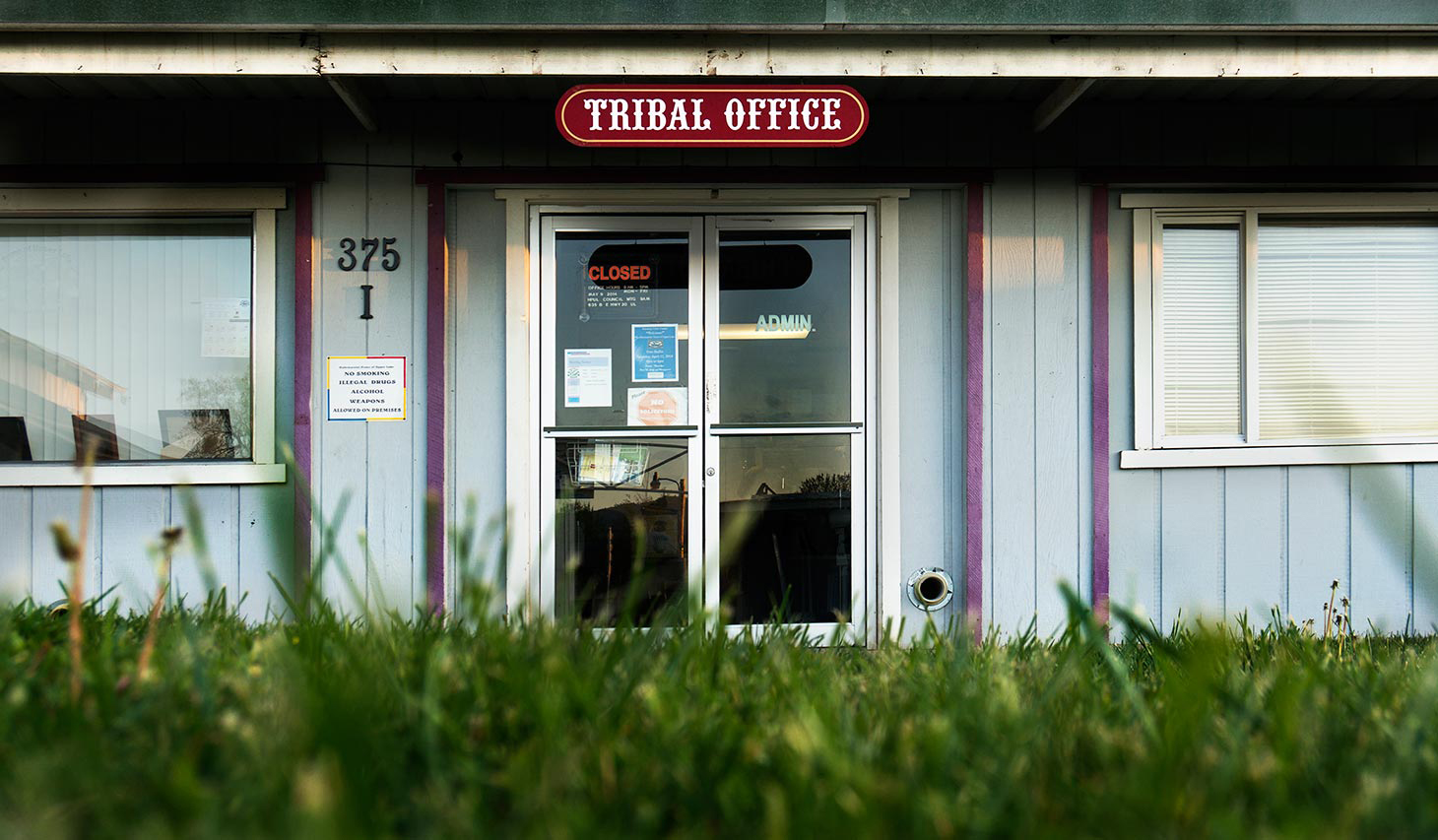 Payday Nation
When
tribes
team
up
with
payday
lenders,
who
profits?
UPPER LAKE, Calif. — The whitewashed, one-story office just off California's Highway 20 doesn't look like much.
But the building is listed as the address of at least four thriving financial enterprises. They are part of the multibillion-dollar industry of online payday loans: short-term loans of up to $1,000 that are sought by low-income people whose bad credit makes them so desperate for a cash advance they will accept interest rates that can exceed 400 percent.
And it's no coincidence that the same structure also houses the office of the tribal council of the Habematolel Pomo of Upper Lake. The Native American tribe's lending enterprises have names like Silver Cloud Financial and Mountain Summit Financial, reflecting the Native American heritage of the rancheria, as these settlements are called. The U.S. government established them for landless Indians in California in the early 20th century, but unlike reservations, a single rancheria can include members of multiple tribes.
Tribal sovereignty allows the rancherias' businesses to claim immunity from state usury laws, making them convenient shelters for lenders who want to evade regulators.
Yet little of the revenue that flows through these tribal businesses ends up in the rancheria or benefiting tribal members, as attested by the cluster of rundown houses nearby, where some members of the tribe live. They don't look like villainous tycoons preying on low-income Americans. They look more like those cash-strapped loan customers themselves.
The payday lending enterprises are not operated out of the settlement, and Habematolel Pomo members interviewed on a recent visit said none of them had any jobs related to payday lending. In fact, there are few jobs of any kind here. William Snow, 51, left the settlement straight out of high school. "There's nothing for young folks to do around here," he said.
Today at least seven of the 45 rancherias in California are involved in online payday lending — though it is unclear to what extent they actually manage the businesses with which they are affiliated. In all, some 30 Native American tribes are in the industry, according to Barry Brandon, who heads the Native American Financial Services Association, a trade organization for tribal payday lenders.
"We're talking about a very small group of very small tribes," said Ellen Harnick, an attorney at the Center for Responsible Lending, a consumer advocacy group. There are 566 federally recognized Native American tribes in the U.S.
Like the Habematolel Pomo, these tribes appear online as the owners of payday lending enterprises. But the call centers and other operations are elsewhere, and the tribes themselves get as little as 1 percent of the revenue. The entire online payday lending industry brought in nearly $4.3 billion in revenue in 2012.
Until last year, when federal regulators started cracking down on tribal payday lending businesses, they constituted about a quarter of the online payday lending industry, said John Hecht, an analyst who specializes in payday loans.
California's rancherias are located in remote parts of the state, and have little land and a dispersed membership. There are few economic options for them: Casinos, the traditional revenue generator for tribes, are not always viable, especially in far-flung places.
The Habematolel Pomo know this. Most of the rancheria's land is already occupied by the wigwam-shaped Running Creek casino, which opened in 2012. But Running Creek, with its 349 slot machines, six gaming tables and two restaurants, has failed to live up to its promise. The revenues, wrote Sherry Treppa, the head of the tribal council, "have been below expectations." The casino cost the Habematolel Pomo $30 million to build.
The revenue generated from the payday lending businesses, Treppa said, funds the tribe's youth, infrastructure and cultural programs. Some of it is also used to pay for the schooling of tribal children.
But rancheria members such as Vanessa Niko said they don't see these benefits on the rancheria itself, perhaps because none of the tribal council members live there. And Niko doesn't see any new employment opportunities opening up for herself or her five children.
"They don't have jobs for us unless you're on the council," she said. Treppa declined all calls for comment after sending a list of talking points by email.
Payday lending companies typically offer unsecured loans to Internet users with poor credit: just a few hundred dollars at a time, enough to help a customer get by until the next payday. The lending company performs a cursory background check, which approves most customers for loans in seconds. Then the company requests the customer's bank account information so it can directly deposit the loan — and eventually withdraw its repayment.
Industry advocates say the loans offer a crucial service for Americans with poor credit histories who would have trouble getting bank loans. But paying back payday loans is rarely as easy as taking them out.
Payday lenders usually don't assess their customers' ability to pay back the loan, instead relying on direct access to a bank account to collect payments, according to Tom Feltner, director of financial services at the Consumer Federation of America, a nonprofit lobbying group.
Interactive: Tribal Payday lending 101
The model displayed in the graphic below is a common model that payday lenders use to evade state restrictions on payday lending. A payday lender and tribe get connected through a matchmaker. Then they start setting up the payday lending operations.
A payday lender and tribe get connected through a matchmaker. Then they start setting up the payday lending operations.
A lot is involved with becoming a payday lender. You need a software provider, a call center, a lead generator (for finding customers), and a website. The tribe — through a tribal business — gives its name to the operation, but the payday lender runs the day-to-day operations.
Customers borrow money at annual interest rates that can exceed 400%. The lending company usually has direct access to withdraw money from customers' bank accounts. According to borrowers' complaints to the FTC, some lenders allegedly withdraw more than the amount they're owed. The high fees often trap people in a cycle of debt. Eighty percent of payday loans roll over or are followed by another loan within 14 days, according to the Consumer Financial Protection Bureau.
The lender gives 1-2 percent of revenue to the tribe and the matchmaker receives 10-15 percent of the tribe's take. The lender gets the rest.
A March study by the federal government's Consumer Financial Protection Bureau found that four out of every five payday loan customers either default or take out another payday loan within 14 days. Of those who renew their loan, 80 percent borrow the same amount or more.
Almost 3,500 complaints were filed against 63 tribal payday lending businesses between February 2012 and February 2013, according to records obtained from the Federal Trade Commission's Consumer Sentinel Network through a Freedom of Information Act request.
Deceptive contracts and harassing debt collection strategies were the most common complaints.
"I am set up on an automatic withdrawal for the payments once a month of $101.85," read one complaint sent to the California attorney general from a resident of Buffalo, New York, in December 2013. "I have recently noticed that there have been debits of $121.85, twice a month." The complaint was against Golden Valley Lending, one of the Habematolel's enterprises.
Another customer who had borrowed $300 from the Habematolel's Silver Cloud Financial company reported in January 2014 that the company had extended the loan payback period to seven months in order to charge "almost triple the amount that I borrowed."
"I'm afraid to add up the amount that they have stolen from me because I fear I will have a stroke on the spot because I am SO ANGRY!!!!" the customer wrote to the Consumer Financial Protection Bureau.
The Big Lagoon Rancheria in Trinidad, California, was in the same bind as the Habematolel Pomo of Upper Lake. Sheltered by towering redwoods and perched on the edge of the lagoon from which it takes its name, the rancheria has plenty of natural beauty — but few visitors.
With fewer than 30 members and just 20 acres in trust, Big Lagoon started trying to build a casino in 1999, but ended up mired in litigation against the state of California. The state argued that the proposed site in the rancheria's territory bordered "environmentally significant State resources."
Legal fees for the lawsuit were eating up a chunk of the $1.1 million annual stipend that non-gaming tribes receive from the California government. Most Big Lagoon residents rely on the stipend to cover their own expenses.
So in 2012, the tribe turned to online lending so it could pay its legal bills. Its chairman, Virgil Moorehead, said that Big Lagoon currently runs two payday lending companies: Green Gate Servicing and Clear Loan Solutions.
"For us it's like, 'State, if you'd played by the rules on the casino issue, I wouldn't have to fight you and look to other avenues to pay for the fight,'" Moorehead explained as he sat with his arms folded in the conference room of the Hotel Arcata, which the tribe also owns.
As with the Habematolel, Big Lagoon's payday lending enterprises aren't based on the rancheria: The call centers are in other parts of the country and do not employ tribal members.
Tribal leaders like Moorehead say they do business only with lenders who follow the law by making out loans only to customers in states that do not cap interest rates. Lenders who wish to work with Big Lagoon must fill out a six-page application form and promise to abide by a lending code that the tribe adopted, said Moorehead.
But the business was barely a year old when the world of short-term lenders and payment processors was turned upside down by Operation Choke Point. Initiated by the Justice Department, the operation targeted payday lenders who make loans to customers in states that ban high-cost lending.
Choke Point ordered banks to stop transferring money paid by borrowers to the lenders' accounts. The crackdown reduced tribal payday lending by half, estimated Hecht, the payday lending analyst.
Big Lagoon's Minute Funds were one casualty. After Choke Point, Moorehead said, the tribe's financiers "didn't want to put in more money. They had already gotten their return on it."
In June, a major payday lending trade group, the Community Financial Services Association of America, sued federal banking regulators, saying that Choke Point had unfairly targeted their industry.
Tribal sovereignty exempts tribes and their wholly owned entities from the enforcement of state laws. Federal law is another matter. The question of whether federal agencies can regulate tribal lenders is currently being hammered out in court.
Last month, a U.S. District Court judge upheld an earlier ruling that the Federal Trade Commission has "authority to regulate arms of Indian tribes, their employees, and their contractors."
In March, the Consumer Financial Protection Bureau petitioned California's U.S. District Court to force three tribe-affiliated lending companies to furnish the bureau with documents and answers the CFPB had previously requested in the course of an investigation.
"Trying to argue that all these federal laws of consumer protection don't apply is a very steep uphill battle," said Gabriel Galanda, a lawyer who has litigated on behalf of some tribes.
Rather than merely going to court, Galanda says, tribes should enter into a dialogue with the federal government about the limits of federal authority.
Moorehead agreed: "You're only as sovereign as you can work out with the federal government."
In the end, whether payday lending continues to be a viable Native American business depends on how much federal authorities turn up the heat — and how strong a legal defense the tribes are able to mount.