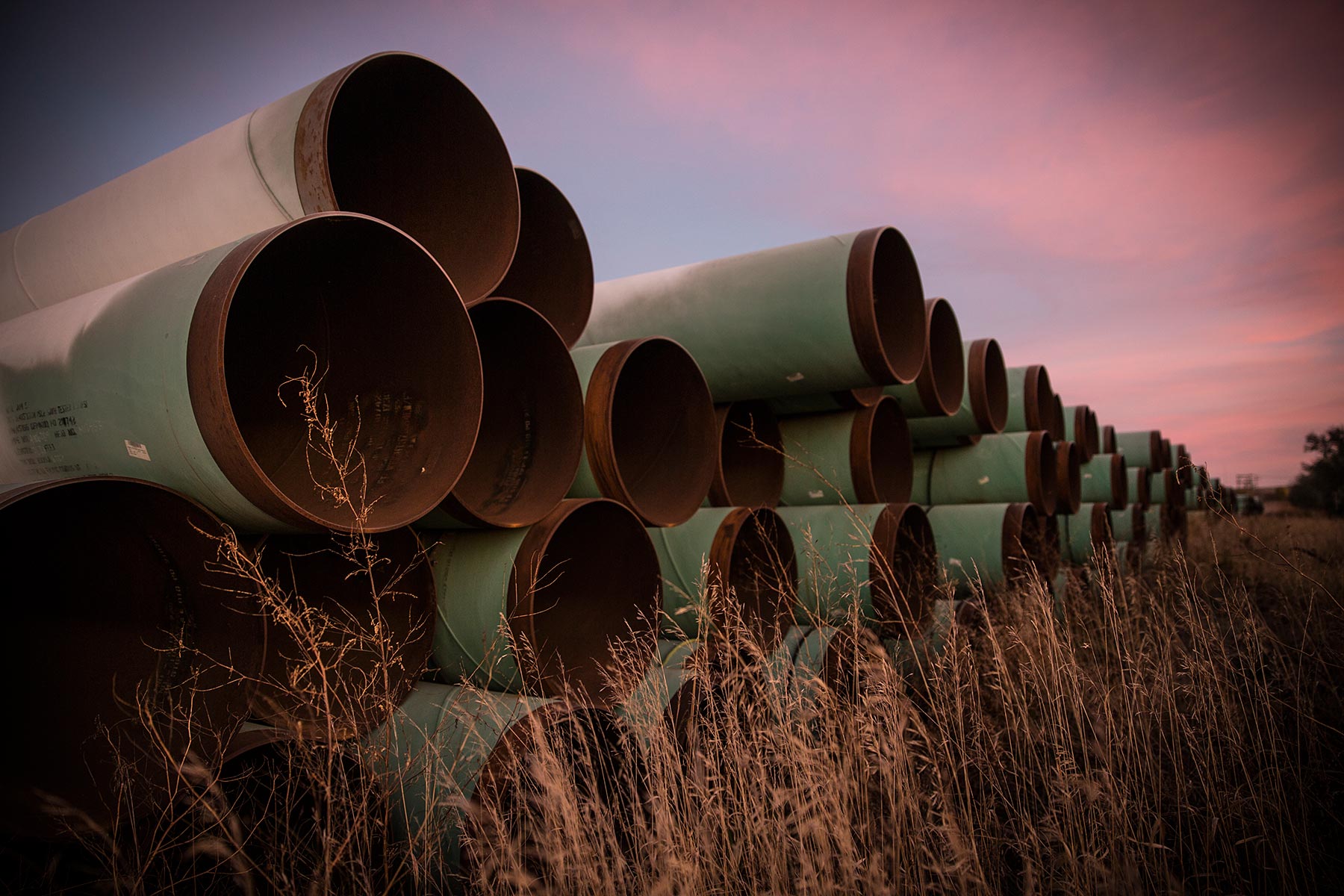 Waiting for Keystone
Part 3: In southeastern Montana, the pipeline can't get here fast enough
Part
3:
In
southeastern
Montana,
the
pipeline
can't
get
here
fast
enough
By Peter Moskowitz for Al Jazeera America
Photos by Andrew Burton / Getty Images for Al Jazeera America
Miles of unused pipe, prepared for the proposed Keystone XL pipeline, sit in a lot outside Gascoyne, North Dakota, October 14, 2014.
Published on Saturday, November 1, 2014
BAKER, Mont. — As many people here see it, the keys to unlocking Montana's full economic potential are just 40 miles beyond the state's eastern border, out of the reach of even Montana's most powerful politicians.
There, in a dirt field in Gascoyne, North Dakota, sit hundreds of segments of 36-inch-wide pipe, each painted pale green to prevent rust and stamped with the letters "KXL.''
For many Montanans, the pipes represent a slap in the face from the federal government, which for six years has labored over whether to allow Canadian pipeline giant TransCanada to build the Keystone XL. The pipeline would bring up to 850,000 barrels of oil from Alberta's tar sands through Montana, South Dakota and Nebraska, to an existing pipeline system stretching from Kansas to oil refineries on the Gulf Coast.
The Keystone has run into opposition from dozens of environmental groups across the U.S., with activists arguing that the pipeline is an environmental catastrophe waiting to happen. Those concerns have shaken up politics in South Dakota and Nebraska. But in Montana, a state keenly aware of the benefits of a booming energy industry, the fight over the pipeline is virtually nonexistent. A few local environmental groups have protested it, but in political races, at school board meetings and in local bars, the debate seems to be settled.
Even environmental groups in the state acknowledge that theirs is a lost cause.
"If you're opposed to the Keystone in Montana, you're painted as a radical," says Kyla Maki, the clean energy program director of the Montana Environmental Information Center. "The final decision on the pipeline isn't going to be made in Montana."
Baker, a city a few miles from the North Dakota border, home to a little less than 2,000 residents, makes clear why: It's bustling thanks to the ancillary effects of the oil industry, mainly drilling in eastern Montana and western North Dakota. Hotels are full, real estate prices are high, and the population is slowly growing. Two interstate pipelines already pass through the town. For many here, the idea that another pipeline would cause controversy is confounding.
"The Keystone didn't bring a new idea here," said Dan Murphy, 59, a semi-retired rancher who sat at a near-empty bar in Baker's one-street downtown at 10 a.m. on a recent Tuesday. "Another pipeline, what the heck?"
It's hard to overstate how much of a non-issue the Keystone has been in Montana.
The front-runner for the state's U.S. Senate seat being vacated by Democratic Sen. Max Baucus is U.S. Rep. Steve Daines, a Republican who has pushed hard for the Keystone. In June, he voted in favor of a bill that would have required cross-border pipeline projects to be approved or denied by the federal government within 120 days and would have removed the power of the president to issue cross-border permits for pipelines. The bill was blocked in the Senate.
Daines, who leads his Democratic opponent by double digits in most polls, has also used the Keystone as one of his main economic talking points. At a recent debate against Amanda Curtis, a state representative from Butte, Daines took a question about supporting economic growth as an opportunity to push for the approval of the Keystone:
"We need to keep fighting for the middle class.... We need to approve the Keystone pipeline and move forward on building that…. That is how you help the middle class.... We do that by creating jobs and by keeping energy prices low."
But unlike in South Dakota and Nebraska, the Democratic challenger in Montana's Senate race also supports the construction of the pipeline. Curtis, a little-known state legislator who was chosen to replace John Walsh after he dropped out amid plagiarism allegations, has said she just wants guarantees that the oil flowing through the pipeline would be refined in the U.S. and not sold for export. Selling oil to export markets from the U.S. is currently illegal.
It's not entirely evident why Montana, which nearly voted for Barack Obama in 2008, has seen more support of the Keystone than other, more conservative states. But some think it has to do with the state's already robust energy industry.
"When folks started taking TransCanada on, people thought Montana would be the loudest opposition," says Jane Kleeb, the director of Bold Nebraska and one of the most prominent anti-Keystone activists. "But they're used to oil development at this point, so that might have muted opposition a little."
That's clear driving through Montana. Energy infrastructure can be seen even through the most desolate sections of the state. Mile-long freight trains carrying tons of coal from Montana's Powder River Basin crawl from east to west. Oil rigs in the hills of eastern Montana tap into the same Bakken formation that made North Dakota an American energy success story.
"Our economy, really since the existence of our state, has been based on natural resource development," says Glenn Oppel, the government relations director for the Montana Chamber of Commerce. "Why would we say no to hundreds more jobs and millions in tax revenue?"
The state may also be suffering from a bit of energy jealousy. In just a few years, the Bakken oil formation has transformed North Dakota into the fastest-growing economy in the U.S., and brought its unemployment rate down to 2.8 percent, the lowest in the nation.
Meanwhile, Montana's oil industry is flailing, with production falling from 36 million barrels in 2005 to a low of 26.5 million in 2012, according to the Energy Information Administration. Production rebounded slightly in 2013, but it's unclear just how much oil in the Bakken and other formations is accessible from Montana.
Montana's proximity to North Dakota has put many towns and cities in the odd position of being affected by energy development without reaping the benefits of an increased tax base. Towns along roads that lead to North Dakota serve as pit stops for oilfield workers. Their hotels are full; construction is constant. But without the tax revenue, many roads are crumbling from the increased traffic.
In Baker, housing prices have skyrocketed as oil workers increasingly seek housing outside of North Dakota's tight market.
"A four-bedroom costs $4,500 a month now," says Julie Parent, a resident of Baker. "It's making it to where if you don't have someone in your family in the oil industry, you can't afford to live here."
And it's true as far away as cities like Glasgow, Montana, which is about 150 miles from the center of North Dakota's boom but still houses many of its workers and is seeing more trucks pass through its downtown every day.
"Right now we're basically struggling with having the impacts from being so close to the Bakken without any of the revenue," says Betty Stone, the owner of the Cottonwood Inn in Glasgow and the head of Two Rivers Economic Growth. "It's taxing our infrastructure."
But unlike the Bakken development, which is mainly enriching North Dakota, the Keystone could bring more of the same kind of growth to places like Glasgow and Baker while also increasing tax revenue, an appealing idea for many in the state.
Estimates vary as to how many jobs Keystone could create. The U.S. State Department, which would have to issue the cross-border permit for the pipeline, estimates that only 50 or fewer people will be required to maintain it. But during the construction, the pipeline could bring thousands of temporary but high-paying jobs to towns like Glasgow.
The pipeline would also boost tax revenue through each county it passes. In Valley County, where Glasgow is located, the pipeline's first year of operation is expected to generate $7.35 million in taxes, nearly half the county's current property tax revenue. In Fallon County, where Baker is located, the pipeline will bring $4.5 million to the county's coffers, or 64 percent of its current property tax revenue, according to the State Department. Baker could also get some energy infrastructure of its own. TransCanada has agreed to build an "on-ramp" in Baker, to feed up to 100,000 barrels of oil from the Bakken into the pipeline.
That potential windfall has made the pipeline so attractive across the state that many towns started planning for its arrival, thinking those pipes sitting in North Dakota would be in the ground by now.
In Glasgow, Betty Stone added dozens of rooms to her hotel in anticipation of the pipeline workers. She says business is fine anyway, thanks to the trains that pass through Glasgow as well as construction on a major dam project.
Down the street, Glasgow schools superintendent Bob Connors also lamented the pipeline's delays. Glasgow's old elementary school is dilapidated and small, and Connors hoped the Keystone would help pay for a new one. The new school's construction began anyway, but now taxpayers are bearing the expense.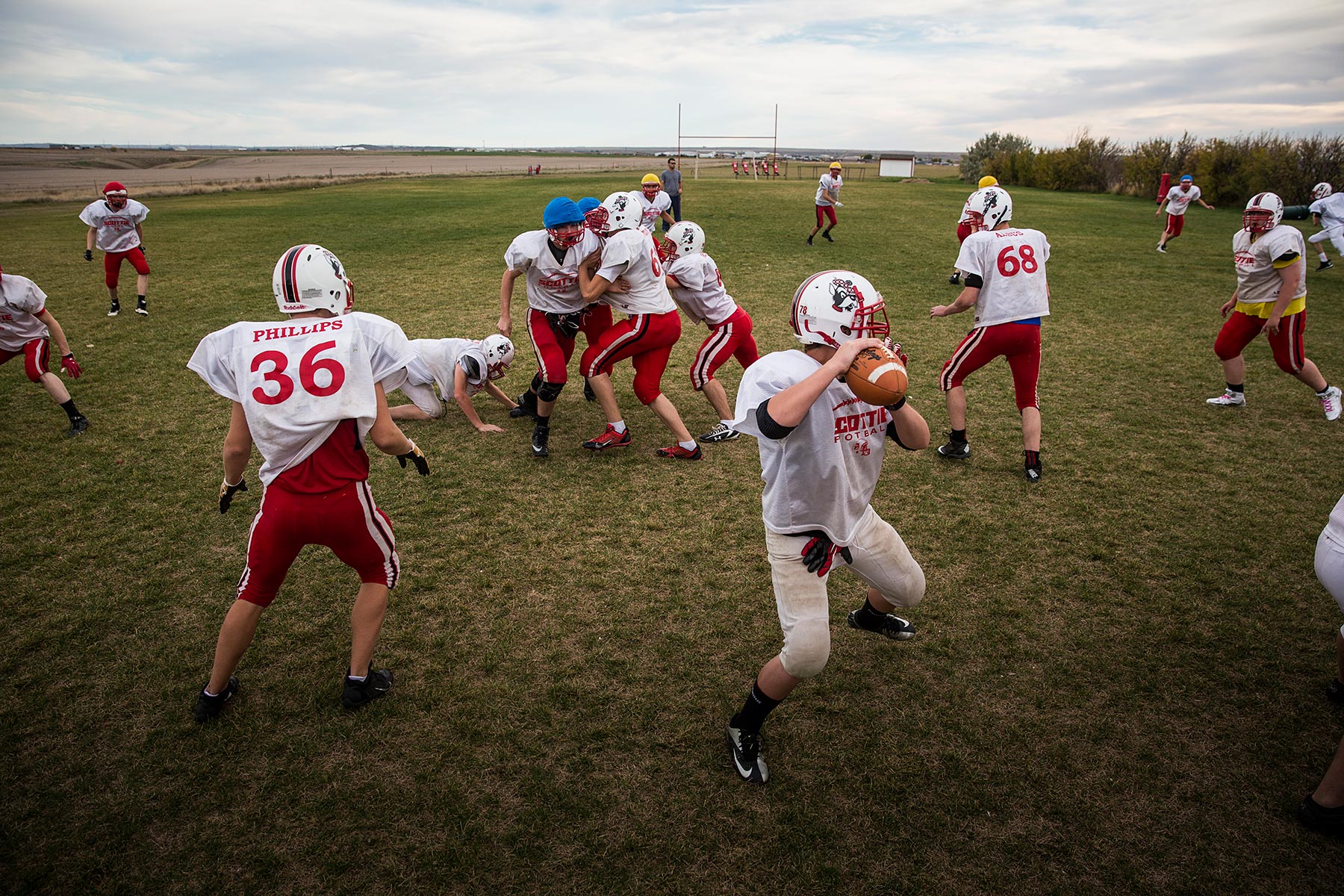 Perhaps equally important for Glasgow was a new Astroturf field for the high school's football team. Football is a way of life in these parts of Montana. Nearly every store has a Glasgow Scotties flag in the window. And the grass on the team's current field is often hard or dead, thanks to upper Montana's frigid winter temperatures.
"We have a 150-degree temperature variation here, so we need a type of facility that can handle that weather," Connors says.
But without the Keystone, Connors had to ditch the field improvements and several other upgrade projects for now. Still, Connors says he's hopeful the Keystone will be built eventually and his schools will get the upgrades they need.
"There were a lot of things planned," he says. "We planned for the worst and hoped for the best.
Editor's note: An earlier version of this story incorrectly identified the location of Gascoyne. It is in North Dakota, not Montana.