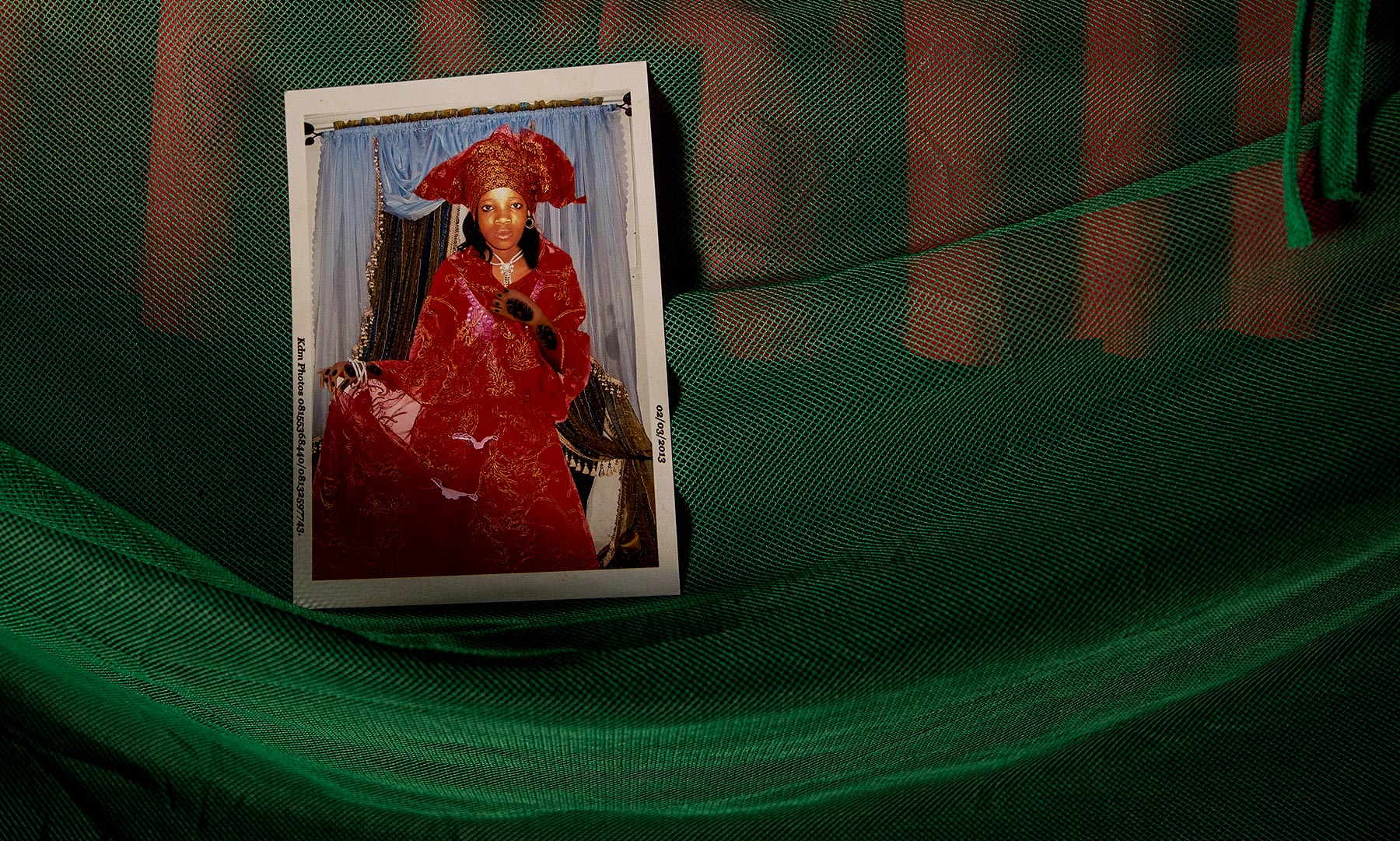 From marriage to murder
When she was barely a teen, Wasila Tasiu became a wife. Seventeen days later, she was an accused killer.
When
she
was
barely
a
teen,
Wasila
Tasiu
became
a
wife.
Seventeen
days
later,
she
was
an
accused
killer.
Series
Child Marriage
This is the first story in an occasional series on child marriage.
Like many girls her age here, Wasila Tasiu married young, at a simple ceremony in front of the mud-brick house she shared with her mother, her father and her father's second wife. Wedding guests said it was a joyous occasion: There was a love-struck bride, a happy father and a proud groom named Umaru Sani, who had come from a nearby village to Tasiu's home in Kaura, a village in Nigeria's northern Kano state.
Tasiu was 14, according to her father, although her age is a matter of dispute. She was to be the 40-year-old Sani's second wife.
The marriage lasted 17 days. At the end of it, Sani was dead, and so were three of his friends, who had joined him for a lunch spiked with rat poison.
In the hours after her husband was buried, Tasiu confessed to poisoning his meal. The crime seems senseless to the people in her village. The couple was in love; how could it go so wrong, so fast?
But Tasiu's lawyer tells a different story: Given away as a bride before she was even a woman, Tasiu saw her actions as the only way of escape from a loveless marriage.
"Obviously, the marriage caused it," said her attorney, Hussaina Aliyu. "Because she was scared of the marriage. She didn't know what the marriage was all about."
While a murder like this is rarely heard of, weddings like Tasiu's are hardly uncommon in Nigeria. The country has the third-highest number of child brides globally, according to the nonprofit coalition Girls Not Brides, and 39 percent of girls are married off before they turn 18. Additionally, 16 percent of girls are married off before they turn 15, according to the group. Data from Nigeria's Demographic and Health Survey published this year shows that more than 27 percent of men in Kano state have more than one wife.
Under state law, Tasiu was old enough to marry; there's no minimum age for marriage in Kano state. But she's too young to die. Tasiu is charged with four counts of murder, which carry the death penalty, but the law says she can't be executed or sentenced to a long prison term if convicted because she's a juvenile, even though her age remains unclear.
Tasiu's trial began last week after months of hearings, but it may not last long. The attorney general in Kano state, Maliki Kuliyu Umar, told Al Jazeera America that he doesn't think it's worth it to prosecute Tasiu. Not only are the court's hands tied because she's a juvenile, said Umar, Tasiu doesn't even understand what she's accused of doing. He said he wants to drop charges, but when he will do that is unclear.
To the people in her village, Tasiu's marriage wasn't just proper; it was expected. Elsewhere in Nigeria, her short-lived matrimony is being seized on as an example of how tradition, when unchecked by government or education, can tear lives apart.
Rates of child marriage by region
Percentage of women aged 20 to 24 years who were married or in union before ages 15 and 18
NOTE: CEE/CIS stands for Central and Eastern Europe and the Commonwealth of Independent States.
Source: UNICEF, Child marriage statistics.
The nearest paved road to Kaura ends in the town of Kademi. Western education stops there too. Kademi's government school consists of a series of squat buildings surrounded by fields of sorghum. Students trek there past miles of stalks, their only company the occasional farmer.
This journey was not a regular part of Tasiu's life. Instead, she stayed in Kaura, studying the Quran and doing household chores, like fetching water and grass for her father's goats and sheep.
When he explained why he agreed to marry off his daughter last April, Mohammad Tasiu talked in part of the vast expanse of sorghum around his village. A woman walking through the lonely fields between villages is vulnerable to whoever could be out there; sexual violence is not unheard of in rural Kano state. But a married woman is less of a target.
"There is no western education, no school, nothing to do," Tasiu said. "Instead of them going and being impregnated on the road, it's safer" to marry young, he said.
As a young man, Mohammad Tasiu had taken four wives, as the Quran, in his reading, permits. He married his first wife when he was 17 and his second when he was 27. The brides were between 14 and 15 when he married them, he said. With them, he fathered 18 children, though only six, one boy and five girls, are still alive.
Wasila came last. In one of Mohammad Tasiu's few pictures of his daughter, she stands next to a friend, staring straight ahead. They both wear matching red-and-white dresses and head wraps. The friend has her arm draped over Wasila's shoulder.
Birth certificates and other documentation are rare in these villages, and so ages are unreliable. Although Tasiu's family says she is 14, her attorney, Aliyu, said she was 11 when she was married and recently turned 12.
Tasiu raised his daughter in his compound, which was also home to his two wives, along with goats and sheep and thatch storage containers for the peanuts, millet and sorghum that he farmed.
Mohammad Tasiu isn't quite sure how Sani met his daughter, but says the man quickly fell for her. Sani's father, Sani Garba, remembers Wasila Tasiu coming to meet his son at the store where he sold farming goods in the nearby village of Yansoro. Sometimes, she'd come bearing small gifts. Sani already had a wife, but Garba remembers his son confiding in him that he'd found a new love.
"Umaru … told me he loved Wasila," Garba said.
Tasiu and Sani's courtship progressed over 12 months. At one point, Wasila dumped another man she'd been seeing in favor of Sani, Mohammad Tasiu said. The marriage happened after a year, under a shade tree outside of the family house in Kaura.
Their wedding was like any other in rural Kano state. According to local custom, the groom gives the bride a dowry; in this case, Sani gave Tasiu about $60. Her father said Tasiu didn't know what she wanted to do with the money, a princely sum in a poor village. He never found out: She was off to her new life with Sani in Yansoro the following day.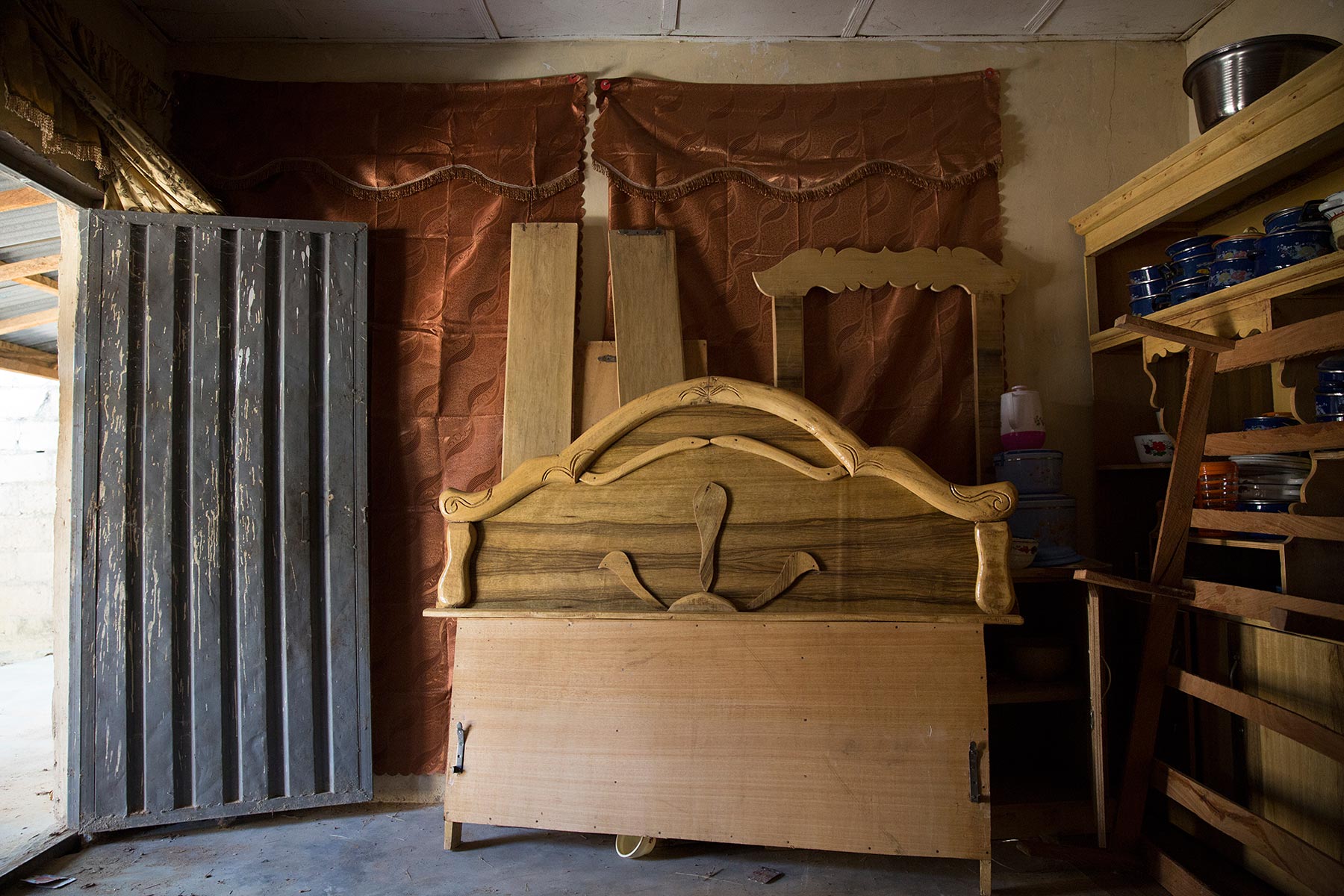 "They were all happy, particularly the girl," remembers Muhammad Salisu, a farmer who lives down the road from the Tasiu household and attended the wedding. "She was more happy than even everybody."
Yansoro's mud-brick buildings and thatch-enclosed compounds are both denser and more numerous than Kaura's. The space between buildings sometimes narrows to the point that the infrequent car or cow-drawn cart struggles to get through.
Tasiu moved into a room furnished with wooden cabinets and strips of cheap plastic flooring in a compound Sani shared with his first wife, Ramatu Alhaji-Murtala. He'd married her several years earlier, according to a village elder, Musa Amadu.
As is typical when new wives are brought into a village, Tasiu stayed for the next few weeks in Sani's compound, said Amadu. The elder never met her. Tasiu's father also didn't hear from his daughter over those weeks.
A picture found in Tasiu's old room shows her posed in front of the cabinets, her eyes gazing out from the purple khimar covering her head and body.
According to Sani's father and older brother Musa Sani, what they refer to as the "incident" happened 17 days after the wedding. It started with a plate of danwake, a dish of dumplings made with bean flour and ground baobab leaves.
Co-wives in northern Nigeria take turns cooking for their husband. On the day of the incident, Sani's father and brother said, Alhaji-Murtala cooked the food, while Tasiu served it to their husband. Sani headed outside of the compound to share his meal with Hasan Yushau, a servant who worked in his shop. That was when Tasiu stepped in, Amadu said.
"When he was going out with the food, she said, 'This is for you only,' " Amadu said. "Wasila even dragged him [back into the house] and he refused."
Sani's meal with one turned into a meal with three. He sat down to eat with Yushau and was soon joined by a beggar Amadu knew only as Nasiru.
Sani shared some of the dumplings with the beggar, who in turn shared with his friend Aisha Ibrahim. Shortly after they ate, they all began to die.
Musa Sani was in the village that day, but didn't join his brother for lunch. Minutes after eating the meal, his brother said he was feeling sick and headed toward a well carrying a jerry can. He collapsed as he was walking back from his house.
Villagers carried Umaru Sani to the house and gathered around him, lamenting his sudden illness. Sani couldn't answer; foam was dripping from his mouth.
There was little hope of getting medical attention, not in a village where the fastest transport was by motorbike and the nearest hospital dozens of miles away. Sani died in his bed.
The other three died, too. One made it to the hospital in Gaya, center of the administrative district that encompasses the village. The others died in Yansoro.
Suspicion fell on Tasiu almost immediately, said Musa Sani. As Umaru lay dying, Tasiu demanded that someone bring peanut oil.
"Why?" people asked her. It struck the villagers as an awfully specific request.
The police arrived shortly after the deaths and arrested Tasiu and Alhaji-Murtala, taking them both to Gaya.
They spent a long night together, first at a hospital, then in the police station. The following morning, Sani's father said, Tasiu confessed in front of the police, Sani's family and her own family. "I used the rat killer," was how she put it, Garba recalled.
Confession in hand, the police let Alhaji-Murtala go, but kept Tasiu in custody. Hours later, they loaded her into a car and took her away from her family, past the sorghum and into the urban sprawl of the state capital, Kano.
Few people in Kaura and Yansoro can explain how Tasiu went from bride to alleged killer in 17 days.
Mohammad Tasiu insisted that his daughter was happily married. The Sani family saw no warning signs that something like this was brewing in Umaru's compound.
"She's the one that says she loved Umaru. Her father made all the efforts to get her to choose the right one," Musa Sani said. "His death really affected the village. Many villagers loved him."
But the first wife, Alhaji-Murtala, has an idea of what happened. After her husband died, she retreated down a dirt road that goes southeast of Yansoro and ends at her family's house in the village of Yan Ashan.
A widow in her 20s, she had one lone photo of herself posed with her deceased husband. It shows her staring straight ahead and him in a kaftan and cap, his head tilted up proudly.
She remembered her husband walking in from the street after finishing his fatal meal. Was there something different inside this danwake? he wanted to know.
No, there wasn't. If it tasted funny, forgive me, Alhaji-Murtala replied.
Alhaji-Murtala's version of events after the deaths differs considerably from both the Tasiu and Sani family members' recollections. She remembers facing police officers with Tasiu at the hospital where they brought the bodies and being told a postmortem on Sani's body showed he was poisoned.
Do you know what killed your husband? the police asked Alhaji-Murtala. She said she didn't know.
They asked the same of Tasiu. She, too, said she didn't know. And then in the next breath, Alhaji-Murtala said, Tasiu bowed her head and spoke.
"She said the father gave her up to the man, and she doesn't love the man," Alhaji-Murtala recalled. Tasiu said her father beat her when she protested her imminent marriage to Sani.
"Her father forced her into marrying the man she doesn't love," Alhaji-Murtala recalled her saying. "That's why she had to use the poison in his food — to kill him."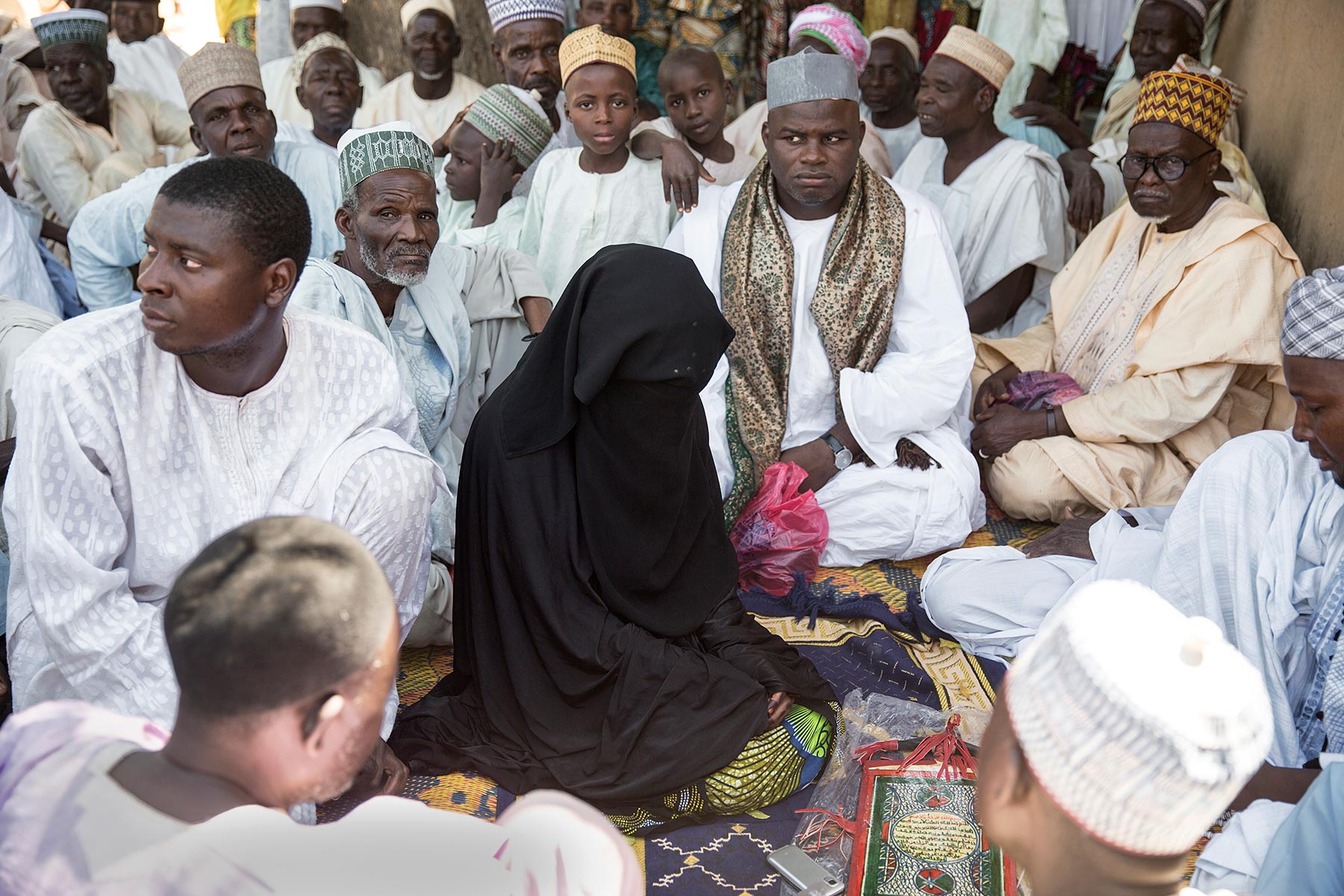 A combination of tradition, poverty and religion perpetuates child marriage in northern Nigeria, said Amina Hanga, executive secretary at the Isa Wali Empowerment Initiative, a Kano-based organization that focuses on women's rights and is monitoring Tasiu's case.
Nigeria's north lacks the wealth of its oil-producing south, and the long history of intercommunal clashes and the more recent violence by the armed group Boko Haram has scared many businesses away from the region.
About 71 percent of people in Kano state are poor, according to the National Bureau of Statistics. In neighboring Jigawa state, it's around 87 percent. Poverty levels in many of the southern states hover around 50 percent, according to the bureau.
Hanga sees the family's decision to marry off Tasiu at a young age — one taken by families in villages across the state — as a consequence of Kano's own underdevelopment. To get to primary school, Tasiu would have had to walk for miles, alone and at risk.
Pregnancy outside of a marriage shames a family, Hanga said. And when a daughter moves in with a husband, it means one less mouth for her parents to feed. "Better to marry her off early and be in her husband's house, which is safer," Hanga said.
While Kaura and other villages sustain the practice of child marriage, the tide of public opinion is increasingly turning against child marriage in cities like Kano, where there is more access to education and opportunity. United Nations Population Fund statistics from 2008 show that women between the ages of 20 and 24 living in rural areas in Nigeria are more than twice as likely to get married before turning 18 as women living in cities.
UNICEF data shows that child brides are becoming less prevalent overall. But that same data predicts that Nigeria's swelling population will mean that the number of child spouses will actually increase in the coming decades.
"I wouldn't marry my daughter at that age," said Umar, the attorney general of Kano state. "But the custom and religion of the place doesn't prescribe any age limit."
Neither does the state government. Though Nigeria's federal government in 2003 passed a law called the Child Rights Act that, among other things, makes 18 the minimum age for marriage, Kano state has not adopted that provision of the act.
Rather, Hanga said, it has adopted other provisions, including one related to child labor. Hanga has lobbied for the state to adopt a similar minimum age for marriage, but has been rebuffed.
"This is where now they bring up the issue of religion. Religion doesn't set an age to marry. They just say puberty," Hanga said.
When Tasiu's case began making news in Nigeria in July, newspapers and blogs portrayed her as being on the verge of a death sentence. But the state's Children and Young Persons Act prohibits her from receiving a death sentence, even though the four counts of murder Tasiu is charged with are capital offenses.
"I don't believe she's a criminal. But she has committed an offense, or allegedly committed an offense, and we will make sure that she's protected properly within the bounds of the law," Umar said.
At one of her early court hearings, Tasiu could only sob when a judge asked her how she would plead. The court entered a plea not guilty for her.
"Up to today she has not even apprehended what she did," Aliyu said. "She keeps asking, 'When can I go back home?' She does not even understand the gravity of what she did."
Aliyu also filed a suit against the state and federal governments for their failure to provide schools in Tasiu's village, the absence of which the lawyer says virtually ensured early marriage. "If they had a school, they wouldn't have married her off."
Aliyu said her client was an unwitting murderer. Tasiu never intended to kill her husband, Aliyu said, and was unaware that rat poison was strong enough to kill a man.
She also claimed that when Tasiu refused Sani sex, he tied her up. But according to people who lived in Tasiu's community, the young bride's decision to kill involved both planning and persistence.
Rat poison is not easily bought in Kademi, the nearest town, or in Kaura or Yansoro. Amadu said Sani sent her co-wife's younger sister to fetch it from someone who had it. At last week's hearing, the sister and a shopkeeper who sold poison gave testimony for the prosecution that matched Amadu's account.
Once she acquired the poison, Alhaji-Murtala said, Tasiu tried to kill Sani twice. The first time, Sani turned away a lunch that was likely spiked with poison, claiming it didn't taste fresh, Alhaji-Murtala said.
Sani was dead the next day.
Both Kano state attorney general Umar and Binta Rabi'u, the permanent secretary for the state Ministry of Women's Affairs and Social Development, denied Al Jazeera America requests to interview Tasiu.
Days after the trial started, Umar told Al Jazeera America that he planned to drop the charges against Tasiu, but first needed to discuss it with the state governor — who is running for the leading opposition party's nomination in next year's presidential election — along with Sani's family.
"Honestly, the young girl doesn't seem to appreciate what she is going through because of her age," Umar said. "Even if the court finds her guilty, they can't sentence her. We'll find a way out."
In a village not unlike Tasiu's, miles away from Kano, Maimuma Musa sat on the floor of a cinder-block hut as her family argued. Was she 17 or 18? Her relatives debated. Neither age matched her features, which were far younger.
Either way, she was old enough to be a bride. The henna on her arms, the carefully drawn eyebrows and the black lipstick on the edges of her mouth signified that this was her wedding day. Many of her neighbors were gathered outside her hut in the village of Adare to celebrate the news.
"It is through marriage that a person can get comfort through life," said Jibrim Muhammed, an uncle of Musa, who stood proudly in the family's yard as villagers crowded around. He believes his niece is 16.
Musa said she will be the second wife of a farmer from the next village over, whom she met while walking to the Islamic school she used to attend.
But her schooling is in the past. Marriage is now. And all that was certain that Saturday afternoon was that she'd be in her husband's house by nightfall.
Editor's note: This version of the story corrects the spelling of Maliki Kuliyu Umar's name.