Cambodia's child grooms
In the country's highlands, economics, cell phones and young love are fueling an increase in early marriage
In
the
country's
highlands,
economics,
cell
phones
and
young
love
are
fueling
an
increase
in
early
marriage
Series
Child Marriage
This is the fourth in an occasional series on child marriage.
Khlan, a 16-year-old high-school student in northeastern Cambodia, was visiting relatives in a nearby village last year when he first laid eyes on Loch, his 15-year-old future bride. Smitten, he asked around for Loch's phone number. (At the request of Plan International, a nonprofit group that works in this part of Cambodia and assisted with the story, the surnames of young people have been withheld). The couple began speaking frequently, and after a month, Khlan asked how she would feel if his parents arranged their marriage. She gave him permission. Things moved quickly, as they tend to do when it comes to marriage within the Jarai tribe, of which Khlan is a member, and other ethnic minority groups in the highlands that straddle Cambodia, Laos and Vietnam.
Instead of waiting until the legal marriage age of 18, the two wed within weeks. Khlan dropped out of school and moved in with his wife's family to help work the burnt-red soil of their 17-acre rice, cashew-nut and cassava farm. Per Jarai custom, newly married couples spend their first four years together living with the wife's family before rotating to the husband's.
Soft-spoken and pimple-faced, Khlan sports ripped jeans and a purple streak through his mop of blondish hair. (The village has no running water or electricity, but it's not immune to outside fashion trends). He says his marriage was driven by love, not by his in-laws' need for farm labor, as many Jarai unions are. But as he sat beside Loch in her family's wooden house, the afternoon sunlight peeking through the slats in the walls, the stresses of being a young husband are apparent.
"I feel not really ready," he says. "I miss my parents. I'm afraid that I cannot work and support the family."
Cambodia's overall rate of child marriage — commonly defined as the percentage of women between 20 and 24 who married before the age of 18 — dropped from 24 percent in 2000 to 18 percent in 2010, according to government data. But in Jarai country, child marriages appear to be on the rise, say local officials and aid workers, for reasons including economics, culture, raging hormones and even mobile-phone technology.
And unlike in South Asia, Africa and the Middle East, where young girls typically marry much older men, it's common for Jarai husbands to be as young as 14 — children themselves. Their lack of familiarity with relationships — much less the responsibilities that come with being a husband, father or breadwinner — can be overwhelming. Local elders say that in marriages like Khlan and Loch's, the honeymoon period often ends quickly, descending into acrimony, alcohol abuse and domestic violence.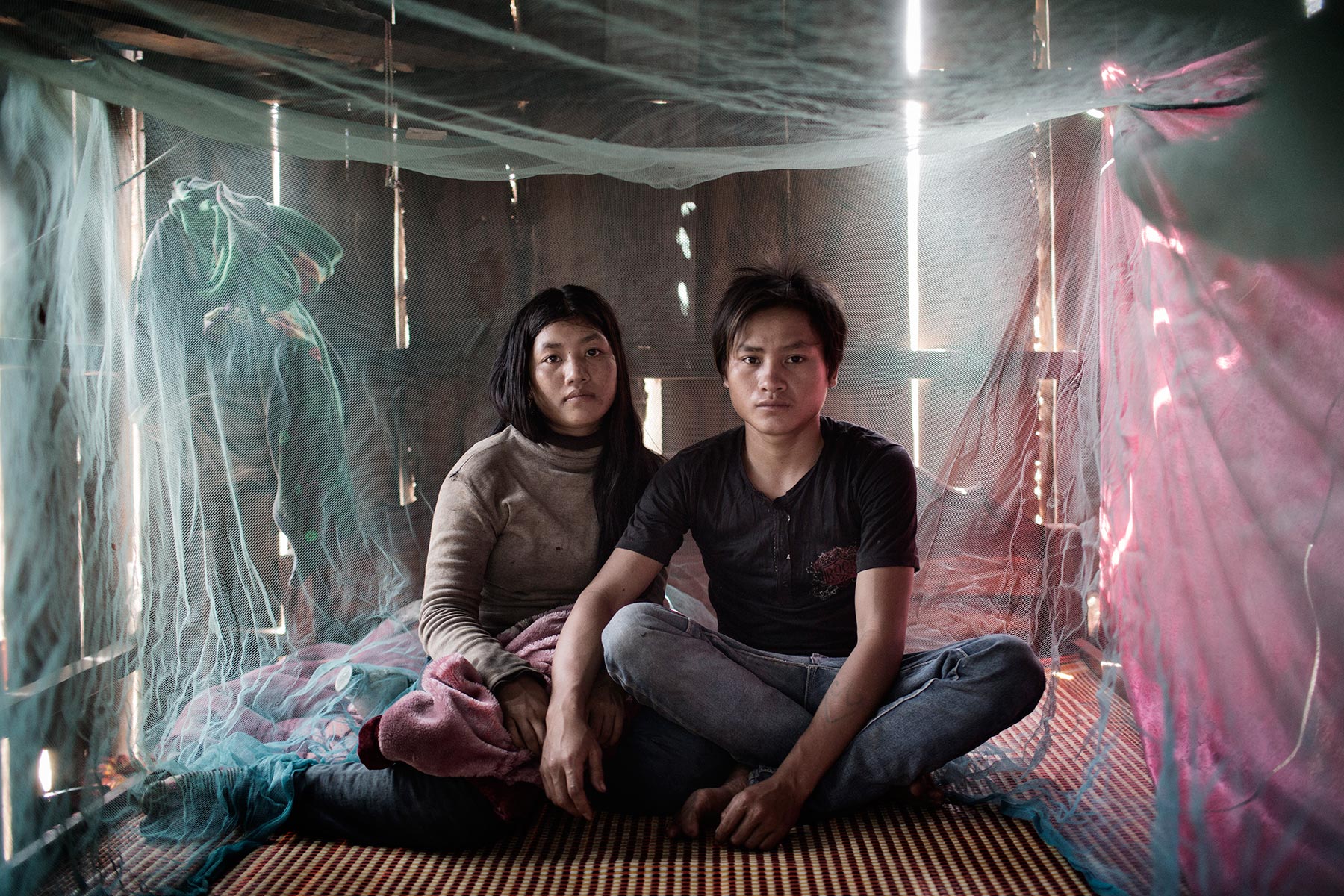 Khien and her soon-to-be-husband, Kleng, live a half-hour's drive up the dirt road that threads through Nhang Commune, home to many of the region's approximately 20,000 Jarai people. On a recent morning, they seem blissfully happy as they flirt in her family's wooden house. But their union is in large part a product of economic circumstances.
Khien is 17. Her father is dead and her four brothers have all married, leaving Khien and her older sister to support their mother. Khien wanted to marry, she says, "because I want [a husband] to be with me to do the farming in the rice field."
Enter Kleng, who encountered Khien while on his way to buy wood last year. Kleng at first says he is 19, then 20 and then says he was born in 1999, which would make him 16. Birth records are rare here, and measuring the rate of child marriage is a decidedly inexact science.
After the two met, Kleng gave Khien a few dollars to replenish the credit on her cell phone. They spoke for two hours each night for a month. Then Kleng asked her to marry him. Villagers have agreed to let them live together until they can raise the money for a proper wedding.
Locals say that mobile phones seem to be driving an increase in child marriages by giving young people more chances to connect. That may be leading toward the kind of "love marriages" more common in Western culture and in the more urban parts of Cambodia.
Data, at least in Ratanakiri province, seems to support that thinking, says Jan Jaap Kleinrensink, the Cambodia director of Plan. "There are more opportunities to find a match," he says. While regional marriage statistics are unavailable, the percentage of girls in Ratanakiri and neighboring Mondulkiri province who bore children before age 19 was 33.8 percent in 2014, according to government data, well above the 21.8 percentage measured in the region in 2005.
Bun Chealay, a member of the commune's women and children's committee, says that some parents are reluctant to reject their child's marriage choice out of fear that the young person will commit suicide. Other villagers shared her concern, although there have been no examples of recent suicides in the province. "I see a lot of young couples here in the commune. Some are arranged marriages and some are love marriages," she says.
Khien and Kleng say they are happy for now, but that living together has brought challenges. "We have to work extra hard to support the family," says Kleng, who wears a Red Hot Chili Peppers T-shirt. The couple wants to wait to have children because of their limited means, but they know little of birth control. In Ratanakiri, where most people are relatively uneducated, rates of infant vaccination and knowledge of contraception are even lower among young husbands and wives, although exact statistics are hard to come by.
Family finances aren't Khien's only concern. She's heard of other young husbands who have become violent. She worries that once she and Kleng move into his family's house, his behavior will change.
"I've been married less than a year and we don't have any bad words between each other," she says. "But in the future I just worry that when I'm not living with my mother and I live with my husband and [he and his friends] drink wine — I worry they can do something bad to me."
Drinking, and its consequences, is a common concern among young men and women here. While most of Cambodia is Buddhist, the Jarai culture remains close to its animist traditions, which include ceremonies involving animal sacrifice and libations.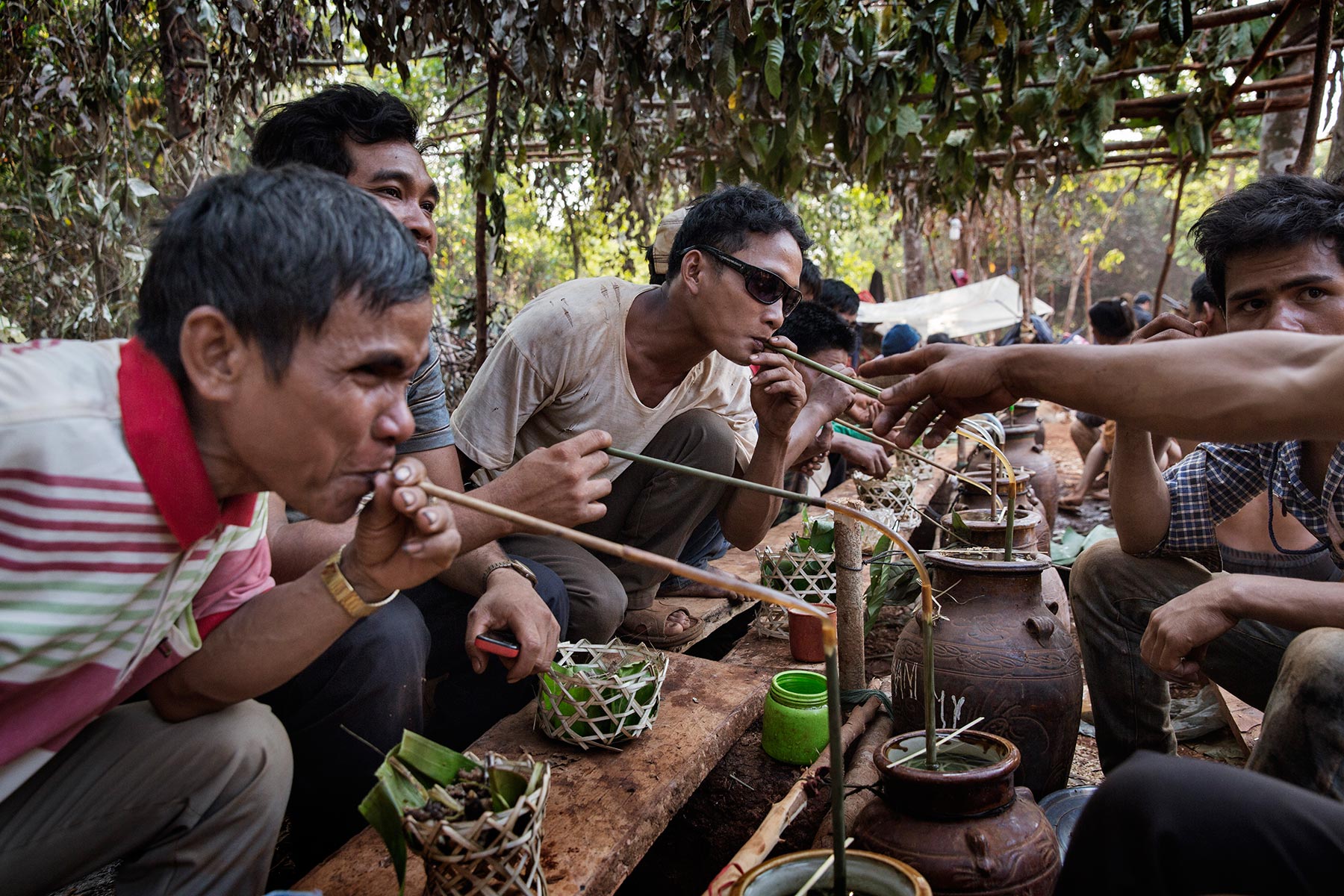 Phyorn is a mother of two whose parents forced her to marry a 33-year-old man five years ago, when she was 11. She says her husband often drinks too much and hits her. "He drinks, and [even] if there is no ceremony, he still drinks. When I tell him about my sadness, he gets angry with me," she says, balancing her toddler on her lap.
Phyorn only completed the second grade; she cannot read or write. "My father said that … we don't see the use of you going to school. In our family we need a labor force," she says, with her older sister acting as a translator. Her situation seems something of an outlier among the Jarai, but not among the broader Cambodian population. Sixty percent of child brides in the country were married to a man more than 15 years their senior, according to 2005 data. Worldwide, an estimated 156 million men were married before the age of 18, according to UNICEF; the total is about 720 million for women.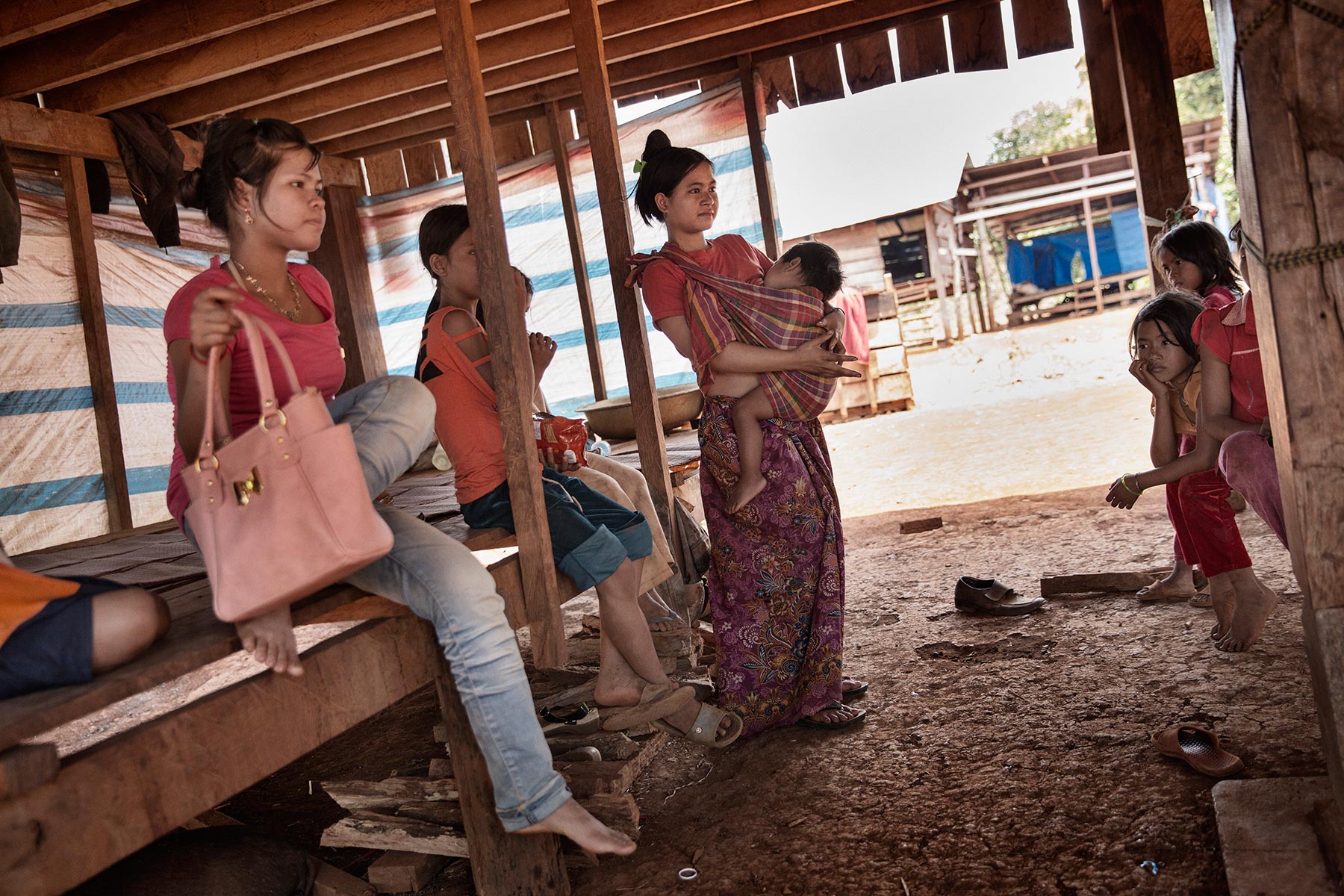 Among the Jarai, the worst cases of domestic violence tend to occur in arranged marriages in which the husband is more than a few years older. Older husbands become very controlling, local residents say, telling their young wives that their ideas are worthless. And they often become jealous when the wife talks with younger men. In 2010, a 20-year-old man, Rachom Yam, killed his 16-year-old bride, Sol Och in a jealous rage. He was put in prison, where he died two years later.
With younger couples, say several local women and leaders, tensions usually take longer to surface. The boys, who tend to be in the throes of young love, are prone to treat their wives better. But low education levels and limited law enforcement add to the problem.
Plus, "when they get married, the boy has to work hard in the rice fields to support the family of the wife," says Sal Hlin, the deputy chief of another Ratanakiri village, Chay Thom, who often mediates divorces initiated by young husbands. They often can't handle pressure from in-laws. "When [the in-laws] see the boy is lazy, they blame him," he says.
Domestic violence is relatively common in Cambodia; some researchers have linked spousal abuse to the lingering psychological scars of the violent Khmer Rouge years in the late 1970s, which tore apart families. Ratanakiri province wasn't spared the ravages of that period and was also heavily hit during the earlier U.S. bombing campaign during the Vietnam War, evidenced by decades-old bomb craters nestled between village huts here.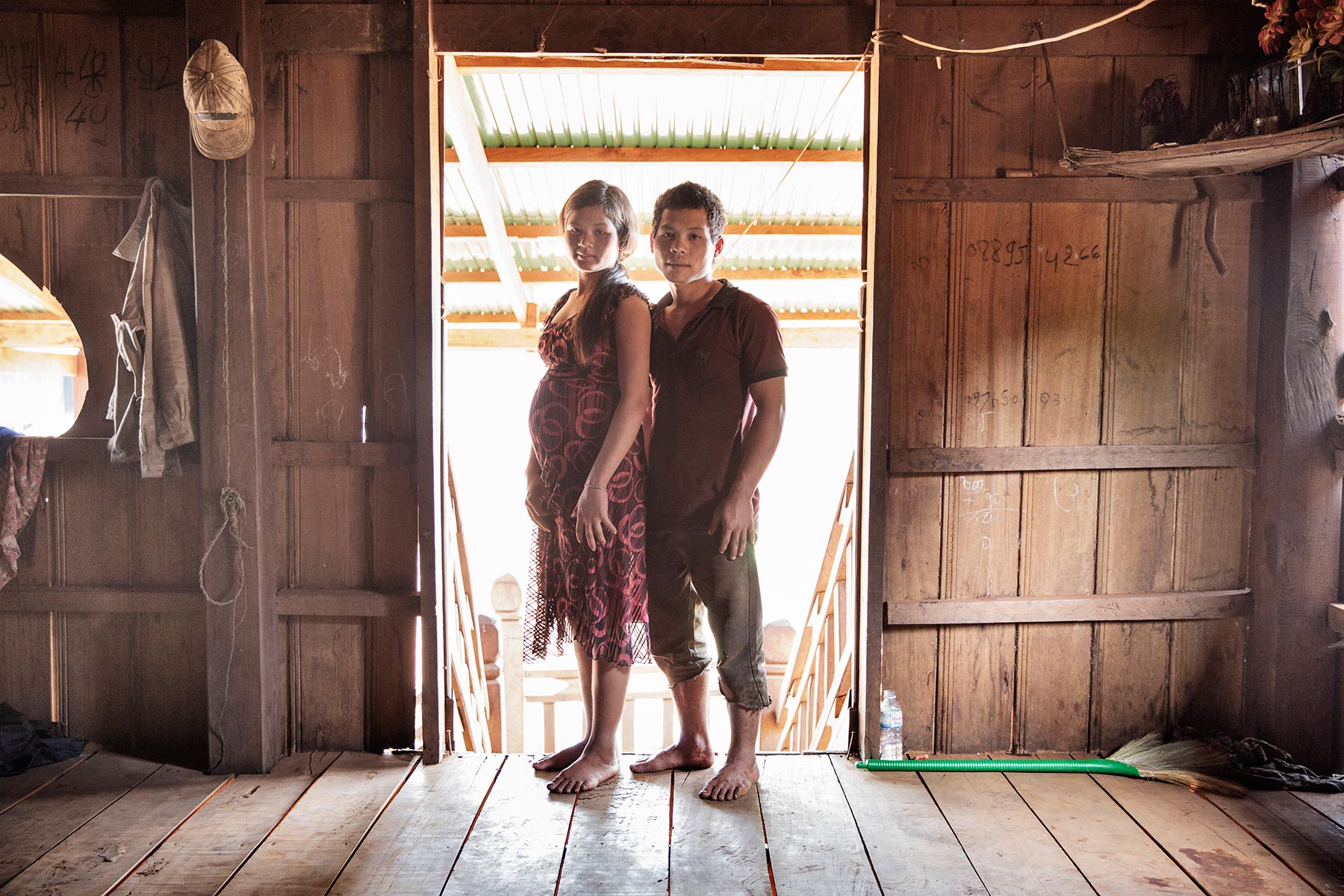 Another Jarai couple, Tan, 23 and Sarom, 19, who wed three years ago, are remarkably candid about their marital troubles. They describe how Tan hit his wife last year after he came home drunk from the fields. "It was my fault as well," says Sarom, because she hadn't prepared food to eat.
Sarom, who only completed the seventh grade, says she wants a different life for her children. "I want my baby to complete grade 12," she says. "And I want my children to get married after 20."
Local officials in Nhang Commune say they want to reduce the rate of child marriage, but there are few easy answers. What's needed is a "holistic approach," says Plan's Kleinrensink. "We need to work on many issues at the same time." The aid group is supporting a new health center in Nhang Commune and trying to get girls and boys to stay in school, which tends to postpone marriage by at least a year. The group is also encouraging parents and local officials to secure birth certificates for newborns. Those records, aid workers say, would make it easier for village elders to persuade teenage couples that they're too young to marry.
That ship seems to have sailed for Khlan, the 16-year-old who left school to marry 15-year-old Loch. These days, he's focused on farming and his new family.
His brothers and sisters warned him to be a good husband, "not to 'go for walks' and drink too much," he says, using a local euphemism describing how teenage boys prowl for girls. And he and Loch, who is reluctant to talk much but says she is happy in her marriage, plan to put off having children for at least a year, he says.
"We are just married and we are young, and we have to work in the rice fields," he says before heading off to the fields on his motorbike. "We will be busy if we have children."