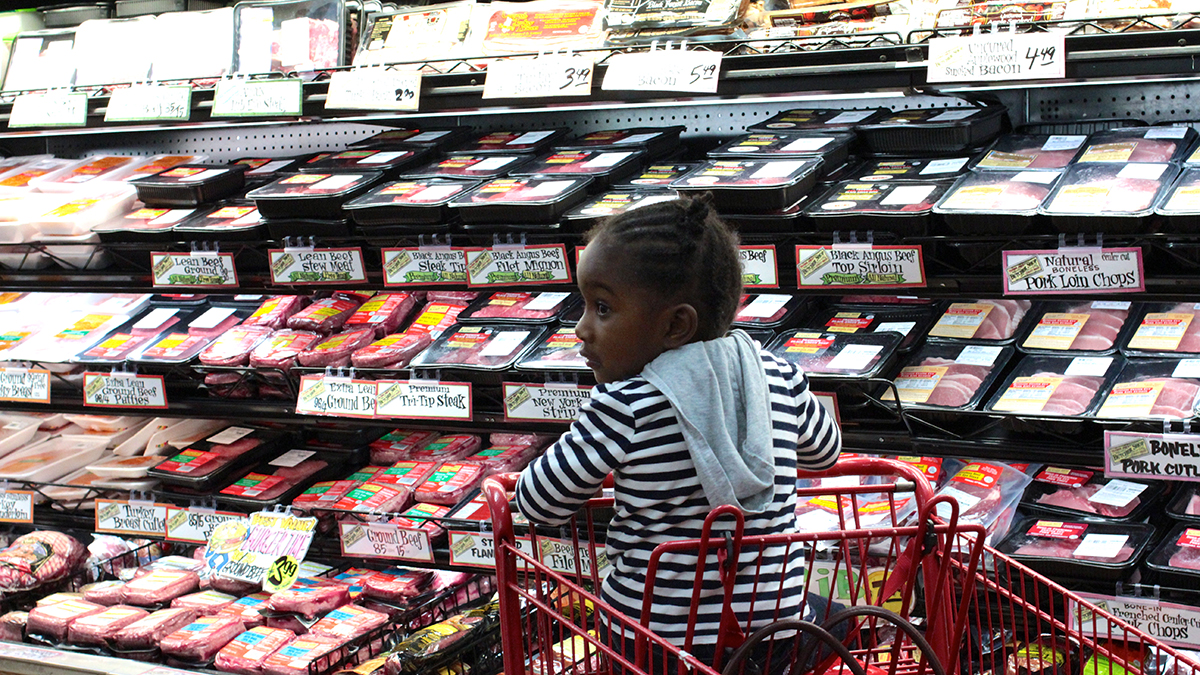 Child care
Finding
safe,
affordable
options
In the early architecture of anti-poverty programs, there was no blueprint for child care. Women were expected to stay home with their kids, and the importance of early education wasn't yet known. As more parents joined the workforce, however, the logistics and cost of child care became a pressing concern.
Child care often costs more than rent: Center-based preschool care ranges from an average of $4,312 a year in Mississippi to $12,355 in New York. State and federal subsidies are designed to defray this expense for low-income families, but in California and across the country, limited funds have shut out many eligible kids.
Theoretically, California households at or below 228 percent of the federal poverty level, or about $45,000 for a parent with two children, can receive a child care subsidy. But the demand from a growing number of low-income families has outstripped supply, leaving tens of thousands reliant on cheap, unlicensed and often substandard care.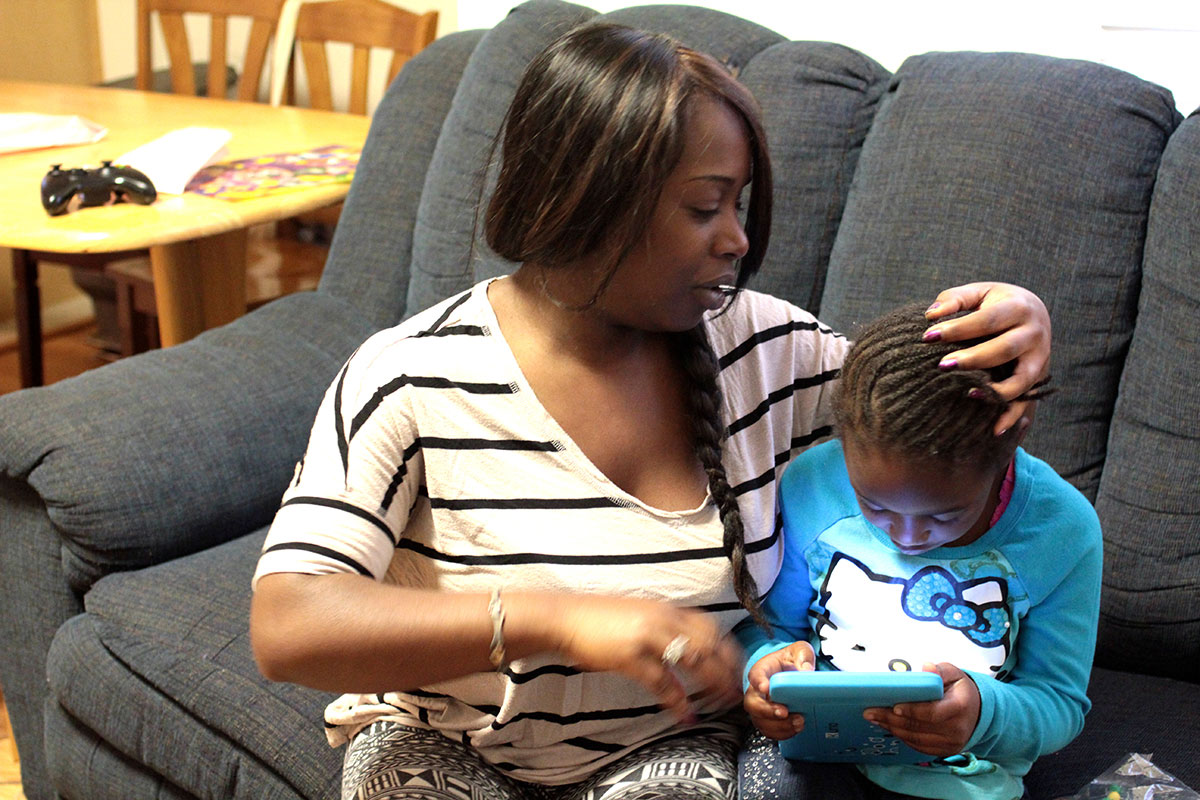 Household: Efuru Lynch, 36, and her children, Journie, 5, and Anna, 3 Location: Oakland, Alameda County
| Budget and standards | Dollar amounts |
| --- | --- |
| Household income | $3,500 per month (with fluctuation) |
| Federal poverty level | $1,649 per month |
| Self-sufficiency standard | $6,386 per month |
| Lynch's child care budget | $1,300 per month |
| Self-sufficiency standard child care budget | $2,161 per month |
Just before 7 a.m. one morning in early April, Efuru Lynch roused herself from a too-short sleep and got her daughters, Journie, 5, and Anna, 3, up and out of their pajamas. Anna pouted and whined. "Ugh, baby sisters!" Journie said. "I love her, but she also cries a lot. It's annoying."
Lynch helped the girls wash up, combed their hair and packed lunch for Journie, a kindergartner. "I don't have a life. Just work, the kids and home," she said. At 36, she maintains a tighter orbit than she'd expected. Four years ago, her parents fell ill and died within a few months of each other. Journie, Lynch's firstborn, was still an infant at the time; Anna came along in 2010. Parenting with the girls' father didn't go as planned and Lynch, a front-desk clerk at a San Francisco hotel, became a single mom.
When Lynch is on the afternoon-to-evening shift, her day is long and hectic: Take the girls to Journie's school, return with 3-year-old Anna, get ready for work, take Anna to day care, park at the train station, ride the BART to San Francisco, transfer to a bus, work eight hours at the hotel, commute back to Oakland, pick up both girls and get as much sleep as possible. Repeat.
Lynch's routine was easier before her parents died. "My mom used to help raise Journie," she said. "Journie was fortunate enough to go to Head Start [the federally funded preschool program for low-income kids] for one year, but I no longer qualify."
The girls' paternal grandmother, Mary (who asked that her real name not be used), a licensed day care provider, now watches Anna most of the time, for $50 a day, and Journie attends "aftercare" for $300 per month.
As a hotel clerk with unpredictable hours, Lynch needs flexible child care. Her hours are set week to week, and she isn't guaranteed a full-time schedule. Sometimes, Mary isn't available to help out. "If not, I have to find somebody else," Lynch said. "Right now, it's pretty much whoever's around. I'm juggling three or four people."
Lynch is considered low-income, earning about $40,000 per year for her family of three — about 200 percent of the federal poverty level. But she earns too much to receive public child care assistance.
"I'm thankful for what I have — that I do have a job, that I am able to provide for my kids. I don't have to be on public assistance. But I'm still struggling. Having kids, you do a lot of sacrificing."
Few Child Care Choices
Child care is a necessity for young families. Yet it's not enough to find a decent babysitter, for child care as "early education" has been proven to boost infant development and school-readiness; and older children benefit greatly from the social and intellectual aspects of afterschool care.
Good child care is expensive, often on par with housing costs and therefore unattainable for many low-income families. Even parents of means can struggle to find options that are geographically accessible and flexible in terms of hours. Daycare center-based care in particular tends to accommodate regular 9-to-5 schedules; it's much more difficult, and costly, to secure help at night or on the weekends.
As families in need of child care navigate their messy budgets and calendars, what are the trade-offs between quality, affordability, accessibility and flexibility? Explore below the child care options Efuru Lynch has considered at various times, and what difference decent care can make in a family's life.
Option 1: Well-known preschool in Oakland
Lynch received an estimate of $1,200 per week to enroll both her kids in a high-quality preschool about 10 minutes from her home. Even if she could afford it, the hours were limited: The school is only open until 8 p.m.
I called a lot of places, but I was just thrown off by the numbers I was getting. They cater to people who have [child care subsidies] or people who can afford it.
Option 2: Mary, children's grandmother
Mary is a trained, licensed provider and charges Lynch $50 per day. It takes Lynch 10 to 15 minutes to get to Mary's home.
I'll call [their grandmother] and say, 'Well, they want me to work this Friday, 2 to 10. Would you be able to watch Anna?' She'll say yea or nay.
Option 3: Lynch's Niece
Lynch's niece is an in-home hairstylist who charges $30 or $35 per day to watch Anna and sometimes Journie. It takes Lynch 10 to 15 minutes to get to the niece's home.
Where she lives isn't too safe — there's a lot of shootings. There's no real park in the area. There's no real place for the kids to play and be kids. She has no curriculum. Basically, it's putting the kids in front of the TV, letting them color in a coloring book and giving them food when they're hungry.
Option 4: Request unpaid leave or use a paid day off
A lost day of wages represents nearly $200 of vital income.
I was getting in trouble for a while because sometimes people say, 'Oh, I can watch them,' then [when they can't], I'd have to call my job two hours before work and say I'm not going to be able to make it.
Source: Al Jazeera reporting