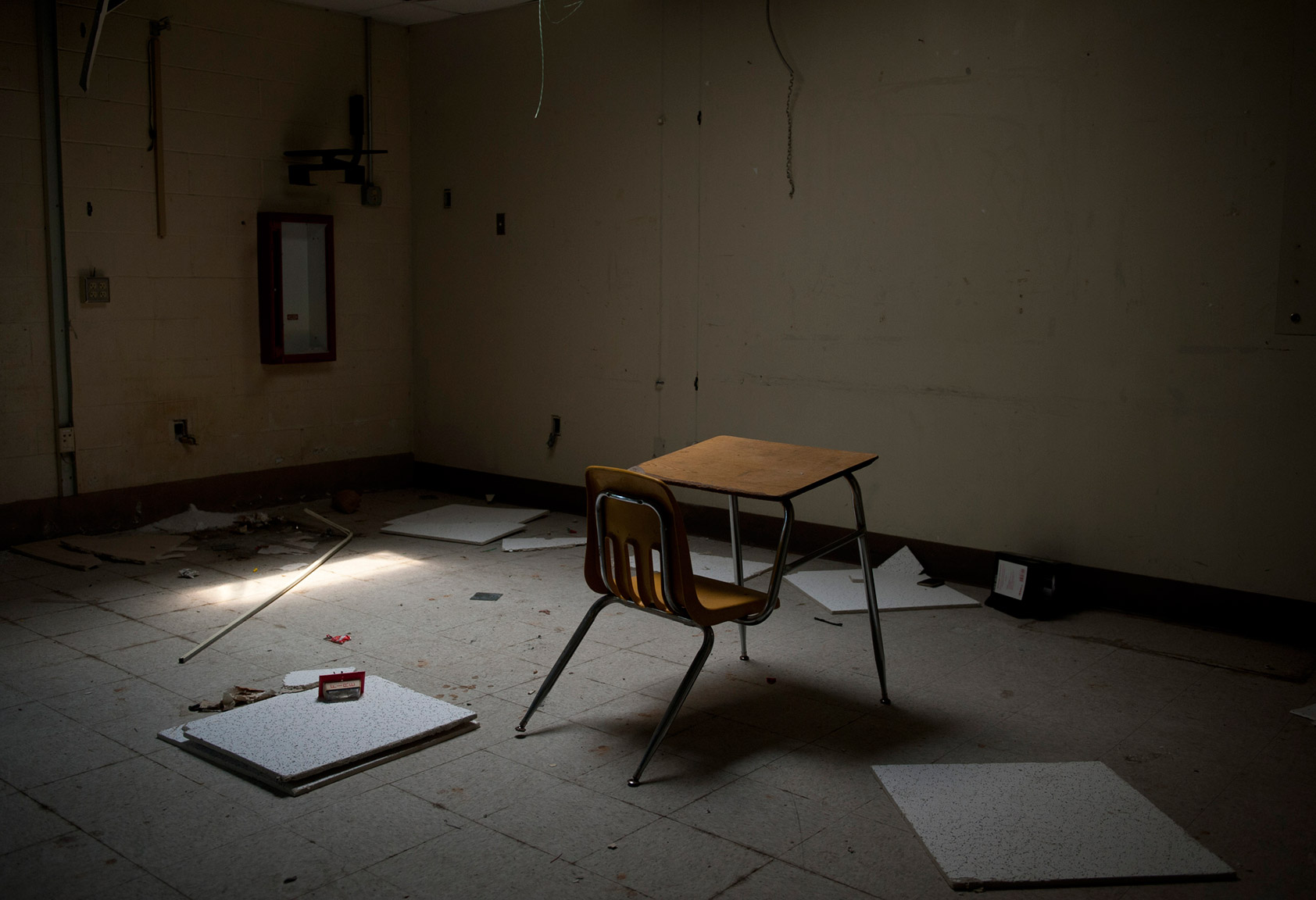 Verdict Looms for Education in 'Corridor of Shame'
Race,
poverty
and
geography
converge
in
the
longest
trial
in
South
Carolina's
history
DILLON, S.C. – This sleepy town of 7,000 is known for its marriage chapel, the fluorescent glow of the "South of the Border" roadside attraction, and for being the hometown of Ben Bernanke, former chairman of the Federal Reserve. Bernanke, along with most other public school students in the area, attended J.V. Martin Junior High, what is now a notorious, ramshackle 118-year-old school building that educators say is an edifice to the persistent inequality in South Carolina public schools.
J.V. Martin housed students up until two years ago, when a new school was built across town. However, it remains the heart of South Carolina's "Corridor of Shame," the nickname for the region of rural, impoverished school districts mainly along Interstate 95 burdened by dilapidated and poorly performing schools. The region is dotted with flat farmland and shells of industries that have moved on to wherever labor is cheaper, taking their tax dollars with them. In their wake is economic hardship and what many say is a racial disparity in access to basic quality education. The region is poor, with a population that is 88 percent minority compared to the state average of 48 percent.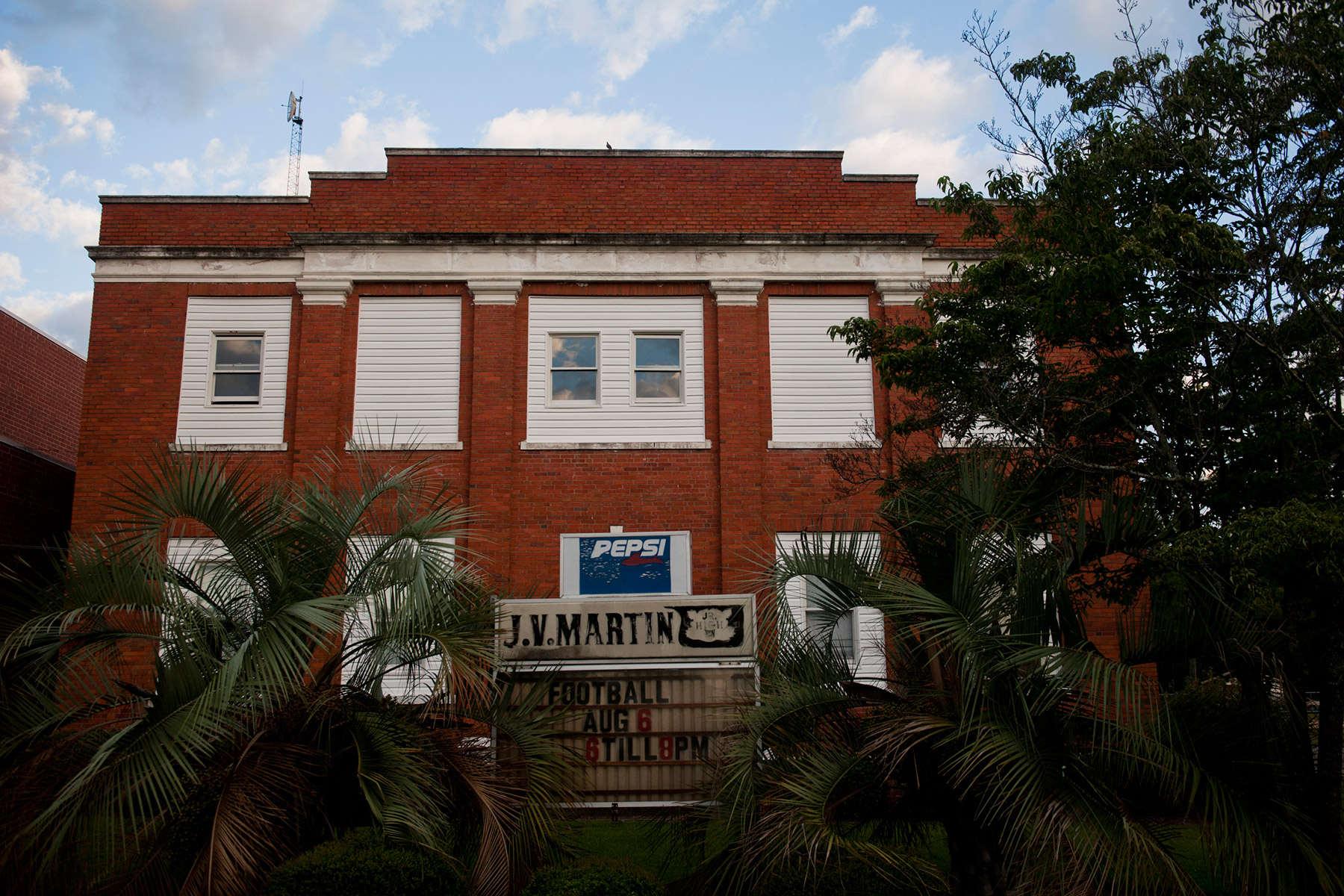 In 1993, 36 of the state's poorest rural school districts joined together to sue the State of South Carolina for failing to provide "a minimally adequate education" for its students. The case — Abbeville County School District vs. The State of South Carolina — is the longest trial in the state's history. It has appeared before the state's Supreme Court twice, with two rounds of oral arguments. Although the case has languished more than 20 years, educators and lawyers expect a decision in the forthcoming months that they say could help make things right.
"There's no question that this is one of the most delayed rulings in our history," said lead plaintiff attorney Carl Epps. The trial amassed at least 20,000 pages of presented documents and 100 witnesses, according to Epps.
Epps said that if the court rules in favor of the plaintiff districts, it would affirm that the state is not providing the necessary resources for students to succeed. The court would then likely direct state lawmakers to design a plan to fix it.
Race has remained an unspoken undercurrent throughout the trial, even down to the venue.
Arguments were heard in Clarendon County, where a case was brought 65 years ago that eventually contributed to the landmark Brown vs. Board of Education decision abolishing segregation. Early on in the Abbeville case, however, the court cordoned off the topic of racial discrimination, forcing the plaintiff's attorneys to focus arguments on poverty.
In this case, race and poverty are indistinguishable, Epps said.
The state will provide a pre-emptive stopgap in the year ahead, having approved an education spending plan put forth by Gov. Nikki Haley that will add $180 million more to K-12 spending, aimed directly at poverty. The spending plan includes $30 million for elementary-level reading coaches and will amount to $97 million more funneled to impoverished districts in the coming year.
"It comes down to one thing — and we had to take the blinders off — and that was poverty," Gov. Nikki Haley said upon its passage on June 9. "Until we acknowledge the fact that we have poverty across this state and children born into poverty — it's not their fault — it's the reason we have to do even more."
"I will suggest to you that these kids are in the situation they're in because they've been poor and black for many, many generations," said Epps. "The reality is these kids are products of fathers and forefathers. They all lived in these isolated counties for generations. It's generational poverty."
Despite the lack of a ruling to date, the attorney said the case has at least raised public awareness.
"We can't abandon these children, irrespective of whether we win this case or not," Epps said. "We've got to give them the chance to succeed, or else at the end of the day, it not only will be their loss but it will be our loss."
D. Ray Rogers, superintendent of Dillon School District 4, echoed his sentiment. "If you don't educate them, what do you have to look forward to?" he said.
When Ray Rogers became superintendent of Dillon County schools more than 20 years ago, an easel behind his desk displayed his top priority: the plans for a new building to replace J.V. Martin.
But with each passing year came new headaches. There was no heat in the winter and leaks splashed down from the roof when it rained. The fire marshal condemned the auditorium. Fiscal constraints put pressure on personnel, and there was little extra money in the district's budget to raise the $29,000 starting teacher salary to dissuade them from leaving for schools in more flush parts of the state.
Years passed, and the dream plan standing on an easel next to his desk remained untouched. "It had turned yellow from the lack of money," Rogers said.
In recent years, President Obama became an unlikely champion for improving rural Southern schools. J.V. Martin was brought to his attention by the 2005 "Corridor of Shame" documentary, which catalogued the ragged classrooms and frustrated teachers. In 2008, as South Carolina turned into a Democratic battleground, Obama visited Dillon twice. J.V. Martin provided a powerful visual backdrop.
The publicity was powerful in conveying the story, Rogers said. "It's not just here in Dillon County. It's across the state. There's a lot of very tough situations where kids go to school."
Interwoven with crumbling structures is low performance. About 38 percent of the state's fourth-graders are functionally illiterate, while nearly three quarters read below grade level, South Carolina's state superintendent of education, Mick Zais, said in 2011.
It leads to a ripple effect, according to Dr. Jeanne Cobb, director of the Chanticleer Center for Literacy Education at Coastal Carolina University. "Without the ability to read and write, a student is set up for failure and most likely will drop out of school," Cobb said.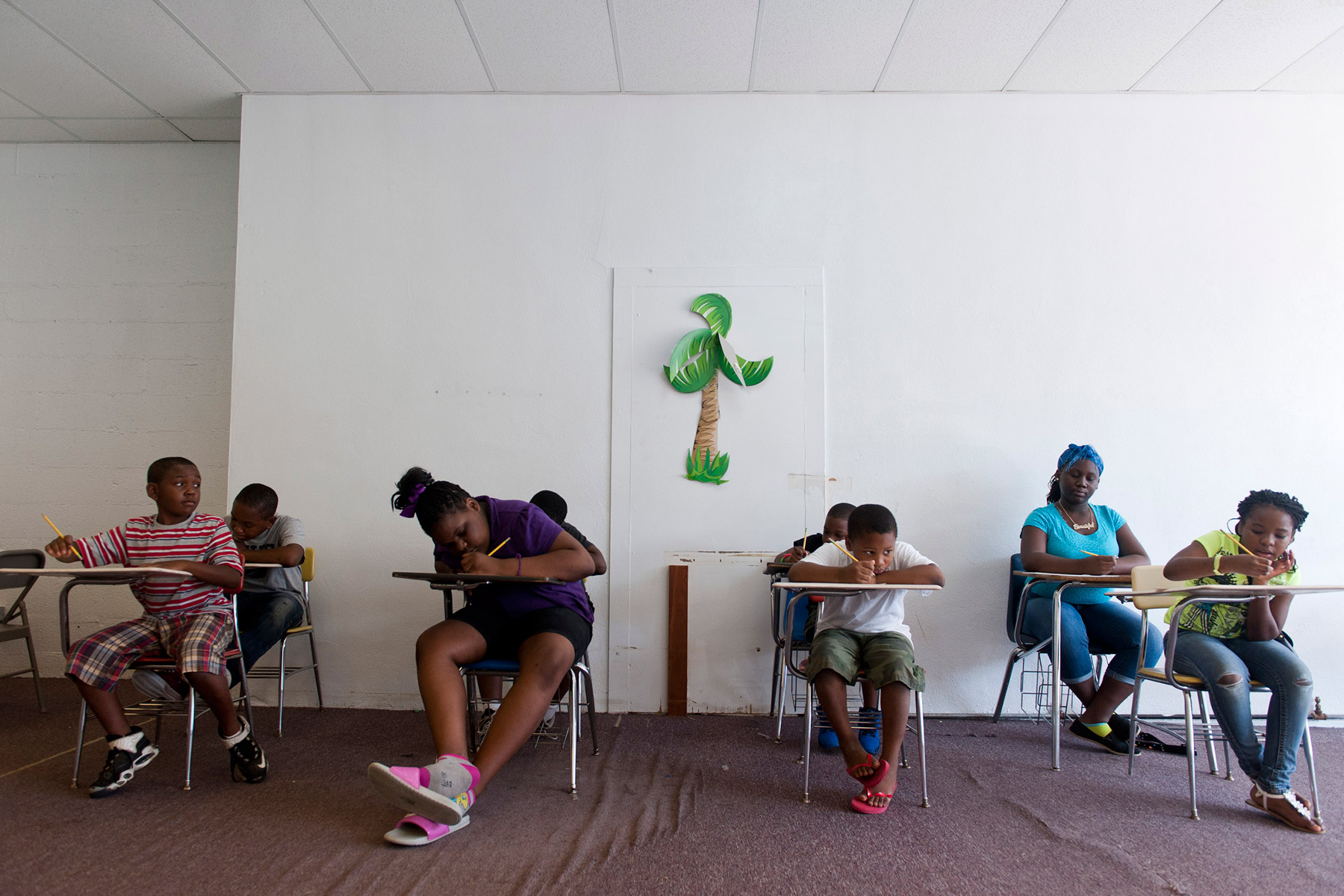 According to Cobb, the academic performance metrics in South Carolina point to racial disparity as well. "There is a huge achievement gap between Caucasian students and African-American students," she said.
A 2013 National Assessment of Educational Progress report found that 42 percent of black eighth-grade students were below basic reading levels compared with 18 percent of white students.
Throughout South Carolina, rural communities like Dillon ride the knife's edge of economics. Aging brick facades past their prime on Main Street bear the evidence of a slow and constant churn of commerce and reinvention, where storefronts easily turn into churches. Car title loan companies litter the main commercial district on Highway 301. Local economic development pitches highlight the area's position midway between New York City and Miami, and its proximity to interstates and access to destinations beyond.
"There is no industry. That tax base that we depend on so greatly is not here anymore," Rogers said. "The population is declining because there are no jobs."
Meanwhile, new teacher recruitment hasn't kept pace with the impending wave of teacher retirements. Young teachers tend to prefer more vibrant regions.
"This is between and betwixt nowhere," Rogers said.
The situation has gotten so dire that Rogers has had to hire international teachers in core subjects like science, math and even English. The time needed to train and acclimate them to the schools usually matches the cap on their work visas, he said, and communication with students can be hampered by strong accents.
Despite growing desperation, the national publicity about Dillon's need for help proved to be incredibly divisive.
Mayor J. Todd Davis, a financial planner by trade, admits the attention was a hard pill to swallow. He said the town remains in the shadow of the "Corridor of Shame" nickname, even though some students go on to top colleges like Duke University.
"People around here are not trusting of the school system as far as an adequate education," he said. That lack of trust has fueled enrollment at the county's Christian private school, where Davis sends his own kids.
However, reception of the new school — the first built in Dillon county in 43 years — has been mixed, namely because of the local sales tax increase, according to Davis.
In 2007, after years of rebuffing such a proposal, Dillon County voters approved a 1 percent sales tax bond referendum to help pay for the project.
"There's just so much that the dollar can support around here," said Davis. "People think that we were awarded a lot of money here, but no, the people who are going to be paying for this are the tax payers of Dillon over 40 years, in that referendum."
Davis also questioned the new school's impact on the bigger picture.
"You can throw all the money in the world at this education system and it seems like it doesn't matter," he said. "We're getting the same results — graduation rates, dropout rates. Maybe it's getting a little better, but I haven't seen a large statistical increase in graduation rates in Dillon County."
That's because South Carolina has history to overcome, according to former State Superintendent of Education Jim Rex. "There does seem to be a tolerance in our state to accept poorer conditions — educational conditions, physical conditions — for our black children than for our white children," he said.
Rex said political grandstanding has exacerbated the impacts of an already unequal field. His tenure from 2007 through 2011 spanned one of the state's worst recessions, and the influence of then-Gov. Mark Sanford. The Republican governor "basically said 'no' to any additional funding, federal or state, for public education," Rex said.
Corridor schools suffered disproportionately as a result, he said.
However, Rex said that paying for new facilities with increased local taxes can compound the problem in poor communities like Dillon County.
"They have low property values, which means they have high millage. It's a hindrance for recruiting new industry that can get better tax breaks elsewhere," he said. "The local community is competing with one arm tied behind its back."
While new brick and mortar can inject pride in a community, Rogers said he believes the judges are "torn between what is right — their conscience — and what is physically feasible to take out of the state budget and still run it."
But for Epps, the decision acknowledging what is right is long overdue.
"We've lost one full generation of kids that have passed through the system and almost a second generation," since the case was filed, he said. "That's a crying shame."