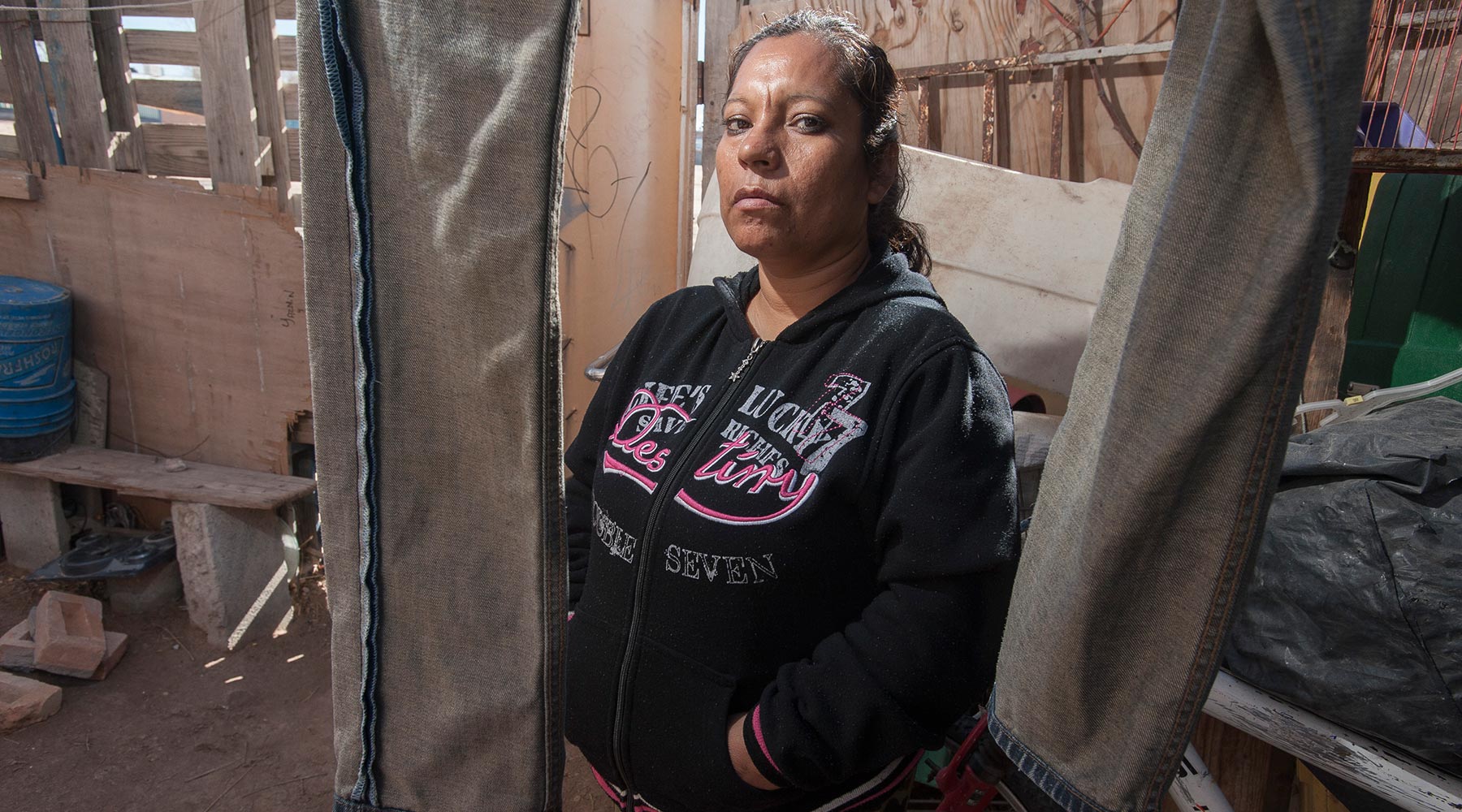 Fight for 50 cents
In Ciudad Juárez, workers rise up against the maquila system
In
Ciudad
Juárez,
workers
rise
up
against
the
maquila
system
The icy wind that seeps in from outside shakes the flame beneath a pot of boiling beans. Gregoria Medina, 34, has stopped washing the dishes she used for breakfast and has placed them on a plastic tray at the opposite end of the stove. "Many years ago they stopped seeing us as people to instead see us as robots," she said, referring to her bosses.
It's been two months since Gregoria and 75 other workers at the printer giant Lexmark were fired and threatened with legal action after waging a strike to demand a daily wage increase of 9 pesos — about 50 cents — that had been promised to them over the summer.
Gregoria's house consists of a kitchen without tap water and another wider and colder room where she has only two beds. At night the room is shared by her elderly parents, an older brother who is mentally challenged, her 14-year-old daughter and two boys aged 17 and 8, along with her husband, who is a worker in another maquila. Her parents came here in search of the promised land when Gregoria was 4 years old, just as Juárez experienced its first industrial boom, thanks to a disastrous devaluation of the peso against the dollar and a plan concocted with the International Monetary Fund to reorient the city's production toward attracting foreign investment in order to avoid a financial downfall.
That goal was achieved. Multinational firms poured in and unemployment dipped below 3 percent. In return, however, the city witnessed the sizeable growth of laborers who earn less than $9 daily. Wanting to change that condition, Gregoria and her colleagues sought protection under a law that permits the formation of independent unions. But it wasn't possible. Besides better compensation — still under $10 a day — they wanted dignity. That's what they seek now, since they took a stand in front of the Lexmark plant that dismissed them on Dec. 9. Here they have erected a shelter made of wood and cardboard, of about three square meters, which has become a symbol of their resistance.
The shack's austerity contrasts sharply with the enormity of the plant. Day and night, the dismissed workers barricade themselves, with shifts of workers providing constant guard. In the dark interior there is an old mattress, a half-dozen lawn chairs and a dilapidated wood heater. They eat what's brought to them by sympathizers of their movement from both sides of the border, and they kill time by sharing personal stories. On the outside, the shack's walls are covered in signs that synthesize their struggle: "Justice to the labor class." "Salary hikes."
Years ago, the multinationals implemented a system of bonuses in order to avoid raising real salaries. The "bonuses" can be exchanged for food, although they rarely exceed 100 pesos a week — about $7. Bonuses are also given out for punctuality and attendance records, meaning workers become ineligible if they miss a day of work. "They are bonuses that do not generate anything for a base salary, to contribute to Social Security, and with that you'll have elderly people dying of hunger in a few years," said Susana Prieto, a labor attorney representing the 76 workers.
Since 1983, this border city with El Paso, Texas, has become a sprawling center of the maquila industry in Latin America. Each industrial boom was marked by processes of currency devaluation and trade agreements, such as the North American Free Trade Agreement (NAFTA) signed in 1994. While there is no precise figure, most of the official indicators point to a labor base of 300,000 workers in a city with 1.4 million residents. The maquila industry is the backbone of the economy and has molded both the city's social aspect and urban structure.
Gregoria worked for 15 years in the industrial sector and was hired by Lexmark in 2002. The labor experiences she has endured over the years are in a way a great metaphor for Juárez, said Hugo Almada, a researcher at the Autonomous University of Ciudad Juárez (UACJ) who has studied the impact of the maquila industry for three decades.
"In Juárez what has boomed is not social development but a sort of disjointed growth that has set aside the social agenda," said Almada. "The model we see today was formed as a tacit agreement between businessmen and local authorities in order to convert the city into a center of attraction for the maquila industry, certainly much more attractive than any country in Asia. Therefore public investment has been focused on introducing water, drainage and the creation of avenues to service the construction of industrial parks and 32-square-meter houses for the industrial workers.
Up until 2014, the city had 39 industrial parks and zones where nearly seven out of 10 formal jobs are located. Since the inception of this model in the late 1960s, the maquilas hired a massive proportion of women for their production lines and thereby generated the highest national rate of female heads of household. But neither the industry nor the government reacted with the necessary infrastructure to, for example, provide childcare. Today Juárez's childcare system has the capacity to accommodate only about 12,000 children under 4 years old while the demand is for 150,000 children or more, according to data handled by the Network for Children's Rights. The same is true for childcare centers for children 5 and older. Public transport has been reduced almost exclusively to the transportation of the working class.
Juárez was molded to the reality of the past 40 years both externally and by the very heart of the maquila. In 1996 — after the signing of NAFTA and the devaluation that nearly crashed the Mexican economy — management positions within the industry ceased to be carried out by U.S. employees sent from their U.S. headquarters. Instead a class of Mexican professionals was trained to oversee the production plants. They are, according to Prieto, the ones who built the current system of "slave labor" that caused the labor uprising at Lexmark, of which Gregoria and their 75 companions were part.
"Now you have a working class who have had all their human rights violated," said Prieto, who took the defense of the workers fired by Lexmark as a personal cause. "You have individuals who earn 600 pesos per week — about $33 — when the INEGI [office of the Mexican census] sets a required 5,800 pesos — equivalent to $322 dollars monthly to ensure basic feeding for a family of four. That means workers cannot even afford to eat."
Francisca Rivera, 40
'I will keep fighting until the end, until [Lexmark] recognizes my rights as a worker.'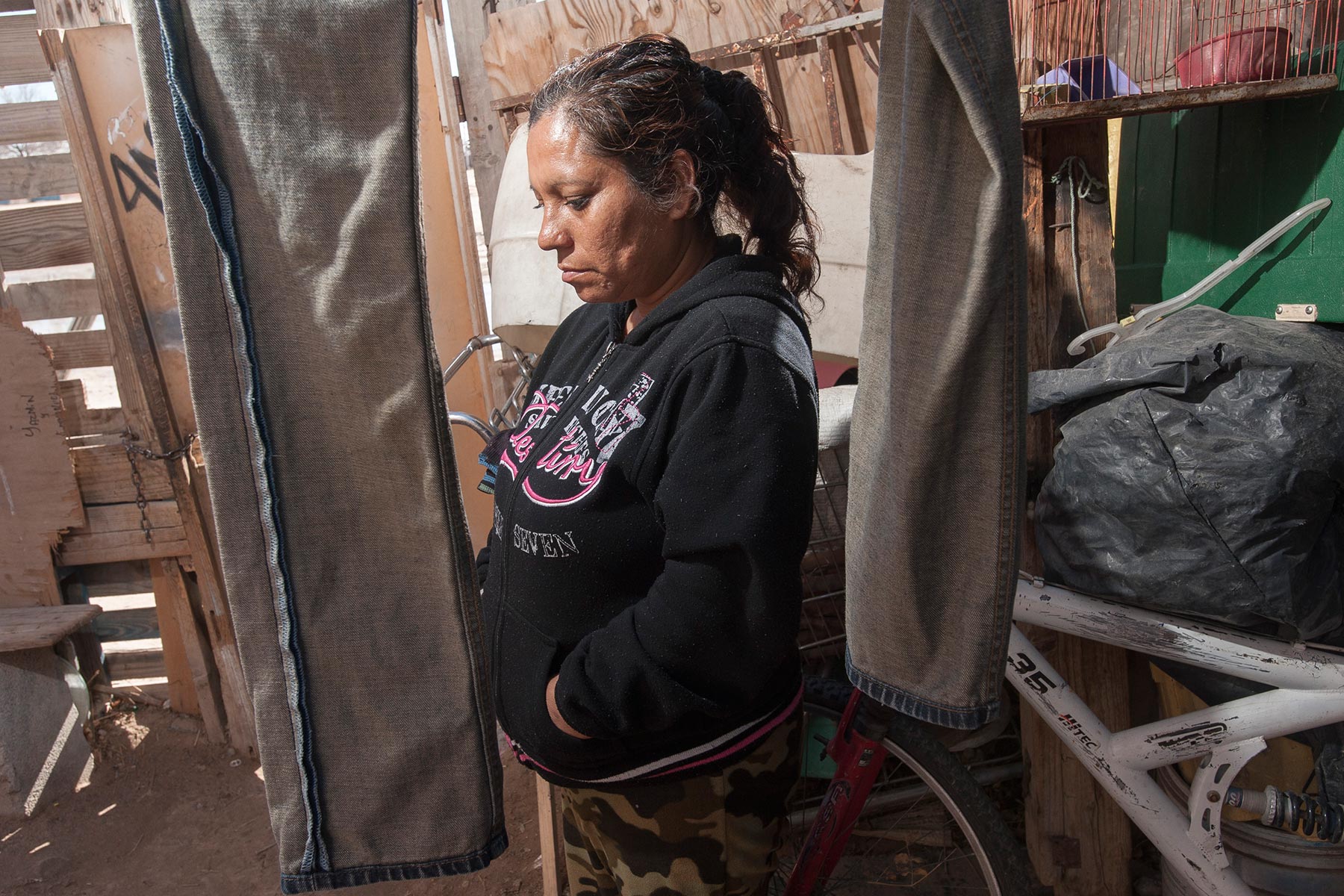 Francisca Rivera is 40 years old and has a severely injured right shoulder due to her work lowering boxes 1,200 times per day. She is just under 5 feet tall and her voice is strangled by a throat infection that has been tormenting her for days. She and her two teenage daughters are sick from the freezing cold coming through the wooden walls of their small house. Their home is a temporary hut constructed by American missionaries in 2005 as part of a humanitarian aid program that existed before 2008, when Juárez became the most violent city on the continent. Francisca is another of the workers fired by Lexmark, after claiming the increase from 105 to 114 pesos per day. Now she is struggling to survive on the 150 pesos ($8) a week she receives from her 13-year-old son who works as an assistant bricklayer.
"They cut off the electricity more than a year ago and I am being honest when I tell you: I'm stealing it from the light pole because I have no way to pay for it. I also could not afford the water bill," she said between coughs. "The little that we get in money or food that is given to us is just enough to get by, just enough to keep alive. But I will keep fighting until the end, until [Lexmark] recognizes my rights as a worker and pays me what is mine."
The 76 workers who were fired include migrants from 14 Mexican states. Migrants made Juárez the city it is today. They first arrived in the 1940s, responding to the huge need for service and trade workers. Later, many settled here as migrants in transit to the U.S. in the era of the Bracero Program, and from 1970 onwards as part of the maquila boom. The great wave of migrants from southern Mexico, especially Veracruz and Oaxaca, became noticeable in 1996, when the expansion of the sector reached its peak and forced the recruitment of labor outside the traditional labor sources such as Durango and Coahuila.
Prieto, the labor lawyer, predicts that this year the industry will need more workers from the southern states. There is a labor shortage of 17,000 positions and the new generation of youth in Juárez is not willing to earn the poverty-stricken wages of their parents, she said.
"Some genius from Harvard devised in 2015 a system of bonuses that ranges from 3,000 to 6,000 pesos for those who are hired in the maquila. But it's a trap because you do not get paid that amount when you sign the contract, but instead you get an amount each month as long as you meet the attendance and punctuality standards that the same company imposes," she explained. "What has happened is that young people sign their work contracts and three months later they quit as they have already received their bonus. This has generated a labor turnover of nearly 25 percent, and as this phenomenon persists, it has become common to send trucks to Veracruz or Oaxaca to bring people that for to 600 or 700 pesos a week find it better than starving in their places of origin."
The social pressure this generates is enormous, especially in the area of health, said Almada, the UACJ researcher.
"Although Juárez is a city that generates a massive amount of income for Social Security, between 1985 and 2005 there was not a single new hospital bed or a single new medical post," he said. "In 2006, a hospital in what is known as 'Juárez Nuevo' was built in the area where migrants from the south were brought to live, but since 2012 another big boom in the maquila has occurred and now the number of workers overwhelms incredibly the medical capacity of the city."
With Juárez's inefficient public transportation and precarious health infrastructure, Francisca and her daughters simply cannot expect to be treated by a doctor, at least not immediately. But hers is a minor problem. The heart conditions caused by hypertension and cholesterol, as well as diabetes and cancer, account for half of the causes of death in the local population, according to data from the Ministry of Health of Chihuahua, the state to which Juárez belongs. Urinary tract infections are equally egregious, and it has led to severe kidney affections among workers. Medication and treatment for such diseases have been gradually decreasing since the last health reform.
In Francisca's case, her broken rotator cuff and respiratory infection reveal the way the Mexican government relaxes worker protection laws in order to preserve Juárez's status as an exceptional industrial zone for transnational corporations, said Prieto. "The whole system is configured so that the workers burn out and get tired of claiming their rights. It is a perfect marriage in which there are no scruples of any kind."
No government official responded to requests for an interview. Neither did Lexmark factory managers nor the Maquiladora Association of Juárez.
The marriage between corporations and government that Prieto talks about makes her believe the plight of the 76 fired workers will fail in its efforts to obtain a favorable court ruling. However, in the past Prieto has been able to win in court. The most recent case occurred in August, when transnational Foxconn lost a case launched against it by 120 workers. Prieto's legal battle, which included accusations of official corruption, led to a violent assault by armed men on her office the afternoon that the workers were compensated and she charged her fee. Along with her husband and 13 other witnesses, she identified the individual who commanded the attack, but police released him on grounds that they had other possible suspects. To date, the case remains open.
"I am so scared this time," she said. "The moment in which this is happening is very sensitive and I don't think they are going to forgive me so easily."
Prieto refers to the electoral process for this year in which Juárez is set to elect a new mayor and Chihuahua state will elect a new governor and congressmen. The authorities and the political and business apparatus of the PRI, the ruling party, are in full campaign swing and they boast of bringing Pope Francis to Juárez. He will visit the city as the final stop in his passage through Mexico. The streets and avenues through which Pope Francis will pass are being fixed up and a meeting has been organized with workers and businessmen to discuss the economic and labor virtues of the city, putting aside the havoc caused by the economic crisis.
Looking beyond the pay raise that was promised to them, the 76 workers fired by Lexmark desired to form a union. A fair salary and the possibility of creating independent trade unions are two of the legislative premises allegedly undertaken by Mexico with the Trans-Pacific Partnership (TPP), according to labor secretary Alfonso Navarrete Prida. Minimum wage will disappear as an economic indicator in Mexico this year, following a first amendment to that effect. But the system of exploitation evidenced in Juárez and cases like Lexmark and Foxconn do not provide evidence of change for Prieto.
"This will only get worse," she said. "What is at stake is enormous not only for multinationals but for businessmen and local politicians."
Victoria Moreno, 45
'My husband lost his job too. Now he sells candy in the street and sometimes he brings home money and sometimes he doesn't.'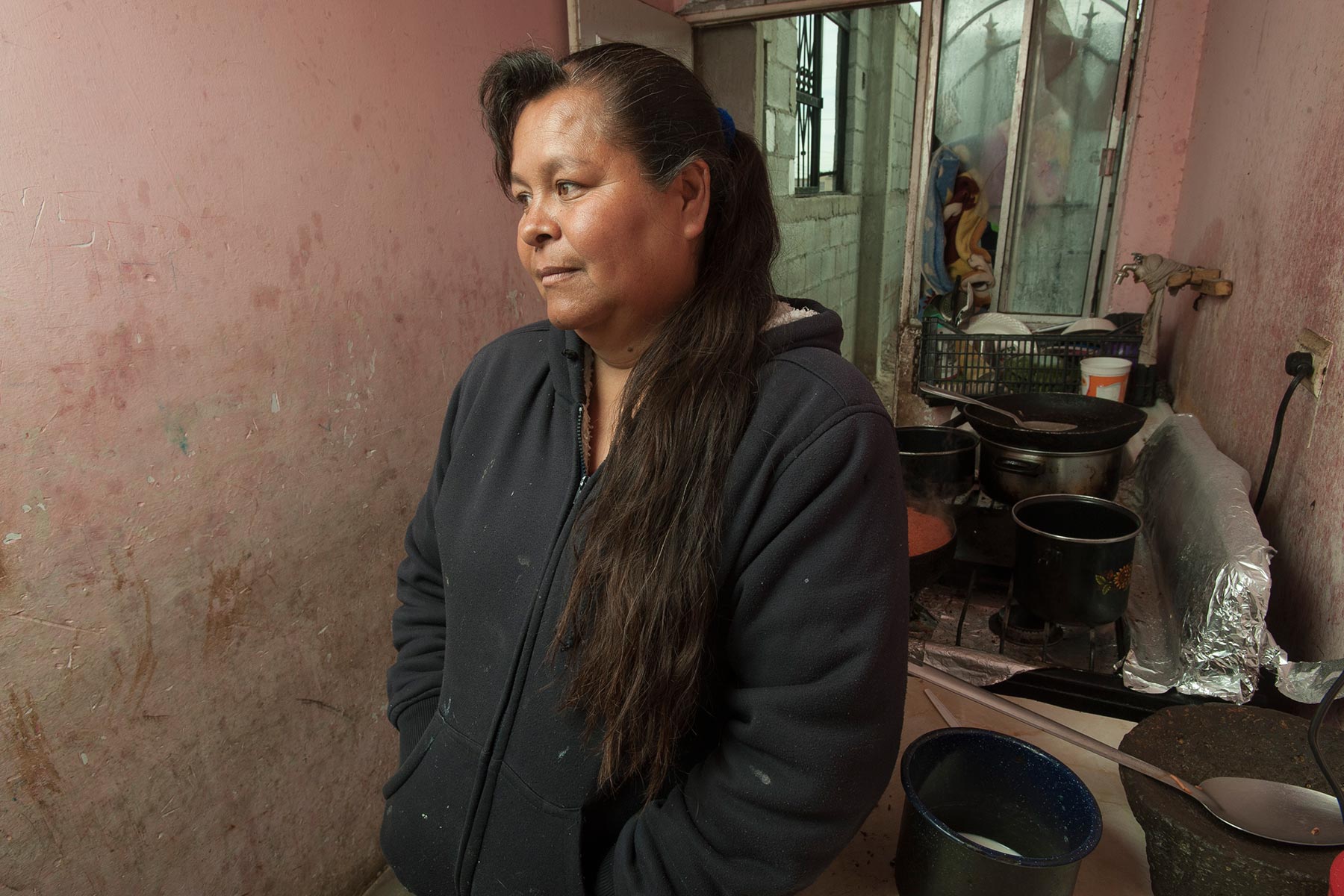 In November 2007, Victoria Moreno applied for work at Lexmark. By then, she had 30 years of experience as an industrial worker — the same number of years she had been living in Juarez. Now 45, she has five children — three of whom, along with a nephew, live with her and her husband. Before being fired she contributed her weekly salary of 600 pesos to the family economy. This meant they had 1,600 pesos — about $90 — per week to pay the mortgage and food and school costs. But everything changed.
"My husband lost his job too," she said. "Now he sells candy in the street and sometimes he brings home money and sometimes he doesn't. We live on 800 pesos a week my nephew earns, but we have stopped paying off the house and now struggle to get money for tuition. But after the layoff we had, I will not give up the fight."
Moreno had her right shin operated on last year due to tendonitis. With the proper laws for laborers and an arbitration system committed to them, she should have received compensation. Neither she nor her companions had that benefit, she said.
Twice a supervisor denied her the right to leave the factory despite the fact that her 3-year-old son had been hospitalized — the first time for an asthma attack and the second because he had been burned in a fire. "It was terrible. I was hysterical and I almost fainted because I was not given permission to leave the factory," she said.
"I have suffered from urinary tract infections because they prohibit us from going to the bathroom. At least when we need to go, we can go as long as someone takes over our position in the assembly line, but when we do so, the time is limited and after two minutes they start to call for us over the microphone," she said. "But what is even more distressing is when we hear the news on the radio, because they always put music for us, and suddenly we hear there is a missing girl or that the body of someone has been found and we don't know if it's any of our daughters because they never mention names … it's awful."